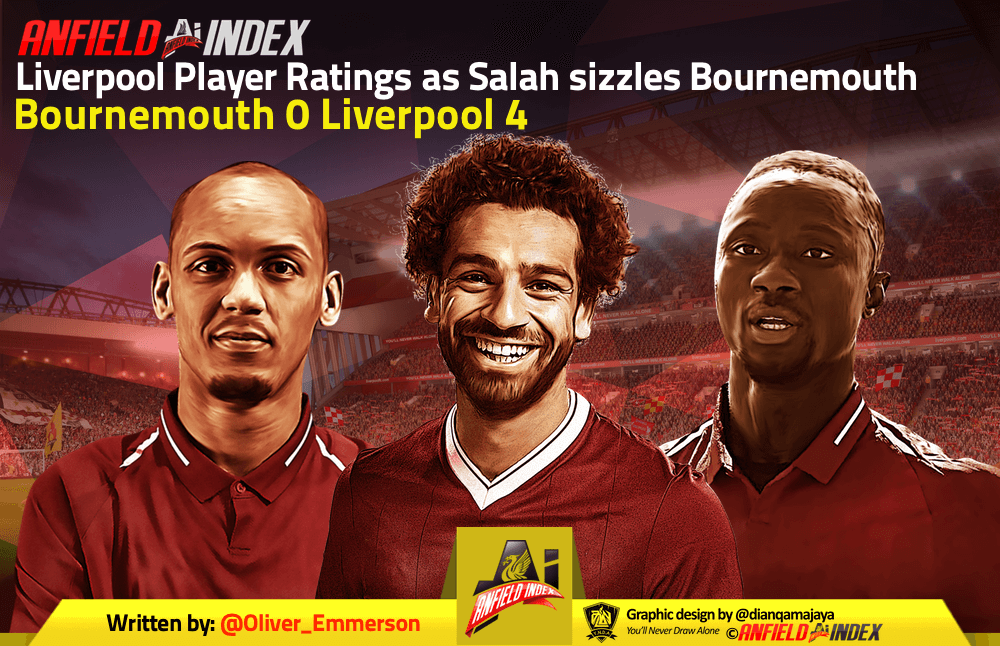 Liverpool Player Ratings as Salah sizzles Bournemouth

Mohamed Salah reminds the Premier League exactly what he's all about and the Reds are top of the Premier League, for a few hours at least. Not a bad way to start the weekend.
Bournemouth aren't a bad side and the 4-0 scoreline doesn't really reflect the gulf between the two teams, but Liverpool were, and are, better.
Salah's three goals combined with own goal of the season from Steve Cook keeps the unbeaten run going. Over to you, Manchester City.
Here are your ratings.
Alisson's beautiful Brazilian beard
Alisson Becker (7): Class, isn't he? Look up commanding in the dictionary and you find a photo of him shampooing that beard. One majestic header to remind Josh King who really sits on the throne, and some tidy saves. Makes a tough save from Stanislas' free-kick look like picking an apple from a tree.
James Milner (6): Solid enough. Tries to do a few passes that Trent does every week and can't, but there's no shame in that. One terrific tackle that the referee only signalled 'advantage' for to quieten the home fans. Not beaten at the back.
Virgil Van Dijk (7): Really good, again. Couldn't help but raise a smile at an interception he made when jogging back from a corner, just pops in-between about three Bournemouth players and finds Shaqiri as if the game is being played at the exact pace he desires.
Joel Matip (6): A lack of Callum Wilson in the Bournemouth side meant there was less for Matip to do than he might have expected but was tidy in all he did. Must keep his place for Napoli.
Andy Robertson (7): Better going forward today than he has been of late, one beautiful first touch cross followed up by a wicked ball in that saw Cook bundle into his own net.
The continental midfield, finally!
Georginio Wijnaldum (6): Thought he started slowly and grew into the game, looked better when Liverpool were taking the piss at 3-0 up. Hard not to, in fairness.
Fabinho (7): Composed as ever. Really growing into the midfield now and it'd be a crime not to start him for the two crunch games next week. Controlled, dictated and knew exactly when to spring an attack.
Naby Keita (7): Two nutmegs in five seconds. That's all you need to say on him.
Salah shoots his way to top of the scoring charts
Xherdan Shaqiri (6): Lacked a little in the final third but showed some lovely passing range from deep, one really good moment was a dinked ball to Salah after that Van Dijk interception.
Roberto Firmino (7): That Burnley goal on Wednesday looks to have given him some confidence, evidenced by what can only be described as a 30-yard blam that leads to Salah's opener. This would be a really good time for him to find some form.
Mohamed Salah (10): I'll get crucified if I don't give him a 10, won't I? I'd like to give him a 9 given the first is offside, but I can't bring myself to. Good reactions and finish, great strength to keep driving forward and convert the second. That third goal, oh my. Retires Begovic sends Ake back down the road to Chelsea. Unbelievable.
Substitutes
Sadio Mane (6): Did not hurt his head.
Adam Lallana (5): Hurt his head.
Jordan Henderson (N/A): Did not hurt his head.