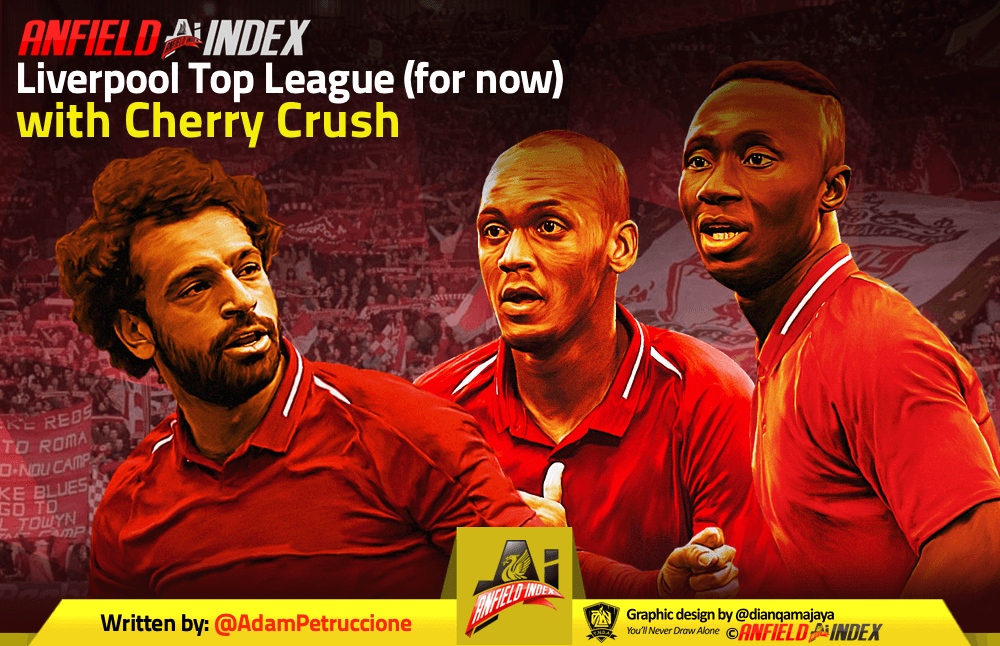 Liverpool Top League with Cherry Crush

Waiting for the line-up card to come out has become one of the most suspenseful parts of the Liverpool experience in recent weeks. Most of the anticipation surrounds the season's long wait for Jurgen Klopp to actually field his best eleven, or what the majority of us assume is his best eleven. Injuries to Joe Gomez and Sadio Mané took that option away, but on December 8th, away at Bournemouth, Jurgen Norbert Klopp finally played the Fabinho, Naby Keita, and Gini Wijnaldum together in the same midfield.
Me, after seeing that midfield three. pic.twitter.com/xydm77bL06

— Sam McGuire (@SamMcGuire90) December 8, 2018
Early yellow cards for the Bournemouth defence were a warning sign, but The Cherries held firm for Liverpool's opening onslaught. But, after a slick give-and-go with Mo Salah, Bobby Firmino let fly from just outside of the D. After making the initial save, Bournemouth 'keeper Asmir Begovic laid on the pitch for a while, no doubt contemplating Firmino's moustache. Thoughts must have been running through his head like; does Firmino have a mirror? How long did that take him to grow? And, while Begovic napped on the turf, Mo Salah picked up the rebound and finished easily for 0-1 in the 25th minute.
Firmino's mustache though…

— D Ray (@TweeterKnob) December 8, 2018
The rest of the first half was a possession-fest for Liverpool. Amazing what playing Naby Keita and Gini Wijnaldum in tandem will do for you.
An awkward ball back-pass to Alisson created more than enough excitement as the half neared its conclusion. But, our brilliant Brazilian quickly recognized the situation, sprinted out and headed the ball at it's the highest point, clearing out would-be Bournemouth attackers and the ball all at once and returning to earth with his hair somehow still perfect.
https://twitter.com/virtuousvan/status/1071392748450840578?s=21
Just as we settled back in from the break, Firmino and Mo Salah combined again with the Egyptian finishing low and to the right past Begovic. The ball was perfectly placed, but it was at this point that most of us realized that the Bosnian 'keeper was there for the taking. Early kickoffs don't seem to bother this Liverpool side anymore but Begovic looked like he just wanted to crawl back into bed. Rarely at the Premier League level do you see such a gulf between two opposing players as Begovic and Alisson?
There was a tiny ray of hope for a Bournemouth side that let's remember is a top-six club at the moment, in the 50th minute. A ball in the box bounced off of Virgil Van Dijk's hand while Alisson simultaneously tripped King. All the luck seems to be falling in Liverpool's favour these days though and all the gesticulating in the world couldn't convince the ref to blow the whistle.
At 65 minutes, Klopp made a double switch, swapping both attacking midfielders Shaqiri and Keita for Adam Lallana and Sadio Mané. Lallana actually looked fairly bright until a blow to the head late on forced him out for several minutes only to return with what looked like a mini-yamaka…. 'tis the season.
Liverpool didn't need any extra assistance in this match, but they got it anyway a few minutes later when a Robertson cross was finished expertly by Bournemouth centre-back Steve Cook. The back-heeled strike past the hopeless Begovic was Suarezesque.
With 20 minutes to go, Mo was on the break and toying with Begovic like a cat with a ball of string. After swatting him around half a dozen, Begovic face-planted and Salah finished past Ake for a sublime hat-trick. Has the pathetic 20 goal Mo gone, replaced by the 40 goal Mo we know and love? The goal-keeping was so poor that we'll need another match or two to know for sure, but boy would this be a great time for Mo Salah to catch fire with Liverpool needing a win against Napoli to continue their Champions League campaign.
The hunger is definitely there as Salah was trying to work out a fourth as the full-time whistle blew.