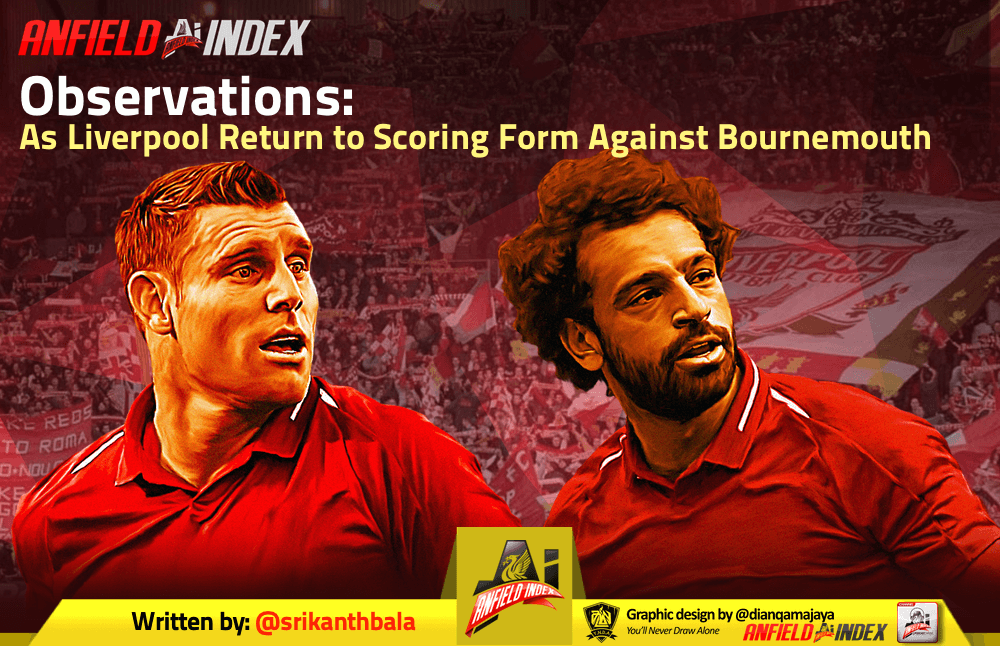 Observations as Liverpool return to scoring form against Bournemouth
Liverpool showed semblances of their best-attacking form from last season, as Liverpool produced an identical scoreline from the corresponding fixture last season, beating Bournemouth 0-4.
There were a lot of good moments in the game, and the key observations are as follows…
Game 500 for Mr Versatile
With Joe Gomez being ruled out for a while due to his injury, it was interesting to see how Klopp would react to it considering his options during the busy festive season. He chose to play Milner at right back in his 500th game, all the more emphasising how big a team player Milner is. He was comfortable on the ball and did not have much to defend as Bournemouth struggled to impose themselves.
With the number of fixtures lined up, Liverpool need all the bodies they have and with versatile players like Milner in the team, it would stand the team in good stead
Hat Trick Hero
So much has been discussed about Mo and his scoring form, and more importantly how his performances have been lacklustre. Mo arguably produced his performance of the season as he drove at the Bournemouth defence constantly tormenting them with his pace and movement. Though he was lucky with the first goal (a touch offside), the gorgeous finishes of his next two goals were the sight Liverpool fans have been waiting to see.
When Mo clicks, the team seems to click, and Mo has chosen a really good time to click.
A welcome return of Robertson and Mané
It was great to see Robertson back after a game and he was immediately onto the pulse of the game both in attack and defence. He often got better of his man and got into promising situations many times, with one of his chances being turned into a goal by Cook.
It was also a hearty sight to see Mané get some minutes ahead of a big week. As mentioned above, Liverpool need all their players available for the fixture crunch ahead.
THAT Midfield pair
Since the summer, Liverpool fans have been waiting to see Keita and Fabinho in full flow, and the lineup announced intrigued the fans. Keita was coming off his best performance in a Liverpool shirt and showed some glances which affirmed that he is settling in quite well. Fabinho was his usual self, closing down any challenges and kept the ball ticking. There is more to come from this pair and this might be the best time to step up on the gas.
Defining week ahead
Napoli and United lie in wait for Liverpool this week. Liverpool need to score against Napoli and might need to score more than one. Thus the Bournemouth game is the perfect preparation Klopp could hope for.
If Liverpool win both their fixtures, they will be in ascendancy in the weeks ahead with Champions League progress assured.