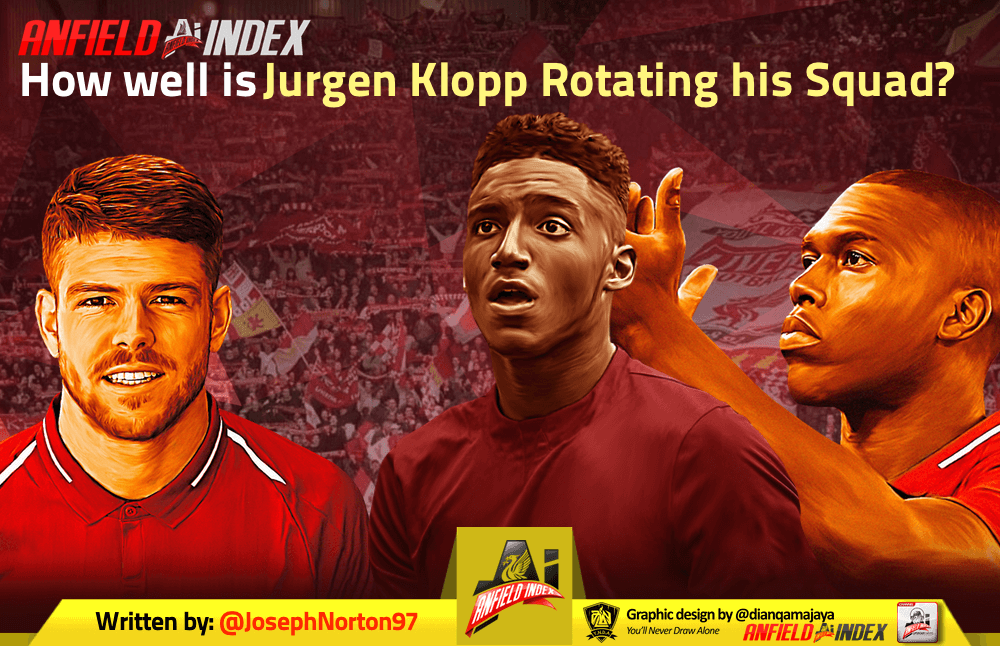 How well is Jurgen Klopp rotating his Liverpool squad?

No Salah, no Firmino and no Mane. The seven changes Jurgen Klopp made to his starting eleven at Turf Moor raised a considerable number of eyebrows last Wednesday, not least from myself. But subsequently, having collected six points from two potentially tough away fixtures against Burnley and Bournemouth, as part of a gruelling festive schedule are we right to think our boss is rotating the squad to perfection.
For many years this is the one factor which has prevented very good Liverpool sides becoming great. It is difficult to argue this is not the best Liverpool squad we have had for a considerable number of years as Klopp just about has all the tools he needs to successfully rotate his side.  So the question is how well is he doing?
Up until the Everton game, I thought he had managed the squad brilliantly. I would question his reluctance to play the likes of Fabinho and Naby Keita but in terms of rotation, I thought he had got it just about spot on. The only area you could really question him was his continued use of Joe Gomez at right-back on the occasions Trent Alexander-Arnold was rightfully rested.
Having missed the World Cup through injury as well as suffering two devastating injuries in 15/16 and 16/17 it has been clear Gomez's game time needs managing. However, being Jurgen's second choice at right-back meant this became very difficult. Gomez's partnership with Virgil van Dijk had been pivotal to the Reds' watertight start to the season which should have made Klopp more aware than ever that playing him anywhere other than CB was too big of a risk. He can't complain he didn't have options in that position either. Nathaniel Clyne, James Milner and Fabinho can all do a very good job there for the odd game.
It would be wrong to blame Klopp for the Englishman's injury but I do think he could have managed his game time much better given the importance of his and van Dijk's partnership.
As mentioned his team selection at home to Everton was one that concerned me looking at the bigger picture. Having looked ahead to our next run of fixtures heading into December it was pretty clear around seven to eight of our players would need resting during that week. Of course, the rotation isn't as black and white as it seems, players pick up niggles when you least expect it making planning very difficult, however, this should all be factored in. Without going into specifics Everton seemed like the perfect game to rest Andy Robertson – who had played an awful lot of game time for both club and country this season – and Roberto Firmino – who looked a shadow of himself.
Instead, the boss picked what I believe was his first choice eleven for the game. This left him with no choice but to make wholesale changes against Burnley. Of course, the Clarets are one of the worst teams in the league so resting players against them makes sense but to make as many as seven, in my opinion, was ridiculous and an unnecessary risk to take.
We won the game and rested key players so it doesn't matter. This sentiment is one I cannot get behind. If we want to win the league Klopp will have a couple more weeks like this when he has to rotate heavily. Should he opt for the same approach as he did last week I think there is every chance we will come unstuck which with City bearing down our necks is not an option. I, therefore, believe Klopp's rotation last week was unsustainable and something he should learn from.
I do not disagree with the number of players he rested – he had no option than to make that many changes – if we are to sustain a title challenge but for me, the way he did it was far too risky. Of course, as a supporter it is easy to think managing a squad is easy but having been in plenty of dressing rooms down the years I know this simply isn't the case. However, if we are to topple City this season we have to be near perfect in everything we do which includes squad management.
As a result, when Klopp is faced with the challenge of rotating a number of players over the course of a week to two week period he must do so much more strategically. Rest one to two key players in one game, three in another (the weakest team in the schedule) and two more in the match which follows.
As mentioned I don't take for granted how difficult this is but taking as big of a chance as he did against Burnley is just not an option if we are to win the league. Jurgen's doing a phenomenal job and there is no one in world football who I would rather have leading our club but we need his squad management to be close to perfection if we are to knock City off their perch. I just hope the game last week reminds our loveable German of the importance of strategic management of the squad.