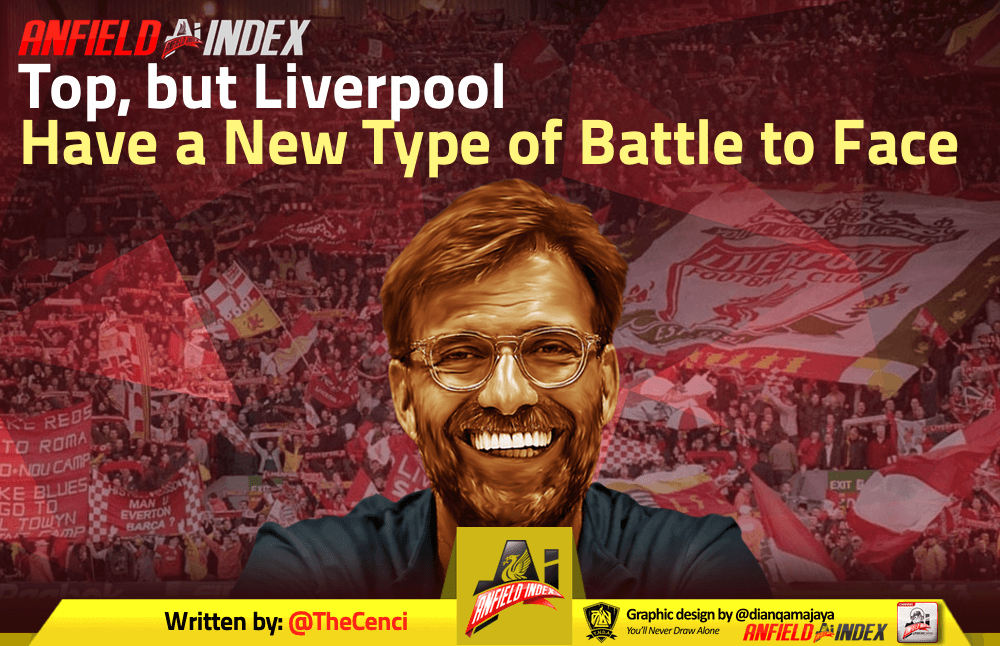 Top, But Liverpool Have A New Type Of Battle To Face
And with a single swish of a head the whole path of the 2018-2019 season changes course.
Not many Reds like David Luiz and with good reason. His two spells at Chelsea, his less than exemplary performance against Germany in the 2014 World Cup and his likeness for winning a dubious free kick means there are few who hold him in high regard. Not so today. Today I could hug him until he complains to the relevant authorities. What a man!
Of course, this turnaround in Premier League events have more to do with the spoffly-headed Brazilian, our lads more than played their part too. Mo Salah, who is definitely unhappy/leaving/frustrated/a one season wonder, chose this game to shut the non-Red world up and scored two wonderful legal goals plus, shall we say, one more.

It's insane to think that this is only his second hat-trick for Liverpool, but it couldn't have come at a better time. With three difficult matches in six days—including two away games with exuberantly physical sides—he now sits on top of the Premier League goalscoring charts along with Arsenal's Pierre-Emerick Aubameyang. Liverpool sit on top of the league by a whole point.
The efforts of this week should not be overlooked. Liverpool deserve that top spot.
The derby was perfect, though emotionally draining. Then to come behind at Turf Moor against a side who like to let you know that they're there takes some doing,   especially with a second string on the pitch. Then a trip to the furthest away ground for a lunchtime kick-off against a team in seventh place. To take nine points from those encounters in just six days shows just how much Jurgen Klopp's Reds have grown from a pretty decent starting eleven to a squad to be reckoned with.
Oh, and today saw a six-goal swing in terms of goal difference from City. We're now only six behind them in that department. Not bad when you'd assume we have to get something at the Etihad to win the league.
All this and with the notion that Liverpool have barely got into gear yet.
What will delight Jurgen Klopp is the manner of that change at the top. Last weekend City beat Bournemouth to put them five points clear as well as shovelling a ton of pressure onto us. No problem. Liverpool win the derby the next day in dramatic style.
Then City beat Watford a full 24 hours before Liverpool take to the field against Burnley. True, the East   Lancashire outfit may be struggling this season, but what better time to play a weakened Liverpool who have enormous fixtures coming up. They even take the lead, but it's not enough.   1-3 please and thank you.
Every time we've been asked a question, the lads have responded. We're not going anywhere. We are, as an angered City fan said this week on Twitter, like a wasp at a picnic. You can wave us away as often as you want, but we keep coming. Our tenacity has been a major factor this season. Lesser Liverpool sides have celebrated huge wins with an average performance next time out. Not this one.
And yet this weekend, we get to play before our rival and what happens? City, cough.
Okay, Stamford Bridge will always be a trickier fixture to navigate than the Vitality Stadium, but it will be noted by both managers. Today was the first time they'd gone behind in the League since 25th August. That was at Molineux where they drew with Wolves.
They may be a brilliant side—and they really are—but take the lead and you never know.
However, it's not all beer and skittles for Liverpool now. This day also changes the mentality of this side and the narrative of the season. Coming in off the rail is a hell of a lot different from leading from the front. Now that we're the front-runners, the pressure has increased considerably. This is a whole new ballgame now. Pep Guardiola may even feel a slight relief at the changing the League pacemaker. They just have to stay with us rather than to keep looking over their shoulder. They get to be the wasps at the picnic for once.
Furthermore, we have United next week while they face Everton at home 27 hours beforehand. I wonder if they'll rest players for their League Cup tie three days later. Some hope.
Then comes Christmas—a vital period for the Reds. While we play Wolves (a), Newcastle (h) and Arsenal (h) the Citizens face Palace (h), Leicester (a) and Southampton (a). About the same in terms of toughness, I'd say if Leicester City decide to be awkward. Palace and Southampton are on dreadful runs.
This period can be a great leveller. Injuries begin to creep in, squads are stretched and nerves take hold. So far this season City have not been in this situation. It'll be interesting to see both clubs react.
What is important is that Liverpool have climbed to a place many thought impossible given the swashbuckling antics of Guardiola's side. It's a hell of an achievement, but this battle has changed now.
Strap yourselves in. There's a long way to go yet.