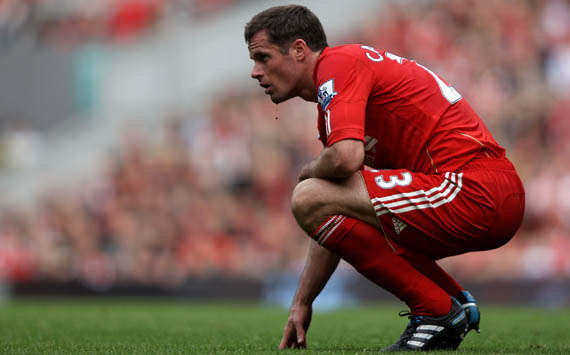 Are we still dreaming for a team of Carraghers? | Jamie Carragher
"We all dream of a team of Carraghers" goes the Kop chant, but exactly how long will it be before we have a team-less Carragher?
At the age of 33, Carragher's best years are behind him, yet he remains a stalwart in the centre of defence.
While some may say he has lost his pace, I would question how much pace he had in the first place.

Instead, the Bootle-born defender possesses a greater understanding of the game that has helped him to amass a remarkable 679 appearances for Liverpool. He relies on his reading of the play to make blocks, tackles and interceptions, something that has made him the trustworthy defender he has been down the years.
However, with the summer acquisition of Uruguayan defender Sebastian Coates and Daniel Agger back from injury, is it time to start building a new centre-back partnership? This is not say Carragher is finished or will not start regularly this season for Liverpool, he remains a highly-valued member of the squad and will help us to collect points.
As shown by the comparison of this season and last seasons stats (below), Carragher has actually improved on his aerial and ground 50-50s, winning 77% of his ground 50-50s, while winning 62% of his aerial 50-50s and he has also improved his pass completion to 78.05%.
However, stats can be misleading at times, Carragher has been involved in two defensive errors in the nine league games so far this season (against Bolton and Wolves), compared to last season, where he made just two defensive errors all season.
The fact is it will soon be time for Carragher to hang up his boots and move on to the next stage of his life and Dalglish needs to have a partnership in place to smooth the transition. Martin Skrtel fills one centre-half spot and it is left to Coates, Agger and Danny Wilson to fight for the remaining position in the heart of the defence. Also in contention for a starting place would be Martin Kelly, who currently plays at right-back, but is thought to be in line for a future place as a centre-half.
Something that is noticeably missing from those options is a lack of goals between the centre-halves. The new era of football means that outfield players from all positions are expected to contribute in both an attacking and defensive sense. In the last five seasons, Skrtel leads the way with four goals, Agger has scored just once and Carragher is yet to find the back of the net. Compare this to some of our rivals' defences, where Nemanja Vidic has netted 11 goals in the same period for Manchester United, while John Terry has contributed 9 goals for Chelsea. In 2009-10 alone, Thomas Vermaelen netted seven goals in his debut season at Arsenal, outscoring Liverpool's current centre-halves in one season.
Rumoured summer target, Gary Cahill, has scored 12 times for Bolton and if we look at our midweek Carling Cup opponents Stoke, we would find a good contribution from the defence. Ryan Shawcross has scored 13 times, seven of which were in the Championship, whereas Robert Huth has netted on ten occasions. We shouldn't forget that Sotirios Kyrgiakos added three goals during his two years at Anfield and before him Sami Hyypia was a regular goal threat, from set pieces in particular.
Now we are looking for the new generation to step up and be counted at both ends of the pitch. In the recent game against Manchester United, Skrtel missed a glorious chance to find a winner, firing eccentrically into the stands, while against Norwich he showed his threat from set pieces, agonisingly glancing a Charlie Adam corner onto the crossbar. The Norwich chance was similar to the goal he scored against Bolton earlier in the season, running towards the near post to meet an Adam delivery and with the arrival of the Scottish midfielder, you can expect more goals from set pieces this season.
Whatever the centre-half partnership is for the remainder of the season, one requirement is aerial threats in both penalty areas. Now that we're creating chances, more members of our squad need to step up and take them.
All of the stats displayed in this article are Opta Stats via EPLIndex.com, where you can subscribe to write and view all of the statistics for as little as £1.50 per month! Register now!