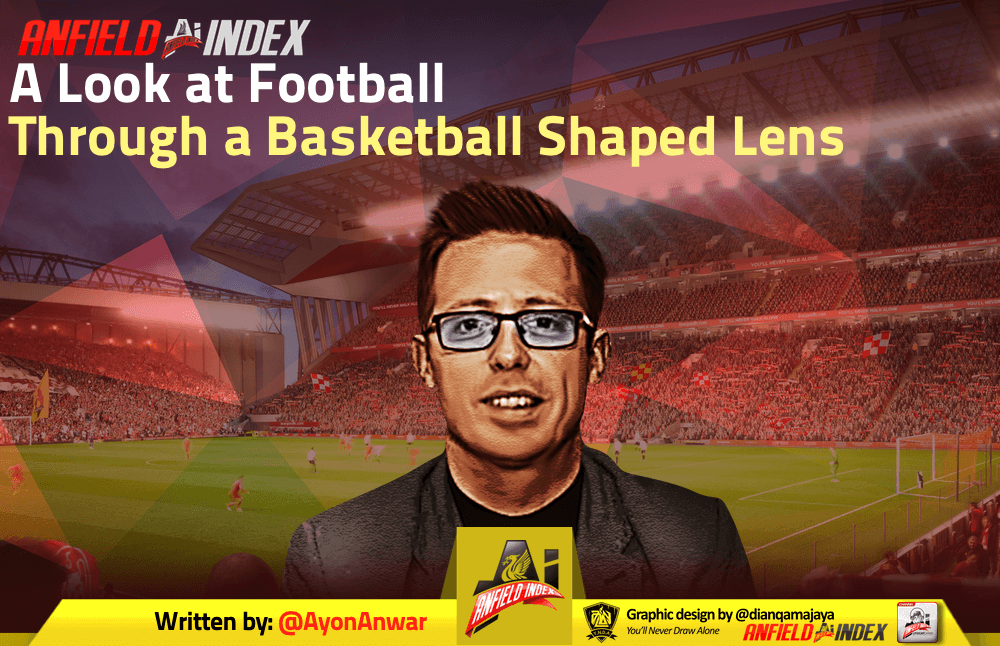 A Look at Football Through a Basketball Shaped Lens
Data analytics have come forth in leaps and bounds over the last decade or so, as football clubs around the world seek to gain an advantage in securing titles, promotion and everything in between. Even 'Big' Sam Allardyce employed a team of data analysts during his tenure at Bolton Wanderers as a part of the sorcery used in his own version of the footballing dark arts.
Taking a leaf out of the NBA analytics book, the following analysis shows the over/underperformance of the Premier Leagues 'Big 6' this season, by examining their 'Net Ratings'.Understandably, in Basketball the conclusions drawn from such analysis techniques can be easily digestible as the ability to score is much easier, thus the discrepancy between good teams and bad teams are more apparent.
In an attempt to bridge this gap, the Net Ratings of each team, or Goal Difference, have been compared to each team's Expected Goals, Goals Against and Goal Difference.
Expected goals has been a revelation since its mass introduction at the beginning of the 2017/18 season as it allows us to analyse the quality of chances created by a team in a particular game and across a season, by giving each shot a specific value e.g a penalty is valued at 0.76 as the data pool suggests there is a 76% chance of it being scored.
Mo Salah's 6th place finish at last week's Ballon d'Or ceremony can be largely attributed to outperforming his expected goals by 6.86 goals in the Premier League last season, leading Liverpool's team over performance to a total of 3.42 greater than expected.

From this sample, we can begin to understand some of the underlying trends being witnessed across the Premier League this season.
For example, in trying to understand Liverpool's surge to the top of the Premier League, after their 4-0 victory over Bournemouth at the weekend, we can see there is a massive overperformance in defence, as the Reds have conceded 0.375 goals/game, whilst the quality of chances would suggest that they should have conceded 0.844, equating to 7.51 XG prevented so far this season (Full season statistics can be seen in the table in the Appendix).
The factors which have contributed to this include Joe Gomez's goal-line clearance from Andre Gomes' shot from a yard out during the Merseyside Derby, Virgil Van Dijks emergence as the best centre back in the league alongside Aymeric Laporte and a seemingly subdued attacking system, although at this rate they are set to exceed last season's XG overperformance, projected to be a whopping 20.449 extra goals.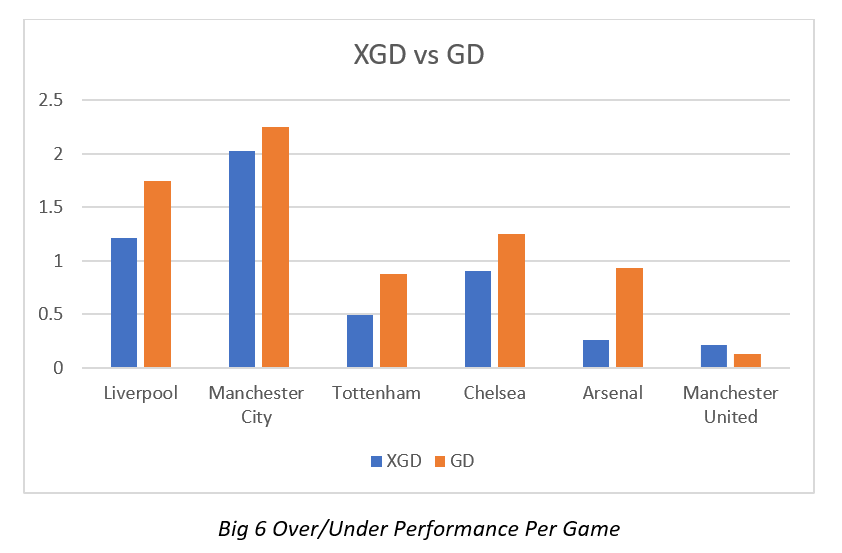 Manchester City, despite their loss at the hands of Chelsea by 2 goals to nil at Stamford Bridge, are quickly turning into a Pep Guardiola juggernaut with an outrageous XGD/game of 2.031. Current projections would suggest that they equal their record goal tally of 106 goals at 2.812 goals per game. The frightening part of their performances so far arises in their defence as they seem to be even tighter at the back conceding 0.563 goals/game.
Interestingly, the side with the greatest overperformance is Arsenal. In contrast to Liverpool, their overperformance arises from their attack finishing improbable chances scoring 2.188 goals/game whilst only expecting 1.548.
Blessed with a plethora of attacking talent, so much so that the clubs highest earner, Mesut Ozil, can be left on the bench or even out of the squad, the Gunners have extended their unbeaten run to 21 matches. Early season doubt over their chances of a top-four finish may have been premature in hindsight, particularly considering the quality of their opponents. Unai Emery should be cautious though, as these levels of overperformance are historically unsustainable.
Manchester United's Malaise and regression into mediocrity was, up until their match with Fulham, best surmised by one damning statistic, a negative goal difference after 15 match days. Since battering the Cottagers 4-1 at Old Trafford, the Red Devils have since rectified that harrowing accolade, however, they are still the only big 6 team to underperform on their XGD, with a season total of -1.42. Manchester City is their closest rival purely based on the fact that there seems to be a ceiling to how good a team can truly be.
The strength of schedule does play a part in this form of analysis and quality of chances does deviate with respect to the opposition. However, by using the perspective of other sports, we can hopefully alleviate some more uncertainty in the beautiful game.
All statistics sourced from understat.com
Appendix