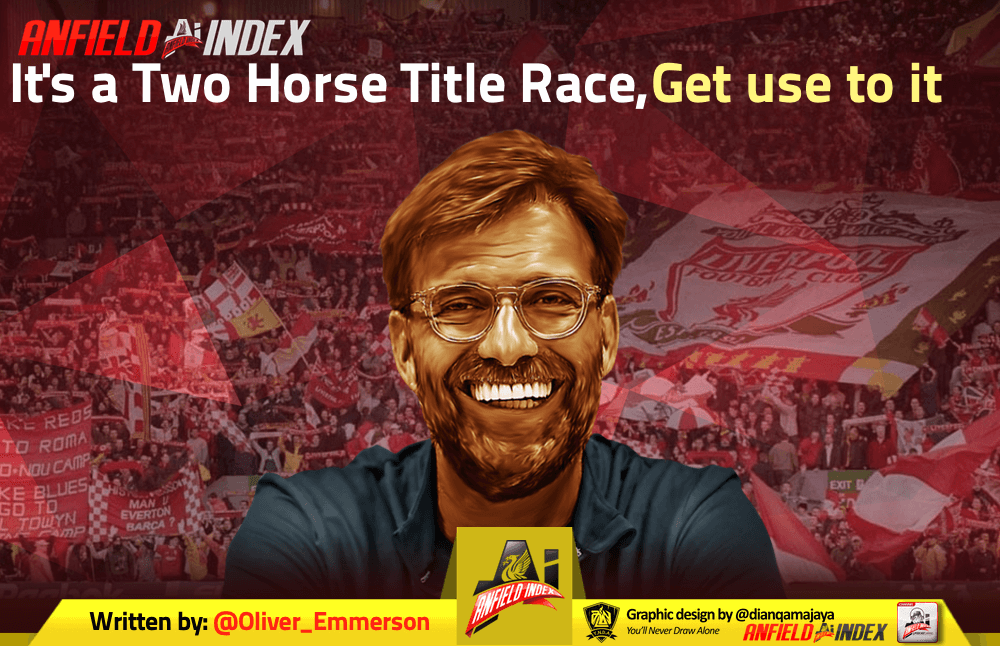 It's A Two Horse Title Race, Get Used To It
As the full-time whistle blew on Manchester City's first league defeat of the season on Saturday evening, it wasn't just Chelsea fans celebrating.
Liverpool fans knew that a Chelsea win would leave the Reds out clear at the top of the Premier League for a week at least, N'Golo Kante and David Luiz providing the goods with two goals that knocked the stuffing out of City.
However, some Tottenham and Arsenal fans were jubilant too.

With Spurs defeating Leicester and Arsenal seeing off Huddersfield, the two North London sides moved within five and seven points of City respectively. They still harbour title ambitions, some say.
You couldn't be more wrong.
Chelsea and Arsenal fans are kidding themselves
Starting with Arsenal, and Chelsea for that matter. Both are eight points off Liverpool, seven away from City in second. They both still have to go to Anfield and the Etihad respectively, what's the chance of an eight-point swing in 22 games when you take what we've seen so far, and what is yet to come, into account?
Chelsea have been wonderful and woeful at different times during Maurizio Sarri's debut season in English football, with inconsistency likely to linger until the final third of the season at least. They should be positive about what they've seen, but next season will be time for Chelsea to push hard at the top.
The Arsenal shout is even more ludicrous. Whilst Unai Emery deserves credit for the turnaround he's engineered at the Emirates post-Arsene Wenger, he's got little title-winning experience himself – Christ, he managed to come second during his first season at PSG!
Add into that a fairly obvious overperformance by Arsenal when it comes to xG, and you soon realise that Arsenal should be focusing their attention on making sure they get back into the top four rather than daydreaming about lifting the trophy come May.
Spurs to come third in a two horse race
If it was a title three horse race you'd have to put Spurs in as the third runner. They're experts in coming third in two-horse races, so why not be third in a three horse one? Because they probably will be third, just not in the race.
Spurs, settled under Mauricio Pochettino with a number of world-class talents, are best placed to challenge Liverpool and City but home defeats to the pair have likely cost them already.
Ambitiously assuming they pick up a point at the Etihad and Anfield, that still leaves them needing to get at least five more points than City and six more than Liverpool during the 20 other remaining league games. Liverpool have only dropped six points themselves in 16 games, City seven. No way can Spurs turn that around.
There is a chance that they pick up more points than either Liverpool or City during the remainder of the campaign, but both? And with that amount of points?
The Lilywhites may go close, but to be in the title race you have to have a chance of winning it. Pochettino's men don't.
Even Liverpool fans, ecstatic at holding first place in the league after 16 games, know that picking up as many points as City during the remainder of the campaign is a mammoth task. The Reds are in the race though.
The Reds and one monster of a horse. Nobody else.