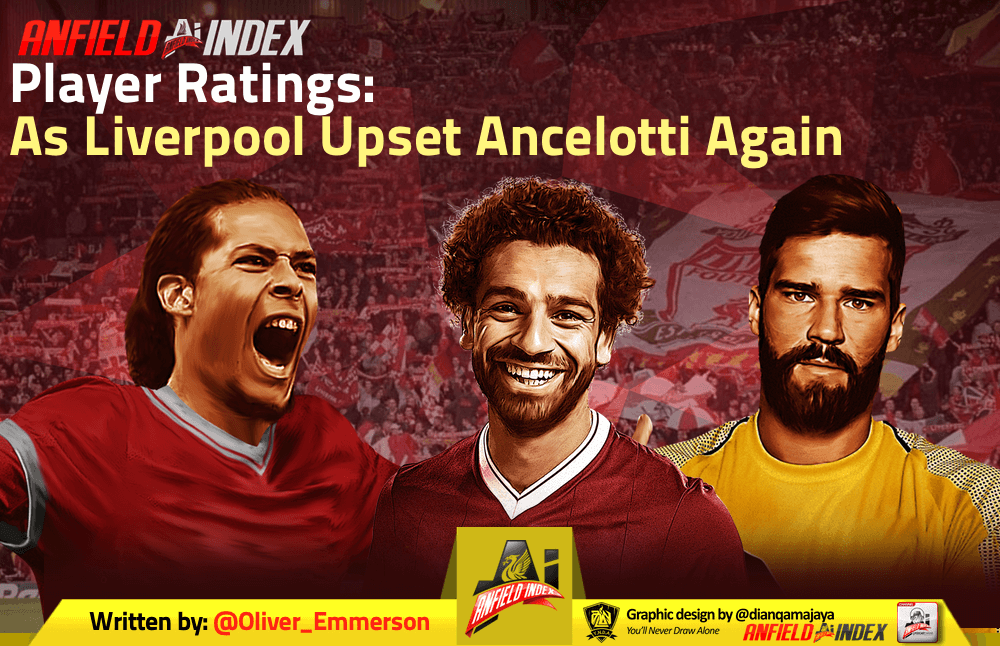 Player ratings as Liverpool upset Ancelotti again
Carlo Ancelotti's rivalry with Liverpool would make a bloody good film, wouldn't it? Istanbul, Athens, his La Decima winning Madrid team at Anfield in 2013, and now Anfield for Liverpool 1-0 Napoli in 2018.
A hair raising night, made a brilliant one by a man with the most beautiful head of hair, Alisson Becker.
The Reds are through, ensuring I haven't got to think of excuses as to why I can't do Europa League ratings in the Spring.
Here we go…
One transfer fee, one save
Alisson Becker (10): You pay big money for goalkeepers for big moments. Consistency too, sure, but you know there are going to be big moments in big games where the man in the gloves must step up. That's what Alisson did against Burnley last week, once more tonight. That save from Milik in stoppage time is stupendous, he's throws himself out of goal and simply says no. No, you're not scoring. No, you're not spoiling the night. No, you're not going through. Amazing.
Trent Arnold (8): Given a tough test by Insigne in Naples, he responded tonight superbly. Nice and tight at the back, gave nothing away and clicked it all together going forward.
Virgil van Dijk (9): An absolute gladiator. Booked stupidly after a good tackle, picks himself up to lead his defence and himself through the game. Constantly covered ground, swept up and kept his cool as Napoli threw the kitchen sink. Koulibaly better? My arse.
Joel Matip (7): Picked ahead of Lovren and justified it expertly. Really strong for 60 minutes and then tailed off a little bit towards the end of the game in terms of positioning, still good enough for a high mark.
Andy Robertson (8): There isn't much more to say about this man than many have already. Brilliant again, both going backwards and forwards. Reacts so well to everything, constantly sweeping up loose balls and springing counter-attacks. Would have had an assist if Mo had got his touch right early on.
Klopp's midfield gamble pays off
Jordan Henderson (7): Disappointing in the first half as the game seemed to pass him by, unsure whether he should be helping Liverpool throw the kitchen sink or offer cover. Napoli's goal made his role simpler, get the ball back and get Napoli defenders turning with passes. Better.
James Milner (6): The poorest of the midfield but not terrible by any stretch, just a few sloppy passes. Some good challenges, mind.
Georginio Wijnaldum (8): Loves coming alive in a big game, doesn't he? Ever since he signed for the club, he's loved the thought of the Anfield crowd singing his name on a big night. Best bit of play comes deep into stoppage time, so cool under pressure to get away from Napoli challengers and then just dribble, keeping it, dribble, keeping it. Saw the game out immensely.
That one season wonder at it again, is it?
Mohamed Salah (9): Restored to the right wing and revitalised on the European stage, a tremendous goal to send the Reds through. Spins Rui and uses his rather underrated strength to hold off Koulibably's challenge before (intentionally) sending the ball spinning through Ospina's legs and into the corner. You can't explain to me how he didn't pick up an assist, either.
Roberto Firmino (7): Much better, pressed really well and got Salah in a few times. Rightfully pulled off after running his heart out.
Sadio Mane (6): Attacks well, defends well. Gets a six because he doesn't score. Sorry mate.
Excellent substitutes, bar Lovren…
Naby Keita (6): We all want him to start, but what a player to send on! Kept the ball nicely, helped run the clock down.
Fabinho (7): Header after header, after header. I love him.
Dejan Lovren (2): Come on fella. Only on for 4 mins, manage to almost cost us the game? Mark your man!