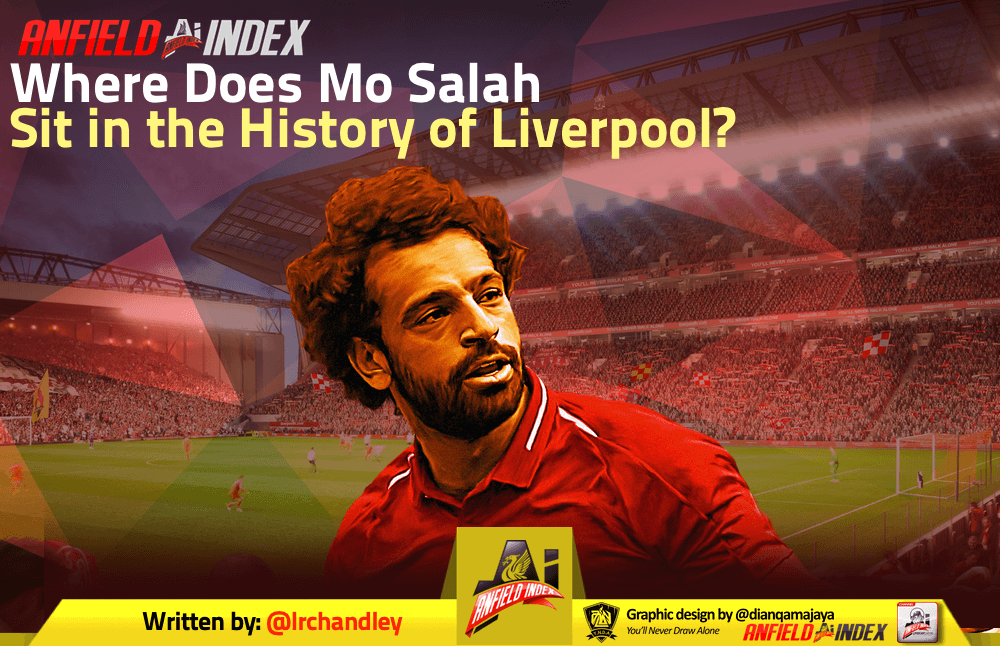 Where does Mo Salah sit in the history of Liverpool?
Last season, before a ball had been kicked, Liverpool signed Mohamed Salah for around £36 million from Roma, in a move that was seen as some well-needed reinforcement at the top of the pitch. Coming off the back of Liverpool's year almost falling off a cliff with the loss of form and Sadio Mane during the 2016/17 season, many supporters welcomed the competition for places and backup that Salah brought to the table. "At least we've got a bit more depth" was a general consensus to the signing.
This feeling was probably brought about for two reasons. Firstly, the season mentioned earlier and the effect the loss of Mane had on our flow, mixed with the all-too-fresh memory of the Egyptians experience with Chelsea and Jose Mourinho. Salah's exploits in Italy had helped restore his reputation, but being a success again in England, to some, felt like it may be a step too far.
Fast-forward to today, and there would be no fans that could have predicted the rise and continued rise of our new King of the Kop from a backup player to bonafide global icon. This wasn't predicted, this wasn't foreseen. Simply put, this has taken us all by storm.
Skipping from signature to stardom negates the story in between. The goals, the gripping tension and then greatness. But it is this greatness that needs to be seriously spoken about, and seriously understood in the balance of past and present Liverpool greats. Where do Salah's performances land him now, and where can they take him when he hangs up his boots? 
Last season was a wonder for Salah. We all know that. Realistically, we didn't expect it. Realistically, we couldn't have expected it this year. But we're no longer dealing with the old realism. The old knowhow. What we thought we knew. Because this year has started to become another huge year in the history of Mo Salah. And the exciting thing? He seems to have improved on last season. 
This year got off to a slow start, performance-wise. Everyone acknowledges that. But the goals still came, even as there was talk of shoulder injuries, new positions and relationship unrest with Egypt. But over the last month and a half, the performances have improved drastically and the goals have continued to flow.
It isn't just goals and assists we're getting from Mo. It's the strength, pressing and a sheer understanding of what defenders don't like to do. Although Salah scores regularly, he's now at the absolute tip of our formation, ready to pounce and force defences back towards goal. Just look at the Bournemouth game last weekend as an example. Steve Cook didn't know whether he was coming or going. And he won't be the last.
So where does the conversation about Salah's greatness start, and where may it end?
What makes a Liverpool great, great, is his ability to perform over a period of seasons. Obviously, Mo hasn't had multiple seasons to work with, but if all goes well, he should. And if he continues to improve and produce, like we hope he does, where does his name fall?  
Luis Suarez was the best player I've ever seen in the flesh, whilst Steven Gerrard was the greatest. And whilst he will never get to Steven Gerrard levels of legend, we should already be talking about Mohamed Salah as someone who falls in the very bracket below, the bracket that Suarez occupies. He should fall next to Suarez, he should be spoken about like Xabi Alonso, Sami Hyypia and more. The numbers he produces on a game-by-game basis mean that he will already be remembered fondly as a hero who brought joy to our faces. But bring trophies – and a Premier League one at that – back to Anfield during his stay, and he will be remembered as the player that unlocked a juggernaut. And that will create a legend in itself.