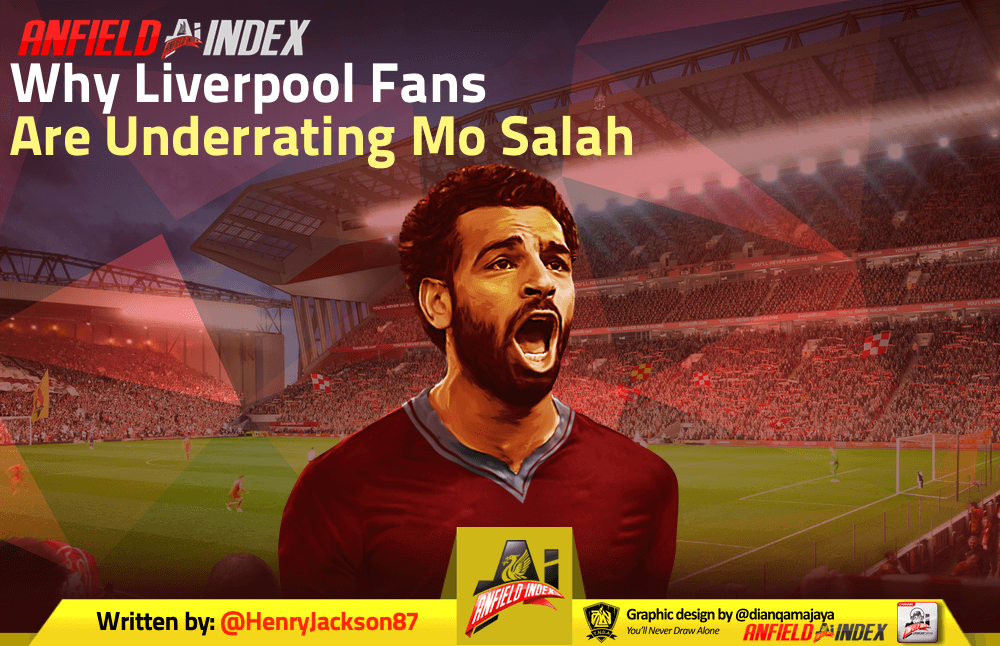 Why Liverpool Fans Are Underrating Mo Salah
I happened to glance upon a Twitter poll last week asking who Liverpool's best signing had been during Jurgen Klopp's tenure.

I answered with my gut feeling, and along with approximately 60 per cent of the voters, opted for Virgil van Dijk, who led the way comfortably.
I saw Mo Salah's name loud and clear in front of me but didn't once consider picking him ahead of the towering Dutchman.

The last week has shown how ridiculous it is that Van Dijk gained the majority of the votes, even though he is arguably the world's premier centre-back and has transformed Liverpool's defence.
The correct answer is Salah. It just has to be.
That effortlessly brilliant hat-trick at Bournemouth was proof of that, as was his scintillating match-winning performance against Napoli on Tuesday night.
We are witnessing a truly special footballer before our very eyes – somebody who is smashing records and scoring goals at a Lionel Messi and Cristiano Ronaldo-esque rate.
Bizarrely, Reds supporters are still actually underrating him as a collective, despite idolising him and rating him unbelievably highly at the same time.
Salah has only been at Liverpool for 18 months but what he has already achieved in such a short space of time is staggering.
The Egyptian has created a highlights reel that most Liverpool signings would be proud of over a five-year spell, let alone someone only in their second season at the club.
He has notched 57 goals in just 75 appearances, making former goalscoring supremos such as Ian Rush, Robbie Fowler, Michael Owen, Fernando Torres and Luis Suarez look like mere mortals.
No player in the history of Liverpool was quicker to 50 goals and his 44 strikes in his debut season was the most by a Reds player in a single campaign, barring Rush's 47 in 1983/84.
Salah is no buyer of cheap goals either – something that is aimed at many top finishers, including even the great Ronaldo (current one, not original one).
As AI Under Pressure's Simon Brundish pointed out on Twitter after the Napoli victory, Salah has scored 28 of the 71 goals that have either drawn Liverpool level or put them ahead in the last two seasons.
That's 39.4 per cent, going to show that he is the man who delivers when it really matters and not somebody who pads out his numbers at more irrelevant times.
In 2018/19 already, seven of Salah's 10 Premier League strikes have either put Liverpool 1-0 up or been the only goal of the game – a huge reason for them topping the table currently.
His only 'cheap' league effort was a tap-in to make it 3-0 at home to Southampton, with the remaining two his brilliant second and third goals away to Bournemouth last Saturday.
Salah was pivotal in the Champions League as well on Tuesday, settling a thrilling game against Napoli with a crisp finish from a tight angle.
Without that one magical moment, in which he bamboozled the dominant Kalidou Koulibaly, Liverpool would be facing Europa League football in the New Year.
There have been moments this season when Salah has not always been the player who looked as good as anyone in the world in 2017/18, but his influence has remained vast.
These last few games have seen the 26-year-old return to a world-class class, however, and he looks hungrier than ever.
Some people are even missing the reason behind his 'subdued' celebrations, with a potential unhappiness at Liverpool cited as a factor.
It is more a "I know I'm this good" celebration than anything – an underrated, healthy arrogance that Messi can also display from time to time.
That's another thing to add about Salah. He's not the angel he is often the painted as, or an endlessly modest individual.
He is both of those things a lot of the time, of course, especially away from the pitch, but he knows exactly how special he is and will never back down from a physical scrap or a whinge at the referee.
Maybe Salah's genius isn't being appreciated to the absolute max because he is here in the present, with so many supporters keen on harping back to the past.
Maybe it's because he doesn't quite possess the street-fighting style of Suarez, the local lad cult status of Fowler or the exotic appeal of Torres, who seemed like a signing from another planet back in 2007.
Whatever it is, Salah is not consistently being spoken of as arguably the Reds' most devastating player of the Premier League era, when in reality he is right up there, if not at the very top.
That is not judging it solely on a random Twitter poll – that would be madness – but the results of it perfectly sum up the situation.
He should be walking away with 'Best Klopp Signing' awards left, right and centre, which is nothing against so many of the great purchases the Liverpool manager has made, from Van Dijk to Alisson to Sadio Mane.
Salah is doing remarkable things and we need to appreciate it fully before he is gone.
We worship him, but still not enough.