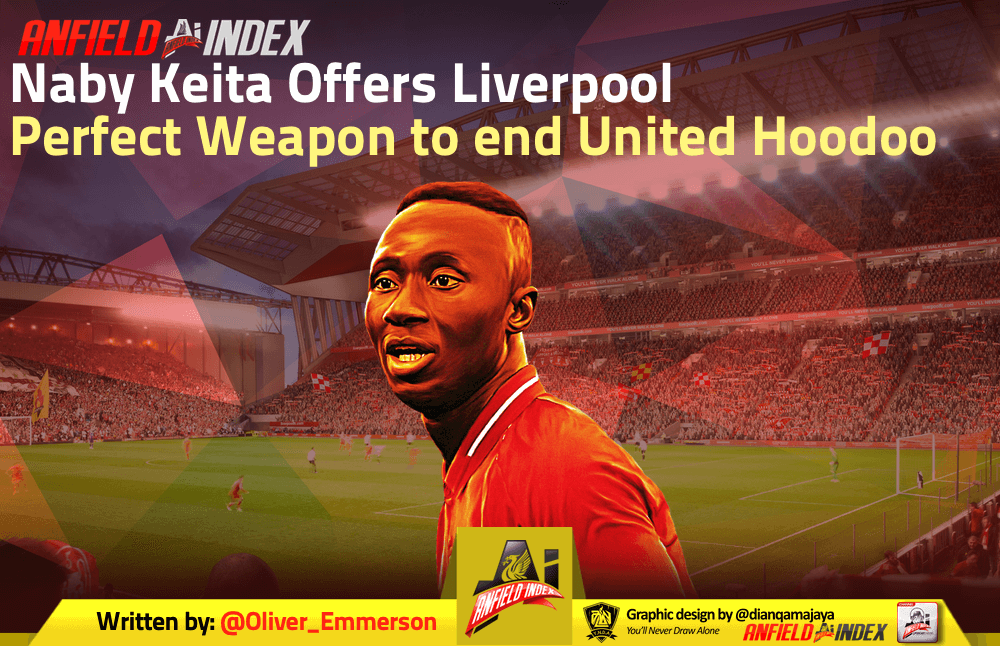 Naby Keita Offers Liverpool Perfect Weapon to End United Hoodoo
Liverpool's recent Premier League record against Manchester United is woeful. If all matches were played without context, United would be the biggest two games of each league season for the Reds.
Since Brendan Rodgers' wonderful 2013-14 side went and won 3-0 at Old Trafford, United haven't lost in the league to Liverpool.
Domestically, United are eight unbeaten in the fixture, winning five and drawing three. Whilst that record doesn't only cover Jurgen Klopp's tenure, the German hasn't had much fortune in reversing the recent trend.

Despite having a Europa League triumph over the Red Devils to his name, the German has been left disappointed in the league. Five games, three draws and two defeats.
Liverpool's recent problems against United, especially at home, have come going forward. With two 0-0 draw's in the fixture over the last two years following up Wayne Rooney's scrambled goal to steal an early 2016 game at Anfield, Klopp is yet to see his side score in the league against Manchester United at Anfield.
The last time Liverpool managed that was Daniel Sturridge's consolation in April 2015. The game Steven Gerrard got sent off in? Yes, that long ago.
However, with Liverpool top of the league and flying in comparison to sixth placed United, there's never been a better opportunity to break the bad run, especially with Liverpool's new-found midfield options.
With Louis van Gaal and Jose Mourinho both masters of defensive football, Liverpool's midfield has struggled to provide their attack with enough support to win matches in recent seasons.
Philippe Coutinho (1 start) and Alex Oxlade-Chamberlain (1 start) are the only particularly attacking minded midfielders that Klopp has started in his league games against United, with Jordan Henderson (4 starts), Emre Can (5 starts), Gini Wijnaldum (2 starts), Lucas Leiva (1 start) and James Milner (1 start) making up the other used midfield options.
But now, with Naby Keita in his ranks, Klopp has the perfect weapon to unleash on a United midfield lacking in both organisation and creativity. Nemanja Matic has looked a shadow of his former self this season yet has started United's last three league games, offering a defensive midfielder that Keita can get at and drag around the pitch, opening up space for the likes of Firmino and Mane to drop deep, hopefully drawing a United defender out of position to spring Mohamed Salah in-behind.
Bar Coutinho's long-range shooting and Oxlade-Chamberlain's powerful dribbling, Liverpool haven't had a midfielder with the skill-set to truly harm a United side like this in years.
The Guinean comes in fresh for the game having only made a substitute appearance against Napoli on Tuesday, following on from a fine performance against Bournemouth, the Reds running riot to win 4-0 at the Vitality Stadium in arguably their finest league performance of the season so far.
Aside from two glorious nutmegs, Keita pulled off 30/33 passes in an hour, completed three take-ons and making four tackles. It's that ability to win the ball and use his dribbling powers to get Liverpool moving on the offensive that could prove crucial against United, as Liverpool look to end the drought.
With Keita likely to be lined up with Fabinho and Gini Wijnaldum in a midfield three, Liverpool truly have a combative, creative midfield capable of taking United to task and exposing their flaws come Sunday. With an attack ahead of them that looks like it's clicking and the league's strongest defence behind, it could be a cracking Sunday at Anfield.