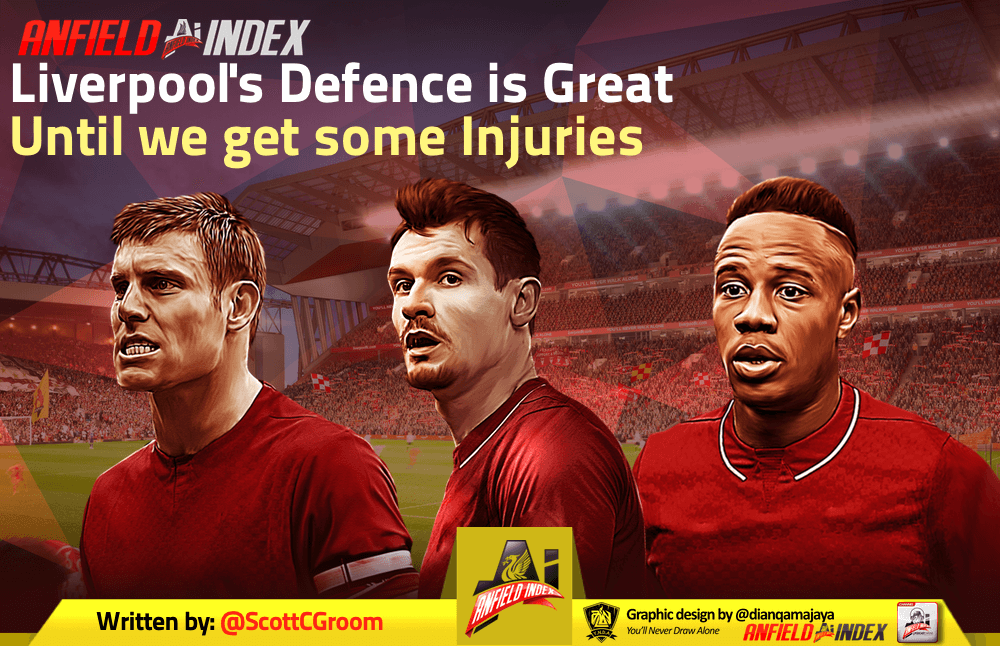 Liverpool's Defence is Great – Until We Get Some Injuries
It's been a pretty good start to the season for Liverpool Football Club, all things considered.
The Reds currently sit as outright leaders at the top of the Premier League, they remain unbeaten and they have just secured qualification to the knockout stages of the Champions League despite an overwhelming amount of pressure being placed on their decisive group stage match against Napoli.
And to top it all off, Jürgen Klopp seems to have answered his last critics by steadying his side's previously shaky defence which has now only conceded 12 goals in all competitions this season.
This is quite the achievement considering that, up until Virgil van Dijk's arrival last January and then the addition of Alisson Becker in the summer, fans were crying out for something to be done about the problem area for the Reds.
But even with the obvious strides that have been made in recent months, we once again find ourselves in a bit of a predicament with our defence – this time due to injuries.
Recent setbacks to key man Joe Gomez and his replacement in the starting XI, Joël Matip, who suffered a broken collarbone as the full-time whistle blew against Napoli. This leaves only Virgil van Dijk and Dejan Lovren as fit squad members who are primarily centre-backs.
Nathaniel Clyne, Liverpool's forgotten defender, is again struggling with injury and while this normally wouldn't be a problem – it currently is due to the knock picked up by Trent Alexander-Arnold against Napoli.
Yes, there's an argument that Fabinho can play in the middle of the defence, or even at right-back as he has done for Brazil, but it's not his normal position. This then leaves Liverpool with only four fully fit senior defenders: Virgil, Lovren, Robertson and Moreno.
James Milner, like Fabinho, can deputise in the back-line (as he can in any position, I'm pretty sure there's nothing the Yorkshireman can't do) but it is not where he is at his best, and Klopp will be wary to use him there given the season he spent playing left back recently – after which he quietly voiced his discontent at playing there.
All of a sudden, Liverpool's impenetrable defence looks a little thin on the ground.
And this should be a wake-up call of sorts to Liverpool and Klopp, that even though things look pretty rosy at the moment, this squad is still only one or two injuries away from being down the bare bones in certain departments – specifically the defence.
I appreciate that this may sound somewhat derogatory to those coming in to fill the voids vacated by those on the treatment table, and it is at this point that I should add that those players coming in are more than capable of continuing Liverpool's good run of form and high level of performance.
However, there are growing calls for some of Liverpool's defenders to be upgraded upon in the coming transfer windows if they are to seriously challenge for major honours, season after season.
There's no denying that we need a new right-back, as Nathaniel Clyne, through no real fault of his own, has been pushed so far down the pecking order that he really doesn't stand a chance of getting a game, even if he's fully fit.
Alberto Moreno on the other flank does not provide adequate cover for Andy Robertson due to his error-prone performances and tendencies for a moment of madness, as we know that Dejan Lovren can be in the middle, too.
So upgrades are needed. That much is true.
But perhaps I'm judging too soon. Some of these squad players could come in and do a brilliant job during what is being coined as an 'injury crisis' at Anfield. And if they do, then the problem has been averted – for now.
It's a problem that'll continue to rear its head, however, unless the investment is made in Klopp's squad, particularly in defensive areas.