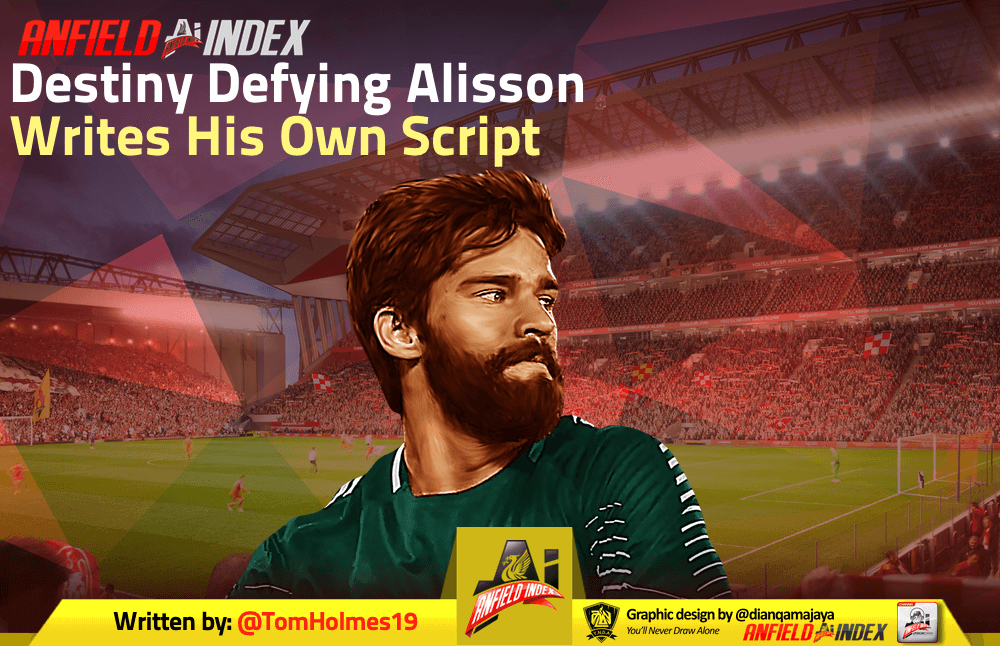 Destiny Defying Alisson Writes His Own Script
You could write the script. It really was that predictable. Liverpool had been banging on the door all night, creating a good chance after good chance against a Napoli side that was there for the taking. Even as the time ticked away and it became abundantly clear that Liverpool's only chance of going through on the night was to win 1-0, as the time to score two more goals had all but run out, still the Reds carved open Napoli, such was their speed and skill on the counter-attack.
And yet, as it stayed at 1-0, you knew how it would go. We've all seen this film before. The more comedic the misses, the more inevitable the pain. And so, as Dejan Lovren came on the 89th minute, the stage was set. A few minutes later, as the game reached its explosive dying embers, Lovren made a mistake, and Milik was set to punish him.
Except one man hadn't been reading from the same script as everyone else. Alisson Becker came flying out of his goal, made a stunning save, and wrestled victory from the jaws of defeat. In that moment, it really did feel like a man who was single-handedly defying destiny, stamping his authority not just on one chance, and not just on one match, but on an entire season. Liverpool Football Club were not about to go gentle into that good night. Their Champions League campaign isn't over yet.
Whilst Alisson's moment in the spotlight shouldn't obscure what was a really spectacular all-round performance from Liverpool, it does highlight his importance, and the importance of having a good goalkeeper in this, or any, side that's challenging to win trophies. Whilst comparisons will, somewhat unfairly, be made to Loris Karius' errors in the UCL final, the fact remains that outside the sensationalisation of moments, Alisson is a significant all-round step-up on Karius.
To go back a few months, I was one of those beating the Alisson drum most fiercely over the summer. His xG and post-shot xG rates at Roma were absolutely sensational, as was his save percentage. His numbers were comparable with the two best keepers in the world, Oblak and De Gea, and that made him an extremely valuable commodity. Especially after Karius capped off a decent but not impressive season with the mother of all confidence destroyers, I was intent that Alisson should be our number one summer target, whatever the cost.
Of course, I wasn't the only one, and the vast majority of LFC fans, especially those in the analytics side of the fandom, were overjoyed when he joined for what was a goalkeeper's record fee. But much as Virgil Van Dijk has done in the defence, Alisson has already demonstrated that he was worth every penny. It's very telling that with 2018 nearly over, both VVD and Alisson are no longer being judged by their price-tags, but by the number of goals that they're saving their team.
That being said, I was if not frustrated with Alisson's performances, than certainly underwhelmed for the vast majority of the season so far. His big error against Leicester was joined by niggling errors against Arsenal and Red Star – not necessarily glaring errors, but shots that you would feel a goalkeeper of his expected calibre should be saving.
But since then, he's turned in a string of truly exceptional performances to go with the numbers that he's been putting on. Against PSG he kept the score respectable; against Everton he denied what should have been a clear goal, against Burnley he made critical saves and was unlucky about the goal, only to turn in a piece of truly spectacular work to contribute to Liverpool's third. Whilst he wasn't really called into action against Bournemouth, he certainly was against Napoli, and here we stand.
It's certainly interesting that this is the stage of the season where Liverpool face Man United. David De Gea has been – rightly – seen as one of if not the best goalkeeper in the world for over half a decade, but now there's a clamour amongst LFC fans to point out that Alisson is taking his crown from him. Certainly, I felt that such a claim was a bit quick, DDG has only had six months of mediocre form after ten times as long at the peak of his powers, but Alisson has rounded off a sensational 18 months in his career to hit the form of his life. As such, it's prescient that for the first time in years, Liverpool have a good claim to the goalkeeper slot in a Liverpool, Man United combined XI.
Whilst it's hard to look at real numbers, since with goalkeepers xG isn't necessarily the only fit, Sam McGuire and Football Whispers have access to post-shot xG data, that is to say, the probability not just that a shot ends up as a goal, but the probability that the keeper can save that shot. And this data indicates that Alisson is saving up to HALF of the goals that a statistically average keeper would concede. Indeed, as Mark Taylor notes, there's only a 1% chance that a goalkeeper could do better in the Premier League than Alisson has done this season.
https://twitter.com/SamMcGuire90/status/1072938475123556352
Alisson's #xG 2 timeline for #LFC #PremierLeague. For comparison #HTFC Lossi has faced roughly the same quantity & quality of shots & let in nearly three times as many goals. 1% chance this is an average keeper riding a hot streak. Data @InfoGolApp pic.twitter.com/OES7g3NiV7

— mark taylor (@MarkTaylor0) December 14, 2018
To add to that, Liverpool have conceded six Premier League goals from 12.92 expected goals, and of the ten big chances that the opposition have hit the target with this season, they've scored just three goals – giving Alisson a 70% save ratio from big chances.
So Alisson is living up to the hype. But as I've said, behind the numbers, and more than the numbers, is the sense of belief, and the sense that he is becoming an absolutely vital cog in Liverpool's machine. Over the past few months, there's been a feasible debate over whether Salah or VVD is Liverpool's most important player – for the record, I maintain that it's Salah for a myriad of reasons but naturally I respect anyone who thinks it's VVD. A couple of weeks ago on a podcast, I myself said that those two players are the only two in the squad that are irreplaceable. But Alisson has muscled his way into that debate in style.
The fact is that once again, Jürgen Klopp and Michael Edwards have taken a problem spot, one of Liverpool's biggest perceived and actual weaknesses, and turned it in one fell swoop into a huge positive, and one that is potentially game-changing. Liverpool don't just have match-winners in the final third anymore, they have match-winners in their own penalty box.
In many respects, Alisson has had a quiet season, as Liverpool have had the third lowest shots conceded in the whole of Europe, with only Bayern and City conceding less chances, and only City in the PL have conceded less expected goals. And yet, despite not being called upon very often, when he has been called upon, Liverpool's new goalkeeper has demonstrated that he is a class above, not just above their old keeper(s) but also above everyone else as well. There are very few on his level now, and that's exactly the way Klopp will want it.
Savour it boys and girls, Liverpool have themselves a goalkeeper. A real one this time.