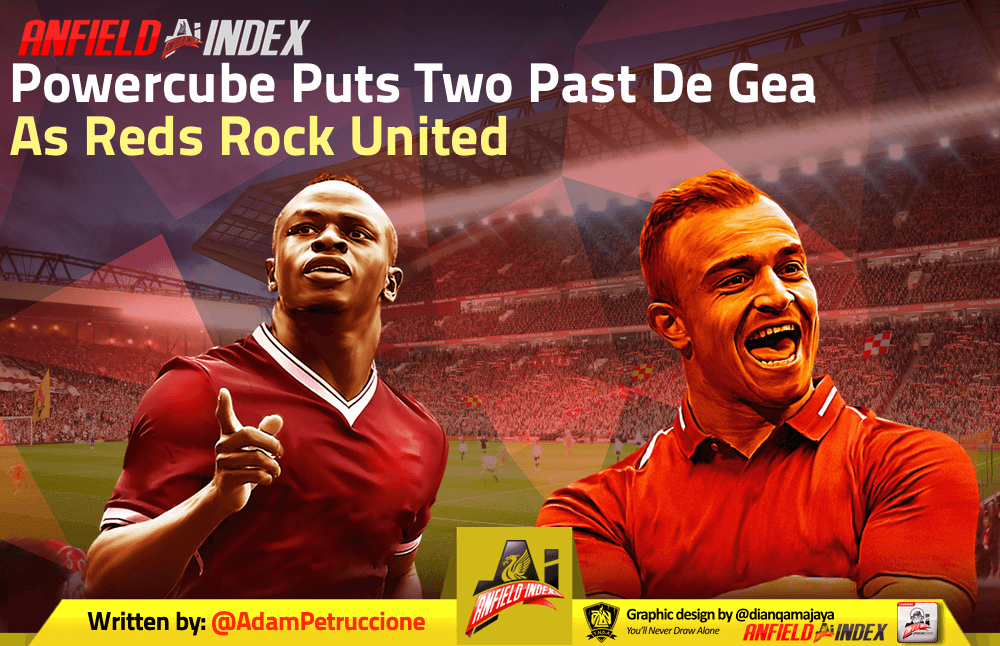 Powercube puts two past DeGea as Reds Rock United

Is Sadio Mané a player who is unaware just how close he is to greatness? Or, is he a player that thinks he's far better than he actually is?
Sadio Stunner
Regardless, Liverpool's left-winger was a difference maker against Manchester United in the first half. With Bobby Firmino unable to unlock the small gaps in United's stacked back line and Salah lost in a forest of navy shirts, Mané was finding space to run in behind. And, in the 24th minute, Sadio Manê chested down a Fabinho chip and volleyed home in a sequence so beautiful it didn't feel like real life. Few EA Sports promo animations have looked that good.
Mané's was a goal worthy of beating United and putting Liverpool back on top, but it is rarely that simple, even against a wounded and humiliated rival. A harmless cross from Lukaku in the 33rd minute was initially nabbed by Alisson, but as he tucked it into his chest the ball came off his knee and right into the path of the onrushing Jesse Lingard. Given the conclusion of the Champions League group stages are right in our rear-view and Alisson dragged the team through it, the rest of the Liverpool squad really owed him one. Would they be able to bail him out as he had for them, again and again, this season?
Mighty United or Burnley?
This felt like it could have been a match against any lower table side, content to pack the box and hope. Liverpool tried moving the ball around, crossing it, firing in shots from centre-backs, central midfielders, fullbacks. United brought on Fellaini at the half to scrum things up yet another notch. Liverpool needed to manufacture a scrappy moment of their own to take all three points.
On came the Alpine Messi, and moments later DeGea would have his own fumble. A ricocheted ball from Manêvescaped the Spaniard's grasp, rolled out to the right where the Swiss Assassin was waiting. The ball hit the back of the net with a little help from Ashley Young in the 73rd minute and Anfield erupted.
A tale of two calves
Liverpool continued to go at United, looking to embarrass them rather than just take the win. And why not try and pad your stats against a team that has been this poor? In the 80th minute, the Powercube fired off of Bailly's comparatively skinny calf and into the net again for 3-1. Blamed for Stoke's relegation a few months ago, Shaqiri has been a revelation even in short spurts for Liverpool.
Jose Mourinho and his coaches sat sulking and soaked in the cold Anfield drizzle watching Fellaini take out a touch-line cameraman with his typical delicate touch. Meanwhile, a vibrant Jurgen Klopp trotted back and forth, somehow dry, excitedly contemplating who would get the first hug. Such is life for the two clubs at this moment. United are a listless ship while Liverpool are closing in on the biggest trophies in world football. Long may it continue.
Top of the league.
Undefeated in the league.
19 ahead of United.
Up the Reds!
https://twitter.com/goldbridgeworld/status/1074357660324110337?s=21