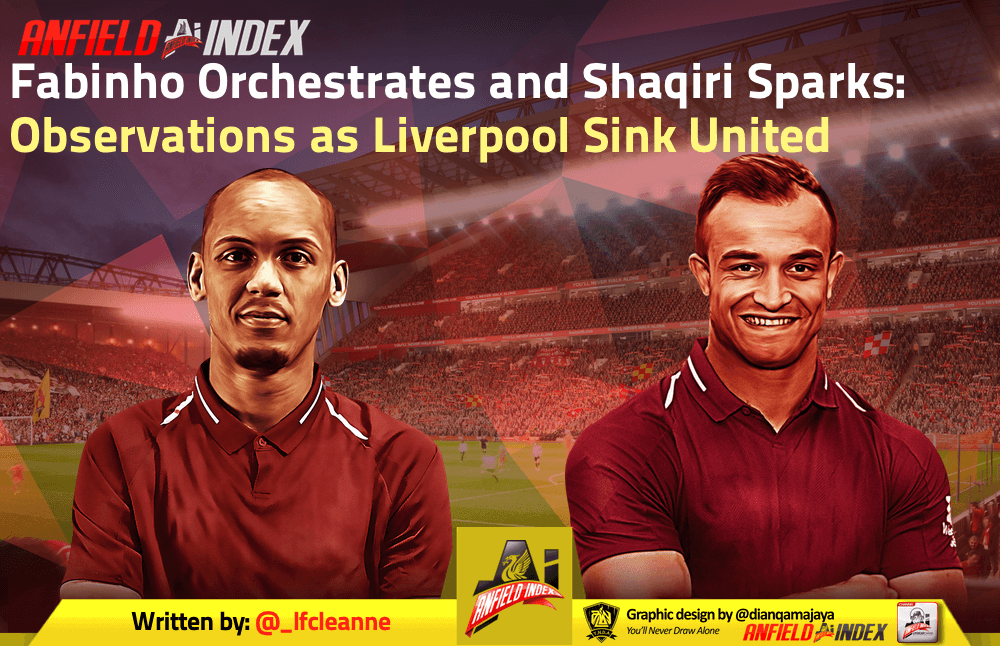 Fabinho orchestrates and Shaqiri sparks: Observations as Liverpool sink United
Liverpool polished off Manchester United in a 3-1 win at Anfield to regain their place at the top of the Premier League. The Reds got off to a scintillating start, setting a high tempo right from the off to push the opposition straight onto the backfoot after Sadio Mane capitalised on a tremendous lofted through-ball from Fabinho.
However, all their dominance was soon undone by a horror moment from Alisson, who spilt Romelu Lukaku's timed cross to gift Jesse Lingard an easy finish. With it, United had a route back into the match, re-establishing themselves and showing more defensive cohesion with the aid of Marouane Fellaini's half-time introduction. Frustrated by a lack of inroads, Klopp turned to his bench, opting for Shaqiri's spark to lift the mood.
The Swiss international dually responded with a brace to seal the points for Liverpool, marking the club's first win against their rivals since 2013.

Here are the observations from the match.
From bailing others out to being bailed out…
There've been countless occasions when Alisson has had to come to the aid of his teammates, bailing them out after a miscommunication or individual errors has gifted the opposition a chance at goal. Take the Napoli game for example, but for the Brazilian's point-blank save against Milik right at the death, Liverpool would've been sent packing from the Champions League. Instead, a rapturous applause for the man who delivered a key moment when it mattered.
Roles were very much reversed after Alisson made a calamitous blunder inside the first forty-five to gift Mourinho's side an equaliser and avenue back into the match, but hindsight allows us all to sit calmly and reflect on a human mistake by an individual has brought so much to Klopp's side. Extending far beyond pure goalkeeping, the former-Roma man's ability to judge the game and distribute possession to set up counter-attacking moves has brought an extra dimension to Liverpool's attack this season, while his communication and experience has provided the collected head that's long been missing between the sticks.
Of course, on another day his error could've been far more damaging but one lapse in judgement shouldn't overshadow his impressive start on Merseyside. The attempt to play out the back earlier this season that blew up in his face didn't cause his head to drop or confidence to hit the floor. Rest assured, this won't either. Liverpool have a world-class keeper in their ranks, it just so happens he's human too.
Fabinho soars as midfield surge to new heights
Oh my, can this boy play.
Perched in midfield alongside Gini Wijnaldum and Naby Keita, Fabinho was the orchestrator to all that was good about Liverpool. Going forward, he showed drive to get in and around the front three, taking a total of five shots and completing three take-ons over the ninety minutes. However, the cherry on the cake came in the form of a sensational assist for Sadio Mane's opener in the first-half. Receiving the ball midway into United's half, Fabinho showed great vision and weight of pass to loft the ball into the path of the Senegal international, who thankfully displayed much more composure than in the midweek clash with Napoli.
Fabinho's game by numbers vs. Man United:

83 touches
66 passes
6 accurate long balls
5 shots
3 take ons completed
2 chances created
1 aerial duel won
1 assist

Liverpool's chief orchestrator. pic.twitter.com/zzivgJSzN4

— Squawka Football (@Squawka) December 16, 2018
At the other end of the pitch on the rare occasions Man United managed to gain possession, he was there to quickly snap into the tackle and stop their midfield from stringing a series of passes together, causing the opposition to succumb all momentum as they seeped further and further into their own half. Dominating the centre with ease, his perfect combination of defensive resilience and forward ingenuity has helped transform the midfield picture.
We're really starting to see the best of Fabinho now as he slowly but surely begins to fill the gaping hole left by Mascherano all those years ago. Man of the match performances against United certainly won't hurt his cause at all.
Match-winner Shaqiri silences Gary Neville
For all their dominance inside the opening thirty minutes, Liverpool only had themselves to blame for not reflecting their superiority on the score-line when Jesse Lingard capitalised on Alisson's mistake. Maximum effort and intent from thereon came to no avail as Mourinho's side looked relatively comfortable despite continued pressure with Dejan Lovren and Nathaniel Clyne frustratingly opting for long-range efforts after the break. It threatened to be another agonising fixture against United.
Shaqiri's sparkling introduction would change all that, though.
The No.23 immediately brought an attacking impetus to the side, constantly showing for the ball and driving forward in possession, much to the pleasure of the home crowd. Ultimately, he got his just reward with two fortuitous deflections with the first goal going in off Ashley Young via the underside of the crossbar before Eric Bailly's slide tackle directed the ball beyond De Gea again just ten minutes later.
Yet, it was nothing more than he deserved having taken the game by the scruff of the neck.  Shaqiri has settled seamlessly into Klopp's side and his tally of five goals for the season surely makes him bargain of the season even at this early stage. At the very least, this was the very best example of irony as Gary Neville, who had previously lambasted the former-Stoke man in the summer for his attitude, watched on in the commentary box.
Sitting pretty at the top
Perhaps the most damning statistic for United fans or pleasing pointer for any Liverpool fans was the post-match shot tally of 36 shots to United's measly 6. That reflected the highest shots tally in the top flight this season (previously held by Man City's 32 vs Huddersfield), reflecting the huge gulf in class between the two sides.
While Mourinho's side continues to stutter amid a dismal campaign, Klopp's Reds are soaring to new heights, returning to the top of the table with just one more game to play before Christmas. An away trip to Wolves shouldn't be underestimated – as Pep Guardiola's side will attest to – but Klopp now has a great chance of landing his side in prime position before the festivities begin.
Tuesday's Champions League triumph over Napoli and a first home win over United since 2015 will continue the buoyant mood on Merseyside, with hopes continuing to grow that this side could well go all the way.