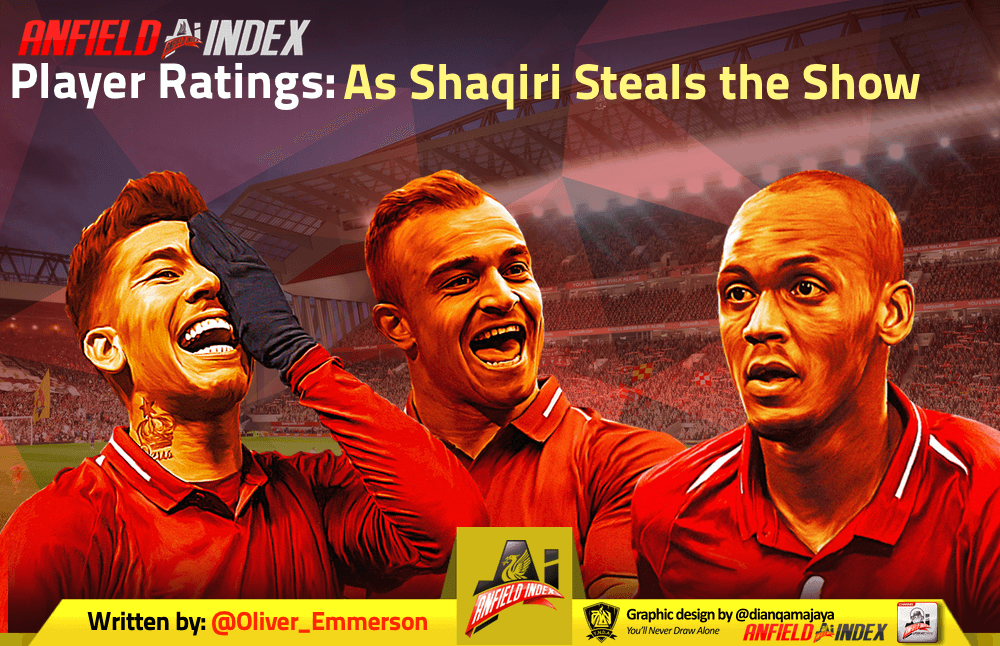 Player Ratings as Shaqiri steals the show

"Don't sack Mourinho, don't sack Mourinho…"
Not at all a shabby Sunday. Three goals and three points for the Reds, back to top of the league to conclude a brilliant week.
We'll worry about Wolves away tomorrow, but for now let us enjoy the delights of a first league win over Manchester United since 2014.
Let's rate some players too.
Alisson fumbles
Alisson Becker (5): Hate to give him a 5/10 but he does cost a goal. More than made up for it already this season, despite it nearly costing us today. A little unlucky that it bounces off his knee, but you can't really excuse it. Some lovely throws, one particularly piece of distribution to Keita that had my head spinning.
Nathaniel Clyne (6): Was pleased with how he came back in and performed, especially given he started the day assuming he'd be on the bench. Nice and solid defensively, made some good off the ball runs. Still, needs to stop with the shooting from 30 yards. Living off a goal he scored against Arsenal for Saints 6 years ago.
Dejan Lovren (6): Similar to Clyne, solid enough at the back bar a couple of sloppy moments. Knocked down a mark for being part of the 'long range shots' brigade.
Virgil van Dijk (7): For all the criticism Lukaku gets, at his worst he's still a decent striker. Didn't get an inch off Virgil. Absolutely love when he gets frustrated at the attackers so just starts striding into midfield showing them how it's done.
Andy Robertson (7): Another strong performance from the Scot, the game really opened up for him when Mourinho went to a flat four at the back and he went from there. As usual there was nothing silly in his own half, some good movement and play at the other end. Seriously though, get him in at 8am tomorrow to practise corners.
Fabinho owns the game
Fabinho (8): Excellent, absolutely superb performance. Ran the midfield, dealt with every challenge United threw at him and more. So composed on the ball, has an eye for a pass and shows it with that lovely assist for Manê. A statement of intent from the Brazilian.
Gini Wijnaldum (7): Another good performance after handling Napoli on Tuesday, he really is Klopp's Dirk Kuyt, Ji-Sung Park or whoever when it comes to big games. Bloody good at getting his arse in and dribbling, isn't he?
Naby Keita (7): Earned his start in a big game and did well. Unlucky to be taken off but it made sense to go 4-2-3-1. Once his end product clicks with those ahead of him he'll rip this league apart.
Mixed from Mane
Sadio Mané (7): He's so weird but I love him. That's a cracking finish. The pass is brilliant but to chest it and volley on your weak foot under that pressure is immense. Then for about an hour he can't do anything right, quality decision making completely desserts him. Next, he skips past his man and creates a goal. How am I supposed to rate that? Either way, he makes me happy.
Mo Salah (6): Kept quiet but he was effective enough in dragging men around.
Roberto Firmino (7): Getting back to his best. United didn't know how to cope with him, great passing, great dribbling, awesome pressing. The goals will come.
Super sub Shaq
Xherdan Shaqiri (8): Oh I love him. £13M. Bargain of the summer. Well in lad. Nothing else to say.
Jordan Henderson (N/A): Don't think him taking the armband off Virg is that weird.