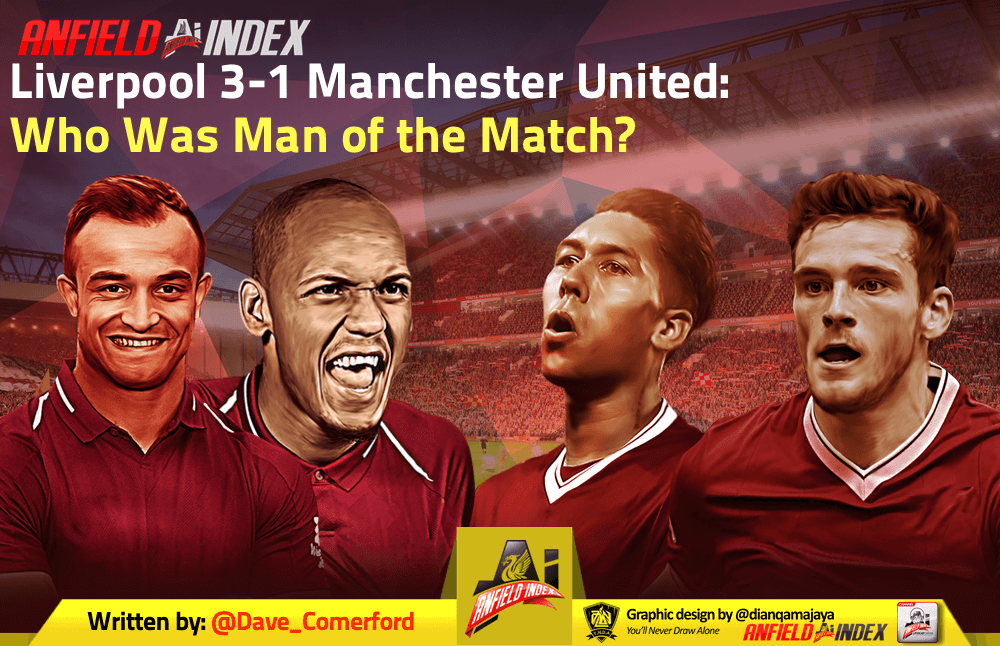 Liverpool 3-1 Manchester United: Who Was Man Of The Match?

The Liverpool of old may well have been held to an agonising draw after being pegged back in such disheartening circumstances, but this side were in no mood to hand Manchester United a point they simply didn't deserve.
Liverpool had raced out of the blocks and had Mourinho's men on the ropes. Sadio Mane's delightful opener threatened to open the floodgates before an Alisson error, depressing predictable after a week of the highest praise, gifted the visitors a leveller.
Thereafter, the game settled into a more predictable pattern as United packed their own penalty area and allowed the hosts very little space, forcing them into some alarmingly desperate long-range efforts.
But the introduction of Shaqiri proved a much-needed boost, and the Reds were finally able to bully their archrivals into submission.
It was another gutsy victory for an increasingly mature side.
Last time out against Napoli, Alisson proved to be Liverpool's saviour, but on this occasion he was reliant on his teammates to make amends for his blunder.
Fans should expect a top-drawer 'keeper to do better, of course, but he can be forgiven. It was a difficult gather, particularly in slippery conditions, and the Brazilian was unfortunate that the ball rebounded off his knee into Jesse Lingard's path.
Aside from that, his performance was solid, and he distributed the ball fairly well.
Dejan Lovren didn't cover himself in glory for that first either, failing to intervene when Romelu Lukaku whipped the low ball into the box. Otherwise, the Croatian, whose place is secure in the absence of Joe Gomez and Joel Matip, did fairly well.
Defensive partner Virgil van Dijk was largely dominant in his battle with Lukaku and used the ball well when he edged forward. Still he waits for his second Liverpool goal after a couple of half-chances following set pieces went begging.
On a very rare start, Nathaniel Clyne was characteristically solid. He was caught out once or twice, but his energy levels were impressive, especially in light of Klopp's fears that he only had 70 minutes in him. The Englishman was constantly on the overlap, ensuring Trent Alexander-Arnold's presence wasn't missed in the final third.
Andrew Robertson wasn't quite as dangerous as usual at the sharp end, but once again his level of commitment was, in the words of a stunned Jose Mourinho, 'incredible'.
In midfield, Georginio Wijnaldum continued to tick along very nicely under the radar. No other Red could better his passing accuracy (91%) or his tally of four key passes. The Dutchman is delivering in every aspect of his game.
Naby Keita was also solid, if slightly unspectacular, throughout his 70 minutes on the pitch and, encouragingly, he is beginning to look at home in this Liverpool side.
Replacement Shaqiri wrote his name into the history books of England's biggest fixture with his dazzling cameo. Yes, there was an element of fortune about the two goals, particularly the second, but it was no surprise to see the firecracker change the game.
The cut-price deal which brought him to Anfield was cunning business, and the Swiss may yet prove to be one of the signings of the summer.
Fellow goalscorer Sadio Mane shone after a difficult night against Napoli. He took the first superbly, displaying the coolness in front of goal which had deserted him in midweek to slot past a sprawling David de Gea.
His contribition for the second was also crucial. Liverpool were struggling to find a way in behind the defensive block, but Mane tricked his way past Ander Herrera, reached the byline and seconds later, the ball was in the back of the net.
Roberto Firmino couldn't get on the scoresheet but did force de Gea into some smart saves. At times, it was vintage Firmino as he thrived in the heart of the midfield battle and carved out opportunities for team-mates. His return to form is a crucial boost.
Chances were few and far between for Mohamed Salah, but his application could not be faulted. United remain one of the very few sides yet to fall victim to his brilliance, but he'll be looking to conquer Old Trafford come February.
This time, the star of the show was Fabinho.
It was the midfielder's biggest performance yet in a Red shirt. He rose to the occasion in this heavyweight clash, taking his ever-growing reputation up another notch.
He was deployed as a defensive midfielder, but meaningful forays into the Liverpool half were scant (United only mustered six shots all game). As it turned out, the Brazilian's greater contribution was at the other end.
The assist for Mane's opener was all sorts of brilliant. It's difficult to say what was better, the vision or the execution. Mane had barely moved, but he knew exactly what to do, and his dinked ball was perfect in terms of power and direction. His finest moment so far, without question.
Hovering on the edge of the box, he threatened to get in on the scoring act himself with one or two dangerous attempts. A highlight was his neat shimmy past two United defenders.
Fabinho's initial selection actually represented a significant show of faith from Jurgen Klopp. He almost invariably selects skipper Jordan Henderson for the biggest games, but today he was made to watch on from the bench as his chief competitor starred. Henderson is a far better than he is often made out to be, but, in truth, Fabinho looks to have the edge in every department.
Fans were puzzled by his absence in the early part of the season, but on the evidence of recent displays Klopp was right to ease him in. He has to adapt to an unencountered level of intensity, and the manager has allowed him to do that gradually rather than thrusting him immediately into the heat of battle.
Now that he's starting regularly, Fabinho is living up to the hype which greeted the whirlwind transfer in June. It was said then that he would a fill a void left by the departure of Javier Mascherano eight years ago, and he looks on course to reach similar levels. £40million may prove a small price to pay.
With Fabinho purring, Shaqiri flying and Keita beginning to hit his stride, Liverpool's midfield depth is the best it's been for years. Combine that with their league-best defence and world-renowned frontline, and you might, maybe, just about, have a title-winning formula on your hands.