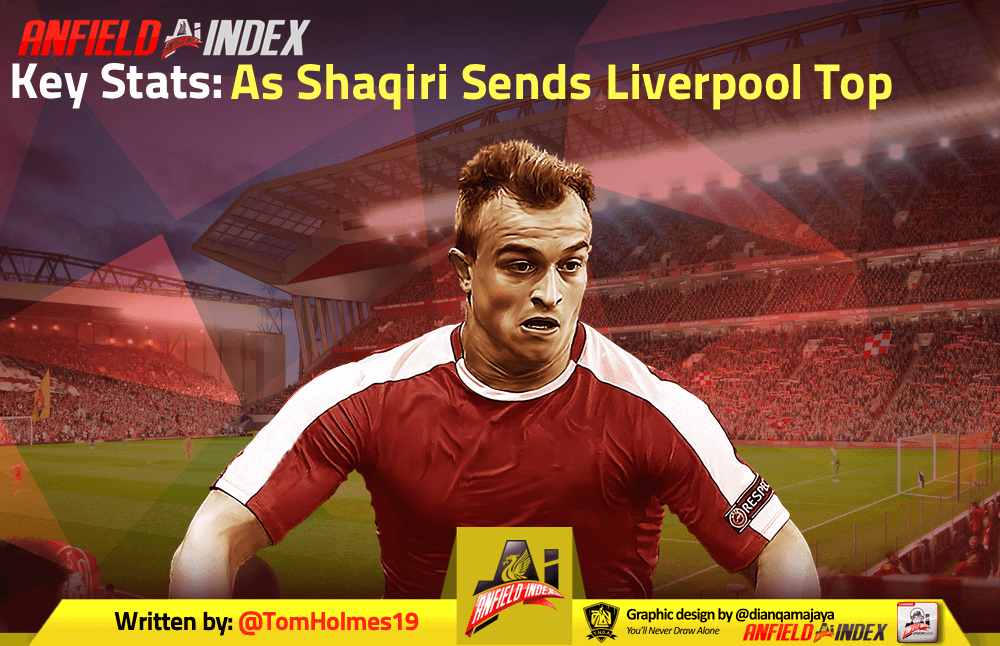 Key Stats As Shaqiri Sends Liverpool Top
Liverpool surged back to the top of the Premier League as they pulled off a superb 3-1 win against arch-rivals Manchester United at Anfield. But what were the key stats from a huge evening for the Reds, which sees them stay ahead of City and 19 points clear of their biggest rivals?
Super-Sub Shaq Saves The Day
Xherdan Shaqiri is increasingly becoming a hugely important impact player for Liverpool, scoring five goals and adding two assists in just 630 minutes in the league, a rate of a goal or assist every 90 minutes. He's produced three goals and an assist from six sub appearances, showing that increasingly he's been a crucial factor against tired legs, whilst having less of an impact when he starts – seven starts yielding just two goals and an assist.
Crucially, Shaq's record of a G/A every 90 mins in the PL is better than Salah (every 100 mins), Firmino (185 mins), Mané (158 mins) and even higher than super-sub Dan Sturridge (115 mins). The only player with a better record is, of course, Divock Origi, who's notched a goal and an assist in 72 minutes for LFC this season.
The Reds now have eight goals this season from subs, with Sturridge and Firmino adding two each, as well as, of course, Origi's header against Everton.
LFC Make Their Own Luck
This was a weird game in terms of shots. Liverpool had a staggering 36 shots, 17 shots inside the box, and 11 on target. For some context, 36 shots is the most by a PL team this season, it's 1% of the entire shots every team has had all season, it's the most Man United have conceded in Opta history, and it's more than every single Man United player has had this season that isn't called Paul Pogba – a player that Mourinho decided to leave on his bench. (Credit for some of those stats goes to Andrew Beasley).
But those numbers were largely low quality shots. Of the 36 shots, only three of them had an xG of above 0.1 and only two of them were big chances – Mané's goal and Lovren's scrappy chance from a corner.
So on one level, Mourinho and Man United fans have a point that they were restricting Liverpool to potshots, which were largely extremely low percentage. And ultimately, it took two huge deflections for Liverpool to break through. Before Shaqiri's shots deflected in, Liverpool did look well and truly out of ideas.
But on the other hand, the sheer volume of shots stacked up to be enough, and if you let your opposition have 36 shots on goal, you can't complain when a couple of them end up deflecting past your goalkeeper. Ultimately, that proved to be the case. Although both of Shaq's shots individually had a 0.07 chance of going in, Liverpool amassed 2.61 xG through sheer weight of numbers.
Basically, what the title says. We were lucky to an extent, but equally we made our own luck. And ultimately, when your two centre-backs have six shots and one big chance between them, and your opposition also has six shots and one big chance between them, then you probably deserved to win.
Klopp Completes The Set
Man United were the only Premier League team before today that Jürgen Klopp has never beaten. With a previous record of two draws, three defeats, two goals scored and four conceded, it's been a frustrating few years against United, who Liverpool hadn't beaten since Moyes in 13/14.
However, that record has been shattered – as Mané scored the first goal that the fab three have scored against United, Shaq made it the game, and Liverpool have broken their hoodoo against their biggest rivals. And what a time to do it. That's 18 league games unbeaten, 20 league games where we've only conceded at most one goal, and that's Liverpool top of the Premier League.