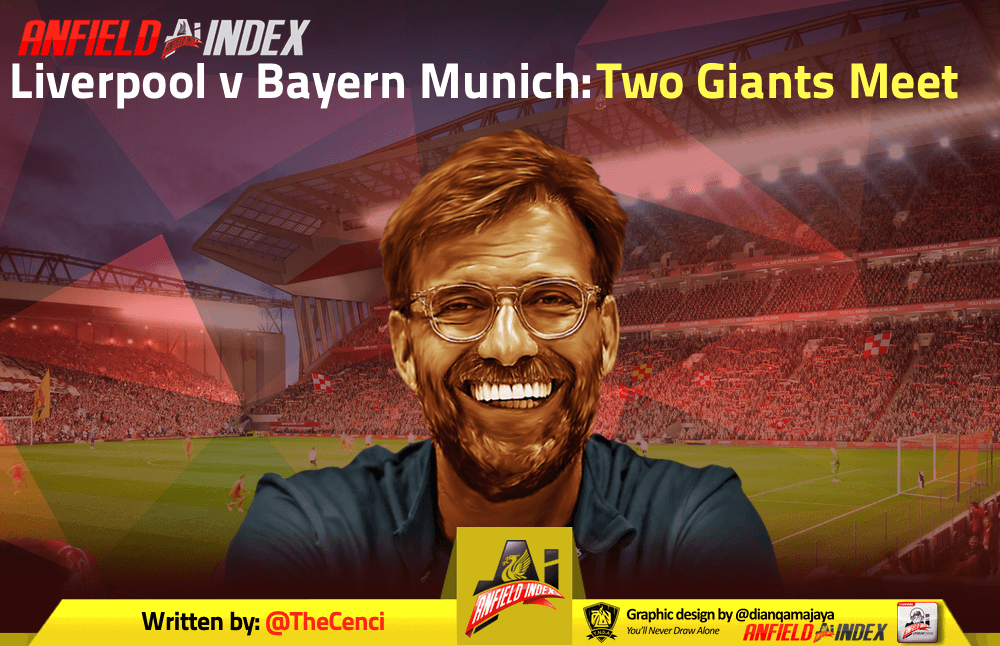 Liverpool v Bayern Munich: Two Giants Meet
The draw for the last 16 of the Champions League has seen Liverpool paired with Bayern Munich of Germany.
To be honest, I'm elated.
There's something noble about seeing two European heavyweights meet. True, we would have much preferred to play Schalke or Porto, but as Joey 'the Lips' Fagan says in The Commitments 'that would have been predictable.' To be the best you have to beat the best and, make no mistake, this is a hell of a tie. You can keep Juventus v Atleti. This is one for the connoisseurs.
Like the Reds, Bayern have won the competition five times—though they've it twice in the modern era along with a hat-trick of victories in the 1970s. In 1974 they beat the aforementioned Atletico Madrid after a replay. The Spaniards had Pepe Reina's dad in goal and were four extra time minutes away before the Germans equalised. They won the replay easily.
The following year saw them win in controversial circumstances against Leeds United in the Parcs des Princes, Paris. The treble was complete at Hampden Park in 1976 when a Franz Roth goal saw off St Etienne. Then Liverpool took over the competition 1977 and 1978. There's plenty of football history on display here.
Their two Champions League victories came in 2001 against Valencia I the San Siro and then 2013 where they snuck past Jurgen Klopp's Borussia Dortmund.  Arjen Robben won it in the final minute to Dortmund's horror.
The last time the teams met competitively was in the European Super Cup 2001 when the Reds won 3-2 in Monaco with goals from John Arne Riise—his first for the club, Emile Heskey and Michael Owen. The Germans replied in the second half through Hasan Salihamidzic and Carsten Jancker, but Gerard Houllier's side continued their impressive trophy haul.
Oh, Liverpool won a meaningless friendly 3-0 last year in a pre-season tournament, but you can hardly count that though Trent Alexander-Arnold into the stands remains a highlight.
Older Reds (hello) consider the last real contest to be the semi-finals of the 1981 European Cup. Many of us still smile at the memory. The German giants fought out a 0-0 draw at Anfield and, such was Bayern's confidence, they spoke openly about booking Parisan hotels way before the second leg took place. They knew that keeping Liverpool quiet at Anfield would be the main hurdle and they were well on their way before the teams met again in Munich.
They must have felt even better when Kenny Dalglish went off injured after just nine minutes. His substitute was the previously untried Howard Gayle. The 19-year-old youngster only had two subs appearances before that game and many thought he would struggle in such a huge game.
He ran them ragged.  Absolutely ragged.
The Germans didn't know what to make of him and he continually found space behind his full back as Liverpool pushed Bayern away from their goal. They only had one tactic available. They kicked him from pillar to post. He should have had a penalty when Wolfgang Dremmler hacked him down in the box too.
Have a look here:
With three minutes remaining David Johnson found captain Ray Kennedy unmarked. To this day he still doesn't know how he found that space. The big Geordie took and volleyed it with his right foot. Karl-Heinz Rummenigge scored a late consolation, but the Reds were through to the final in Paris and, eventually, their third European Cup.
But that was yesteryear. What about now?
As things stand, Bayern are a little off the pace in the Bundesliga, being nine points behind league leaders Dortmund. They've won the last three games though including a 0-4 win at Hannover on Saturday.  They currently sit in third place behind Dortmund and Monchengladbach, both of whom have defeated them this season.
They qualified through Champions League Group E easily enough.  Only Ajax gave them a real battle with both games ending in draws. Game 6 saw an incredible game in Amsterdam with both sides being reduced to ten men. Bayern's talisman Thomas Muller saw red for a hideous though uncharacteristic tackle so he, like Virgil van Dijk, will miss the first leg at Anfield.
Had Kingsley Coman not scored a last minute equaliser in that game the Reds would be facing the Dutch next February.
So what can Liverpool expect?
Well, everyone knows about their offensive play. Lewandowski is a magnificent striker and, though age isn't on his side, Arjen Robben is always a handful. What will especially interest Jurgen Klopp is Bayern's defensive record. They've already conceded 18 times in 15 games. Liverpool, by comparison have shipped just seven in seventeen.
This is a tough tie, but if anyone knows about Bayern it's Jurgen. There will have been hushed gasps when that draw was made but I suspect that Klopp's trademark grin was instantly visible. He still has business with them after the 2013 Champions League final and this is the ideal opportunity to put things right.