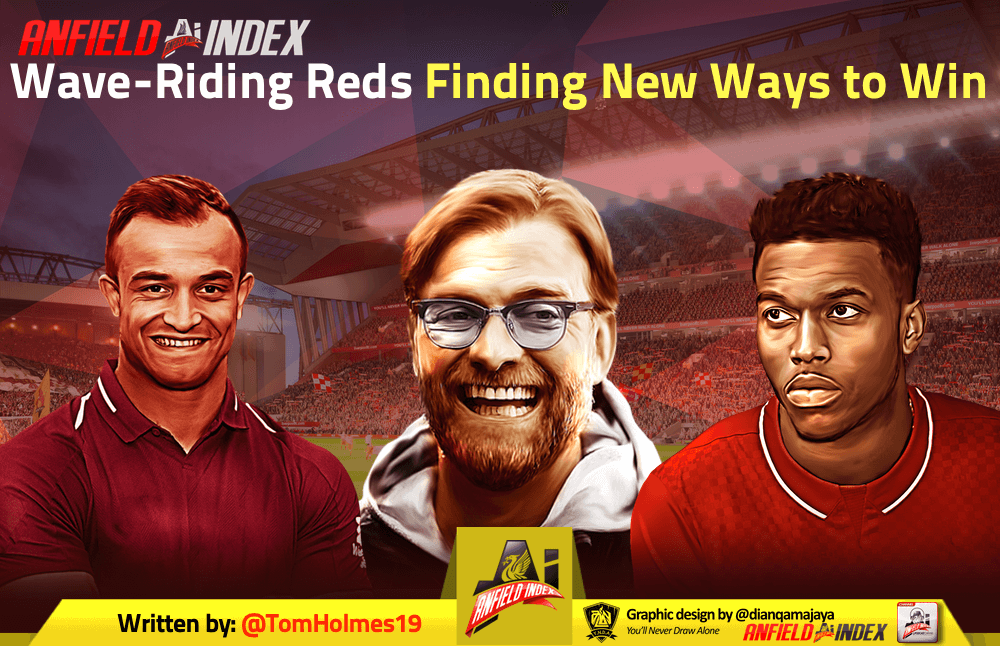 Wave-Riding Reds Finding New Ways To Win
I know it's popular to mock him and just generally hate him, you know, because he played for Man United for his entire career and naturally that brings animosity, but Gary Neville is a really strong pundit. His points are almost always thought out, insightful and intelligent and if nothing else, watching him full on lose it when criticising Man United or Arsenal has been a joy.
And I was mulling over my thoughts on the topic of this article, which is the way that Liverpool have been winning games in the last sort of three weeks or so. And then Neville said something that struck a cord with me. Twelve, eighteen months ago, Liverpool only seemed to have one gear. They went out and they gave it their all, and if things didn't click into place then we tended to struggle. And when we were hot, we were hot, and when we weren't, it fell apart.
Certainly, as Neville said, Liverpool are a more rounded side than they have been in recent years. But the wording he used managed to align the thoughts that were already swirling around in my own brain. Liverpool are finding ways to win games.

The evidence has been there in recent weeks, but let's start with United and work our way backwards. This was a game in which Liverpool were running riot – the Reds were completely dominant after the first half hour, and had even managed to bag a goal for their troubles. Everything was going according to plan.
And then, we got pegged back. And the sucker punch was made all the more suckering and punching by the fact that our phenomenal goalkeeper, who we'll come back to in a minute, had dropped an absolute clanger. It was as if the air had been popped out of Anfield. And things didn't improve immediately, as the likes of Van Dijk, Clyne and Lovren were shooting in desperation from here, there and everywhere to try and get Liverpool back into the game.
And then we won. I mean, frankly, the fact that we were able to beat Man United at all, given it's now eight league games since we last did, is evidence enough that we've turned the corner (in all seriousness, the history of Liverpool v Man United in the last decade and a half suggests we only beat them when we're actually in a title race). But the way we did it, with a couple of deflected shots from a substitute, is something that just doesn't happen to Liverpool, and certainly not against Man United.
Is Xherdan Shaqiri a big catalyst for this? Certainly, his three goals from six sub appearances would suggest he can be, and Liverpool have now scored eight goals from subs this season. But Shaq is as much a beneficiary of something intangible as he is the cause of it.
If we keep working backwards, we can see Liverpool's fortunes, ability to get wins, sheer bloody-mindedness, call it whatever you want, has been there in spades. Against Napoli, the stars were perfectly aligned for us to crash out in stoppage time, only for Alisson Becker to laugh in their face and inexplicably keep Liverpool in the Champions League, via a result that you would have bet your house the Reds wouldn't be able to deliver even a year ago. That's not to say we couldn't beat Napoli, but to hold on for a 1-0 against Napoli was something truly different.
Then there's Burnley. It's far too easy to remember a time where 1-0 down at Turf Moor, without Mo and Bobby in the team, we could write off the match. Take the L and move on. But Liverpool were level even before Klopp could summon his subs, and turned in one of the best second-half performances of the season as Klopp was bold with his subs and it paid off – another occasion where Bobby Firmino scored a decisive goal just moments after coming off the bench.
And then there's the Divock Origi derby – and we all know what happened there. But that's four examples in just five games where Liverpool have faced difficult odds, or difficult moments, or even just looked like they might not win, and through some combination of mentality, Klopp's subs, and sheer phenomenal fortune, we've made it five wins in a row in all competitions, and six wins in a row in the league, a record that has taken us top of the PL.
As I've already pointed out, I think there's a lot of factors that have played their part in making Liverpool a much harder team to beat, and also just generally becoming a team who are able to win games in a multitude of ways.
For starters, we've got more good players. Van Dijk and Alisson are huge, huge additions, and having a world class CB and GK making you a better team isn't rocket science, but certainly it's paid dividends in the last few weeks, with Alisson contributing hugely to wins against Napoli, Everton and to an extent Burnley. Fabinho is a player who adds an unbelievable amount of steel and quality to our midfield and is a vital component of this team, and we've already mentioned the quality impact of Shaqiri. Simply having more options off the bench is a difference-maker.
And Klopp is using his substitutes more effectively too. Sturridge and Shaq have been the main two, but Bobby has made his mark and even Origi has had his moment in the sun. It's not a coincidence that Liverpool have increasingly found different ways to win in the period where we're saying Klopp has used his subs the best of his entire Liverpool career – and four goals have come from subs in our last five games – goals that directly won us three games.
And mentality is an absolutely massive factor. Whether or not that's because Klopp has brought in players less susceptible to panic, moulded the style of play so it's less chaotic or whether simply these lads are more experienced and have more belief, Liverpool are panicking less, making less mental errors and finding ways to grind out results.
To come back from 1-0 down at Turf Moor to a Burnley side that have caused you problems in the past requires real bottle. I said after the match that this was a Liverpool side showing genuine character – yes let's all have a giggle at Brodge – and the same is true against United. To respond to the United goal in the way that they did, albeit with a slightly sticky patch in the second half, shows real bottle and mettle from a side that too often in the last five years simply haven't had that calmness and control in their arsenal when things weren't going their way.
Things aren't perfect, of course they aren't, but what's been remarkable about Liverpool's season isn't that they're playing the best football of their careers, although that has been present on occasion and especially in recent weeks it feels like it's coming back, but it's been the nature and variety of the performances and the results. We are still blowing some teams away, but we're also showing patience, calm, control, guile, defensive awareness, character, in-game intelligence, tactical astuteness and fucking hell this is a Jürgen Klopp Liverpool side whose subs are banging in goals.
And yes, as I mentioned up front, quite a solid portion of that has been due to a little bit of luck. But, with all great sides, sometimes you need a bit of luck. And last season, we just didn't get the rub of the green. That seems to be changing. I described it as the intangibles. And one moment just sums it up. The perfect combination of mentality, luck, subs performing. Divock Origi heading in from a yard out against the Ev was for many the turning point in our season. Now, two weeks later, the Reds are still riding that high, having delivered two or three more potentially season-defining wins since. This is a Liverpool side that are just riding the crest of a wave, and let's hope that they keep on riding it until at least the 4th of January. Come on you Reds.