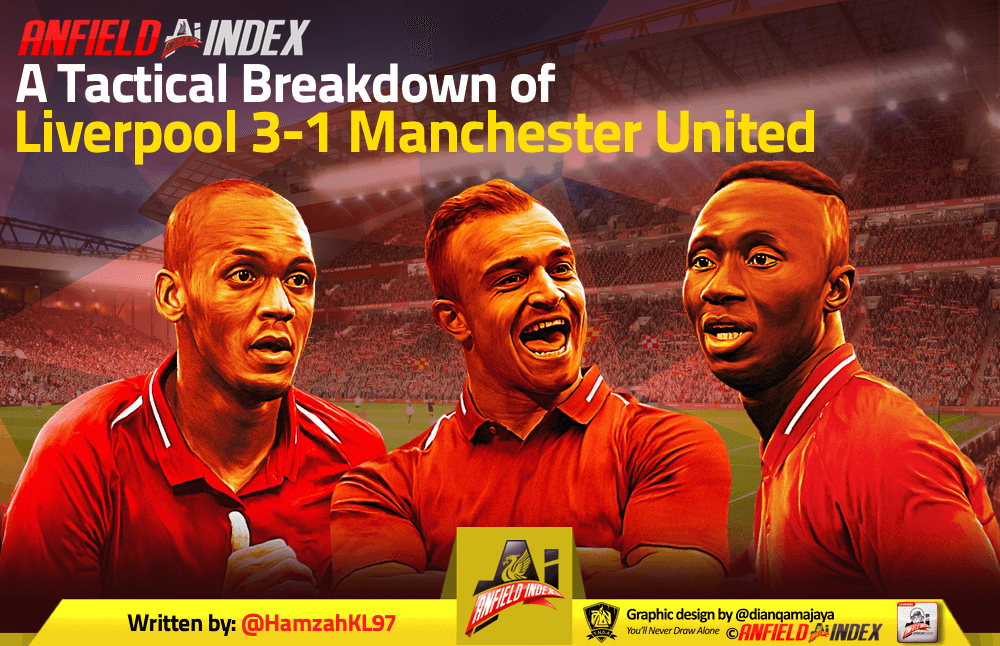 Liverpool 3-1 Manchester United: A Tactical Breakdown

There is no other game which manages to unnerve me like playing Manchester United does. Irrespective of form or quality, as matchday approaches, I fill with dread. On the morning of a match, I can barely eat. Perhaps it's the years of torment at school after losing, and unexplainable events which always seem to favour United that has caused this. Nonetheless, despite Liverpool's greatest ever start to a Premier League season, and mere minutes before the teams were announced, all I had consumed that day were three cups of tea, and half a biscuit. The team sheet was welcome news though: a midfield of Fabinho, Wijnaldum and Keïta looked strong and suited to the anticipated tactics of United, but the return of Nathaniel Clyne after an extended period out – against Rashford, who scored in the away fixture at Old Trafford last season appeared a point of concern.
As it so happened, my concerns needed not have been so comprehensive, as Liverpool dominated, controlled and outplayed Manchester United, who looked insular and under siege throughout the match. A match which ended with a scoreline flattering to United, and Liverpool retaining their spot at the top of the league table for a second consecutive game week.
Tactical shapes
Liverpool set up with a fluid 4-3-3, in which the midfield was staggered, as we saw in the second half of last season. Keïta found himself on the left side of the midfield three and pushed up in his advanced midfield position into the left-halfspace, whilst Fabinho and Wijnaldum rotated in a fluid manner, slightly deeper than Keïta, but advancing from time to time into the space outside the Manchester United area.
Mané initially started on the right wing, but as an inside forward, coming inside a great deal, with Firmino, who also roamed freely, behind Salah, who mainly occupied the centre-forward position.
After Shaqiri was brought on for Keïta though, Mané switched over to the left side, as Shaqiri played in an advanced midfield role, purposefully holding a deeper role to maximise his ability to impact upon the open area between the edge of the centre circle and just outside the Manchester United penalty box.
Manchester United's shape was far more simple: a tight back four, flanked by two supporting wide players, and a pair of defensive midfielders shielding them too.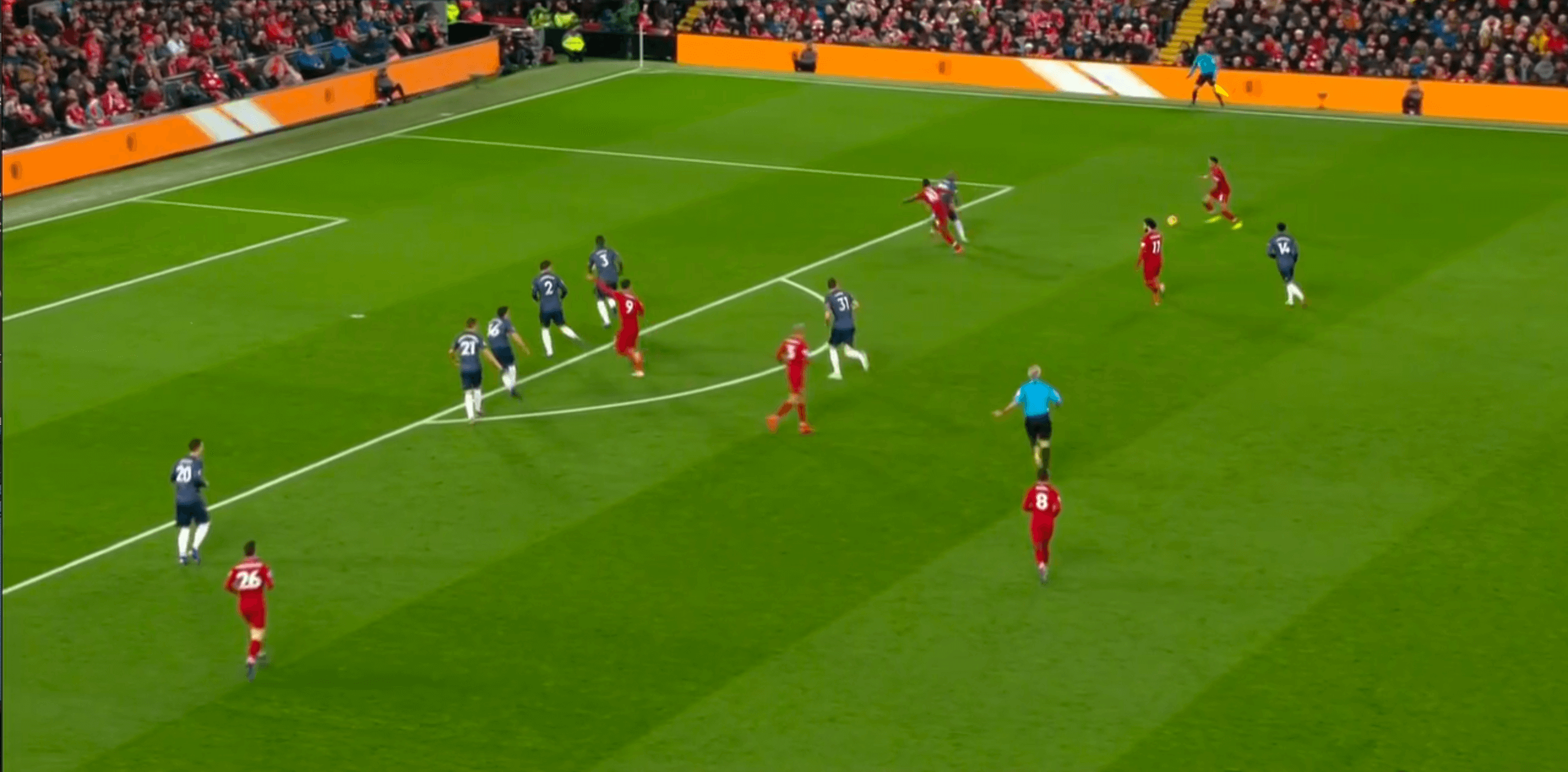 Space and analysis
As a consequence of United playing with such a tight defensive line and extremely deep defensive midfielders, space opened up for Liverpool both immediately outside the penalty area and in the wide zones too.
United, with a number of tall, physical players were more than comfortable with the idea of Liverpool attempting to cross the ball from wide areas, and their success at defending corners is testament to this, and with David De Gea in goal, United were also confident that he would be able to cope with shots from outside the area.
Liverpool sought to attack centrally, as they prefer to do, and in the left/right halfspaces as well – where Salah and Mané thrive. Salah, in particular, looked to push up against and break beyond the United defensive line, the United defenders doubled up on him, and any other Liverpool forward who positioned themselves on the defensive line.
This was evident in both the first and second half, and to combat this, Liverpool looked to commit an additional midfielder onto the United line, as Keïta displays in the images below.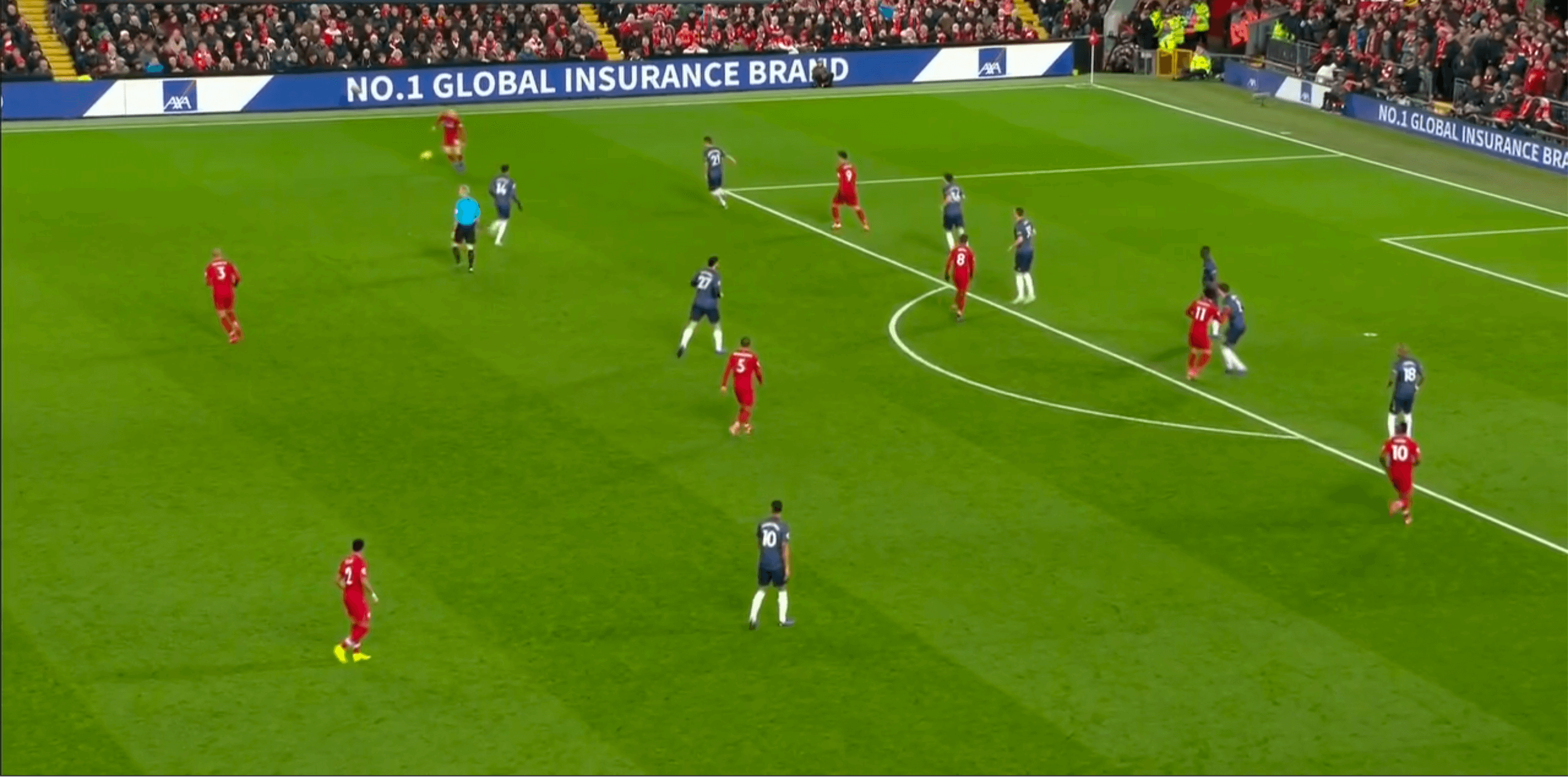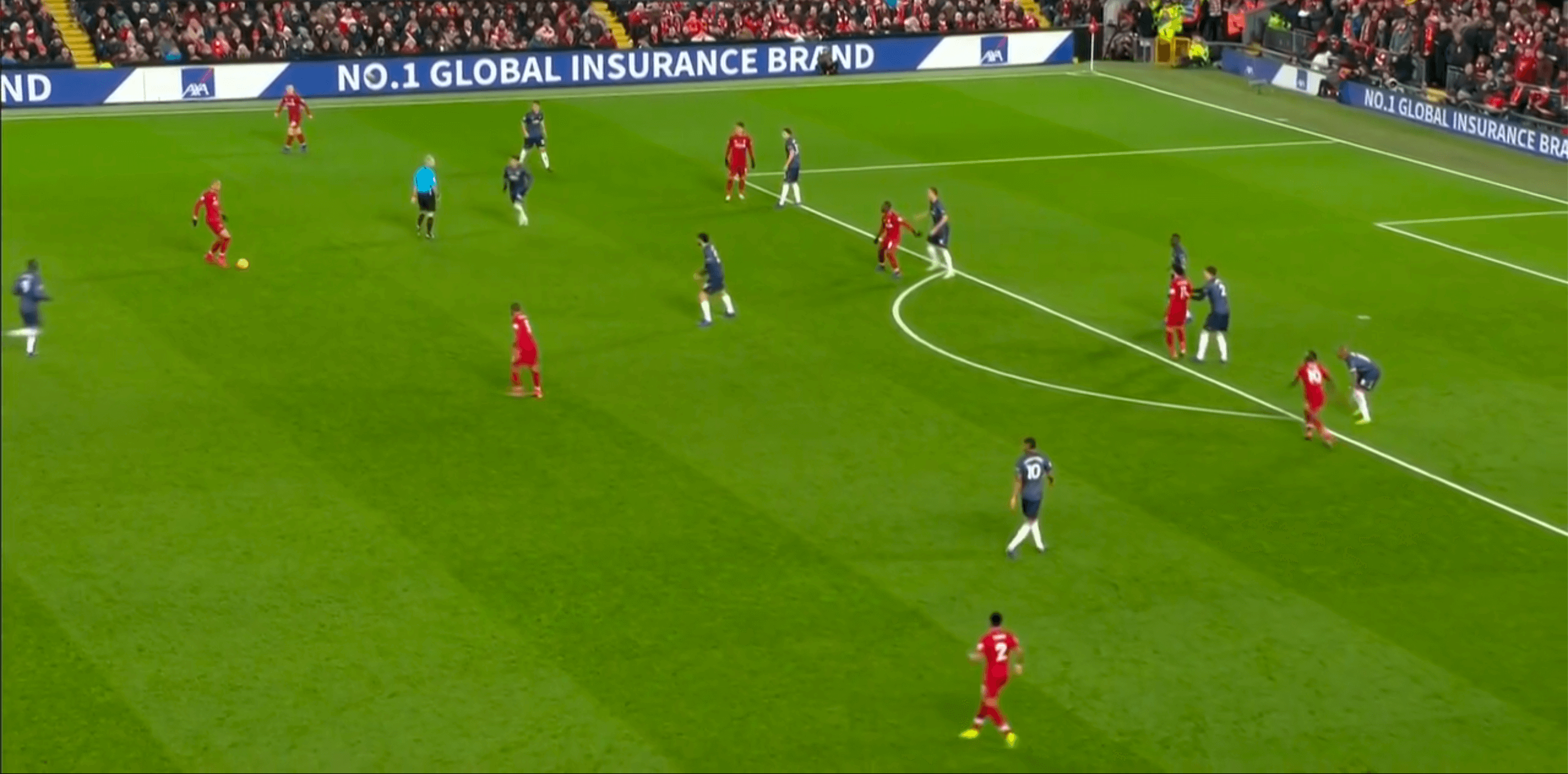 In doing so, the Liverpool forwards did not just occupy the United defenders but also forced an extra United midfielder to drop too, thereby creating more space for the Liverpool centre-midfielders. The United midfielders were simply too deep and could not provide sufficient protection for the passing lanes into the Liverpool forwards. In a number of games this season, the Liverpool midfield has found itself stuck when attempting to access the forwards, especially when faced with a 4-5-1 mid-block – this was not the case here, as the gaps between the United midfielders were considerable, and whilst the opportunity for Liverpool to play balls into or beyond the forwards successfully was restricted (because of the ability of the United players to swarm in numbers around a player such as Salah upon receiving the ball), there was plenty of space in front of the United defence and penalty area for shooting or passing opportunities.
United's treatment of Fabinho seemed negligent or was perhaps a result of them expecting Jordan Henderson – who usually sits much deeper – in the no.6 role for Liverpool. Fabinho was extremely aggressive with his positioning, as he pressed high – as Emre Can did when playing as the no.6 – enabled to do so because of Van Dijk managing Lukaku, who was United's sole outlet when sitting deep.
Due to the space United sacrificed in order to mark Liverpool's forwards, Fabinho was able to roam without pressure and pick passes – with his assist to Mané one of many examples, and extremely similar to one of Manchester City's open-play set-pieces, as Mané runs from a position outside of his opposite fullback, in behind the centre-backs – all of whom are occupied with Wijnaldum, Keïta and Salah.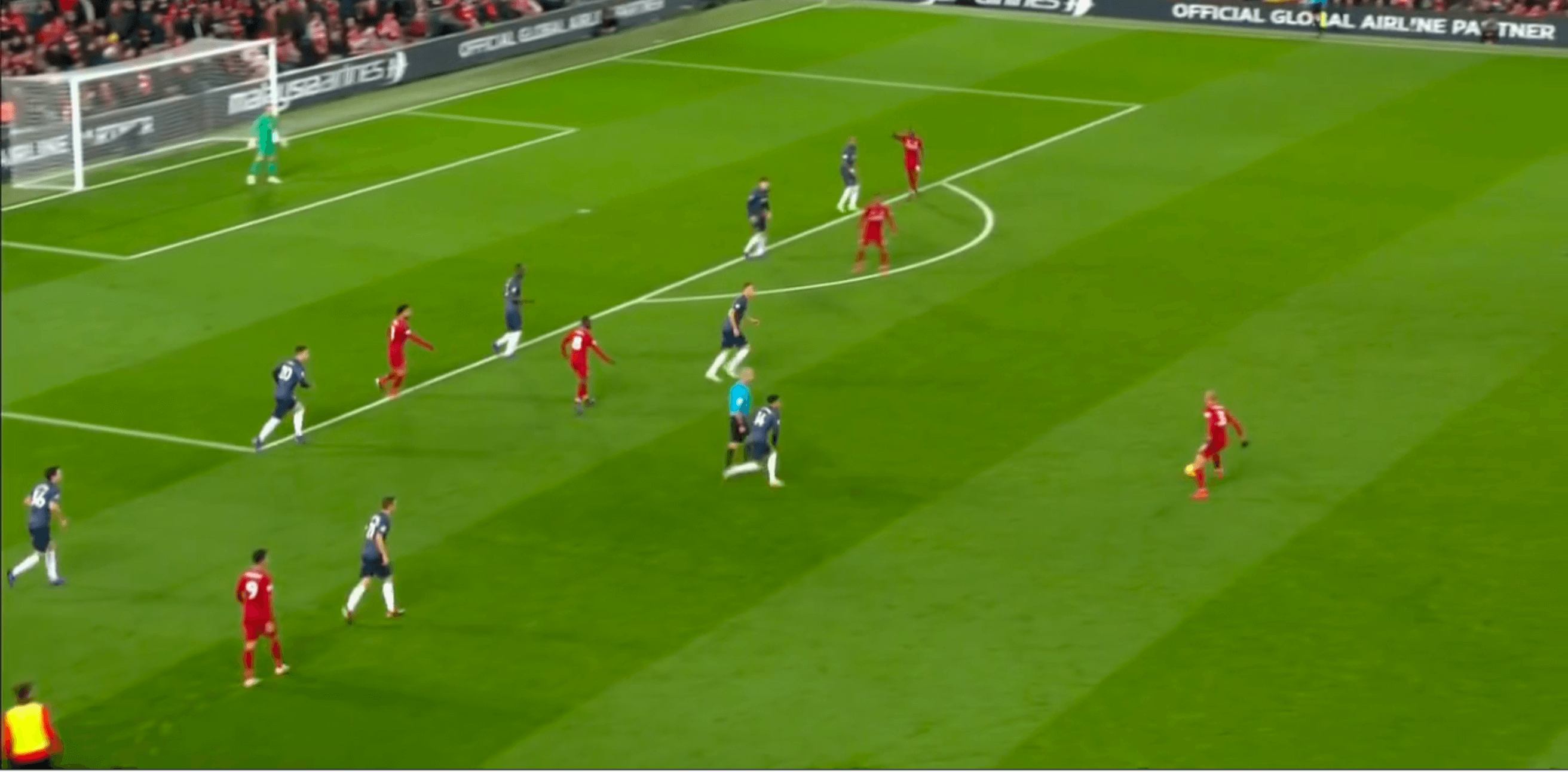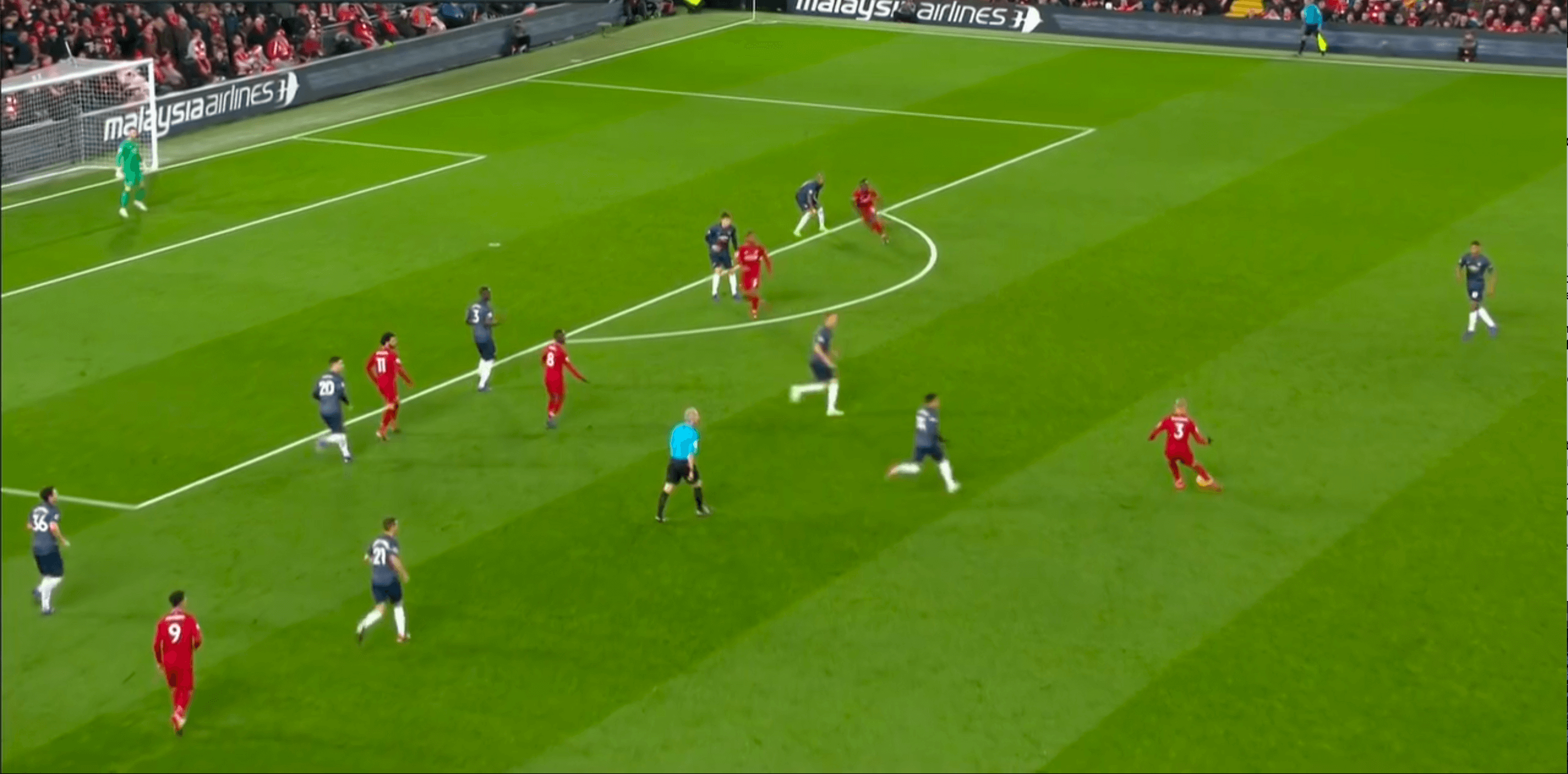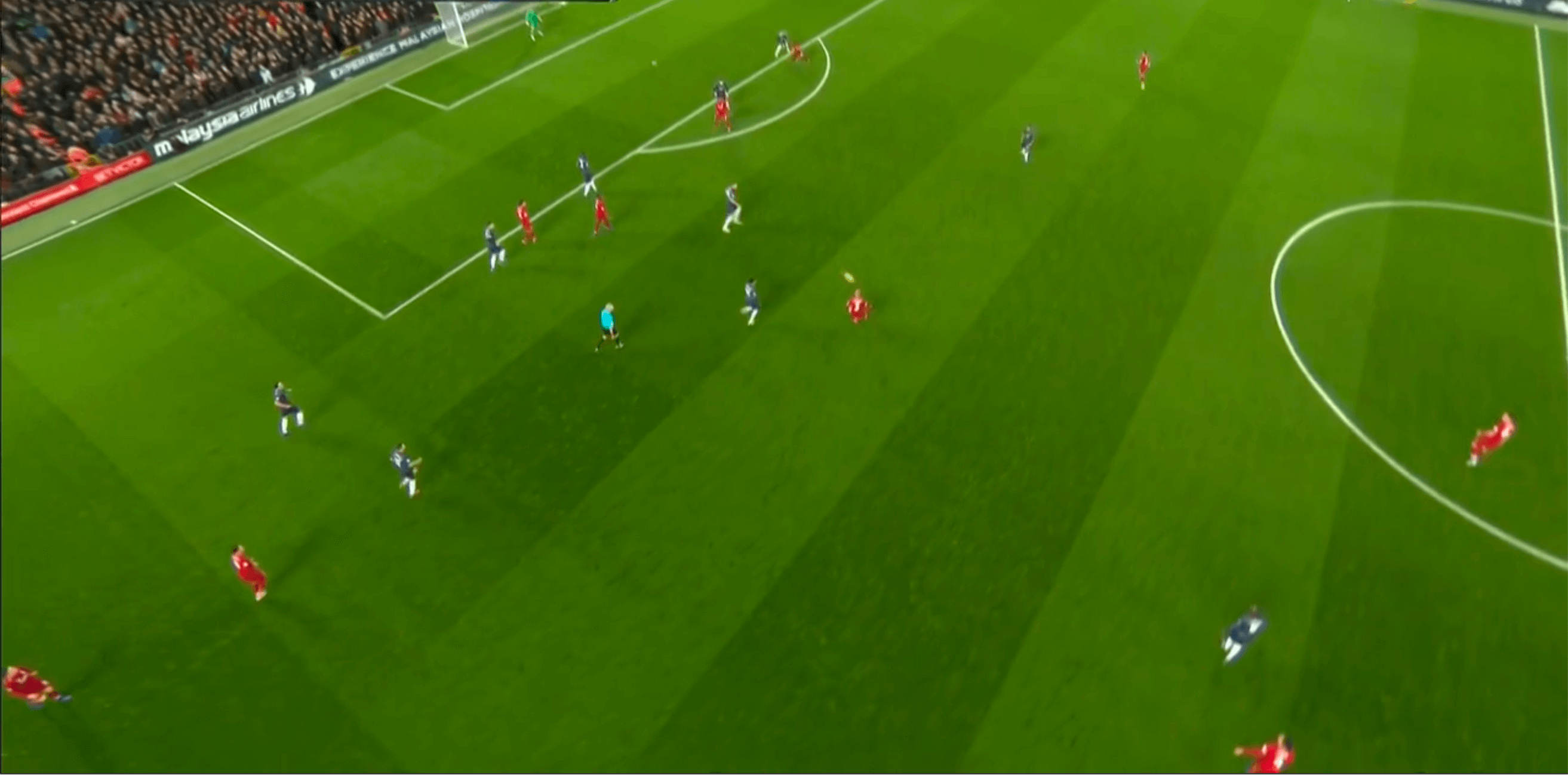 After Liverpool's opener, United pushed up. As they did so, space opened up for Liverpool, who could break – as Robertson does below, and in the process, is fouled by Dalot, who is booked.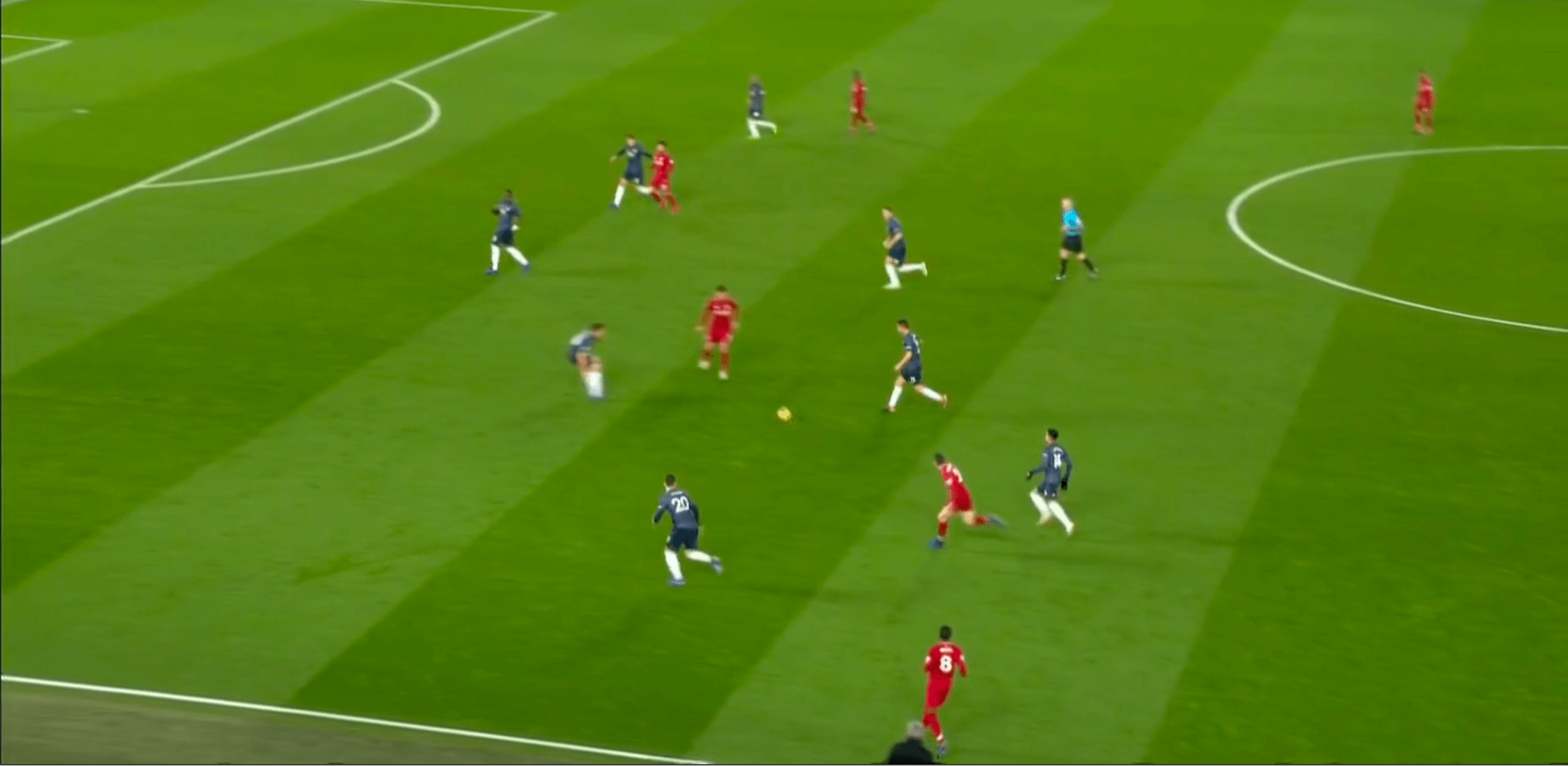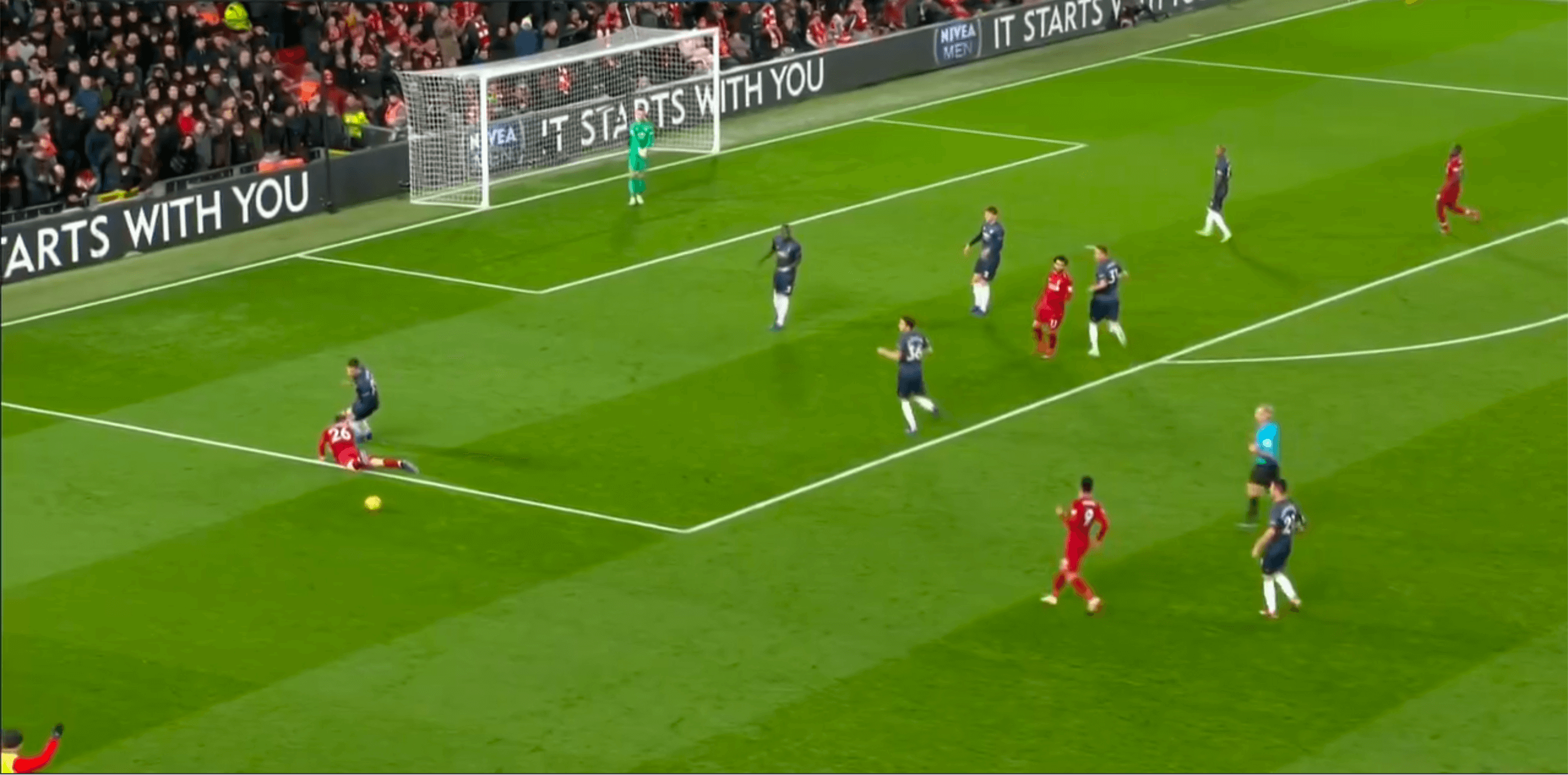 United did not just wait for the goal to react and seek goalscoring opportunities; from the start of the game, United appeared to press in high-reward situations. That is, when the ball went backwards to Liverpool's goalkeeper or centre-backs, or when taking a goal kick or throw-in deep inside the LFC half, the United players would push up, and press in an attempt to force mistakes, and attempt to capitalise upon them. United recognised the threat to themselves of pressing, and simply pressed only in those high-reward situations – once the ball was in their half, they would drop off, and defend the penalty area.
Liverpool saw this as an opportunity though, and when deep, invited further pressure, relying on the technical skills of Van Dijk and Alisson, in particular, to be able to pass their way through. As they did so, United left considerable space in behind, and quick vertical passes meant Liverpool could break into space and directly onto the United back line. Unfortunately for Liverpool, the United backline did not commit any players forward when pressing, so capitalising on those moments was more challenging than usual.
This was the case for Liverpool's second goal, as a pass from an Alisson goal-kick kickstarted an attack. United's players may have thought they had got back into shape, but Mané was in a one-on-one situation and burst for the line. In the same moment, Shaqiri held his position and allowed Fellaini to run past him into the 18-yard box, thereby leaving the region outside the penalty area free.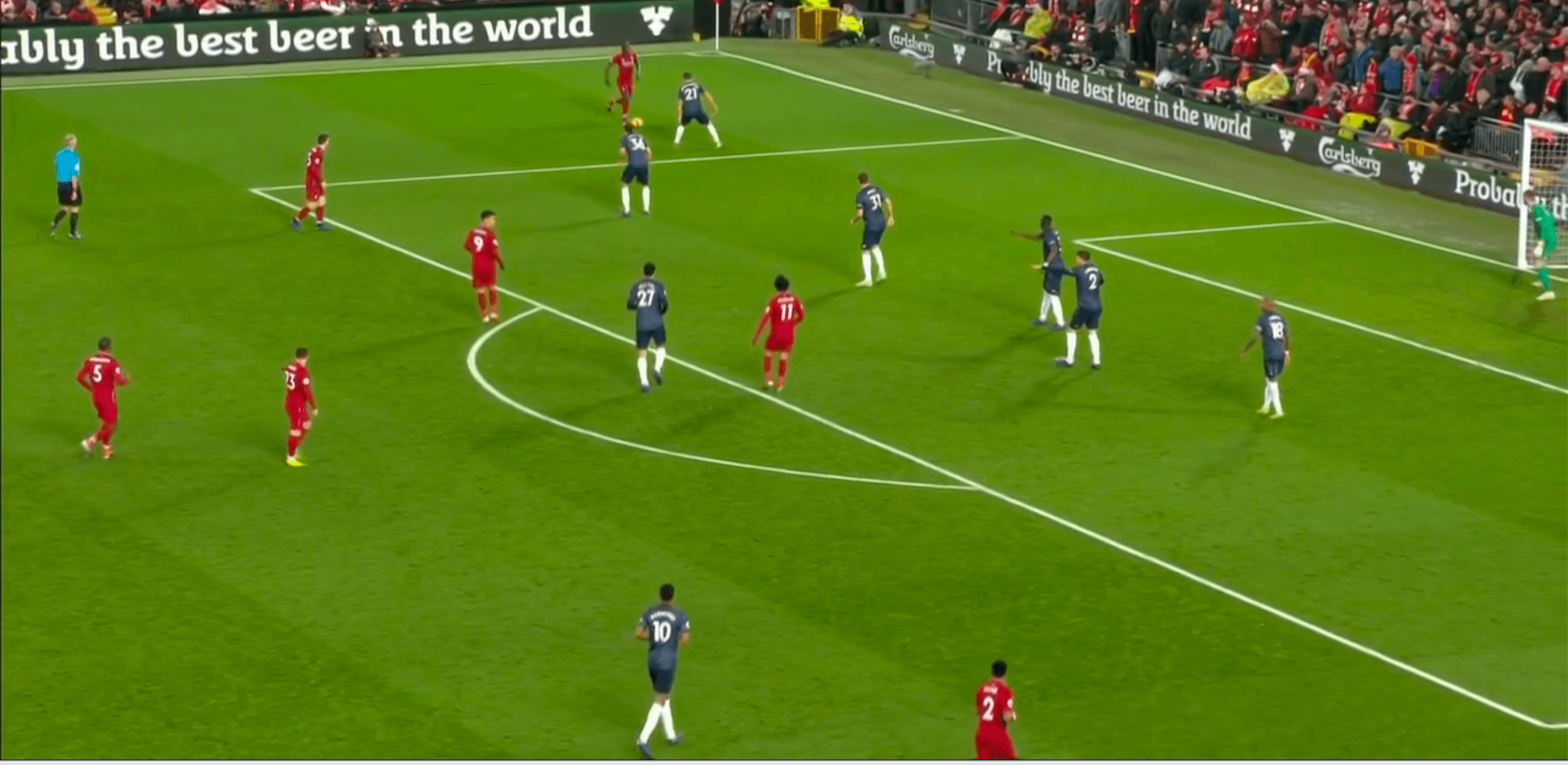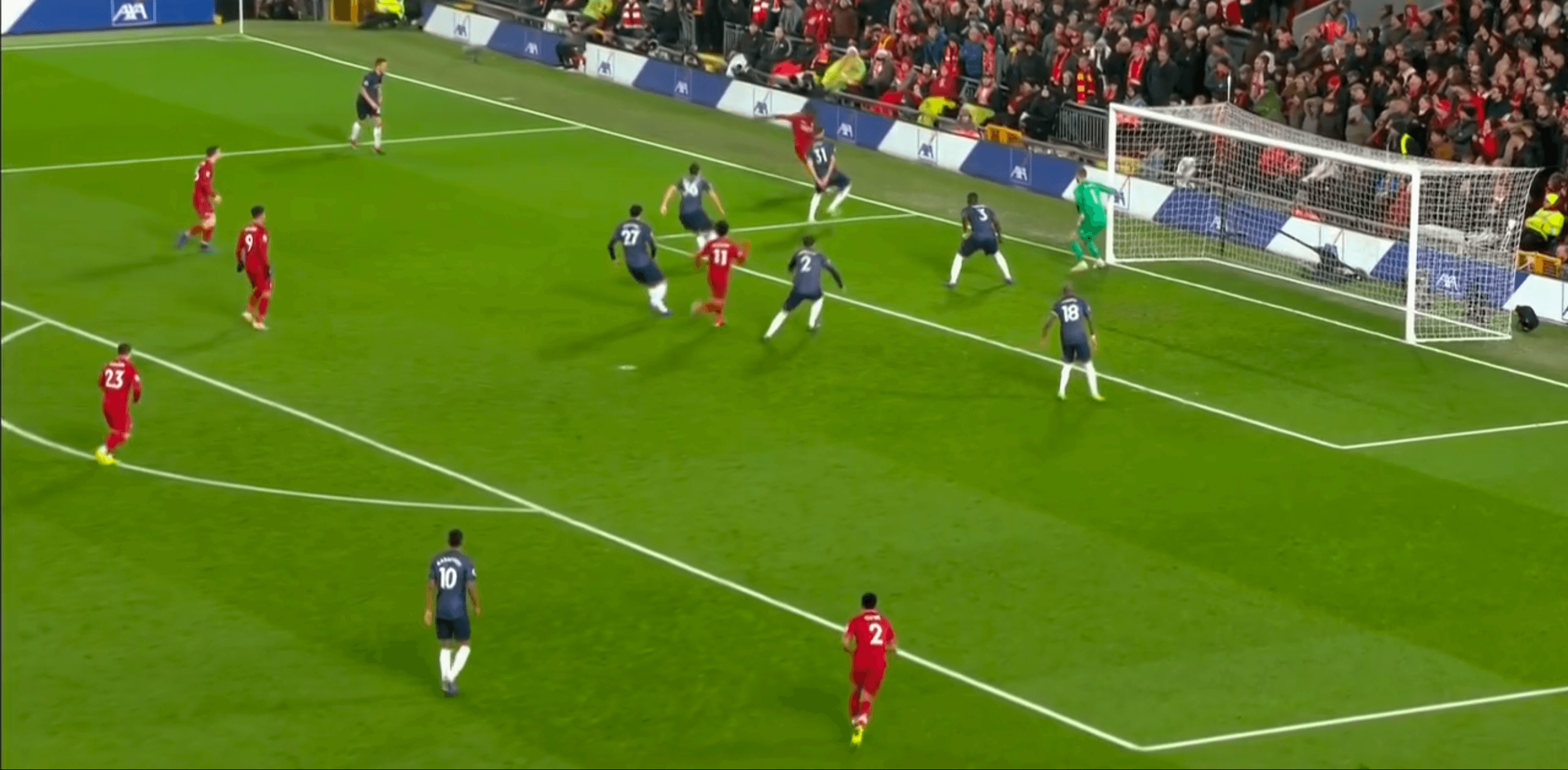 Whilst the goal was an example of using the space outside of the penalty area correctly, for a large period within the second-half, Liverpool used that vacant spot outside the area as a shooting range, and were perhaps too trigger happy. Whereas in the first half the team displayed brilliant maturity, patience and on-ball coolness, the second-half seemed to precipitate a period of impatience, as the team looked to force the goal by shooting from range – precisely what Mourinho and United would have wanted. It was the composed, patient, intelligent manner of the first-half which produced the opener, and had Liverpool stuck to that, they could well have scored before Shaqiri's introduction.
Nonetheless, though, there was a clear tactical strategy from Liverpool to exploit these vacant areas, not just through shots from outside the area, but also through cutback passes and creating one-on-one situations in the wide zones. Liverpool did not quite do this as often as they would have probably liked, but the work of Clyne and Robertson who made sure to pin back the United wide players, and stop them from taking up positions ready to counter was hugely important, and stretched the United defence, creating more space for the Liverpool midfielders to play in, outside the box.
For Liverpool's third goal and Shaqiri's second, United pushed up and sought to score. In fairness to them, in the first half, their goal was a consequence of them actually pushing up and committing players forward in probably their first coordinated concerted offensive effort in the match: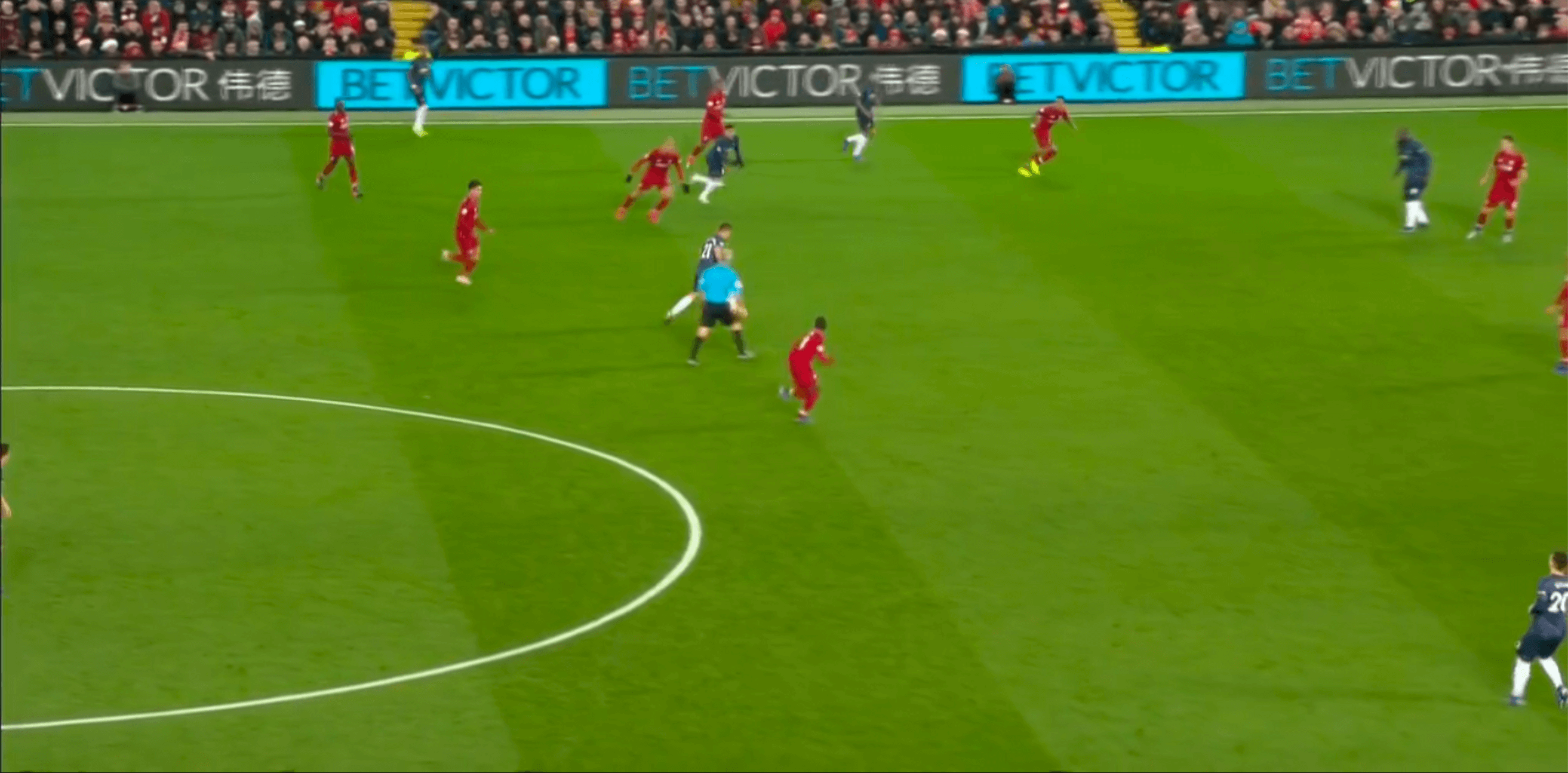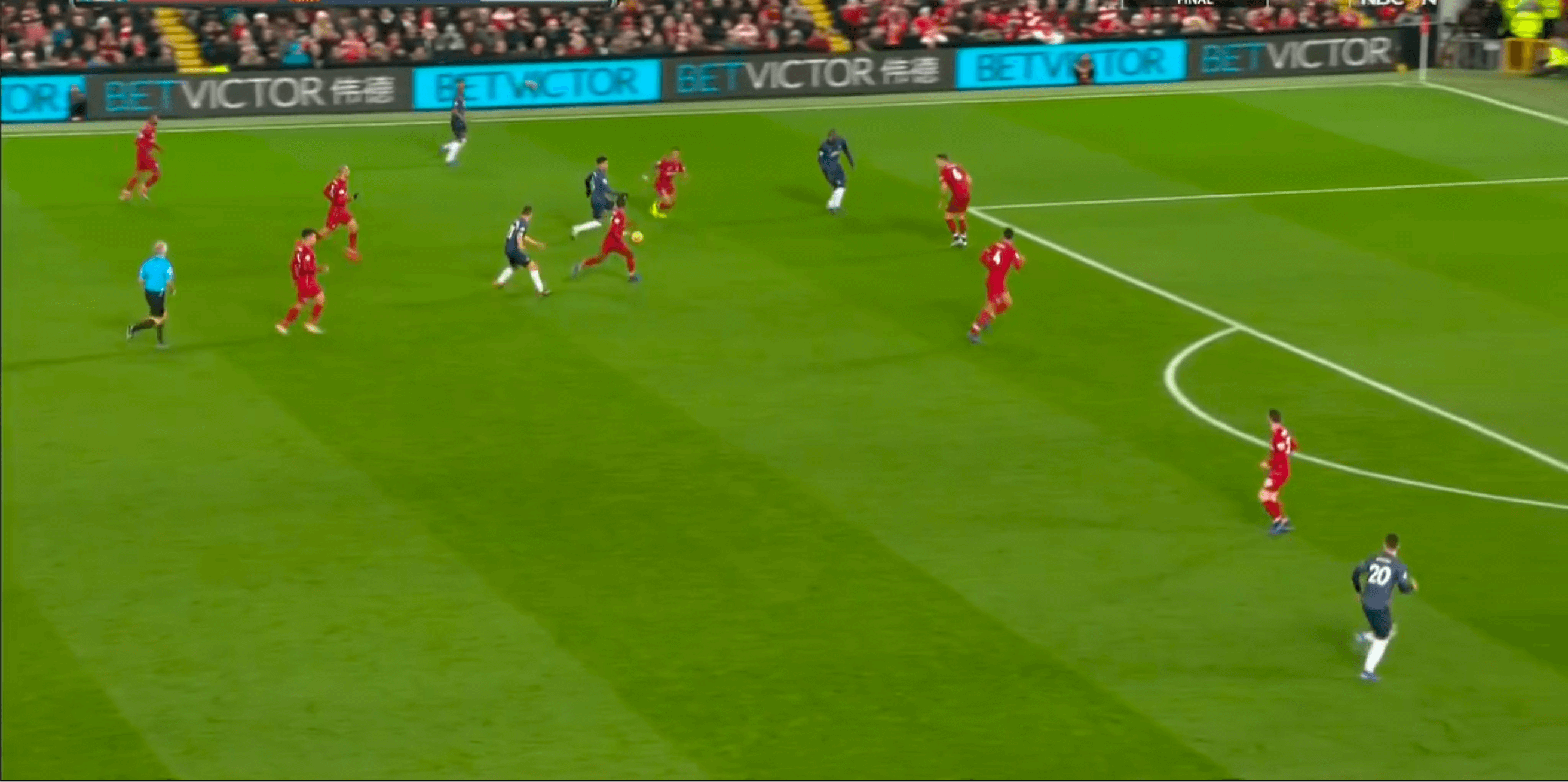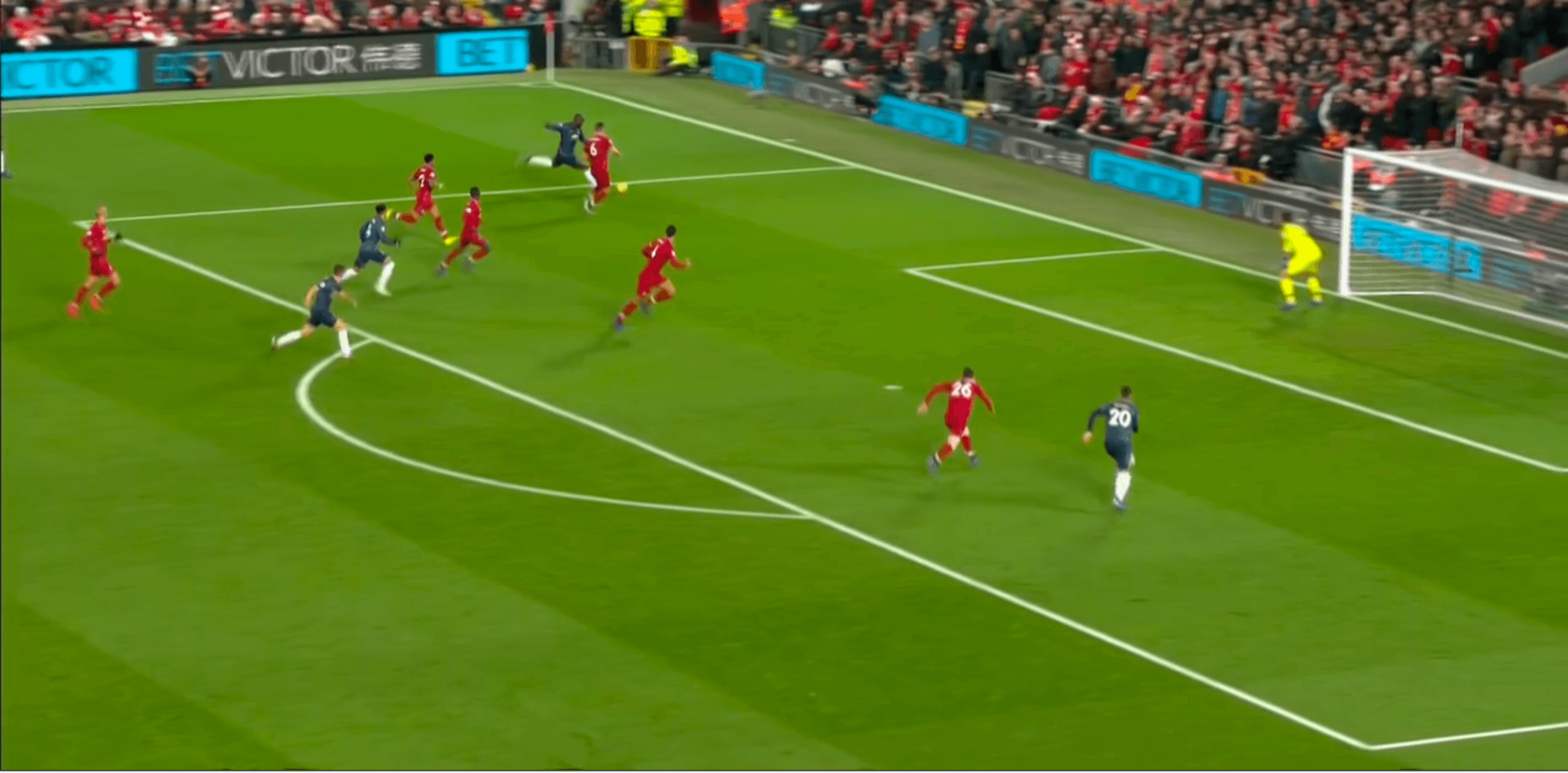 However, the cost of committing players forward is visible below, as Shaqiri breaks – and Salah occupies both centre-backs, and Firmino looks to run behind, as he drags the right-back, either offering Shaqiri a passing option, or pulling the United defensive line further towards their goal, and making more space for Shaqiri to run into in the process.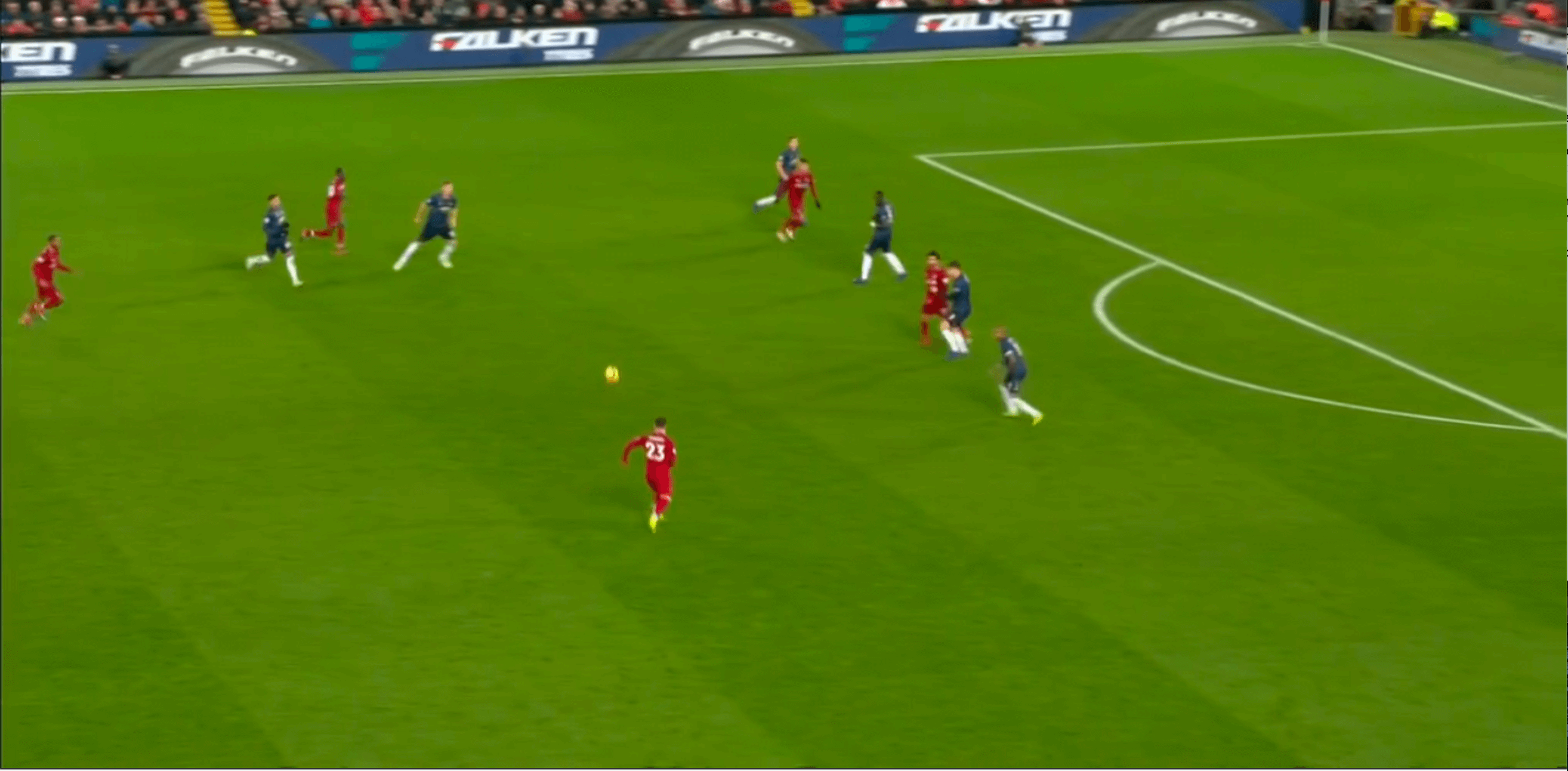 The problem with United was that their tactical approach was too defensive for them to gain anything from the game. It may have worked at Old Trafford against a midfield of Henderson, Wijnaldum and Milner – who struggled to break down defensive blocks against Red Star, Napoli and PSG – but with Keïta and Fabinho, and Wijnaldum playing superbly, United needed to stop them from having the ball, and their midfield structure was not conducive to this. United either left loads of space between the midfield-defensive line for players like Firmino or Keïta to occupy, or very little, which meant space instead was in front of the midfield line, which was so deep it may as well have been the defensive line.
Liverpool though, as the screenshots below illustrate, were probing, incessant and intelligent in their movement, positioning and passing for a majority of the game, making sure to maximise the spaces between the United midfield and defence, and either dragging or isolating players when dropping deep – as Firmino and Mané did excellently: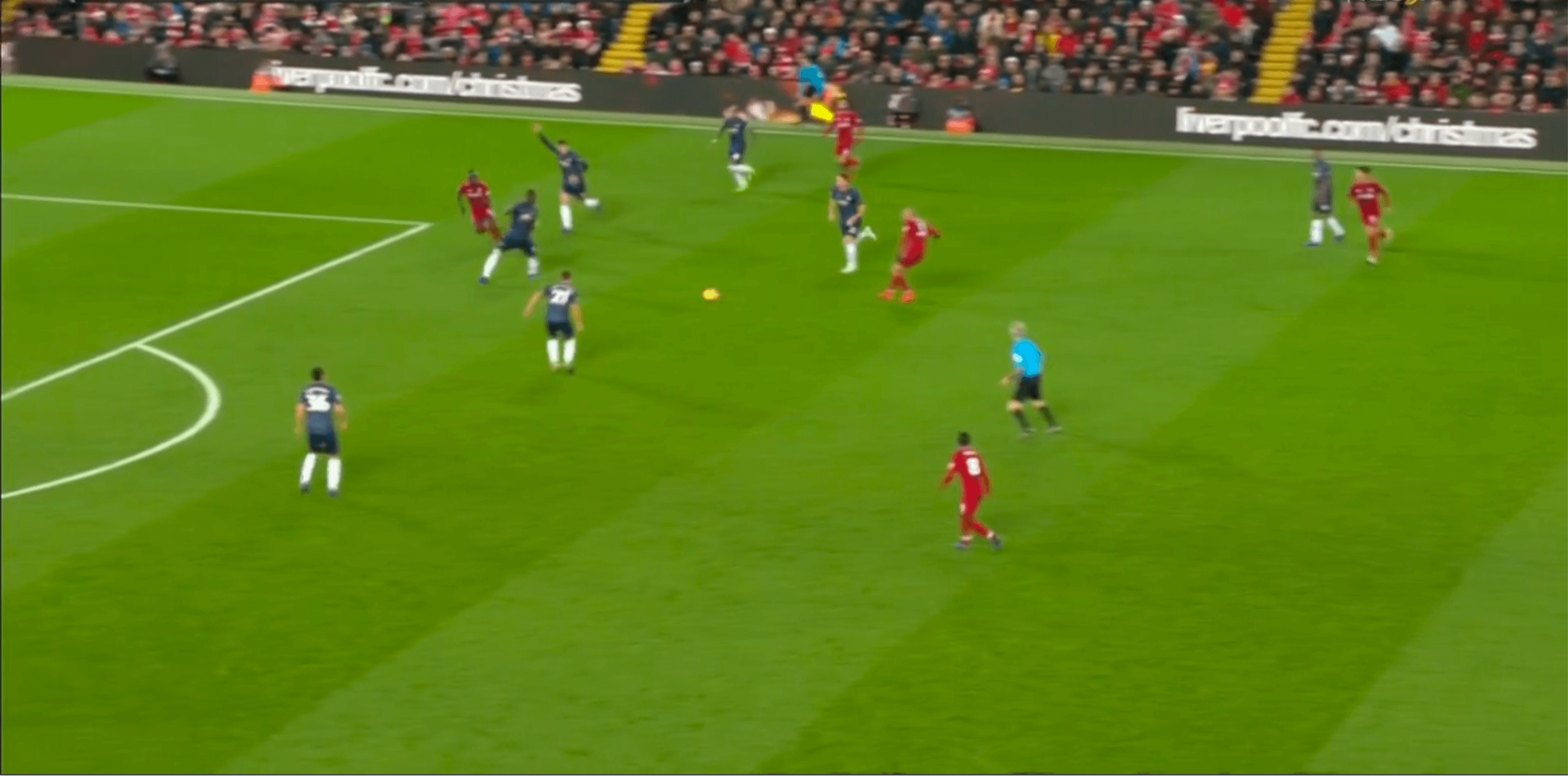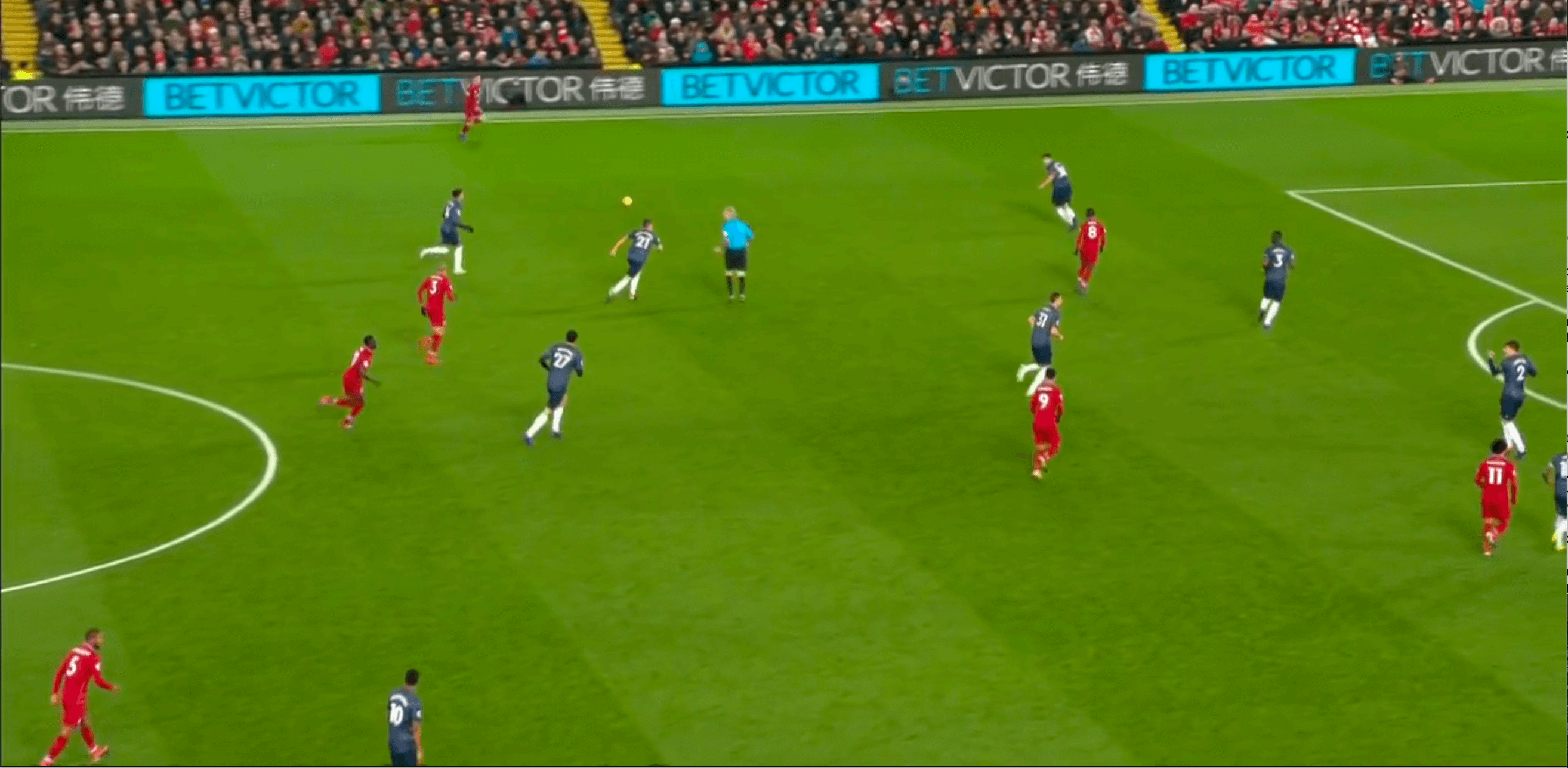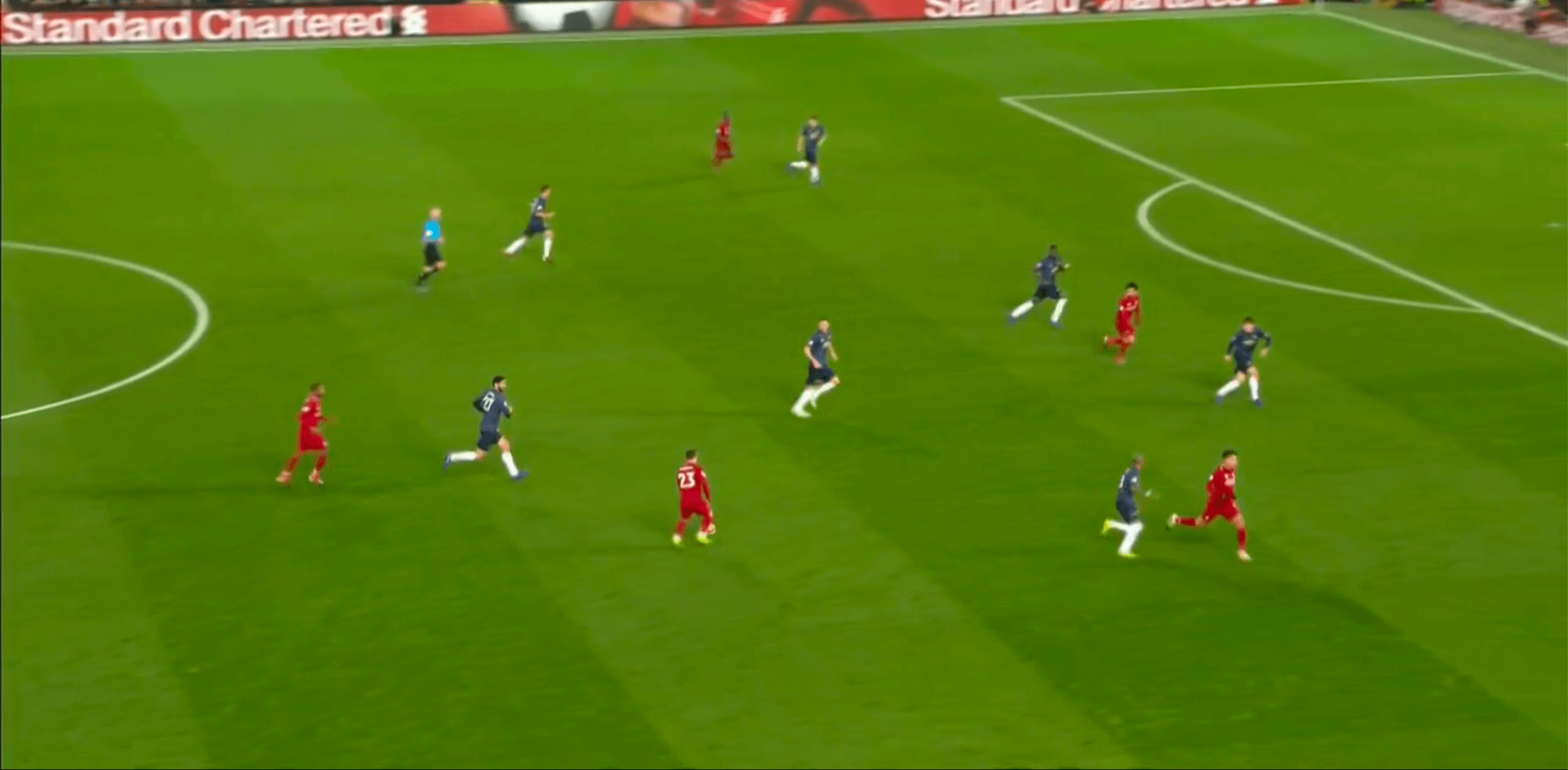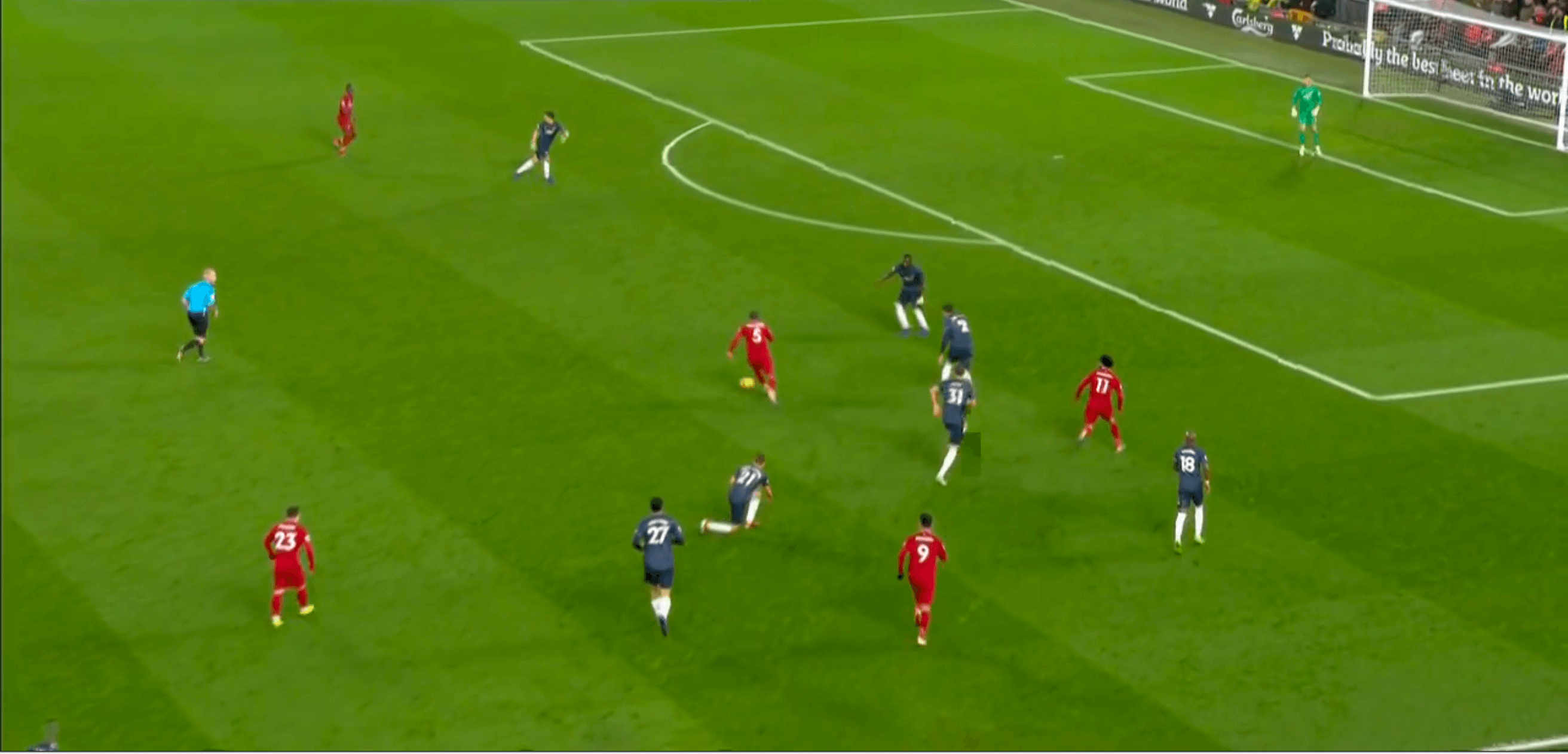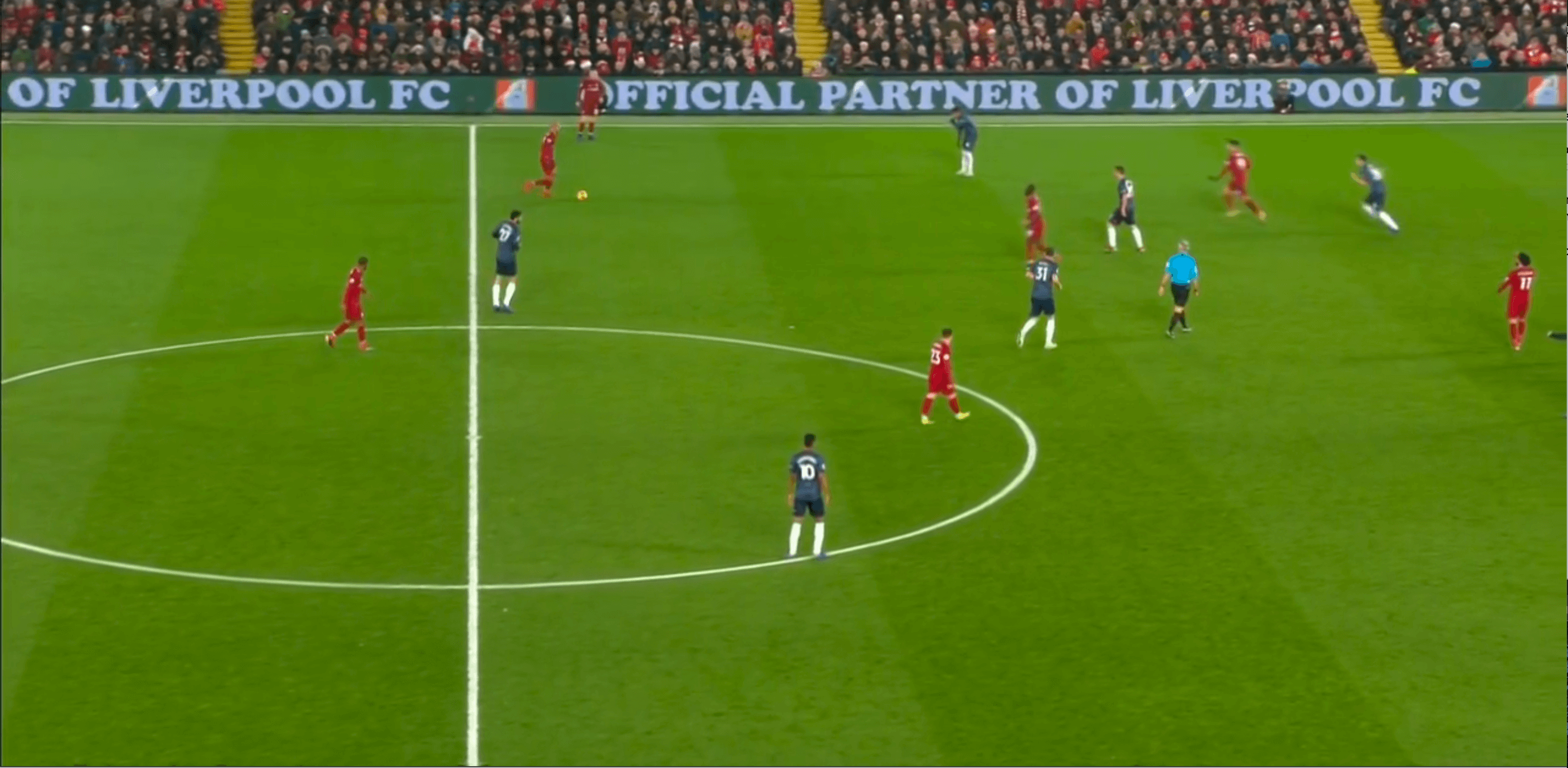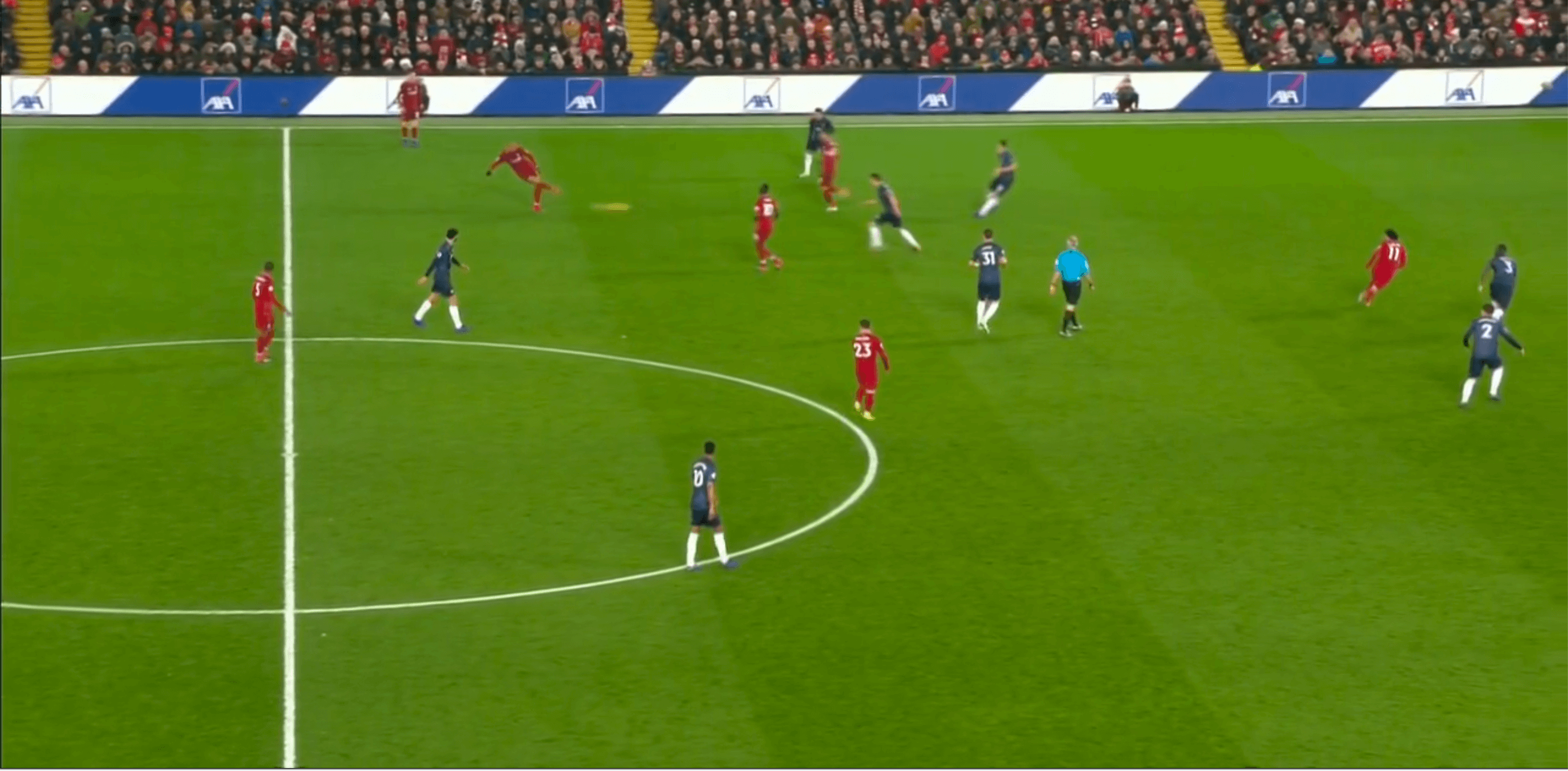 Altogether, it was a comprehensive performance, which was only besmirched by an avoidable error, from which Alisson recovered from and kept his nerve when pressured and pressed later in the match. It bodes well for the future of the Liverpool midfield, as this trio looked lively, creative, industrious and intelligent. It is easy holding the ball when facing a side who appear to not want it, but creating, managing and exploiting space against a compact defensive line is challenging, and the midfield and forwards did so very well, and in a manner rather unexpected, given the team's record against low blocks. For United though, this was a shocking performance, in terms of tactics and in terms of quality and execution too. United were there to be put to the sword, and Liverpool did so, without really breaking into top gear. Sustained, controlled pressure from Liverpool was required and was delivered – there's not really much more we can ask for.
A few more performances like that and my pre-match nerves and butterflies in my stomach may just settle enough for me to be able to handle breakfast, come the next Liverpool-Manchester United fixture.