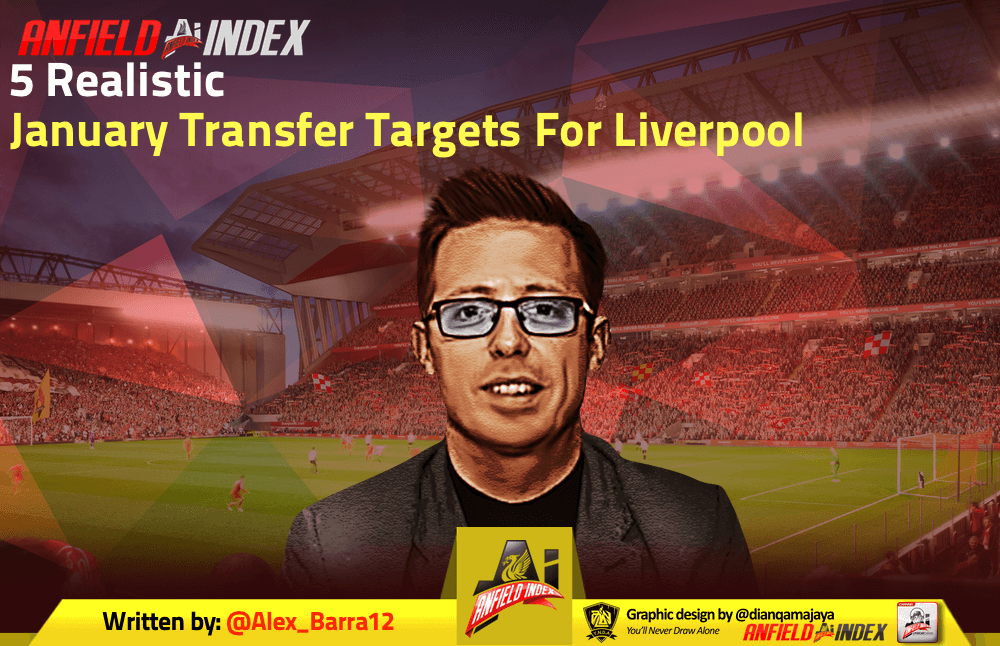 5 Realistic January Transfer Targets for Liverpool
Liverpool are on top of the Premier League.
Though there is little cause to remedy anything in this Liverpool side right now, they are in the midst of a tense, to-and-fro title challenge, and will face the German Goliath Bayern Munich in the first knockout phase of the Champions League in February.
For a variety of reasons, Michael Edwards and Jürgen Klopp have been reticent to delve into the January transfer market during their time at Liverpool, but if there was ever a time to look for the slightest bit of reinforcement to turn the tide in their favour – especially against a Manchester City side with a squad overflowing with talent, and with Klopp possessing a near-depleted defence over the hectic Christmas period – it would be January 2019.

Not that any of these will in any way happen, mind.
Christian Pulisic
The one transfer that many seem to covet, even amidst the most successful Liverpool season in recent memory, is the prized American winger that could represent one of FSG's wisest investments. It's no secret that Liverpool are after Christian Pulisic, who was widely renowned as the second most impressive teenager in World Football last year (Kylian Mbappe wears that crown undisputedly) and who ticks all the boxes: he's versatile enough to play both sides, he's lightning quick and silky smooth on the ball, has developed in a pressing system and, off the pitch, is also American – that makes him a brand all to himself.
Pulisic has gone from being the most important part of Peter Stöger's Dortmund revival last season to being a peripheral figure in and out of the most exciting team in the world. Lucien Favre has preferred the dynamos Jadon Sancho and Jacob Brunn Larsen as starting wingers this season, though the American still started four of their six Champions League group games, that was as many starts as he's made in the Bundesliga season.
For a club that prides itself on getting top dollar from their fabled young prospects, the window for maximising Pulisic's profit is narrowing. If they sell in January, they'd probably still make a fair chunk (€60 million or thereabouts) of the €100 million price tag they quoted a year and a half ago. For Liverpool, they would get able reinforcements to their new Fab Four, and an exceedingly clever investment for the future.
Pascal Groß
It was perhaps a strange link, to hear Brighton's Pascal Groß name mentioned as a rumoured Liverpool target, but it does sort of make sense, doesn't it?
Groß made his name in the Bundesliga, was impressive for Brighton in their returning Premier League season and would come relatively cheap. Klopp's midfield hasn't seen such a prosperous age as the one it's currently undergoing, with Naby Keita and Fabinho finally integrated and strutting their stuff.
However, there is still the issue of creativity from midfield – an issue which would have been addressed had Nabil Fekir's knee not been shoddy. If Klopp decides that he needs a more creative presence in the middle of the park, then the man who created the most chances in the Bundesliga at Ingolstadt wouldn't be a bad choice. He registered seven goals and eight assists last term, starting nearly all (35) of Brighton's Premier League games.
Klopp has a penchant of taking mid-table players and turning them into gems. Perhaps Groß is next?
Nabil Fekir
Alright, alright, people are going to think this one is clutching at straws. But then did anyone think Liverpool would be so close to Manchester City come Christmas time?
The reasoning for Nabil Fekir's failed transfer move was inexplicably the issues with his knee, and the mistrust of Lyon's accelerated ACL repairs. Fekir's move was all but done, for a pricey figure of £48.4 million as well, until those issues came up, and it was summarily cancelled. He's yet to have an issue with his knee this season at Lyon (his early-season injury worries were ankle based) and would still be the most glorious of fits in this Liverpool setup.
Yes, yes, it is clutching at straws, but the chance to win the title is such that perhaps a risky, forty-million-pound investment… might be worthwhile? If it's the difference between Klopp's men winning a title and coming second, then is there not a case to say that even if Fekir's knee breaks down on the first day of next season, nobody would really be bothered? Obviously, other than Fekir.
Plus, on the off chance that his knee doesn't disintegrate into a million pieces, it'd be quite satisfying seeing the little Frenchman carve up the Premier League in Red.
Sergej Milinkovic-Savic
Perhaps the outlier, and another instance of Italian clubs being far too ambitious in their defiance of the footballing hierarchy.
Lazio wanted £100 million for their prized asset in the summer. When it was made clear that nobody was going to – or could – offer that ludicrous sum for the undoubtedly gifted Sergej Milinkovic-Savic, Lazio refused to buckle, and the 23-year-old Serbian decided he'd rather not replicate his scintillating form this season. Simone Inzaghi's Lazio had the wind sucked out of them when they didn't reach the Champions League on the final day of last season, and really should've thought about selling their asset for slightly less when it was clear the asking price was too much.
Instead, it's now abundantly clear that Lazio will receive nothing like the astronomical fee they demanded in the summer, especially after the Biancocelesti fans turned on the young Serb. For Liverpool, the search to find an offensive midfielder in the role of Nabil Fekir is likely to not offer up someone quite as talented as the man with the acronym "SMS."
He's destructive when on song, classy and callous in the way he blitzes past opposition players on the ball and was effective in and around the box last season as any of the world's most prolific number 10's, with the added bonus of tracking back like a Number 8 (occasionally). He would mean Klopp could stick to his 4-3-3 system in big games more often and would have a better chance of lighting it up in the Premier League than Serie A currently.
Something to think about, perhaps.
Nico Elvedi
A wildcard based on the realms of possibility, rather than plausibility, Nico Elvedi's ability to play at both centre-half and on the right, as well as his age, makes him a potential candidate to shore up Liverpool's back line.
Klopp's turn to a much more stable defensive unit has been the basis for the Reds' title challenge, but the parts that make up that defensive contingent have been dropping like flies recently. Virgil van Dijk is the mainstay, but he'll be missing for Bayern Munich's trip to Anfield in February due to suspension, while both Joe Gomez and Joel Matip will hopefully be back by then after sustaining injuries in recent games. In the interim, Fabinho could well be shoehorned in at centre-half, should Dejan Lovren's fitness concerns rear their head again. Beyond that, it's academy graduate Nat Phillips or a phone call to see what Steven Caulker's up to these days.
Nico Elvedi would be a shrewd acquisition to shore up those ranks, while also being young enough to be a look to the future. He's exceptionally composed on the ball, despite being 6"2, and astute defensively, often standing out in Dieter Hecking's defensive system at Gladbach. He needs to rid himself of a tendency to take too much on, but the 22-year-old has plenty of time to remedy that.
Much like the others on this list, it probably won't happen, but it would be an excellent signing if it did.