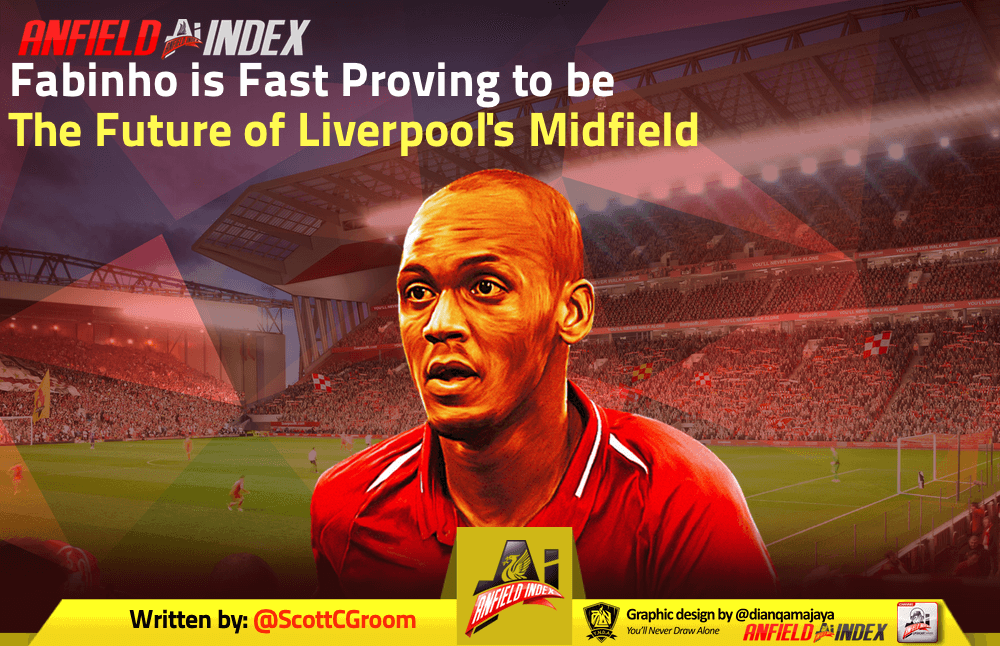 Fabinho is fast proving to be the future of Liverpool's midfield

After spending the first few months out in the cold and adjusting to life under Jürgen Klopp, Fabinho Tavares is beginning to make his mark on this Liverpool team, with his performance against Manchester United underlining his credentials as the future of their midfield.
The new number three put in arguably his best performance since making the switch from AS Monaco in the summer and totally bossed the United midfield at Anfield, giving Kopites a real taste as to the what the future could hold with Fabinho as their midfield linchpin.
He got himself a sublime assist for Sadio Mané's opener and showed a cultured touch, brilliant range of passing and a grittier side to his game by getting stuck into the United players with tough tackles, timely dispossessions and brilliant pick-pocketing of players on the ball.
The absence of James Milner perhaps led to Fabinho being handed his chance, but he sure as hell grabbed it with both hands.
The Brazilian was Liverpool's most influential attacking midfielder, notching four key attacking involvements throughout the course of the game, while his other general attacking passing was right up there, as shown in the below graphic provided by twelve.football.
Fabinho was advanced inside the United half for large parts of the game, demonstrated by the graphic, and played a pivotal role in linking up with the front three. On top of this, his passing accuracy was 79 per cent and attempted three dribbles and was successful with them all. Not bad going at all for a holding midfielder.
It all seemed so effortless for a man who many though was simply being brought in as a deep-lying defensive midfielder whose job would solely be to break up the attacks of Liverpool's opponents.
Although this is not a part of his job that Fabinho shies away from, as the number three made six important tackles, and while they may have been unsuccessful, made six fouls – showing his willingness to get stuck in and get his hands dirty when required.
While there were a few fouls scattered in there, at least he was in there disrupting United's play, not letting them get into any kind of rhythm. Combine this with the key defensive actions he made in arguably his second best performance against Everton, that makes 12 key defensive actions in two stand out performances.
And let us not forget about his stunning display in Liverpool's 4-0 win over Red Star Belgrade, when he made an incredible nine successful tackles.
Going back to his passing prowess, and Fabinho certainly caught the eye of many Henderson-haters with the direction in which his passes were directed.
As displayed in the below passing sonar graph provided by Twitter user @Ben8t, Fabinho barely even made a backward pass, and very few were made horizontally, either.
Liverpool vs Manchester United PassSonar & PassNetwork #LIVMUN @TheRedmenTV @ManUtd #passmap #Derby pic.twitter.com/2YthnF76ZI

— Ben8t (@Ben8t) December 16, 2018
Every time he got the ball, Fabinho looked forward and it really helped Liverpool to drive at United time and time again until the pressure mounted and they were rewarded with a goal.
While Henderson is an important player for Liverpool, there's no denying that it was glaringly obvious that Fabinho is far more progressive, in terms of both his passing and dribbling.
All of this evidence points rather positively to Liverpool's future, especially when you consider the fact that Naby Keita is yet to find his finest form, Gini Wijnaldum keeps improving and Alex Oxlade-Chamberlain is still waiting in the wings for his chance when he recovers from his ACL injury.
This is without taking into account the central stalwarts of Henderson and Milner – who may find that their game time is limited more and more going forward as a result.
But now, with excitement already at a fever pitch around Anfield, Liverpool fans have been given further reason to be optimistic. Fabinho is looking every inch the £44 million player that Klopp signed – all he needed was a bit of time.