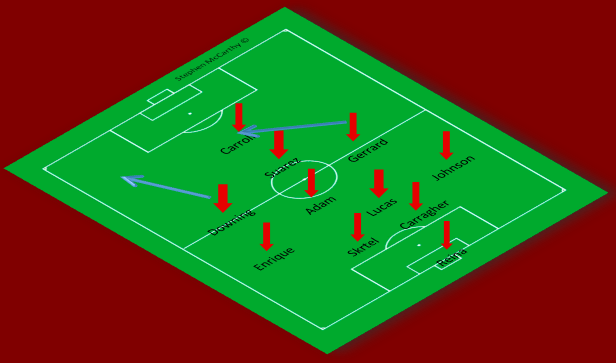 Trick or Treat For Hodgson? Liverpool V West Brom | Tactical Preview
Liverpool face West Bromwich Albion on Saturday in the early evening kick-off, and by lord its difficult not to be sarcastic with Roy Hodgson in the opposition dugout. Hodgson oversaw one of the most turbulent periods in our entire history, and the mere mention of the man's name sends shivers down my spine. On rare occasions I'm prone to waking up in the dead of night, in a cold sweat, uttering phrases like "those people (protestors) aren't making my job any easier" and "I'm here to steady the ship". My wife wants to know why I cackle "no Uncle Roy, No, No, No, stop hoofing the ball" in the deepest, darkest realms beyond the witching hour. But I just can't bare to tell her. Maybe one day I'll be able to talk about it. But for now let's take a look at the game on Saturday.
Liverpool go into the game on the back of a morale boosting victory against Stoke at the Britannia. The first time we have came from behind to win a game in Kenny's second stint as manager. Luis Suarez scored an absolute cracker so there is plenty to keep LFC fans cheerful this week after the disappointing draws with Norwich and Man United. We go into the game 6th place in the table, on 15 points, with Arsenal 2 points behind us, and Spurs a point ahead. So the race for the Champions League spot is really starting to heat up. Our last 5 in the Premier League reads DDWWL. And in the 12 games between the Carling Cup and League this season we've only lost twice, those being the two blips at Spurs and Stoke. So overall our record this season is quite impressive. If we could just turn some those draws into wins we would no doubt be closer to the top two.
West Brom have won their last 2 games, one at Villa Park against a 10 man Aston Villa, and a 2-0 win at home against Wolves. West Brom's last 5 read WWDDL. So in regards to form between ourselves and West Brom it is identical in as far as we have both won 2, drawn 2 and lost 1 of our last five games. With Roy Hodgson up against his former club, and despite what he might say before the game in regards to proving a point that we were wrong to let him go, you can be sure he will have his players well up for this game. Expect some quotes beforehand from Hodgson, on how he has managed many prestigious clubs all around Europe, and he has nothing more to prove. More than any other game though; he will not want to lose this one.

West Brom Defensive/Offensive Formation
So let's take a look at West Brom's likely formation, probable line-up, key players, and how we may go about stopping them. First off, as we know Roy so well from his time managing us, it will be no surprise when he lines up with a formation of 4-5-1 against us. See graphic below.
Expect Tchyoi, one his 3 central midfielders to try to get forward to support his lone attacker at every opportunity. Shane Long, out injured, has been their star man in attack this season. So he is a big loss to West Brom for this game. However, I expect Peter Odemwingie to come in to replace Long as Odemwingie done well on the back-end of last season and scored quite a few goals. Jerome Thomas will try to provide some width on the left hand side of midfield and Chris Brunt should play on the inside right tucking in to midfield and closing space down. Mulumbu will provide that all important defensive cover in front of midfield with Scharner alongside him slightly further forward.
I expect West Brom will approach the game like they have any other game this season. They like to keep a very deep defensive line and are likely to concede possession and territory to the opposition. A typical Roy Hodgson team some might say. As you can see from the table below, there is only one home game this season where they have had more possession than the opposition, and that was against Stoke. Not surprising considering Stoke's route one tactics. Furthermore, not once this season in their home games have they had more territory than their opposition. So I would expect us to have a lot of possession in this game. However, if you look at the Wolves game below, in which West Brom won 2-0 with only 42% possession, there is a warning there for us that all though West Brom concede possession and territory they can still win games with that tactic.
With Hodgson's teams well known for their lack of flexibility, they're likely to play as rigid a 4-5-1/4-4-1-1 as you are likely to see all season. Below is a graphic from West Brom's home game against Wolves. These are the player's average positions for the game. Notice how deep both central defenders are; defending with a line just outside their box. Neither of West Brom's full backs will be too eager to cross the half way line. The full backs average position is quite defensive. Born out in the fact that Jones only received four passes in the opposition half all game against Wolves, whilst Reid on the other flank received the ball only 10 times in the opposition half all game. Neither full back attempted any crosses in the entire game. This in a game West Brom won 2-0 remember.
In an attacking sense West Brom have scored a total of 9 goals in the league this season. Only 3 of those have been at home and 6 have been away. So relatively speaking not the most dangerous attack in the league by an means. We can take a look at the table below of West Brom's front players to see where we may expect the danger to come from.
The red boxes highlighted are those with the best statistic for each specific area of stats. You can see from the table the amount of red boxes between Brunt, Odemwingie and Shane Long. I included Shane Long to get some perspective of what West Brom will be missing in an attacking sense on Saturday. He's scored 3 of West Brom's 9 goals in total, and has the best shooting accuracy and chance conversion rate of his fellow attacking players. With 9 successful dribbles to his game it's also clear we can expect Odemwingie to provide the most threat when it comes to taking on our players. It will be important for Carragher and Skrtel to stick close to him and be aware of him trying to dribble the ball past them. As to who is going to provide the crosses, Brunt is by far the most prolific at getting the ball into the box. With a total of 50 crosses attempted this season, an amazing 31 more attempted crosses than Tychoi, in second place, with 19 attempted crosses. It will be vital that our left sided players Enrique and Downing close down any attempted crosses. Brunt looks to be the most creative of the midfield players also with 4 assists this season and a chance created every 55 minutes. Not bettered by any of his colleagues in the table above. So if we can keep Brunt and Odemwingie quiet it will go a long way to stifling West Brom's attack. On a final note, its worth pointing out, that all though Tychoi does not come off too well in the table of stats above. He will play more or less between the lines so it will be important that our man Lucas picks him up whenever he makes runs into that area in front of the back four.
Liverpool Defensive/Offensive Formation
When it comes to our own formation this year we have more or less stuck to a 4-4-2 or variant of that 4-4-2. In this game I would not be surprised if we changed to a 4-2-3-1. Or better put, i'd personally prefer if we switched to a 4-2-3-1 for this game. With Lucas back from suspension, Charlie Adam coming into his own in midfield, and a fit Steven Gerrard on his way back to his best, I really can't see Kenny resting any of the three. If so, that leaves really only Gerrard as the most flexible player between those 3 players and thus the most likely to play anywhere else but centre midfield. I know there is an option to play Stevie in the hole behind Suarez, however I would like to see Carroll given a chance due to our failure to take our chances during games. See my graphic below on how I'd like us to line up against West Brom.
In this formation, both Enrique and Johnson are more than enough to provide the necessary width, both Downing and Gerrard on either side can provide some cutting edge. Not to mention Gerrard's excellent delivery into the danger area. When we lost the ball both players can drop into a more orthodox wide role and Suarez has enough energy to drop deeper if we need an extra man in midfield to combat West Brom's five man midfield. I expect West Brom will play a very deep defensive line against us. A team who plays a deep defensive line will usually leave no space in behind, in turn not using the offside trap too often. Considering the amount of times Luis Suarez has been caught offside he should be happy with the following stat graph.
As you can see, West Brom have only used the offside trap 7 times all season. Compare that to Chelsea, at the opposite end of the scale, who have used it 38 times. A reflection of the style of play Chelsea use – pressing the ball high up the pitch and leaving space in behind. Man United have caught the opposition offside only 9 times all season. Are they sitting too deep? Maybe a reason they have conceded so many chances from outside the box. The surprising one in the table is Man City with 9, however, they have dominated so many games, and scored so many goals they don't have to use offside as a defensive tactic. It is worth noting that West Brom have conceded 4 penalties this season, another reflection maybe of their tactic of defending on the edge of their own box.
All in all we are going to have to be very creative all across the middle of the park to try and break West Brom down. West Brom have conceded 76 (59%) chances inside there own box this season compared to 52 outside the box. So I wouldn't be surprised if we score from a threaded through ball from just outside the box from either Adam or Gerrard to one of our forwards. I expect these two to be vital in providing creativity to Suarez and Carroll.
On a final note, a lot has been made recently of our failure to take our chances in games. And it has definitely cost us in the last two games against Norwich and Man United. However, what about our clear cut chances. See the snapshot of the Pivot Table below.
It's clear from the table above that we are creating enough clear cut chances. We have created a total of 23 clear cut chances this season. Only Man City and Man United have created more. Our failure does not ly in our creativity but in our actual finishing of these chances.  We have scored from a very poor 21.7% of these clear cut chances. Only Sunderland, Stoke and Wigan have a worse record than us this season. Even our opponents this week WBA have a better record of 30.8% of clear cut chances scored. So we really need this to change soon or it may turn into our Achille's heel this season.
Furthermore, a slight worry would be our over-reliance on Luis Suarez. As you can see from the table of our breakdown of our clear cut chances, Suarez has had a massive 12 of our total of clear cut chances this season. That is why I think it's imperative we get another one of our strikers on the pitch and into form. Andy Carroll needs games, needs goals, and needs confidence. We as a team also need a productive partnership up front. If we can get both Suarez and Carroll firing on all cylinders then I believe we will not only win against WBA but we will also have a very successful season. Here's to 3 points and a win.