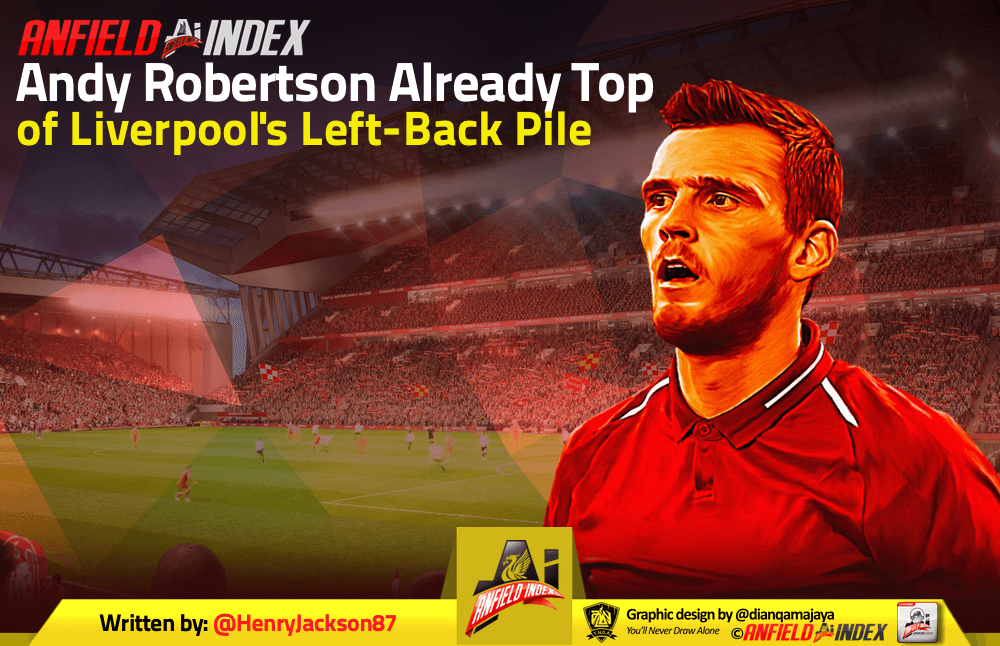 Andy Robertson Already Top of Liverpool's Left-Back Pile
There's something romantic about looking back at the past and overrating things.
We all do it, whether it's relating to sport, music, film or anything else you wish to be interested in.
It is particularly prevalent when it comes to football, and especially Liverpool supporters, who love nothing more than harping back to the good old days. Not that it's a bad thing.

We don't always like to claim a current player is better than a past great, perhaps rating some of those who came before irrationally highly.
Was Phil Neal really that great? Would Bruce Grobbelaar actually be torn apart by in-depth analysis these days? How would Sami Hyypia handle playing in this Liverpool team?
Here's the thing: Andy Robertson is Liverpool's best left-back since the Premier League started in 1992, with no modern-day bias playing a part.
I know that football started long before then, with the Reds bossing the domestic and European game for long periods, but it was a different time and a different game, making comparisons tricky.
The likes of Steve Nicol, Alan Kennedy, Gerry Byrne and Alec Lindsay are probably better than Robertson, especially in terms of silverware, but what about these last 26 years?
The level of performance that the Scot is consistently producing in a Liverpool shirt is something to behold, having arrived to such a mixed reception in 2017.
The vast majority were kidded by a modest price tag and the fact that he played for Hull City, when in fact Jurgen Klopp and Michael Edwards had done their research to perfection.
Robertson has become not only a well-respected performer but also a cult hero – achieving both is so difficult at a club of Liverpool's stature.
His display in last Sunday's 3-1 win over Man United summed up what a key figure he has become, particularly during a memorable second-half showing that saw his energy levels and quality through the roof.
Granted, his corners were dreadful – he took to social media to mock his own set-piece delivery, summing up his self-deprecating character – but he caught the eye more than anyone else in those 45 minutes.
Even Jose Mourinho took the time to focus on him in his post-match press conference, even if that was partly as a way of firing shots at United.
It was another afternoon that made you realise what an immense signing Robertson has been, with arguably no left-back in Europe more impressive at the moment.
It is easy to be snobbish, just as many were when the 24-year-old signed for Liverpool, and opt for more fashionable, world-renowned names, but who is realistically better?
Alex Sandro? Marcelo? David Alaba? Lucas Hernandez? They are all top class footballers in their own right, but none are as important to their respective teams right now.
Robertson has become such an integral part of this Reds side in a short space of time that losing him for an extended spell could be as fatal as an injury to Alisson, Virgil van Dijk or Mo Salah.
We all know about Alberto Moreno's shortcomings, and while the Spaniard is better than the general consensus would have you believe, the thought of him being first-choice all of a sudden is a worrying one.
So who comes close to rivalling Robertson as Liverpool's best left-back of the Premier League era?
There are a handful who could provide some sort of competition, but it is a position where the Reds have struggled historically since their period of dominance ended in 1990.
John Arne Riise is the obvious name who springs to mind, considering he gave seven years of good, sometimes excellent, service.
He was an Istanbul hero, a scorer of great goals and someone who made a similarly flying start to Robertson, before tailing off dramatically late on.
Riise never possessed the Scotland captain's defensive nous and tactical expertise, however, and for every shot that found the top corner, the other 10 flew into the Kop.
History has actually been unfair on the Norwegian, with too many focusing on his disappointing latter days – that own goal against Chelsea is still haunting – but he was a great servant and a highly accomplished left-back at his peak.
Still, he wasn't Robertson.
A more cool, hip choice is Fabio Aurelio – a beautiful footballer with one of the best left foots in Liverpool's history.
Had the Brazilian actually managed to stay injury-free for long periods he would be a contender to Robertson's throne, but his fitness levels were a constant issue.
Only once did he appear more than 30 times in a season.
Aurelio is the classic romantic option and he was excellent on his day – it is desperately harsh on Riise that Aurelio earns more love nowadays – but his influence was never anything like what we are witnessing with Robertson.
Stig Inge Bjornebye was a solid servant during the 1990s, as were David Burrows and Steve Staunton, but none were fit to lace the current left-back's boots.
Moreno is an erratic presence, as mentioned, Jose Enrique was never good enough and Paul Konchesky will forever be one of the worst Liverpool signings ever.
There are probably others, but frankly, they will all have been forgettable.
It is easy to play down Robertson's impact because he is only 18 months into his time at Anfield, but he is regularly performing at a world-class level.
He is yet to endure one genuinely bad performance for the Reds, and at 24, he should still be a few years from the absolute peak of his powers.
Robertson is a fantastic footballer, a likeable person, a cult hero and someone containing a winning mentality, making him one of the most universally popular Liverpool players in years.
He epitomises the Klopp era as much as anyone and we are hopefully only witnessing the beginning of a legendary stint on Merseyside.
He may suddenly fall off a Riise-esque cliff, but as it stands, no Reds left-back has been as impressive and influential since the Premier League's inception.