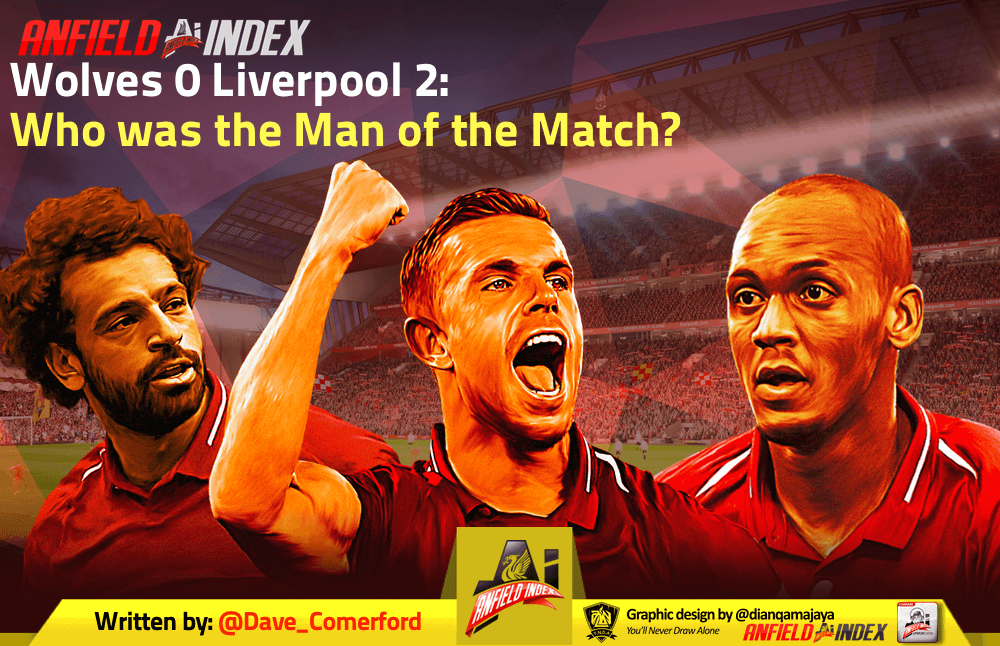 Wolves 0-2 Liverpool: Who was man of the match?
With each game that passes, this Liverpool team look increasingly like potential champions. They were well below par at times against a Wolves side which has taken points off four of the Premier League's 'big six', but still they ran out victorious with relative ease.
The Reds wobbled after Mohamed Salah's deft opener, repeatedly conceding possession in dangerous areas and gifting their opponent's chances. The sound of the half-time whistle was a relief.
They then raised their game in the second half, and after a long-awaited Virgil van Dijk goal gave them breathing space, fans could afford to relax. Liverpool have only conceded seven goals across their first 18 games, and they were able to effectively shut up shop when the two-goal margin was established.

That meant Alisson racked up his 11th clean sheet of the season. There were flashbacks to his blunder against Manchester United when he spilt a tame effort early on, though replays showed a deflection had complicated his task. He was solid when called upon thereafter, and his distribution improved as the game went on.
It seemed inevitable that Dejan Lovren would make a costly mistake after his bullish comments in midweek, and while the Croatian's performance didn't exactly inspire confidence, it was far from the horror-show some Reds claimed to have witnessed. He's a specialist at clearing the danger, even if that danger is occasionally of his own making.
James Milner, meanwhile, put in another good shift in an unfamiliar position. You would struggle to find a player as versatile in European football.
On the left, Andrew Robertson showcased brilliant energy once again. The end product in the final third was lacking, but he did his job defensively – no other Red made more successful tackles. We can put that heart-in-mouth moment in the closing stages down to misfortune.
In midfield, Sunday's MOTM Fabinho impressed again. The Brazilian delivered another assist, this time a neat pull-back to Salah, and won the battle with Wolves' central midfield players. There remain one or two creases which need to be ironed out – he gave the ball away too easily in this one – but Liverpool have clearly got a top player on their hands.
Jordan Henderson's strong performance, then, was timely. As his teammates faltered, the skipper was tidy in possession and played some brilliant, ambitious balls into the front three. It appears he's raised his game in the face of significant competition.
By contrast, Naby Keita struggled, albeit in an uncomfortable territory on the left wing. He couldn't make an impact in the final third and lacked his customary guile in the midfield battle. With another injury forcing him off, his Liverpool career is still to get going.
Replacement Georginio Wijnaldum stuck to the manager's instructions in his cameo but will have been frustrated to fluff a brilliant chance for a third with the last kick of the game.
Opportunities were few and far between for Sadio Mane and Roberto Firmino. The pair created openings with some clever touches, but several promising situations fizzled out.
Salah, though, looks to be back to his brilliant best. He's back to the top of the scoring charts, for about 12 hours at least, after putting the Reds in front with a clever finish following some fantastic movement in the area.
The Egyptian has quietly improved the creative side of his game this season and turned provider for the second, weighing his ball into Van Dijk perfectly for the Dutchman to apply the finish with his outstretched leg.
He threatened to find the net again as he tormented and bullied the Wolves defence, but Rui Patricio was able to thwart him from close range.
His return to top form should strike real fear into opponents, but he's just about edged out in the MOTM stakes this time.
Van Dijk's first goal of the season, an awfully long time coming, was the reward for yet another domineering display.
Given that he's such a daunting presence, he really ought to be scoring five to ten goals a season in and around set-piece situations. It had been nearly a year since his last competitive goal for the Reds, so this strike will taste about as sweet as the cough syrup the under-the-weather defender will welcome tonight.
At the back, he was typically flawless. Liverpool were reliant on their top-class centre back to restore calm during a jittery first-half, and as always he delivered. When the ball was swung into the danger zone, he invariably headed it clear, and when the notoriously rapid Adama Traore sought to blast past him, he comfortably kept pace and shepherded the ball to safety.
Van Dijk is so quick, so strong and so intelligent that most forwards simply don't have a prayer.
When he's pressed in possession, his feathers just won't be ruffled. Wolves looked to suffocate Liverpool at times, but still he successfully executed 92% of his passes.
The inter-fanbase debate over whether he's good enough to be considered the best centre-half on the planet will obviously rage on, but with no discernible weakness, Van Dijk is inarguably one of the few elites.
The defensive turnaround at Liverpool this year has been quite remarkable. A backline that would so often melt away under pressure is now leading the way in the Premier League and, by extension, is among the best in the world. Van Dijk isn't the only factor in that process – Alisson, Robertson, Lovren, Gomez and Trent Alexander-Arnold all deserve credit – but he's been at the heart of the transformation; that much is clear to everyone.
By all informed accounts, he has begun the path to legendary status at Liverpool.