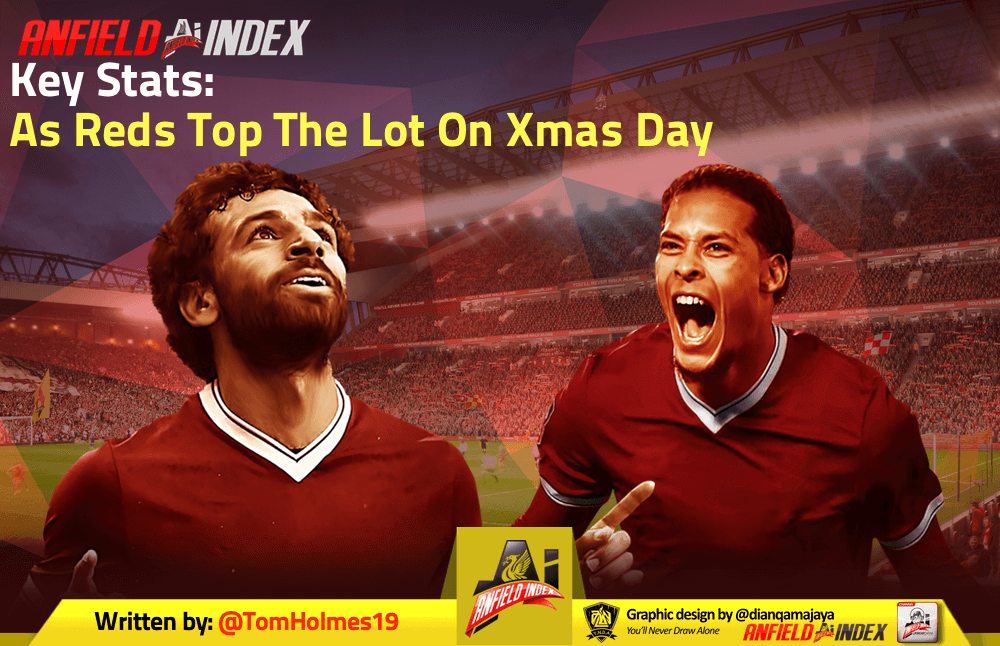 Key Stats As Reds Top The Lot On Xmas Day
Liverpool stayed top of the league with another hard-fought 2-0 win, this time over Wolves at an incredibly rainy Molineux. But what were the key stats as the Reds once again saw off decent opposition in a tense but ultimately comfortable game?
Salah And VVD Show Their Class
Liverpool's two best and two most important players once again demonstrated that they're a cut above not just their own team-mates but the rest of the Premier League. Salah was once again the lynchpin of a reasonably strong Liverpool attacking performance. The Reds had four big chances, two of which fell to Salah himself, one of which he created himself and one which he harassed Wily Boly into giving straight to Gini Wijnaldum.
Salah's 0.96 xG and 0.49 xA were the highest xG and second highest xA in the team – with Mané who created a big chance for Mo the highest on 0.7 xA. And of course, Mo was the difference maker with a goal and an assist.
VVD also notched a goal and created a big chance, but defensively was where he was the game-winner – winning 4/4 aerial duels, 2/3 tackles as well as making one interception and five clearances. Whilst Liverpool ended up shipping 0.76 xG and one big chance, over half of that xG and the big chance came with the game already won at 2-0.
Mo is now the Premier League's top scorer again with 11 goals and has also added five assists, only six players have more assists and only one player – Hazard – has more goals and assists combined. He's clearly the most important cog in this LFC attack, just as VVD is the most important cog in the defence. Speaking of…
Imagine Conceding Goals…
The defensive stats are just insane at this point. 11 clean sheets and 7 goals conceded in 18 games. That's the joint-best PL record for a team's defence on Xmas Day, matching Chelsea in 05-06 and 08-09. Moreover, it took Liverpool just four games to concede eight goals last season, so they've conceded fewer goals this year after 14 extra games.
It's now been exactly eight months and 21 Premier League games since Liverpool conceded more than one goal in a league game, in fact they've conceded 11 in their last 25 league games and 25 over the last 38. Simply put, this is a title-winning defence in action. The Reds have conceded more than one expected goal on just five occasions now this season – and a huge part of the reason that no team has scored twice is that no team has notched two expected goals against the Reds since Spurs in February.
Title Favourites Or Cursed?  
In the last ten Premier League seasons, eight teams who have been top on Christmas Day. That's the good news. The bad news is that the two teams that didn't in the last ten years were Liverpool FC in 13/14 and Liverpool FC in 08-09. On three occasions in the PL have Liverpool been top, the third occasion being 96-97 and of course they didn't win then either.
However, this is easily Liverpool's best Premier League campaign. The quickest the Reds have taken to get to their current total of 48 points in the PL era was 23 games in 08-09, so the Reds are comfortably ahead of that marker.
Put that into context. If Liverpool win their next five games, they'll be 15 points clear of their previous PL best. Even if they pick up say 10 points, that's still 10 points better than their previous best and a whopping 11 better than last season, which was only one point off being the Reds' best run after 23 games. That's absolutely insane. (Thanks to this tweet from Beasley.)