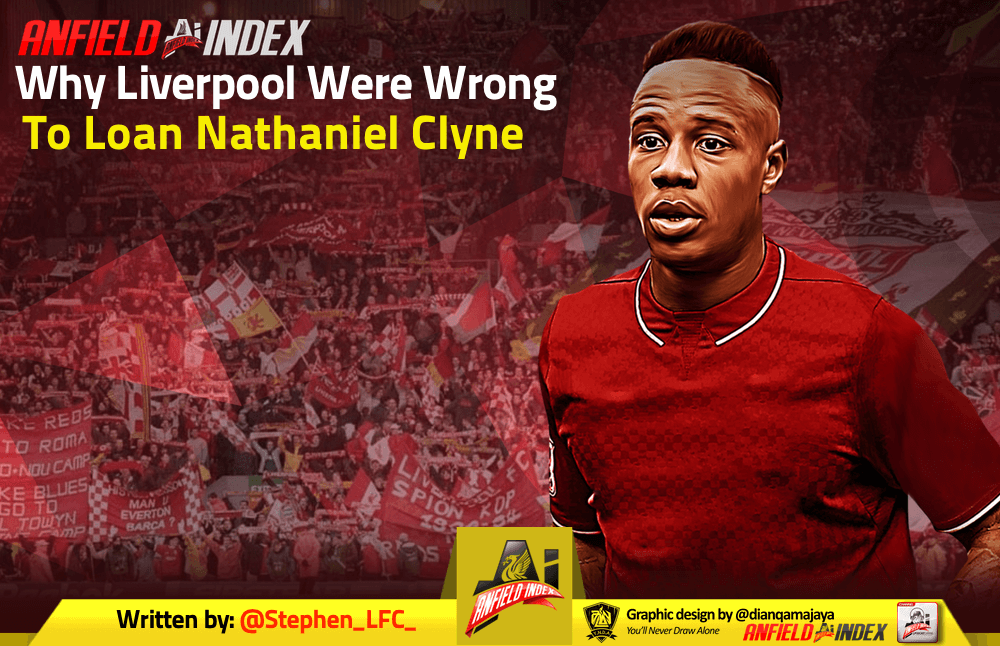 Why Liverpool Were Wrong To Loan Nathaniel Clyne
Today, it was announced that Liverpool had agreed a deal with Bournemouth to loan out Nathaniel Clyne until the end of the season. The deal will not come with an option to buy for the south coast club – with the deal merely understood to be put in place for the 27-year-old to play more first-team football.
Clyne joined Liverpool in July 2015, who were then managed by Brendan Rodgers. Joining from Southampton for a fee worth £12.5million, many Reds fans were hoping that he could be the answer to the side's ongoing defensive problems. After a shaky start to his career on Merseyside under Rodgers, he soon found his feet under Jurgen Klopp, after he arrived in October 2015. Several impressive performances cemented Clyne as a model of consistency in the side, including many pivotal displays as Liverpool reached the Europa League final in Klopp's first few months.
He continued to be widely regarded by the fanbase by an experienced, reliable player who could step in and do a job when needed. However, little did Clyne know at the time that his days in a Liverpool shirt would be few and far between following the culmination of the season. During the team's pre-season tour in the summer of 2017, the ex-Southampton defender obtained a serious back injury which would decimate his 2017/18 season.
Clyne did not make another appearance in a red shirt until being picked in the starting XI against Everton in the Merseyside Derby last April, with appearances proving to be a difficult commodity to obtain for the English international. And on Thursday, it was announced that he was let go by the club until the end of the season to Eddie Howe's Cherries.
When Klopp was asked about the decision to loan Clyne out to Bournemouth until the remainder of the season, he replied: ""I said yes because we have options, younger boys coming up." – referring to youngster Ki-Jana Hoever, who has impressed in the U23s so far this season.
However, I disagree with this decision. Whilst Klopp does oversee the development Hoever in training very often and he knows more about the player than I do, I believe loaning Clyne is a massive gamble for Liverpool this season. Firstly, it weakens a squad, which is poised for an assault on the Premier League – albeit already thin in options in the right-back position. If Trent Alexander Arnold obtains an injury or becomes unavailable for whatever reason, then the Reds will be reduced to relying on a 16-year-old youngster. Although he has done plenty to impress Klopp, there is no denying that this move is a huge gamble in Liverpool's season.
Clyne's departure has left Liverpool without a natural right-back, barring Joe Gomez. However, he is currently out injured and playing him at right-back would be a waste of his ability and detrimental to his development – with his best performances this season undoubtedly coming at centre back alongside Virgil van Dijk. Fabinho, too, has the versatility to function at right-back – however, this would also deprive Liverpool of midfield options, given the impact that he can have on those around him as divulged at the Etihad in midweek. Therefore, his improvements that have been made so far in his Liverpool career may be hindered by playing him in a restricted, right-back position.
Also, at a push, James Milner can also perform in a makeshift role here, having played in the left-back role for the majority of the 2016/17 campaign. However, his distinct lack of pace and end product in the final third could potentially prove a stumbling block against deep-block opposition. Unless Klopp has a right-back target in mind during the January transfer window (with the German repeatedly denying any signings), it is difficult to envisage how a move for Clyne would benefit the Reds going forward this season.
Not only does Clyne's departure weaken Liverpool's squad, but the player has also performed at a very credible standard when he has been called upon. Against Manchester United at Anfield this season, the ex-Crystal Palace man was brought into the side following the absence of Alexander-Arnold. He delivered a reliable and efficient performance -albeit against a United side who were effectively doomed in their final days under Jose Mourinho. And whilst Clyne may not be everyone's cup of tea, he's certainly a vastly experienced player who Klopp could've called upon in the absence of Alexander-Arnold. The 27-year-old seldom delivers a poor display – that's how consistent he has proven to become during his three-year stint on Merseyside.
Loaning Nathaniel Clyne is a massive, massive gamble where Liverpool's title race is concerned – but is it worth the risk? I'd say no.