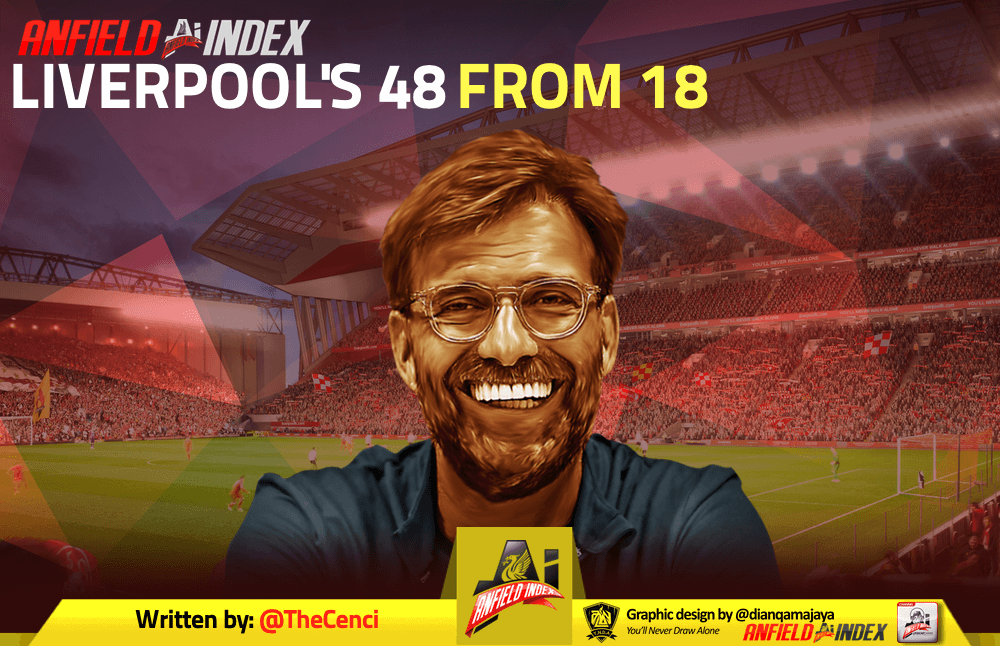 Liverpool's 48 From 18

See!
And there's you – YOU! – slagging off Roy Hodgson! Roy Hodgson, for God's sake! The very pinnacle of the establishment. The embodiment of the English game. Dignity personified. How dare you —YOU of all people — have the infernal GALL to do so much as raise your voice in criticism against this much-loved figurehead of the beautiful game.
This is why I'm different to you. You and your filthy kind.
At no point did I give up on any notion of Palace getting a result from the champions. Not once. In fact, I was so sure that the Eagles would win at the Etihad that I didn't even bet on it. Seriously, not a bean. I mean, where's the joy in betting on a cert?
Well, okay. There's a chance that none of that is true.
That game is absolutely seismic in league terms. Palace beating City is simply the biggest shock of the season. I mean, look at Leicester City. They pull off a huge win at Stamford Bridge and it barely makes the papers.
What it does mean is that Liverpool sit four points clear of Manchester City and have reduced their goal difference to five. Thirty-seven plus for them, thirty-two for us. This is the big stat though:
Fifteen wins, three draws and no defeats.
Just think about that for a second. 15-3-0. That's absolutely insane.
48 points from a possible 54. Liverpool have dropped six League points all season. Six! Oh, and we've conceded just seven goals. It's Christmas and most of us nerds can name all the scorers. I can't remember being able to do that before.
If you're wondering where that sits in the history of this club, I can offer my two favourite seasons by way of comparison.
I was ten years old in 1978 when then the two-time European champions competed for the Division One title. This consisted of our greatest ever midfield of Ray Kennedy, Jimmy Case, Graeme Souness and Terry McDermott and they ran riot. That Dalglish lad up front was pretty good too. We completed the league programme with this record.
P42 W30 D8 L4 F85 A16 Pts 68
That was in the days of two points for a win, in case you're wondering. If you want to recalibrate that total in modern terms then that's a 98 point season. They conceded just four goals at Anfield that season. That's my favourite side ever.
Come 1987-88 I was old enough to be a regular matchgoer so was fortunate enough to witness Barnes, Beardsley and Aldridge at first hand. What a year that was. We were unbeaten for the first 29 games and our favourite score-line was 4-0. We battered almost everyone. Let's see where they are come the end of that season.
P40 W26 D12 L2 F87 A24 Pts 90
Two league defeats all season. Everton and Forest. Both away from home. We didn't bother will losing at Anfield that season. No point.
They took the foot off the gas at the end thanks to the FA Cup run.
But were both those magnificent sides after the first 18 games? Well, here's they are in one cut-out-and-keep comparative League table.
Liverpool 2018 P18 W15 D3 L0 Pts 48
Liverpool 1987 P18 W14 D4 L0 Pts 46
Liverpool 1978 P18 W13 D3 L2 Pts 29/42
Yep. This Liverpool side has more points now than it did in 1978 and 1987. Two of the greatest sides in our history. That's where we are now. That's what we're doing these days.
The best ever? Alas, no. I'm afraid last year's City side did even better
Manchester City 2017: P18 W17 D1 L0 Pts 52
That's what we're fighting against. That's the level.
They too had one more team to play before they completed the first round of fixtures. Newcastle United, would you believe?
But enough of them and comparisons with the past. Back to our lads.
Christmas is the time for squad rotation and strange formations. It's also a time when we could do without a decent Wolves side, all seemingly seven foot tall, at Molineux in the middle of a hurricane.
It's impossible to overstate the importance of that performance. It was masterful and once again Jurgen surprised us.
Liverpool have separate midfields for different occasions now. Napoli saw the appearance of the more solid lads. Henderson-Milner-Wijnaldum. The manager knew that had more than enough for United so went for a more front foot three— Fabinho-Wijnaldum and Keita. It worked too, with qualification in one game and a win against a bitter rival in the other.
The factor of those sides is Gini, but even he can't play every game so what do you do? Klopp elected to bring in Henderson, Fabinho and Keita. Two holders and a 10. In theory.
They were magnificent too, bearing in mind that Wolves are a side who don't mind getting their shirts dirty in the middle of the park. Liverpool took the fight to them and won. On the 21st December in the middle of a biblical storm against huge lads on a decent league run and Liverpool took the fight to them. No fear, no pressure, no worries. They won because they're good enough to win. They knew that too.
For me that's the most impressive element of the recent games. The focus of that side. Not arrogance or swagger. Just faith in what they can do.
Wolves have beaten Chelsea and drawn with City, Arsenal and United. They don't fear Liverpool — didn't fear them. In fact, they were excellent, but such was Liverpool took everything they threw at us and gave it back in spades.  They know that our eleven can beat their eleven.
48 points before Christmas Day. At the end of last season that would have got them ninth place — one point behind Everton.
City beat Newcastle at Christmas last year. It meant that they'd played everyone and not lost once. Here's to the Reds doing the same on Boxing Day.
A Merry Christmas and a merrier New Year.