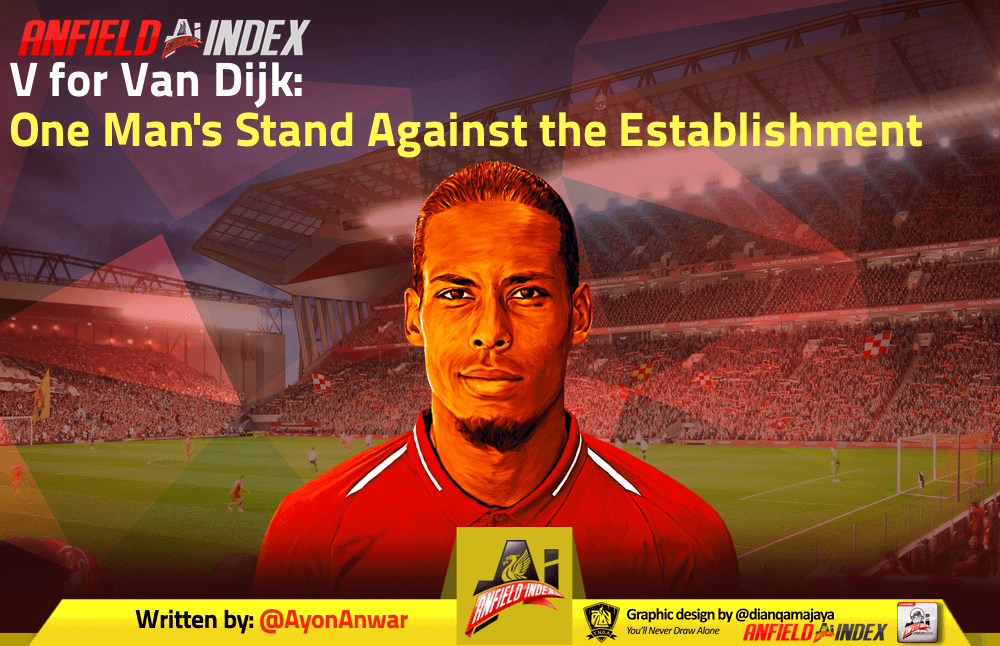 V for Van Dijk: One Man's Stand Against the Establishment

TURF MOOR, Burnley: The game poised at one all after the Clarets took an early lead. Liverpool have earned themselves a freekick in an odd position. Too far out to shoot, too close to the centre of the pitch to fire in a cross with any true potential for damage. Or so one would think.
With a clever lay off and return, Trent Alexander Arnold curls an exquisite free-kick to the back post to a surging Virgil Van Dijk, who at full stretch, perfectly cushions a pass with his wrong foot for a grateful Roberto Firmino to score possibly the simplest goal of his career, within minutes of coming on from the bench.
The Brazilian wheels off to the right side of the goal joined by his teammates, leaving the Dutchman, who had gathered his feet in one smooth motion almost as if he was a contemporary dancer, to cut a forlorn figure in front of the travelling fans.
The scene largely encapsulates the bias in favour of attackers in football. In hindsight, the degree of difficulty of the assist was astonishing. Had Sadio Mane or Mo Salah pulled off said feat, social media feeds would be full to the brim with gifs and praise alike.
Alas, it was Van Dijk. A 6 ft 4 in behemoth with the balance of Baryshnikov. The platform for Liverpool's success this season.
Understandably, goals are the cause of intrigue and as such, it is only natural for armchair fans to remember these tangible moments within a match and not the perfectly timed challenges and minimisation of space in transition. A dour performance can turn on its head in an instant for a striker, whilst a stellar one can go south for a defender.
A perfect example of this was Manuel Akanji's outing for Switzerland in the World Cup round of 16 match against Sweden. The young Swiss was largely perfect throughout the game, bar a mild shot from Emil Forsberg taking a wicked deflection off his shin leaving Yan Sommer stranded and booking an early flight home for him and his team. The odds are not stacked in favour of defenders.
As the Premier League has grown into the most valuable product in club football since its inception in 1992, with television deals growing by the year, only two defenders have won the title of PFA player of the year, Paul McGrath in the inaugural season and John Terry in the 2004/05. The latter was a particularly special season as Jose Mourinho's Chelsea side kept 25 clean sheets and conceded only 15 goals, both records to this day.
Liverpool are on track to equal and possibly overhaul both of those records, having kept 11 clean sheets in 18 matches whilst ever so slightly shading Chelsea in the goals conceded per game category at 0.389 to the Blues' 0.395.
Attributing all of this to Van Dijk would be short-sighted as the influence of Alisson, Joe Gomez, Andy Robertson and Trent Alexander Arnold cannot be understated, as well as the diligence of those in front of them. However, the confidence given to the rest of the team and subsequent frustration of the opponent when Van Dijk glides across the turf and covers what seems likes acres of space with such an insouciant demeanour is there for all to see.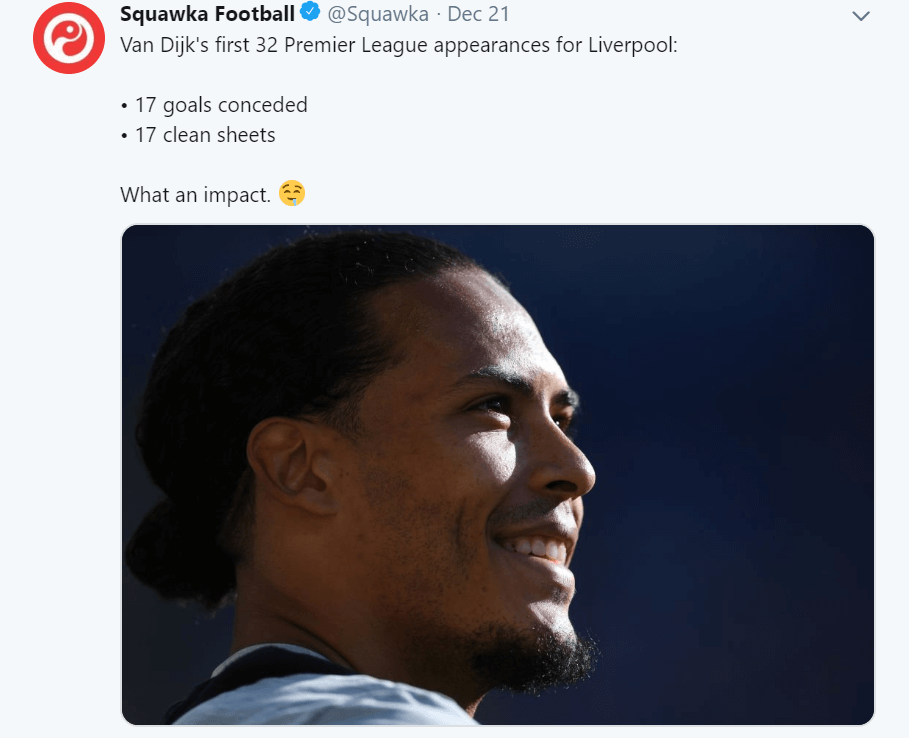 His technique for dealing with one on situations is poetry in motion as he matches the speed of the opponent, whilst herding them away from goal, patiently waiting for any imperfections in their stride to stick one his club like Tiempo's in to intercept.
The amazing part of this facet of his game is that most of the time, he does so without being at full steam. Only in Liverpool's 2-0 victory at wolves was the former Southampton man forced to turn on the afterburners against possibly the leagues quickest dribbler, Adam Traore.  But even the slippery Spaniard did not possess enough guile to surpass the Dutch skipper and was promptly dealt with.
Romelu Lukaku was left in such a poor state after his tussles with Van Dijk when Manchester United visited Anfield, that he no longer wanted balls sent into his feet. Most notably in the build-up to the Reds' third and game-clinching goal. Presence, as it turns out, plays a big part in the opposition's decision making.
The last two players who have worn the red of Liverpool and collected PFA gong have had record seasons in front of goal. Luis Suarez matching the record for most goals in a 38 game season and Mo Salah, breaking that record last season. At this stage, it is not quite so simple to quantify defending and thus reward when excellence is shown in that aspect of the game. Virgil Van Dijk's emergence as the premier defender in the Premier League could be to be the beginning of one man's rise against the establishment.