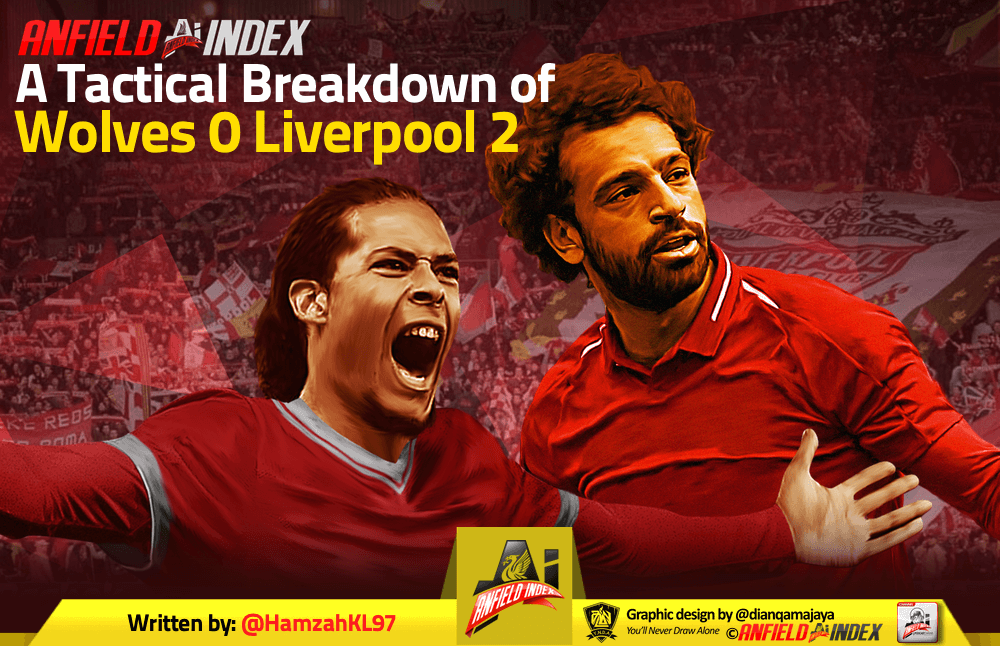 Wolverhampton 0-2 Liverpool: A Tactical Breakdown
Wolverhampton Wanderers have been a breath of fresh air to the Premier League. They may have been bankrolled by Jorge Mendes, but their enthralling style, talent-filled roster, and seriously cool manager, Nuno Espirito Santo, have rightfully garnered the praise of pundits and fans across the country.
Wolves are no pushover side though, in games against Arsenal and Spurs, they outscored the opposition in xG, and were extremely unfortunate to draw and lose in those respective games, whilst they also managed to draw with reigning champions, Manchester City and beat Mauricio Sarri's Chelsea within a three-match win streak.
Liverpool made their way down to the midlands top of the league, unbeaten but wary of the threat Wolves could pose. Add in some awful conditions, and a manic schedule which requires rotation, and this fixture certainly appeared a significant banana skin.
Wolves' tactical setup
Unlike Manchester United, who decided to opt for a final third high press and in all other situations revert to a low block around the area, Nuno Espirito Santo elected for a 3-4-1-2 system in which the front three would attempt to press the Liverpool CBs, and Moutinho, as the no.10, would press Liverpool's deepest midfielder. The Wolves back three was flanked by wingbacks, whose importance was central to their system, as Wolves would attempt to use an outlet switch ball into their wingbacks. In doing so, they would be able to generate one on one opportunities with the Liverpool fullbacks – creating a significant issue for the centre-backs and defensive midfielders who had to track and cover the lightning-quick Adama Traore, and both Jimenez and Moutinho.
As a consequence of having two strikers, a no.10 and two extremely wide wingbacks in possession, Wolves were left with two centre-midfielders with the responsibility to play against Keïta, Firmino and Mané, with the two Liverpool forwards both known for dropping deep and roaming. This simple numerical advantage allowed Keïta considerable space, as detailed below.
Liverpool's tactical setup
Liverpool's system was very similar to the one utilised against Manchester United. Salah played as the centre-forward, Firmino moved freely as the no.10, drifting wide and deep as and when required, whilst Keïta functioned in a hybrid role – as the most advanced midfielder, or deepest forward. His particular position was in the left half-space, akin to the role Coutinho used to play.
Wolves' high press provided opportunities for both Liverpool and Wolves. Early on, Wolves pressed Fabinho and were able to transition the ball forward to Traore who shot wide. Mere minutes later, Wolves attempted to press again, and Liverpool's back five passed their way through and moved the ball into the final third. As Wolves pressed, they progressed up the field vertically, allowing for greater spaces for Liverpool to attempt to break into.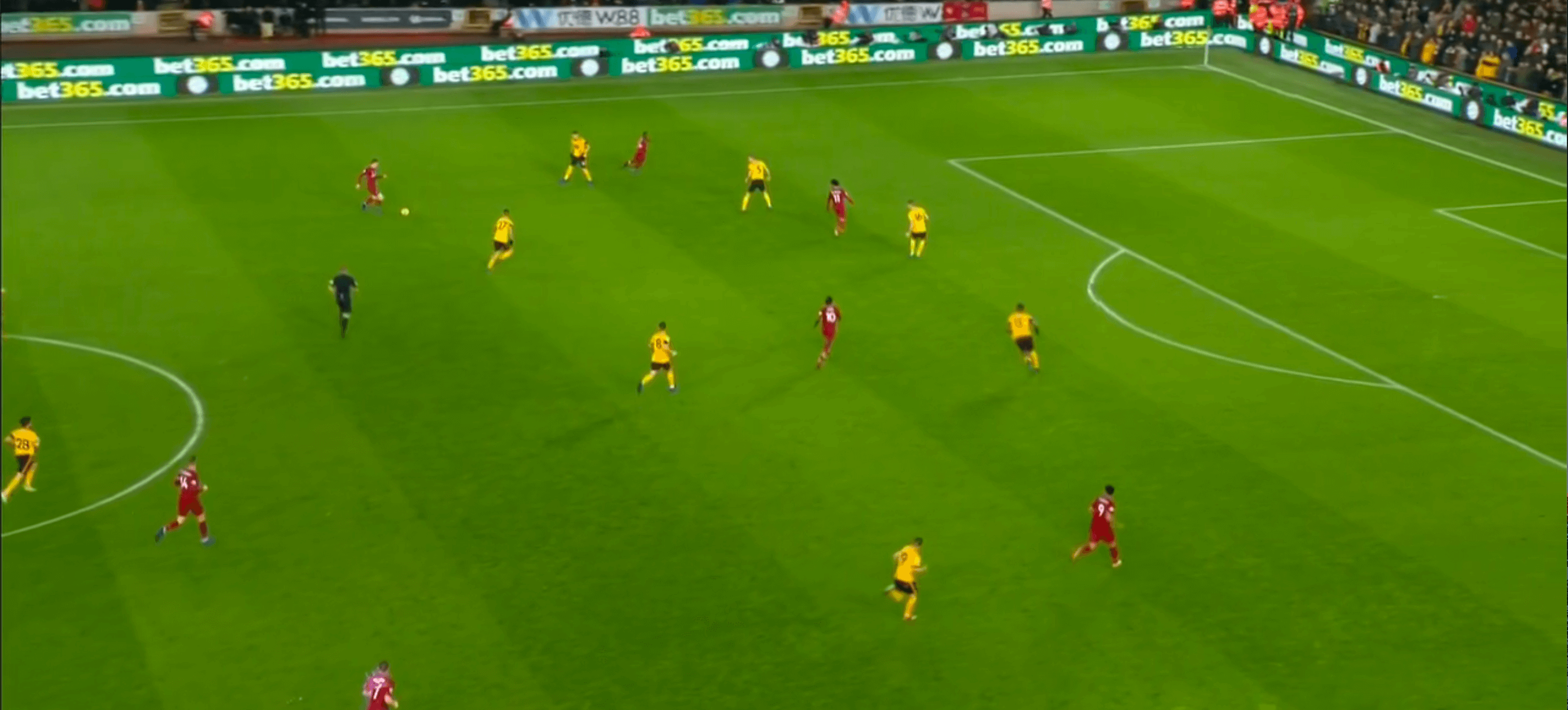 Wolves utilised their wingbacks when attacking, and attempted to stretch Liverpool as much as possible to create spaces in between LFC players for the Wolves forwards to run into. In the 14th minute, went from their left wingback into Coady – who attempted a number of long passes – and then to the right wingback. In doing so they shifted Liverpool from right to left. Sais ran from deep into the space created and got his shot away, only for Alisson to save it, and Fabinho to clear the loose ball.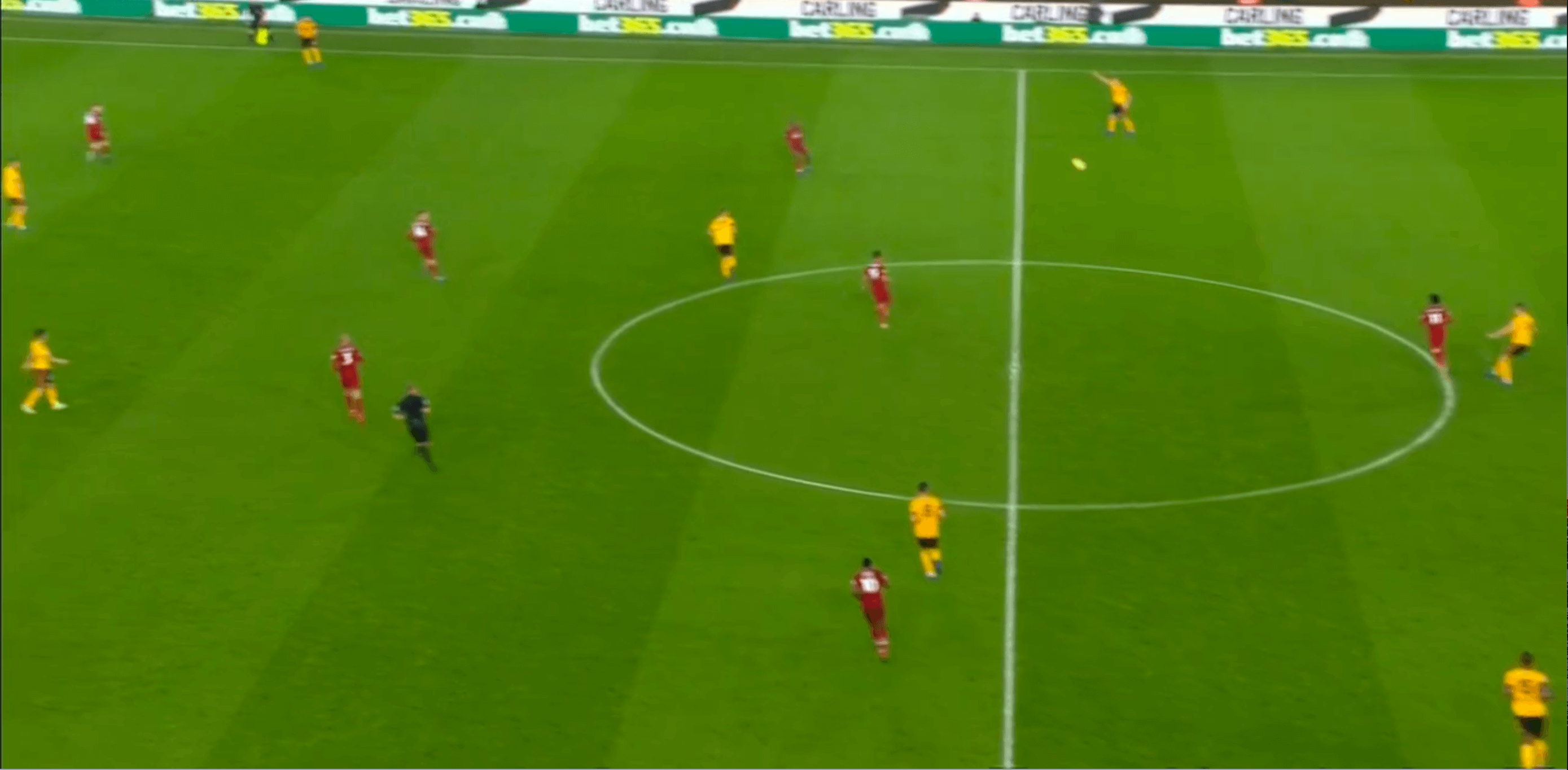 Liverpool's opener was the result of a phase following a failed set piece attempt, but prior to that, Naby Keïta actually earned the free kick. He dropped deep, between the two Wolves defensive midfielders, and Moutinho and their forwards. However, he remained in the left half-space channel and took on two players, drawing a foul in the process.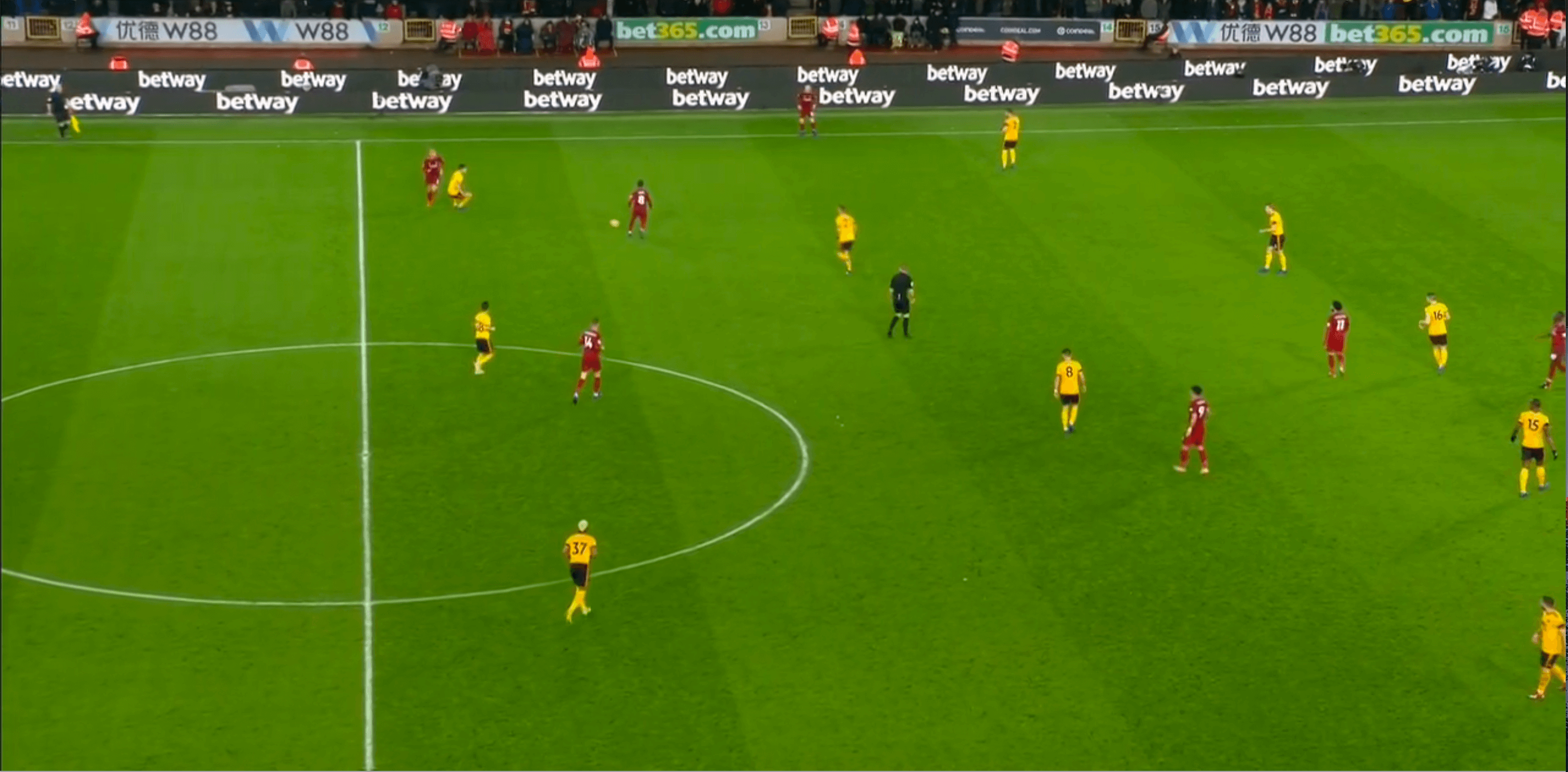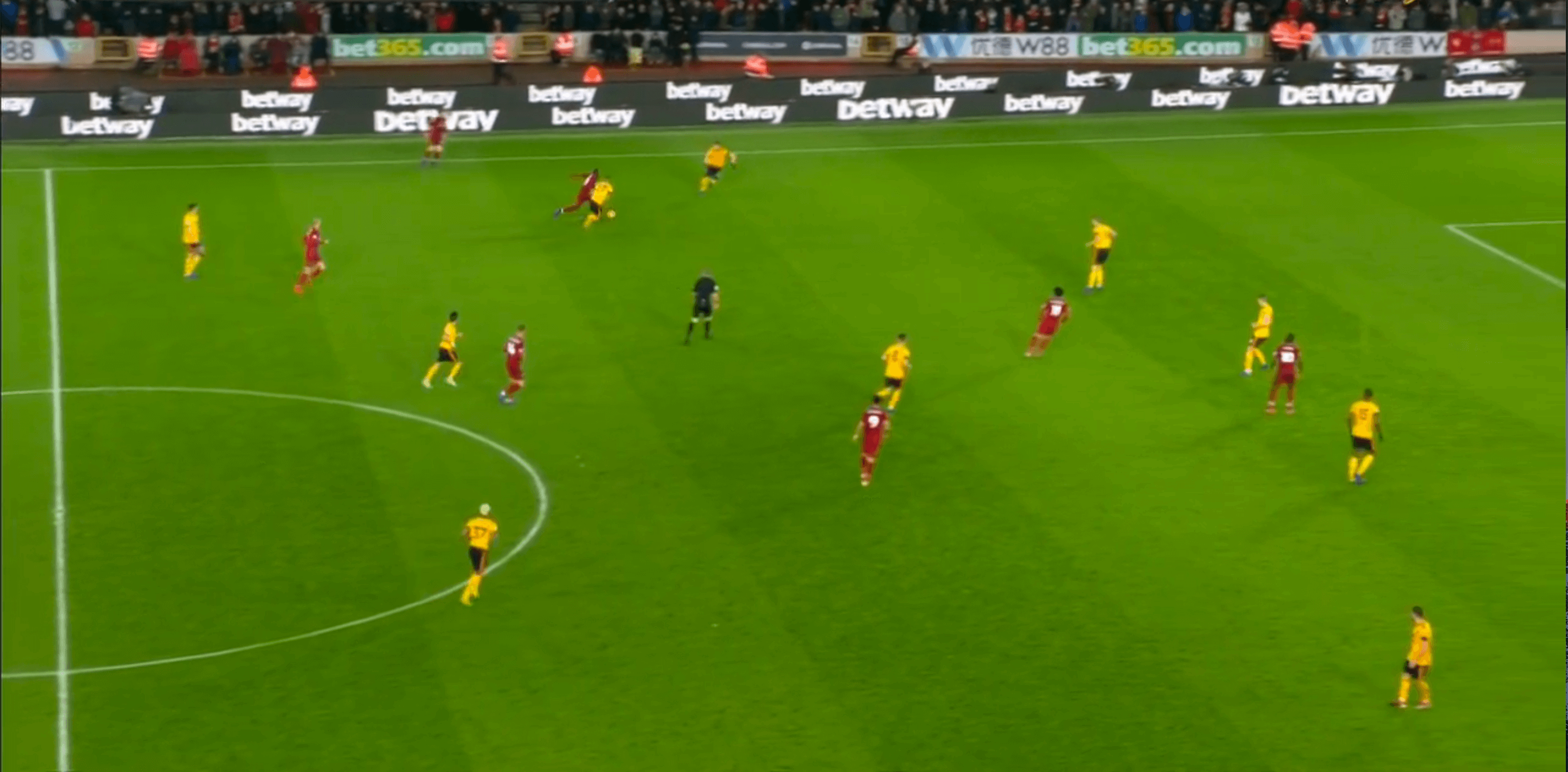 After Salah hits the Wolves blocker, he runs from a deep position, and as such is able to run into the box with freedom.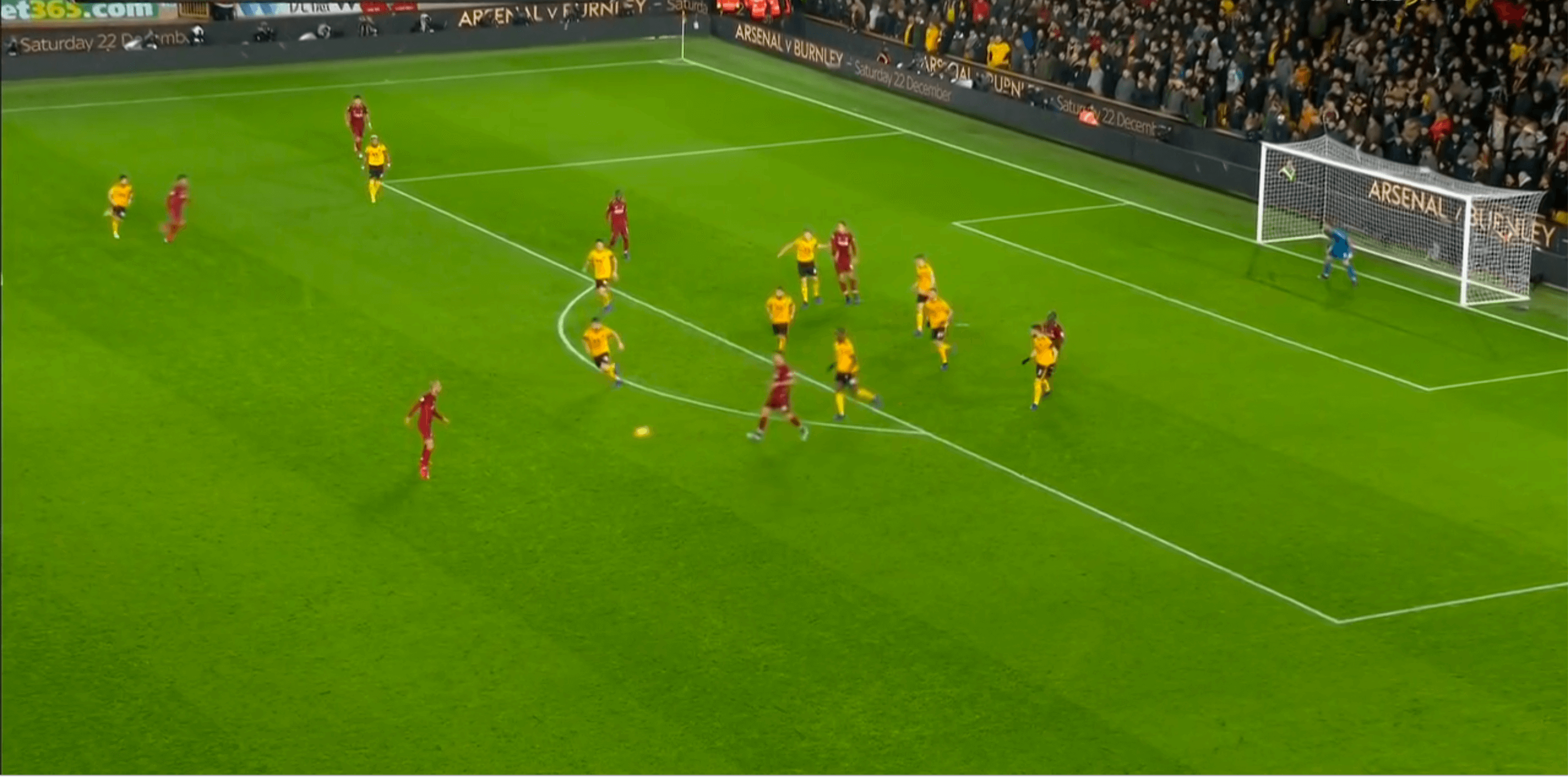 One of the benefits of Liverpool playing with two players capable of filling the no.6 role is that when space opens up, either player can be confident going forward to exploit that space, safe in the knowledge that they are being covered. In this instance, it's Fabinho who breaks forward, to support Mané and delivers the cross into the box.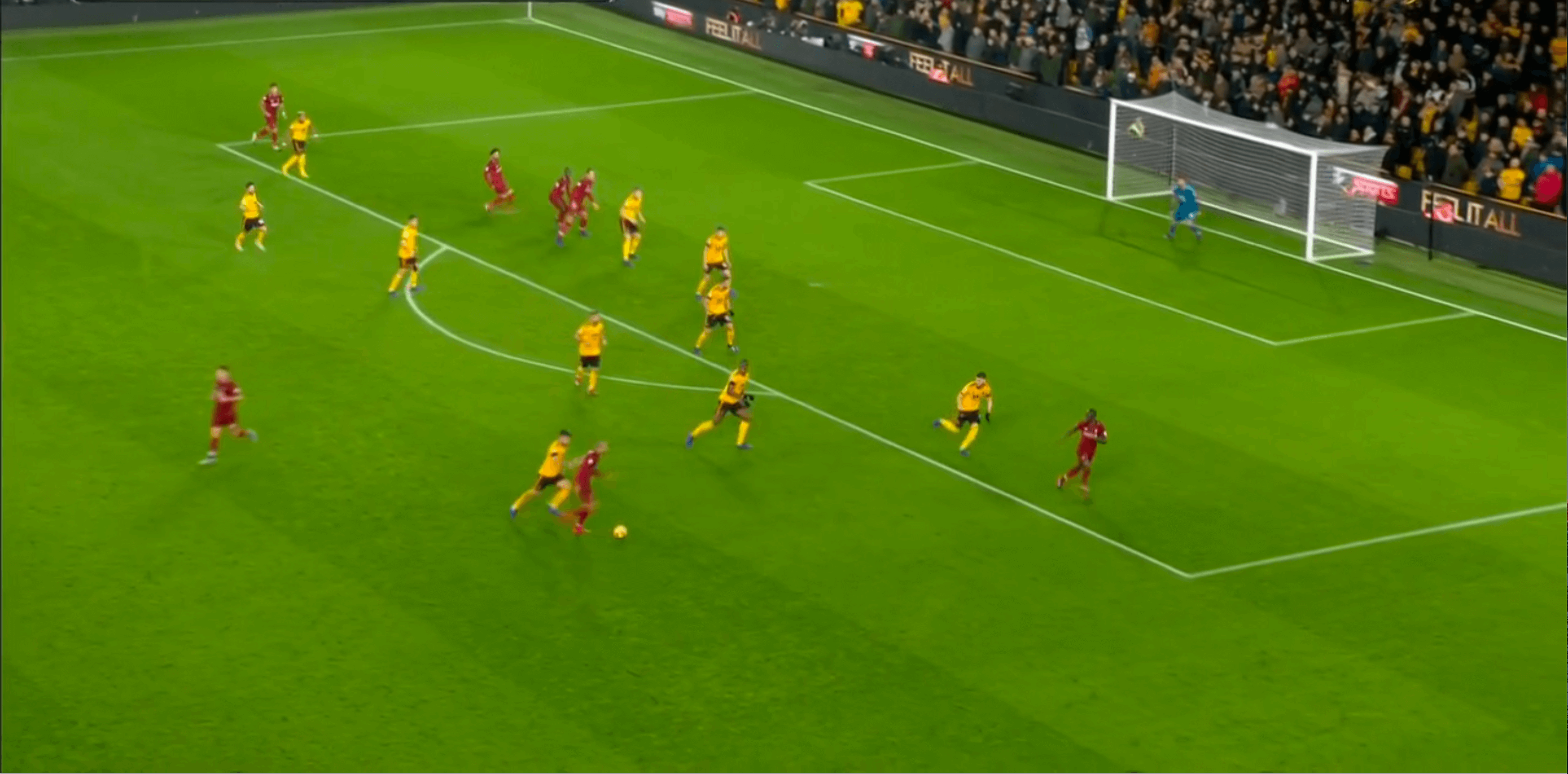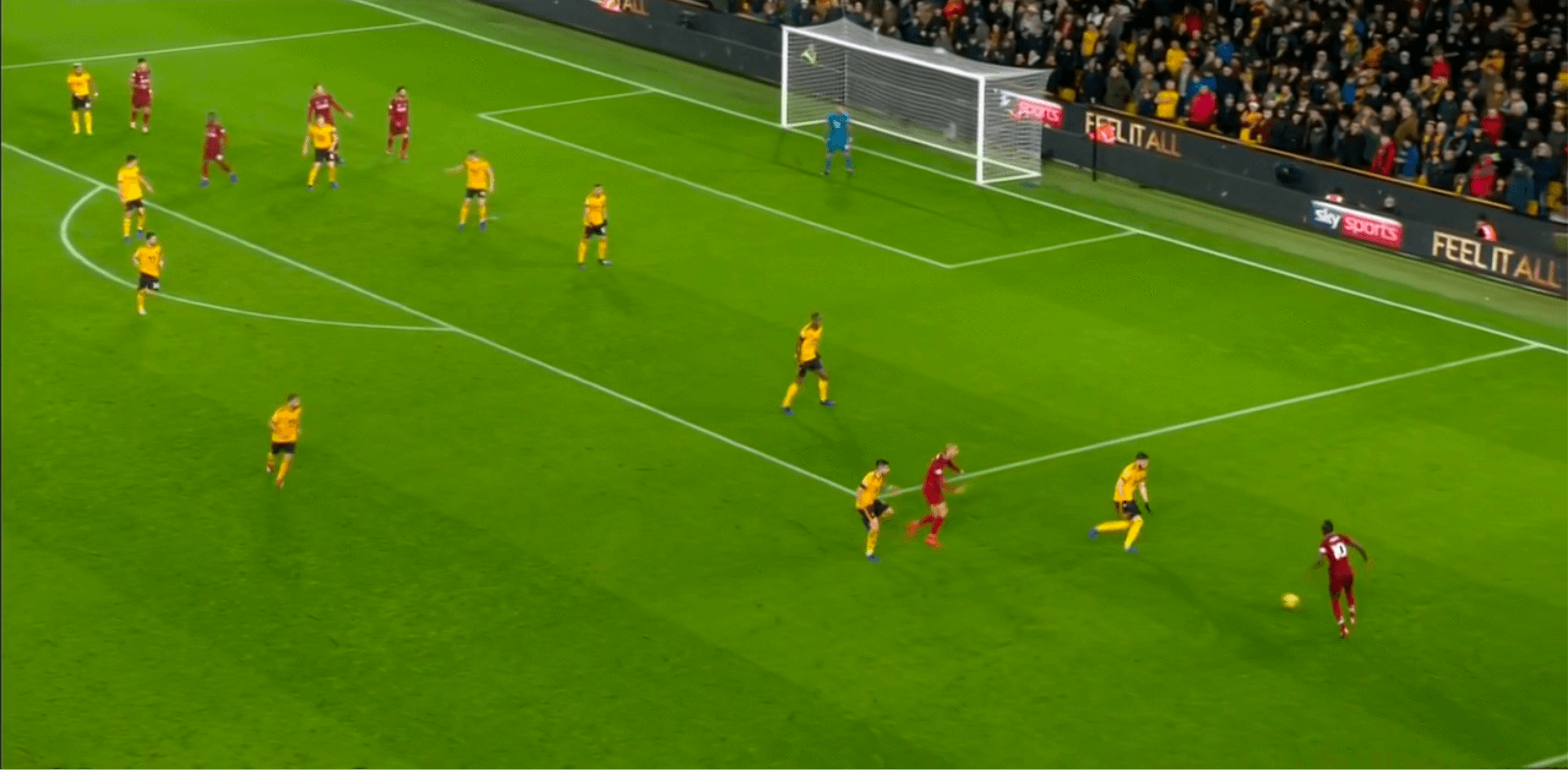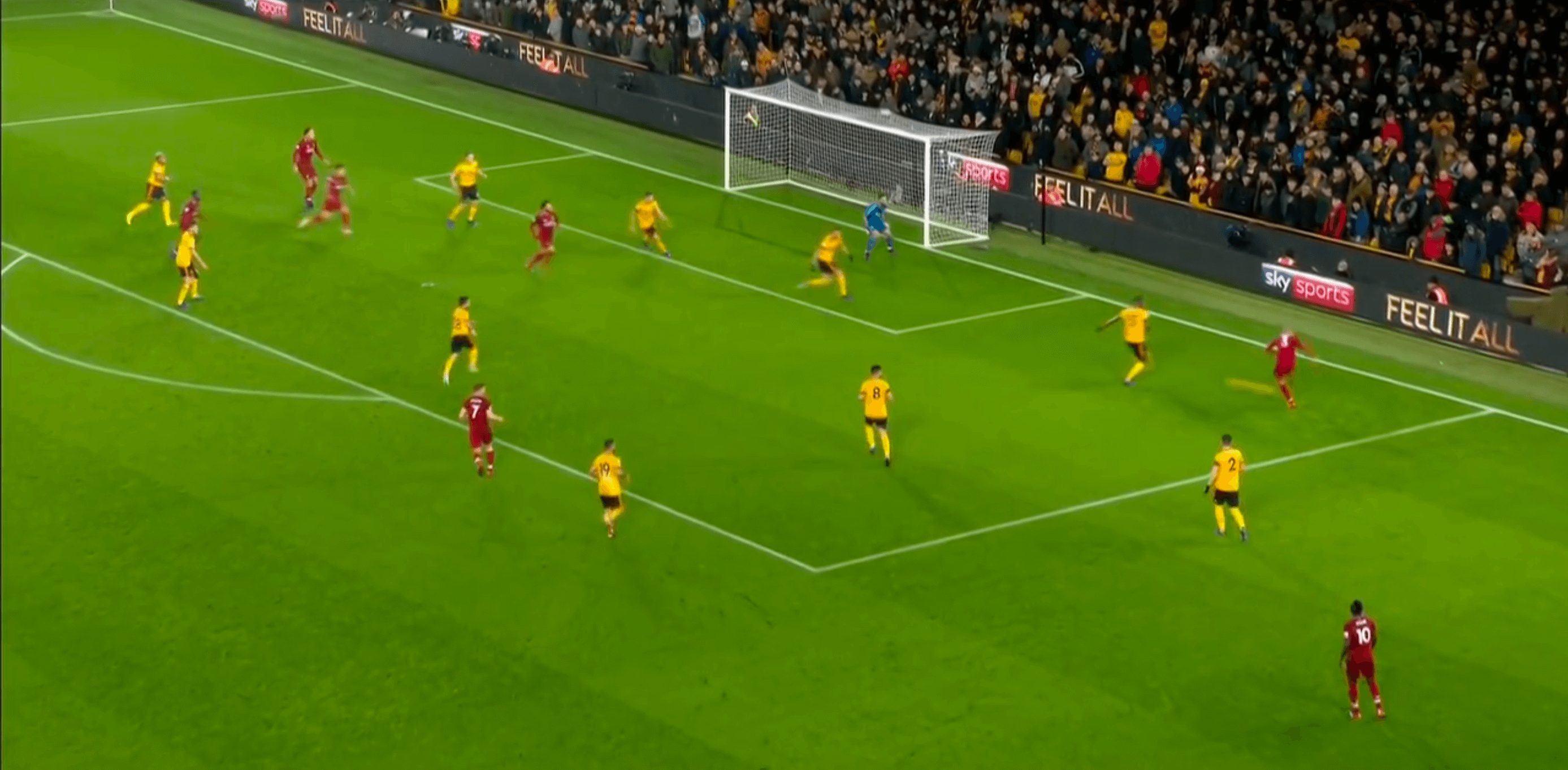 After the opener, Liverpool looked to break as Wolves pushed up. A few moments opened up, in which the final pass or first touch was not seized upon effectively, and subsequently fizzled out. This was effectively the story of the remainder of the first half as Liverpool were wasteful in key moments. To Wolves' credit though, they retained their defensive integrity and decided against foregoing their defensive shape in attempting to score an equaliser.
The second half saw a much sharper Liverpool take to the field, who attempted to do what they had done in the first half, but with greater efficiency. Wolves' setup still posed a problem, and Liverpool struggled to make clear-cut open play chances, but harried and thrusted against the disciplined Wolves line, albeit a line that seemed to be growing weary.
Liverpool also used their two deeper midfielders as cover for the fullbacks. Henderson would fill in on the right side, to allow Milner to push on, and negate the threat of the Wolves wing-back on the counter, whilst Fabinho did likewise for Robertson on the left: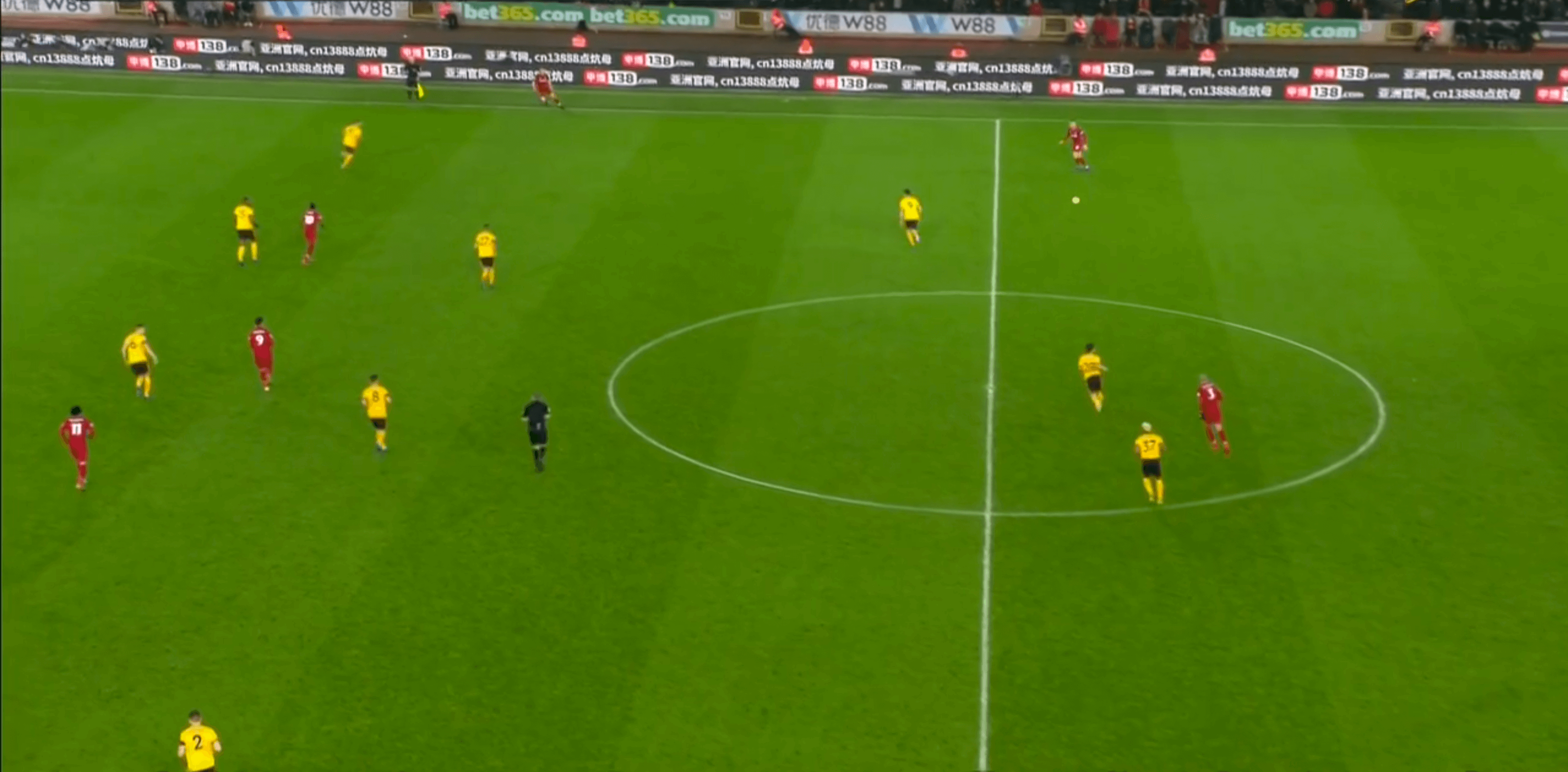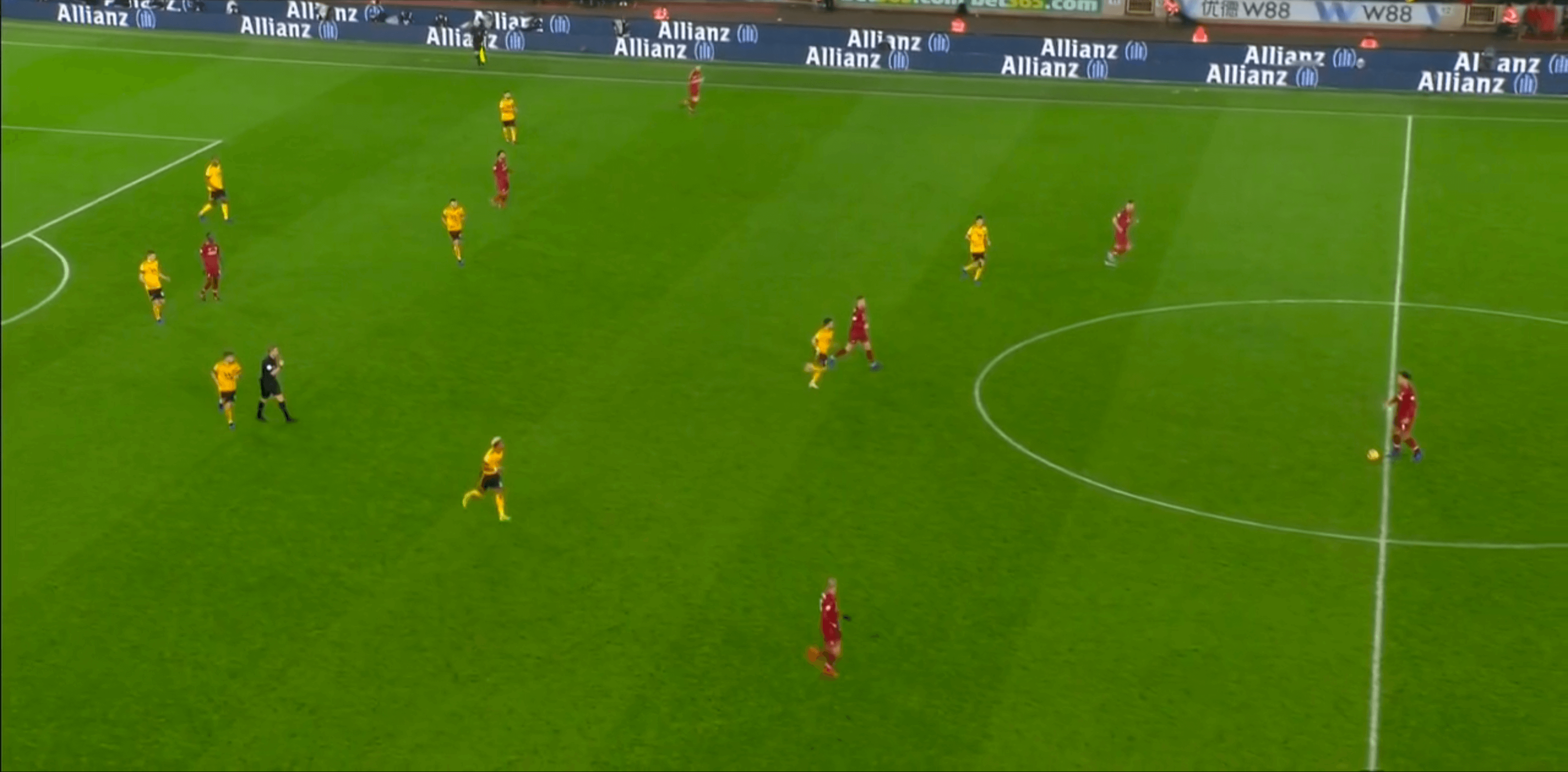 However, Liverpool's second goal effectively marked the end of the game as a contest and allowed the remaining minutes to largely play out as Liverpool wanted. Salah's assist to Van Dijk came in a second phase, following the ball being passed into the box. Van Dijk stepped out after the first ball went into the area, and lost the player marking him, but as Salah picked up the ball again, Milner, Fabinho and Van Dijk all found themselves free, whilst the Wolves defensive line was not set up in order to react to Salah's cross, as Van Dijk had both forward momentum and a positional advantage over the defenders who were either static or in a challenging position to win the ball.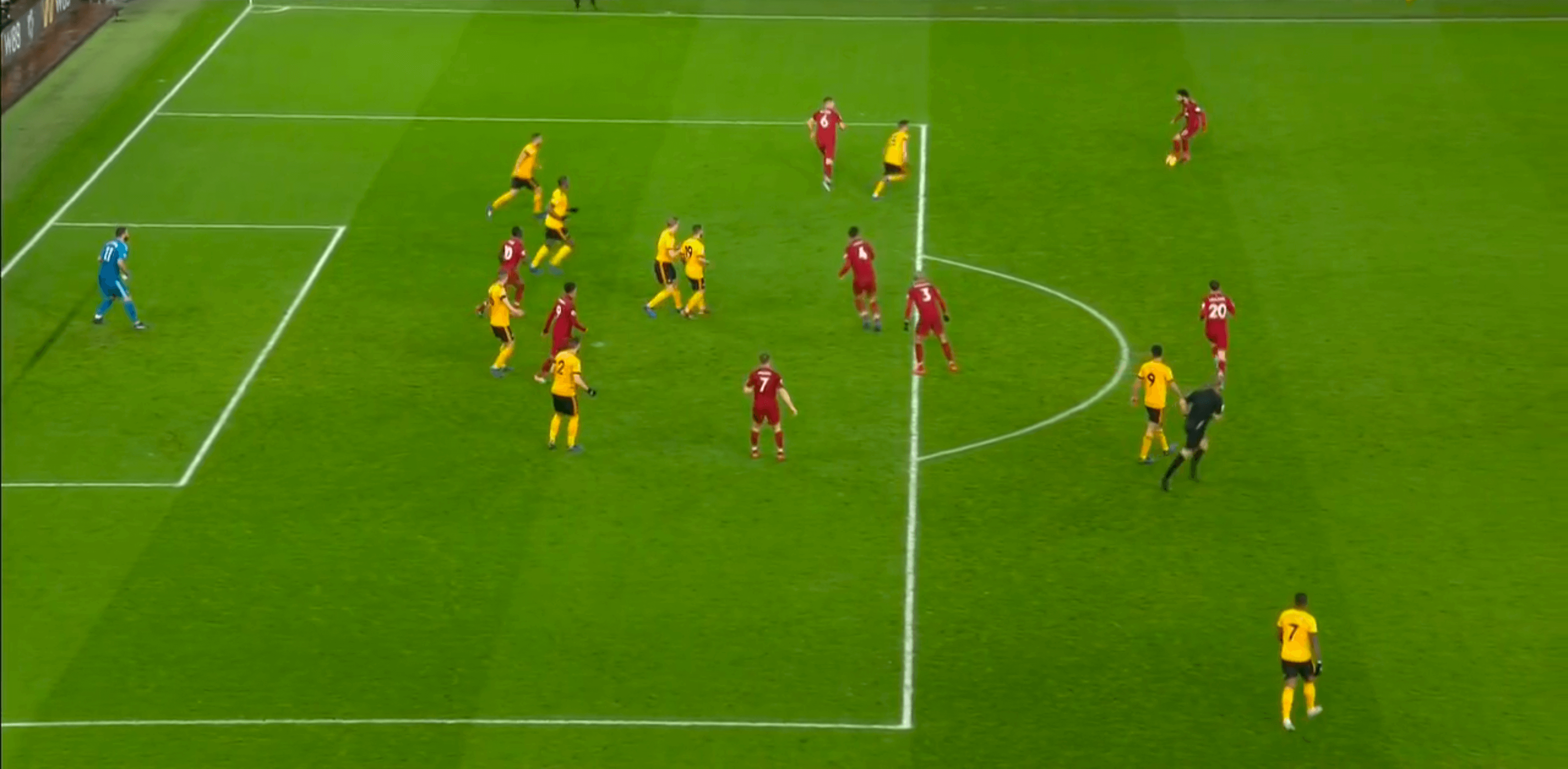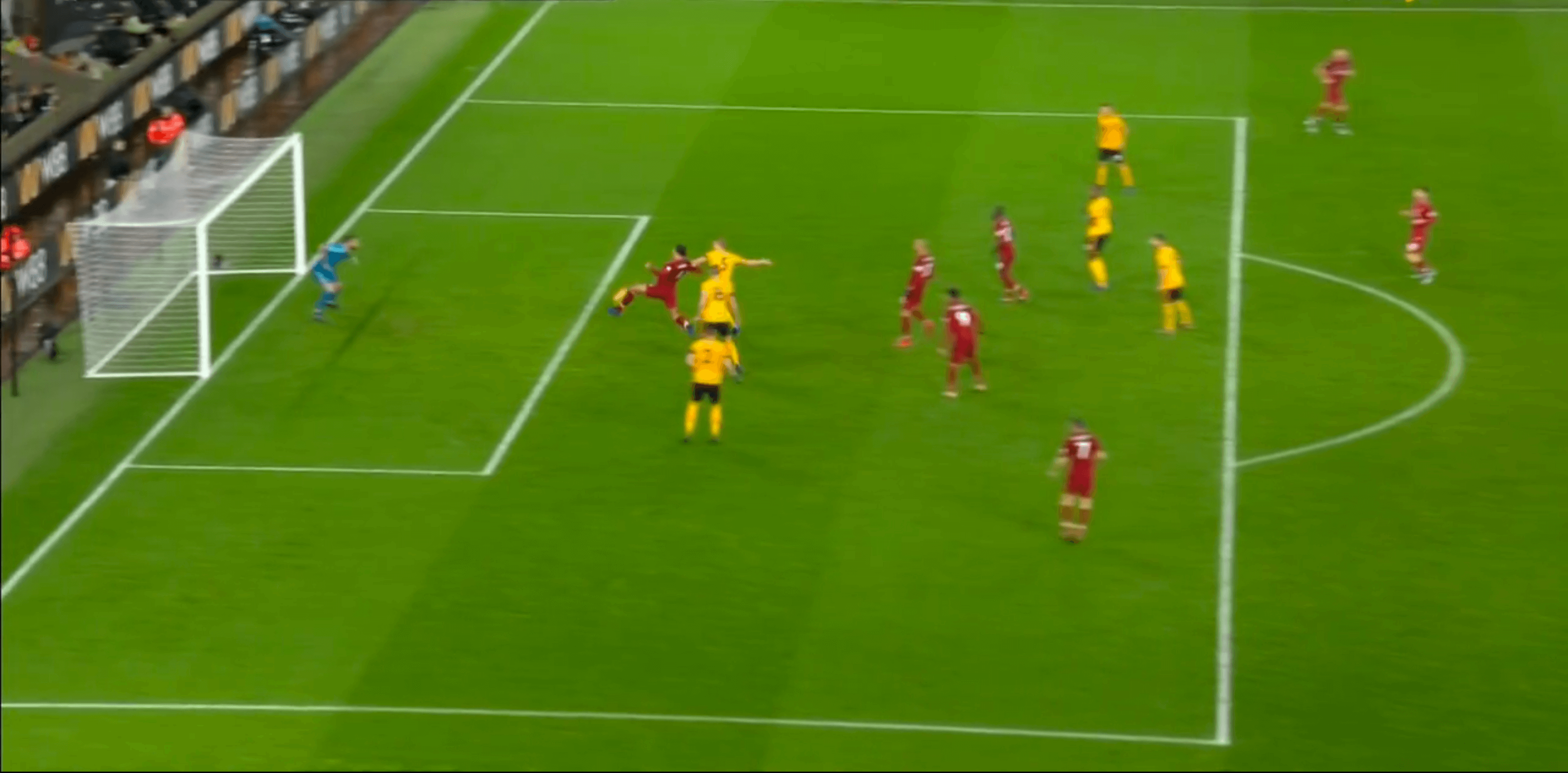 Wolves pushed up after Liverpool's second goal, leaving them much more open to Liverpool counter-attacks, as they left greater spaces both in possession and in transition too. In particular, their wingbacks pushed up and showed signs of fatigue, with Salah and Mané taking advantage of that, with the former breaking inside of the wingback on a number of occasions, and looking to break against either Boly or Coady, both of whom just about managed to see out the remainder of the game and his incessant threat.
Wolves still attempted to work through Liverpool's press with diagonal passes, but did so with less frequency, as they pushed more numbers up the field. Liverpool, who struggled with maintaining both compactness and closing down the opposition wingbacks simultaneously in the first-half, found this much easier to cope with, as they were able to run into the exposed channels on the outside of the centre-backs: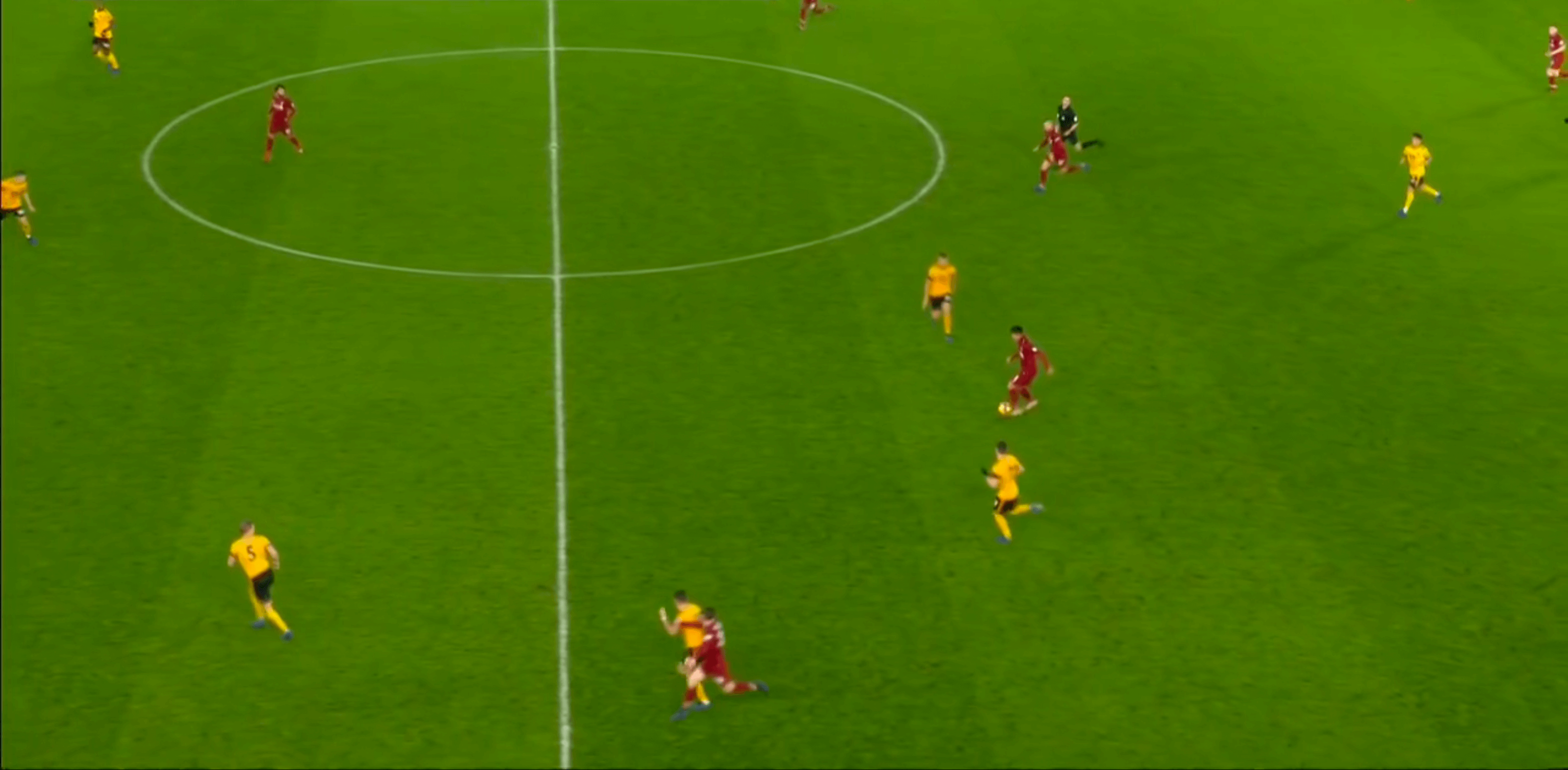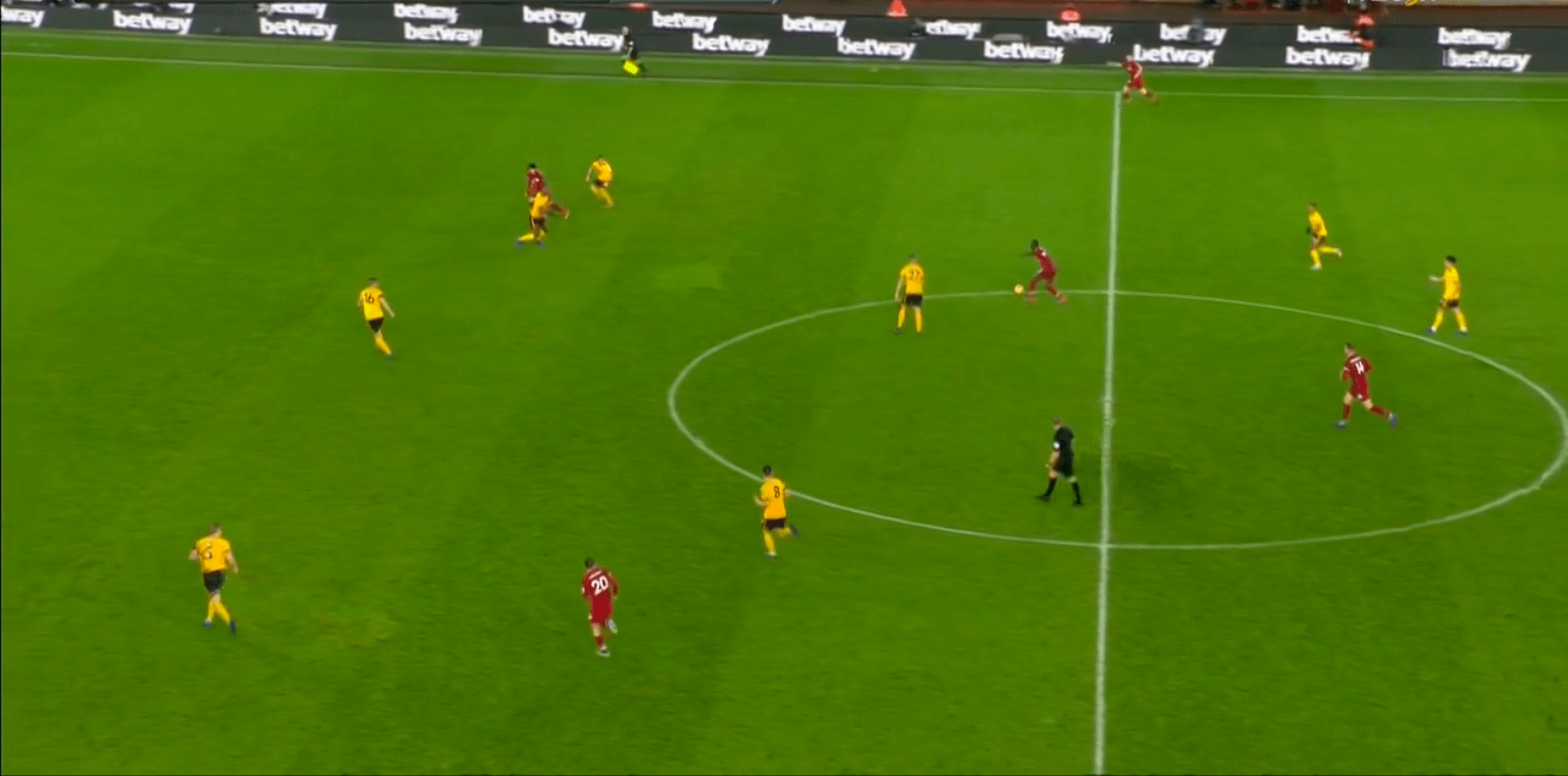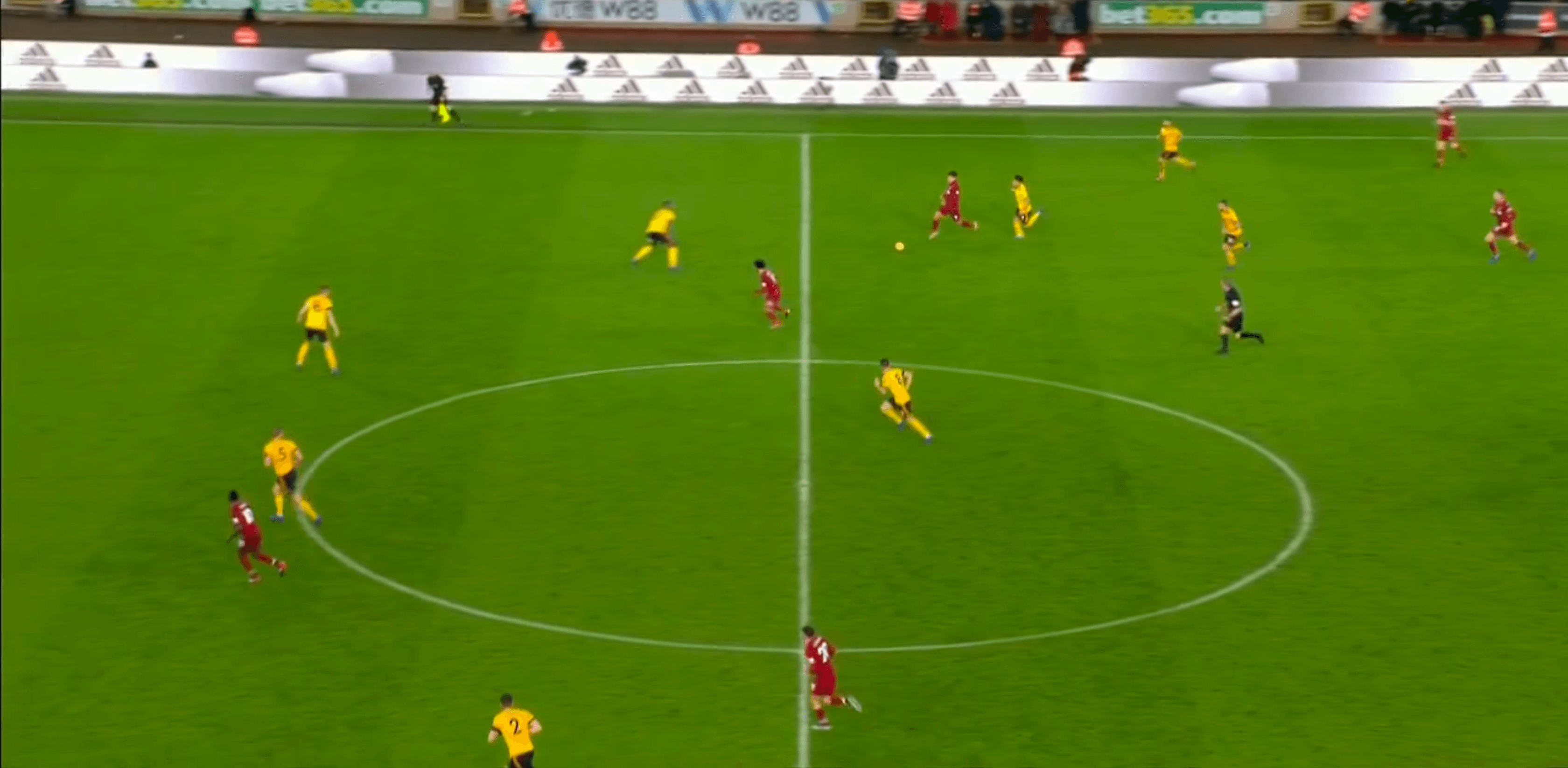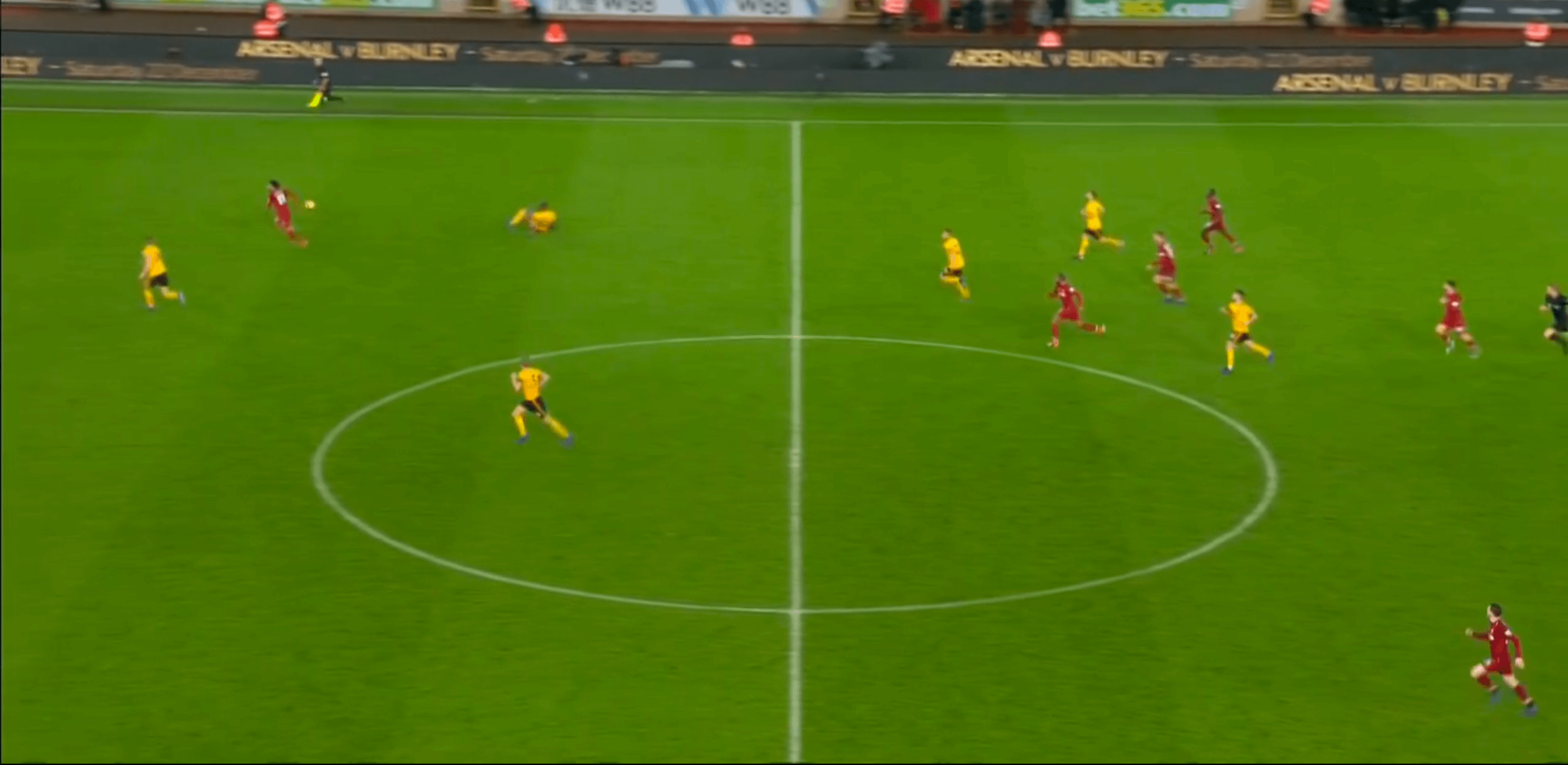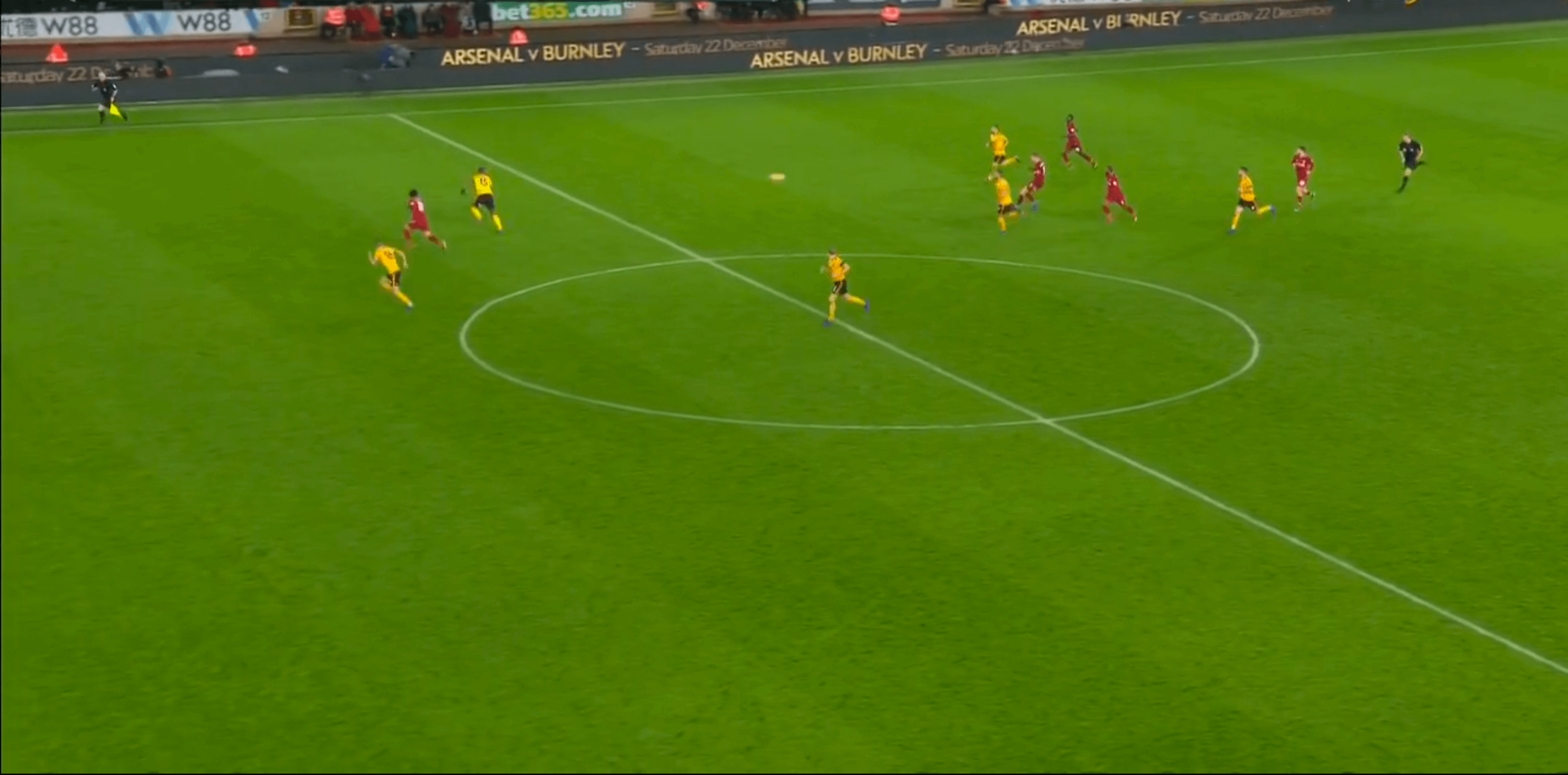 Ultimately, these additional chances came to little, as was the case in the first half, where half-chances were wasted with either poor decision making, poor first touches, miscued shots or strong defending. Nonetheless, in taxing conditions, Liverpool still managed to create enough chances to post an xG of 2.28 according to Understat.com. After the virtual free roam afforded to the team against Manchester United, Wolves posed a different, more organised and cohesive threat, and pleasingly, despite rotation in the midfield, the team created more than enough to win the game and Van Dijk in particular excelled, whilst Lovren – who seemingly found the first-half more difficult – grew into the game, a positive sign given the tough fixtures between now and the end of this hectic set of fixtures in January.
In a season like this one, with a focus on winning by any means more than ever, performances are not really scrutinised as much as they should be. Liverpool though performed admirably in extremely tough conditions, where lesser teams may have shirked away. However, this is a mere flavour of what is to come in the coming weeks and months. As league leaders, and as the last unbeaten team in the league, the value on beating Liverpool is constantly increasing. More and more teams want to be the first team to conquer Liverpool, and as such, more spirited and valiant performances from opponents may lie in wait. Should Liverpool play as they did though, adapting to tactical and physical challenges, there are very few teams who should really trouble this side when they're in business.
This was a marvellous tactical battle, but for Nuno Espirito Santo, despite his best efforts, couldn't quite deliver a surprise in morphing into Nuno Espirito Santa(!!!), but with Liverpool, rather unexpectedly, now four points clear of Manchester City, it seems Christmas may just have come early…