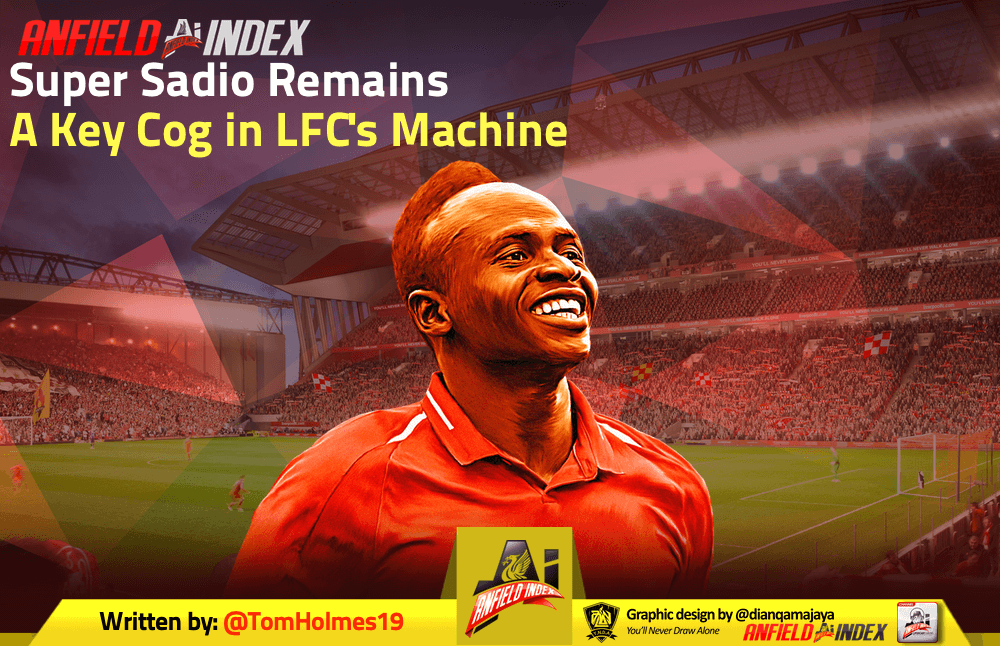 Super Sadio Remains A Key Cog In LFC's Machine
Sadio Mané is a brilliant player in a slightly odd situation. Truthfully, our whole attack is in a somewhat strange moment, but whilst I think it's clear that Mo Salah is an absolutely elite player, Bobby Firmino is a very important player to our team whose form could be the subject of multiple dissertations, and I recently wrote on how Shaqiri is playing an important impact sub role, but little is being made of the current form of Sadio Mané.
Mané is a player that I absolutely love. He's a critical part of Liverpool's attack and one of our most talented players – period. He's also a player who has made a big impact in big games – scoring against Man City at Anfield in both the Premier League and in Europe, a hat-trick against Porto in the 5-0 away win, and of course, it was he who netted in the Champions League final and was able to step up when few else around him could.
One of the issues around discussing Sadio Mané is that, respectfully, he's not as good as Mo Salah. This isn't to detract from Mané's own talents, as there are only maybe two or three attackers in world football who are as good as Mo Salah, but it does mean that it can be hard to say how Mané is doing, as he cannot be compared to the winger on the opposite flank.

Also, it raises questions about what Mané's role in this attack is. After all, Salah is the focal point of the attack now more than ever, with Firmino in what is supposedly the creative role, as well as being our pressing trigger. So if Firmino provides the primary build-up and Mo the primary finisher – as well as being tormentor in chief, Liverpool's best creative player, and most effective dribbler, but I'm digressing – what is Mané's role?
Well, I personally think that Mané's role isn't necessarily as a support player, but as an all-around additional option. In many respects, Sadio is Liverpool's second best-attacking player and very much functions as a hybrid of what Salah is good at and what Bobby is good at. He's Liverpool's second-best dribbler, he wins the most free-kicks, he's increasingly proven a really, really important part of our pressing machine, and he's Liverpool's second top scorer with seven league goals and eight altogether.
Certainly seven goals isn't a bad return for this stage of the PL season for a player who has scored ten league goals in each of the last four PL seasons – and it's worth noting that there won't be many wingers that don't play for Man City who score ten league goals a season.
What Sadio has been able to be, consistently in the Premier League and for Liverpool, is a really important impact player. He might not always turn in strong consistent performances, but you can rely on him to step up when you need a goal.
He's a player who averages 145 minutes per goal or assist across his Premier League career, and a player who has 136 minutes per goal or assist for LFC in that competition, as well as every 123 minutes in the UCL. So he is a player that contributes to the attack consistently.
That is slightly down this season, with 169 mins per goal or assist in the league and just one goal in 539 minutes in the UCL (compared to 85 minutes per G/A in the UCL last year) but that's not in terms of goals. It's mostly Sadio's creativity that has dropped off.
Over the last three full seasons he's notched at least five assists, with a total of 22 assists in his 10,600 Premier League minutes, but so far this season he's picked up just one assist. That's partly down to bad luck, as every other season he's had higher assists than xA and this season has notched 2.40 xA, but also his creativity is slightly down. He's created just 1.33 chances per 90 compared to 1.98 last year, and his xA/90 is 0.16 compared to 0.21 last campaign.
And that's partly down to Liverpool's style of play, giving Sadio less of a chance to utilise his strengths as we've counter-attacked less and been largely more controlled, but equally it's clear that Sadio could be doing more, as he's slightly underperforming in that category, even though pure creativity has never been his game.
And in terms of his overall performances? It's clear to me that Sadio isn't quite at his best, but how often over the last few years have we found ourselves saying that? He's not necessarily a player that you judge by how he looks on the pitch, but what he's ultimately contributing to the attack, and contributing to the attack he certainly is at the present moment.
For what it's worth though, Mané's overall performances are worrying me less than Bobby's. He played a vital role against Man United, he was superb both on the ball and off it against Wolves, and he's turned in multiple important performances this season. He was even if we're being honest, really impressive against Napoli, although his finishing let him down on that occasion.
While we're on the subject, Sadio's finishing is one area where he is often maligned. And although he has just one goal in the Champions League despite missing buckets of chances against Napoli in particular, in the PL he's been rather clinical – with four goals in seven big chances and seven goals from 5.79 xG – making him more clinical than both Bobby and Mo.
Overall then, Sadio Mané, how is he doing? I'd argue he's doing very similarly to how he's done over the last few seasons. There are some areas where he's slightly underperforming, other areas where he's performing better than he has in recent years, but overall with LFC playing a slightly different style this season, I'd say that there's very little to worry about with regards to Sadio Mané.