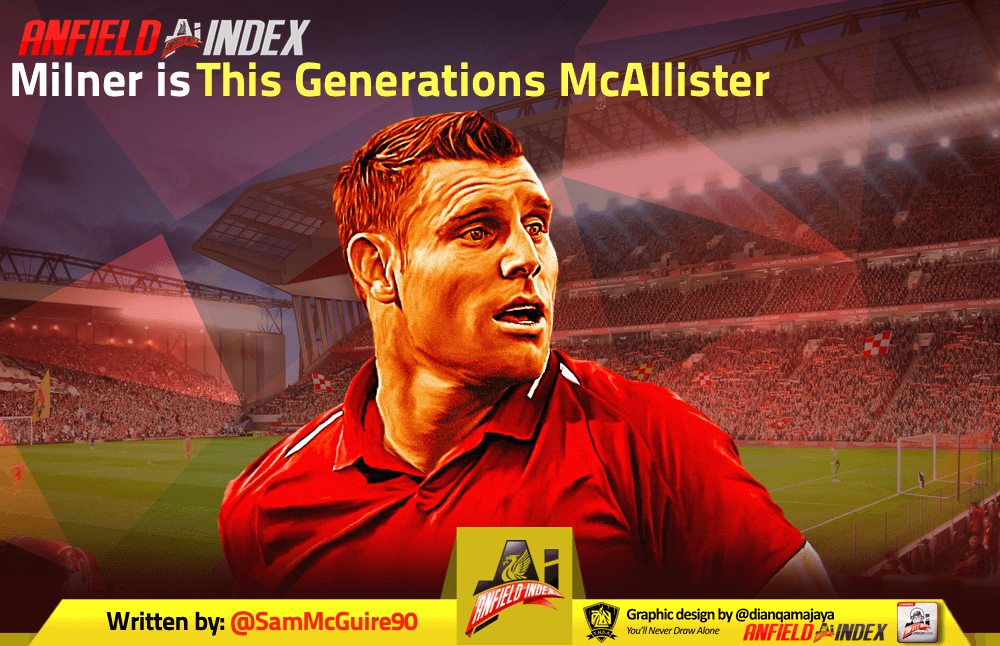 Milner is this generations McAllister

Cast your minds back to the start of the 2015/16 season. Brendan Rodgers was at the helm of the club and Liverpool had just signed James Milner on a free transfer. The former Manchester City midfielder arrived for nothing having run down his deal at the Etihad but his £150,000-per-week deal raised a few eyebrows, as did the fact he was joining the Reds to play as a centre-midfielder.
It was a role he'd played intermittently during his career but not one he'd played for a sustained period of time. It was telling, too. In the opening few matches of that season, the Reds were regularly overrun with Milner and Jordan Henderson looking exposed in a midfield two. The one-time Leeds United youngster would flip-flop between caught ball watching and pushing into wide areas he had a no business being in.
He'd then pick up a customary yellow card to complete the Milner bingo.
The same thing continued to happen when Jürgen Klopp replaced Rodgers. Though the German tactician flitted between 4-3-3 and 4-2-3-1, with Milner playing in a midfield two the Reds often looked light of bodies there.
There was even talk that Milner might rival Joe Cole for worst free signing in the club's history.
However, fast forward to the current campaign and there's an argument to be made to claim the 32-year-old is the best free transfer ever made. Yes, better than Gary McAllister.
The Scotsman was key in Liverpool winning the treble in 2000/01, his experience definitely helped a young Steven Gerrard and he chipped in with some big goals. He's widely considered by many to be the best freebie ever.
And it's hard to argue against it. But his time at Anfield was fleeting. He played just two seasons before returning to Coventry City. Milner is into his fourth campaign as a red.
While the current Liverpool No.7 is yet to lift a piece of silverware, he's played pivotal roles as the Reds went on to claim back to back top-four finishes as well as appearing in two European finals.
Not only that, Milner's been deployed in a variety of positions. He recently played as a right-back having spent a season at left-back. Klopp's used him as a winger, a centre-midfielder and even as a defensive midfielder at times. He covers for both full-backs when playing in the middle third, he fills in out wide when the forwards drift in.
He does anything and everything.
He has been the definition of a utility man. Not only does he do a job, but he also seems to thrive when people write him off. He's by no means perfect but it's easy to forget he's essentially just filling in half of the time, and that he's not playing his natural position, because of how well adjusted he seems.
His performances are generally consistent, just as are his penalties. He's Mr Reliable from 12-yards out. He's netted penalties against Spurs, both Manchester clubs, one in the Merseyside derby and one in each of the matches against Paris Saint-Germain in the Champions League.
Most of his 20 goals for Liverpool have come from the spot but he does chip in with open play goals, too.
He scored the opener at the Emirates against Arsenal during the recent 1-1 draw. He also scored a superb equaliser against Burnley, a game Liverpool went on to win. It was a vital three points in the grand scheme of things, with the Reds now sitting four points ahead of Man City at the summit of the table.
His contribution often goes unnoticed but from vital goals in big matches to filling in at right-back due to an injury crisis, he's playing his part in this title challenge.
Four years, many more positions, a number of vital goals and his influence on the squad. When you break down his contribution it quickly becomes apparent that he was something of a shrewd signing when he swapped the light blue of Manchester for the red of Merseyside.
Rumours are he's going to sign a deal with Leeds United if they're promoted. Even if they aren't, his current deal runs out in the summer and there's been no talk of renewal. It's so easy to take him for granted but it's clear he's going to be missed if he does depart at the end of the campaign.