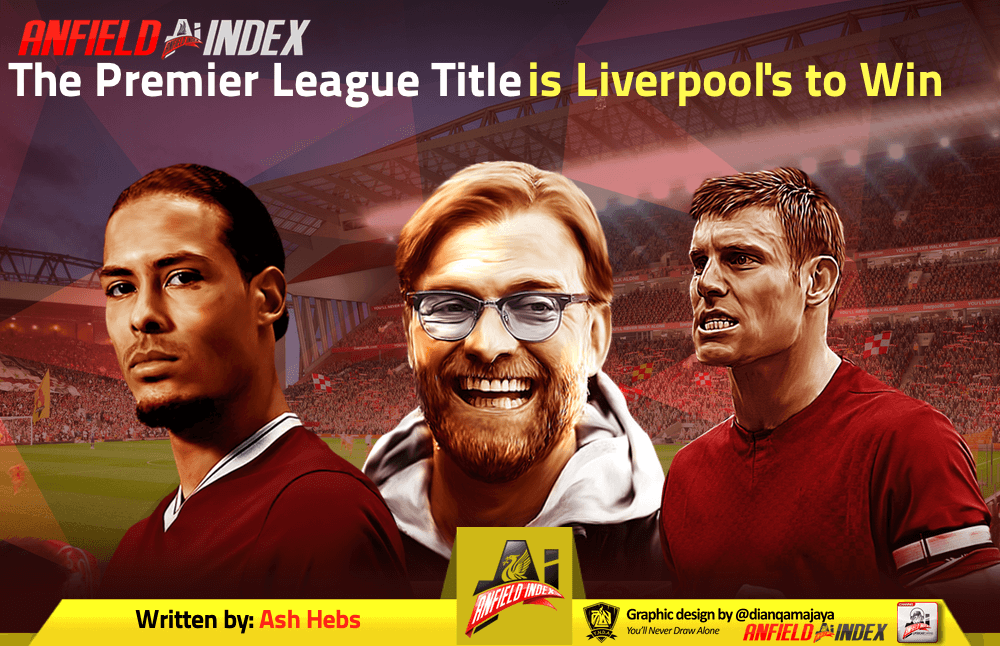 The Premier League title is Liverpool's to win
How good does the league table look? Liverpool are perched at the top of the tree, after a fantastic start to the season.
Few will begrudge them their place ahead of a terrific Man City team who are showing small signs of last season's exertions catching up. A record breaking 100 points and the need for excruciating, constant attention to detail. Is it sustainable for another gruelling Premier League campaign?
90-95 points is probably where Liverpool need to be to win the thing this season and that's certainly within reach.
Is experience important?
Where Man City have the edge over Liverpool is their squad strength and experience. But is the latter perhaps overstated anyway? After all, this Liverpool team contains players with some experience of challenging for, or winning, the title.
Jordan Henderson is one survivor of the 2013-14 LFC vintage that came oh-so-close to pipping City (the latter once again the incumbents who can wreck our title winning dreams). James Milner has been there and done it, his performances will be invaluable as the season progresses. His wonderfully taken goal at Burnley was a fine example of the drive and quality he can bring to his side, at times of adversity.
Leicester City also managed to win the title, without any prior experience of the pressure leading the pack entails.
Arguably this Liverpool side is made of even sterner stuff, as we've seen already, following a very challenging start to the season fixture-wise. Both domestically and in Europe.
Last, but certainly not least, Jurgen Klopp knows how to hold his nerve. He managed his Dortmund team to 2 Bundesliga wins, pipping his formidable rival Bayern Munich in the process.
Klopp's team backbone
While the current goal difference column may suggest City edge us in attack, it's fair to say the spine of our team is as strong as any rival.
Alisson and Van Dijk have helped this team transcend to new levels of defensive brilliance. Composure and class, notwithstanding the odd but ultimately harmless error, replacing the panic and malaise we saw with their predecessors. That soft underbelly, always lurking beneath the surface. That is now gone.
Virgil Van Dijk, whilst not a proven winner, has the confidence, self belief and aura to be a champion. We see it, he knows it, Klopp knows it. The guy oozes pure class and Premier League strikers dread playing against him. Just ask Troy Deeney and Romelu Lukaku to name but a couple.
The introduction of the mercurial attacking talents, Keita and Shaqiri, is yet to fully showcase the peak abilities of both men. Fabinho adds a fearless midfield presence behind our fab 3, who are only going to get better as the season progresses.
All players who have done well already, but yet to truly gel and show their best form. As a long winter gives way to the spring, these boys should flourish together.
Versatility
With Klopp's team able to fluctuate between a 433 and different variants of a 442, this team is able to change and adapt its approach according to the opposition. Teams seem to neither be able to play against us, or defend against us.
We're becoming a dominant force in the Premier League and we can win pretty or ugly. It doesn't seem to matter to Klopp. Winning is everything, it's about substance over style. The stuff of Champions.
From a late fortuitous winner against Everton, to a comeback against Burnley from a goal down. Holding our nerve to beat Man United after City had won again; wave after wave of attack, after conceding an unfortunate equaliser.
Then days later going to Molineaux, in difficult conditions, and making things look easy. Complacency has not been an issue and long may that continue. The winning mentality is there.
There's no two ways about it, if this team keeps performing to the same standards of late, the title is coming to Anfield.
If we can beat Newcastle and Arsenal over the next couple of games, it's not impossible that we go into the Man City game not needing to win.
The pressure will be on them and they may not have the luxury of playing a more conservative game as they did at Anfield.
And we all know what can happen then.