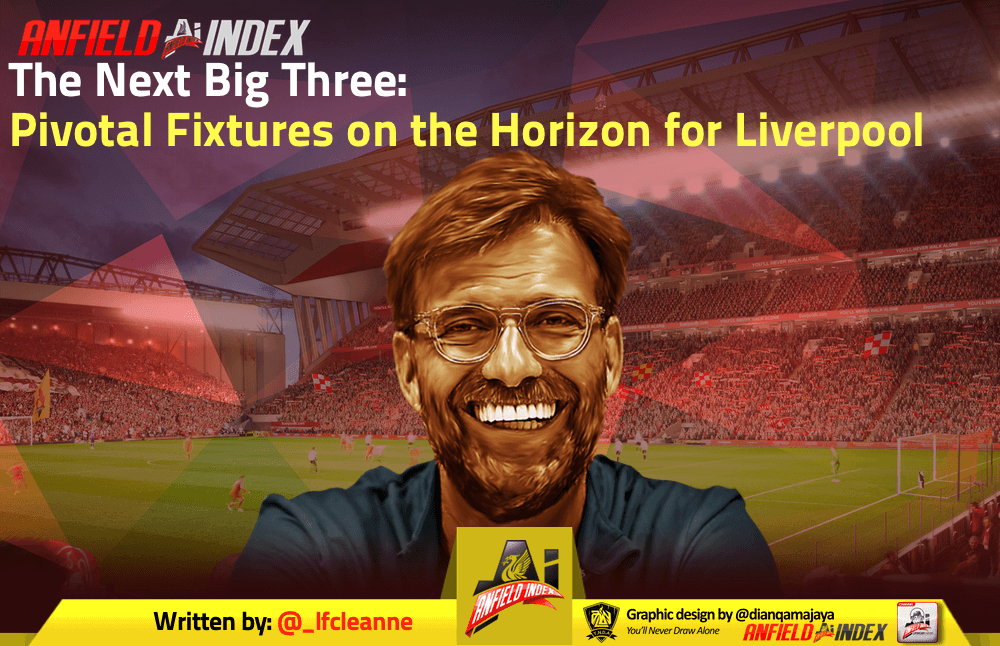 The Next Big Three: Pivotal Fixtures on the Horizon for Liverpool

With the festive fixture list well under way, Liverpool are primed at the top of the Premier League table this Christmas following another impressive away display. Friday's composed 2-0 win over Wolverhampton Wanderers ensured such a feat while Roy Hodgson finally endeared himself to Reds fans after all these years, guiding Crystal Palace to a remarkable 3-2 victory at the Etihad.
A four-point gap between the top two has certainly made things interesting for the neutral, leaving the remaining fixtures of 2019 all the more important, both in terms of retaining momentum and providing opportunities for further divisions between the two sides.
Liverpool appear to be benefitting from a less congested Christmas period so far, with their four fixtures stretched over 312 hours – 19 more hours than Manchester City, approximately 43 more than Chelsea and a remarkable 94.5 more than Spurs, who have just 217.5 hours to complete all their games.
48 points from 15 games represent a considerable achievement for Klopp's team, who have surpassed all expectations by usurping Guardiola to top spot over Christmas. However, the boss will be wary that there remains a long way to go before anyone is crowned Champions.
The next three games appear critical in shaping the second half of the season, with Liverpool facing a gruelling run of fixtures in and around the New Year. First entertaining Newcastle at Anfield on Boxing Day, the Reds then face Arsenal on the 29th and a potentially defining game at the Etihad on January 3rd.
Rafa Benitez's side, albeit still languishing in the bottom half of the table, have shown real grit against the bigger teams, losing to five of the top-six by only a single goal. Much of that has been due to a disciplined, defensive unit that have conceded nine goals in their last ten league games. For context, only Leicester and Wolves have conceded fewer this season outside the top-four.
Shock defeats for City and Chelsea will have provided perfect evidence for guarding against complacency ahead of the 26th while suspected rotation on Klopp's part comes with its own risk of stifling momentum.
Meanwhile, all eyes will be on a feisty looking encounter with Arsenal, with the two clubs equally matched at the Emirates last month. The Gunners have been in fine form under Unai Emery, enjoying a swift resurgence thanks to the impressive form of front men Pierre Emerick Aubameyang and Alexandre Lacazette.
However, their defensive frailties, which have been a thorn in their side for some time, were exposed in the reverse fixture and there'll be plenty of optimism that the same can be done here.
Should Liverpool come through those two fixtures unscathed, it'll set up a really intriguing contest at the Etihad. Assuming City also win their next two games, the gap between both teams will remain at four points.
Guardiola's side will, therefore, be chomping at the bit to get the win and close the gap to just a singular point; failure to do so would gift Liverpool a seven-point gap, providing an arduous task to overcome.
Until then, it'll all be about maintaining momentum and ensuring maximum points are taken such not to gift City a chance to turn the tables. Every game in the Premier League is impossible to predict and therefore crucial, but the next three, in particular, stand out in determining the outcome of the 2018/19 campaign.