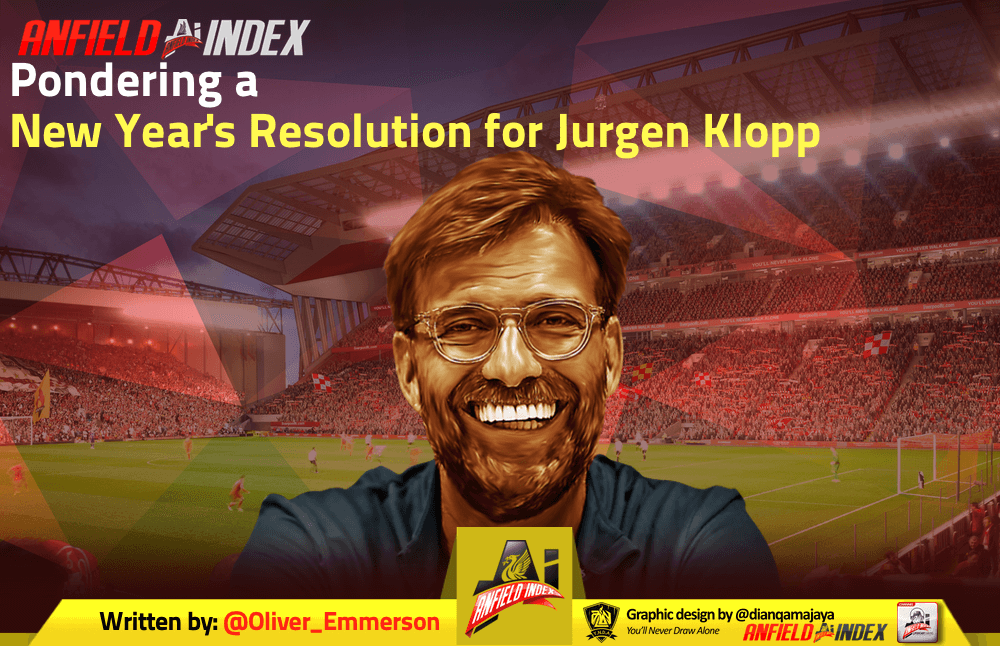 Pondering a New Year's Resolution for Jurgen Klopp

Aside from wanting to pick up another language, go cycling more and finally get around to digging up that family tree, you'd expect Jurgen Klopp to have a fair amount of football on his mind as we enter 2019.
It's been a fruitful year for the German as he continued his upward trajectory of progress at Liverpool FC with another top-four finish, run to the Champions League final and then an unbeaten start to the new Premier League season.
So, what should Klopp be looking to achieve in 2019? Let's help him with some suggestions…
Get the best out of Naby Keita
Whilst Xherdan Shaqiri, Alisson and (eventually) Fabinho have all enjoyed glittering starts to their Liverpool careers, it's not quite clicked for Naby Keita yet.
We have seen good performances and glimpses of quality, that sensational flick and pass against Crystal Palace the standout, yet it wouldn't be unfair to say the Guinean has underwhelmed so far.
It's not been all his fault though, with injury and varied roles in the team not helping him to discover any rhythm.
Klopp would do well to nail a position down for Keita in the New Year, as him entering peak form could be the extra advantage Liverpool need to get themselves over the line in the title race.
Don't be afraid to buy in January!
You have to scratch your head to think of the January window business Klopp has done during his time at Liverpool, the loaning of Steven Caulker is the obvious one, whilst a deal for Marko Grujic to arrive in the following summer was agreed in January 2016.
This time, it may have to be different. Injury struggles at the back have threatened to derail Liverpool's season, but it looks like the Reds are going to make it into January with at least two senior centre-back's fit and available. Still, Lovren and Matip will both remain injury prone whilst a freak impact injury to Van Dijk or Gomez could happen at any moment – the extra cover is needed.
Going forward too, there's room for one more. With Oxlade-Chamberlain still out and Roberto Firmino struggling for goals, is there any chance Klopp plumps for an attacker next month? Christian Pulisic has been mentioned, he seems most likely as reports suggest Dortmund are readying themselves for his departure.
Bring the Premier League trophy to Anfield
Whilst the previous suggestions are well worth considering, this seems the most obvious. Rarely in the Premier League era have Liverpool had a better chance to land the title, some suggest they've never had a better team with which to head into a title run-in.
The Reds go into the clash with Manchester City on January 3rd fully in the knowledge that a draw would leave them needing to take a minimum of seven points less than City to secure the title in May.
Both on the domestic front and in Europe, Liverpool have overcome huge obstacles so far this season. 15 league wins (at the time of writing) and three draws is an unprecedented start to the season for the Reds, but the Red machine must keep going.
If they can go on like this, a 2020 resolution could be to retain the league title.