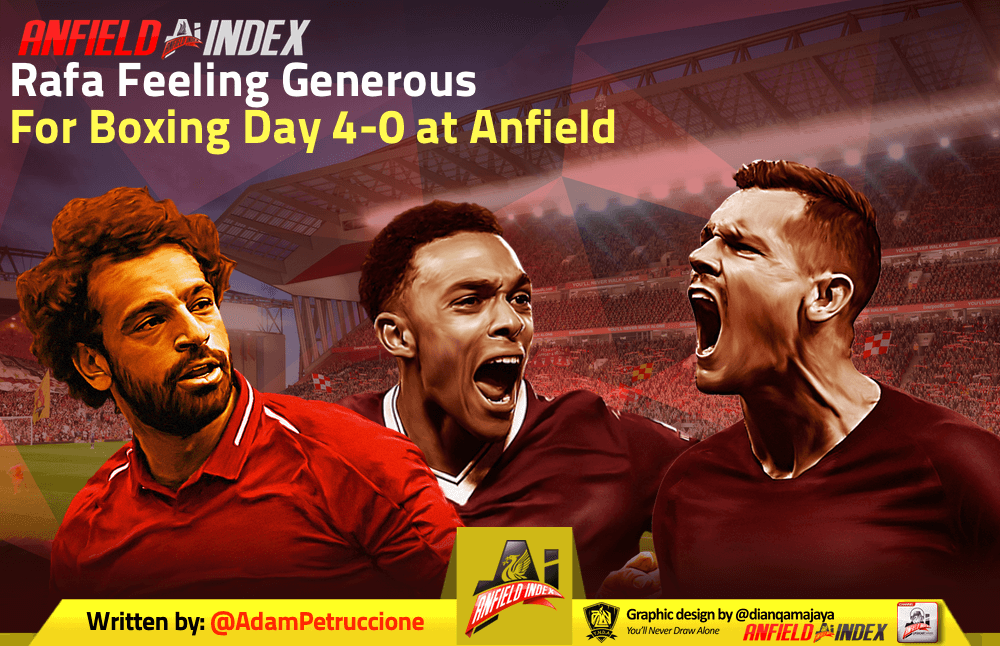 Rafa feeling generous for Boxing Day 4-0 at Anfield
Boxing Day. And with family in town in the form of Rafa Benitez. What would the old manager have in store for us?
In days gone by, Boxing Day was reserved for tradesmen to collect "Christmas boxes" of money or presents as a reward for good service throughout the year. With Liverpool through the Champions League group stages, undefeated in the Premier League, leading the best English side assembled since The Invincibles by 4 points… there were plenty of Reds deserving big, big boxes.
Jurgen Klopp rewarded Shaqiri and Jordan Henderson with starts off of strong performances off the bench. Trent returned after a spell out with a foot injury, and Dejan Lovren was the only remaining option at centre-back. Dejan was in a giving mood and scored the opener in a fashion that is becoming typical for Liverpool. A poor Newcastle clearance dropped in exactly the right spot for our fourth centre-back/best centre-back in the world to fire it past Dúbravka.

There were more chances throughout the first half, but none of them outstanding as Liverpool would take just .8 xG into the changing rooms at half-time. Sadio Mané wasted some opportunities, but as usual they were opportunities that he largely created from his outstanding movement and pace so… we're left to just shake our heads and trust that the player will shake off the yips by the time his scoring is really needed.
Two minutes into the second half Mo Salah took an innocent looking ball from the right, dribbled into the box, flanked by the usual two defenders. They got too grabby with Mo, and the Egyptian whipped around like someone had insulted his Christmas sweater and the ref… gave a penalty… at Anfield.
The Premier League's second-leading scorer and one-season-wonder stepped up to the spot and found the bottom left corner. The stroke was smooth as if he's been working on pens a bit. Mo on pens is sure to send ripples through the FPL world and should help him in the race for top scorer as the season wears on.
The second goal degraded the rest of the match into training ground fodder. Liverpool worked the ball around with ease and took the occasional speculative shot under little pressure from Newcastle. Fabinho and Sturridge came on to give Gini Wijnaldum, and Firmino much deserved rests ahead of Arsenal and City. As Jurgen Klopp looked ahead to those matches, it was only fair for the rest of us to watch the scoreboard a bit as The Reds continued to work the Newcastle defence.
With City in trouble 1-1 away to Leicester, Liverpool were stroking the ball back and forth to each fullback until Trent decided to put them out of their misery in the 79th minute, finding Shaqiri for an easy goal, taking the ball off of Mané who was waiting at the back post, probably to hit it over the bar.
Tis the season to be greedy for Reds across the world, so why not try and even up what was thought to be an impossible goal difference gap in City's favour a couple of weeks ago? City did their part, going a man down and conceding a second, and Fabinho did the rest, heading home an 85th-minute corner that was barely contended.
Some incredible acrobatics from Alisson saw out the match and secured the clean sheet, earning Liverpool a 6 point lead over Spurs, leaving City dejected in third. If you're counting at home, we have a 12 goal-difference advantage on Tottenham. Every other side in the Premier League has allowed more than double the goals that Liverpool has, with some allowing six times our total. Scrooge would be proud.
Harry Wilson also scored another worldy… Things are going well for Liverpool. We deserve this, right? Journos are tweeting cryptic deal-agreed emojis, and we don't even care who or what they might be referring to.
It's beginning to look a lot like… well let's not speak of it for now, but this will be a Boxing Day to remember regardless.
Up the runaway Reds. We're half-way home.
https://twitter.com/mexikop_/status/1077970104690921473?s=21