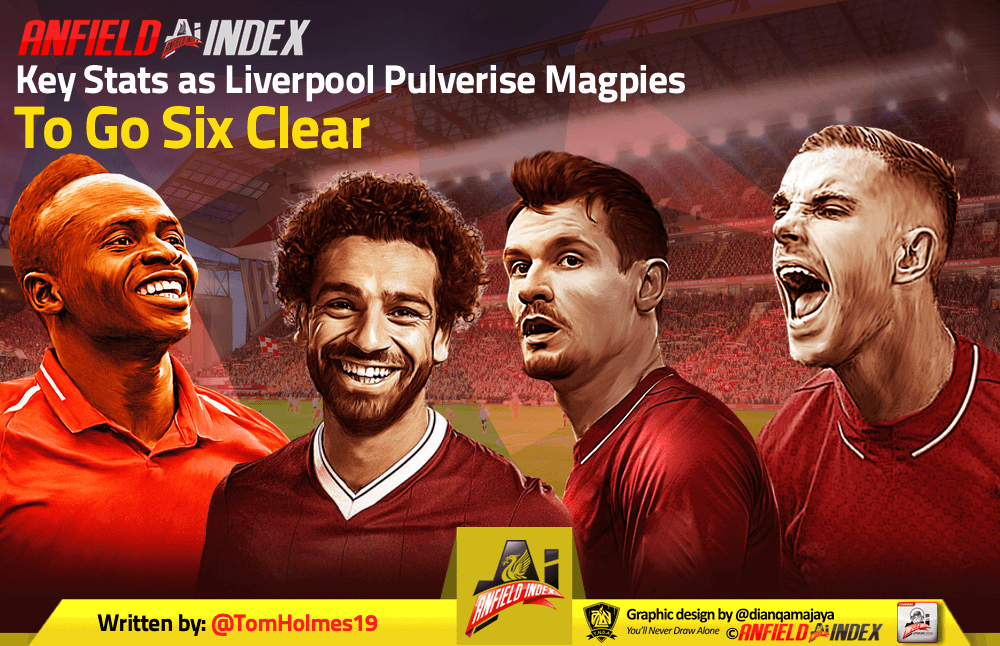 Key Stats as Liverpool Pulverise Magpies To Go Six Clear
Liverpool swept Newcastle aside with an emphatic 4-0 victory at Anfield to move six points clear at the top of the Premier League table. But what were the key stats from a glorious afternoon on Boxing Day?
Set Pieces Fuelling Reds' Season
I've highlighted before the role that set-pieces play in making the Reds one of the most dangerous and multi-faceted attack in the Premier League. Of Liverpool's 43 PL goals, 15 of them have come from either free-kicks, corners or penalties. And this game was another prime example of the importance of set-pieces, as Fabinho and Lovren both opened their tallies for the season off corners, and Mo Salah scored Liverpool's second penalty of the season. That continues LFC's record of scoring the most goals off set-pieces in the division.
What's equally important has been Liverpool's defending off set-pieces, as they have the best defensive record in the Premier League as well as the best attacking one. They've conceded just two goals from corners – one of which was Burnley's effort which could and should have been disallowed. Whilst there have been plenty of factors in Liverpool's form, their ability to defend set-pieces and turn them into a potent weapon of their own is a clear reason why they're developing into such a top side.

For comparison, Liverpool conceded 12 goals in the whole of last season off set-pieces, they're on course to concede a third of that. They also scored just 13 goals in the whole of last season – a record that they've already passed.
Sadio and Hendo's Return To Form Timely
With all the plaudits likely to once again go to Mo Salah (who was outstanding, scoring and creating a big chance for the second game in a row) and the centre-backs (Lovren's turn to both score and keep a clean sheet this week), two players who maybe won't get credit for their excellent performances in the last couple of games are Sadio Mané and Jordan Henderson.
Mané has found his form in the last couple of games, and my Sadio stat of the day is that in the last two games, Sadio has created two big chances which is as many as he has the rest of the season combined. He's contributed 1.21 xA in these two games, which is 42% of his season's xA of 2.91.
Jordan Henderson meanwhile, managed 1.26 xG Build in this game, contributing to multiple goals with some really good attacking play. 1.26 is the highest xG Build of any LFC player since the opening day, and the only player to break 1 xG Build since the opening day (admittedly a staggering 7 players had a higher Build that day but West Ham were awful and that's probably still our best-attacking display of the season).
Whilst Salah has been Liverpool's best-attacking player again this season and will continue to be, Liverpool's best team performances have relied on quality from a variety of sources, so it's good to see these two contributing to Liverpool's attack, as they have done in the last two games.
Salah and The Defence Tho
Yeah okay fine, I'll go there again. Mo Salah now has 18 goal contributions this season, adding his 12th goal and 6th assist, creating his 10th big chance of the season, and scoring his 6th from 14 big chances. Meanwhile, at the other end, Liverpool have now conceded just seven goals in 19 games – Man City have now conceded more in their last four.
As the Reds notched their 8th PL win in a row, they've now conceded just two goals in their last 14 home games. As Beasley notes below, the impact that Salah and VVD, in particular, have had at Anfield is just, simply put, colossal.
By assisting Fabinho's goal today, Mohamed Salah brought up his 50th direct goal contribution at Anfield – 36 goals and 14 assists – in his 40th appearance there.

— Andrew Beasley (@BassTunedToRed) December 26, 2018
Look, this was just another comprehensive display. We scored four goals, created four big chances, kept a clean sheet, conceded just one big chance – the 14th game out of 19 where we've conceded at most one big chance and the 14th game out of 19 where we've conceded less than one expected goal – as well as the fourth time we've notched over three expected goals. We're finding form at the right time and we look really, really good. And that can only be a good thing.