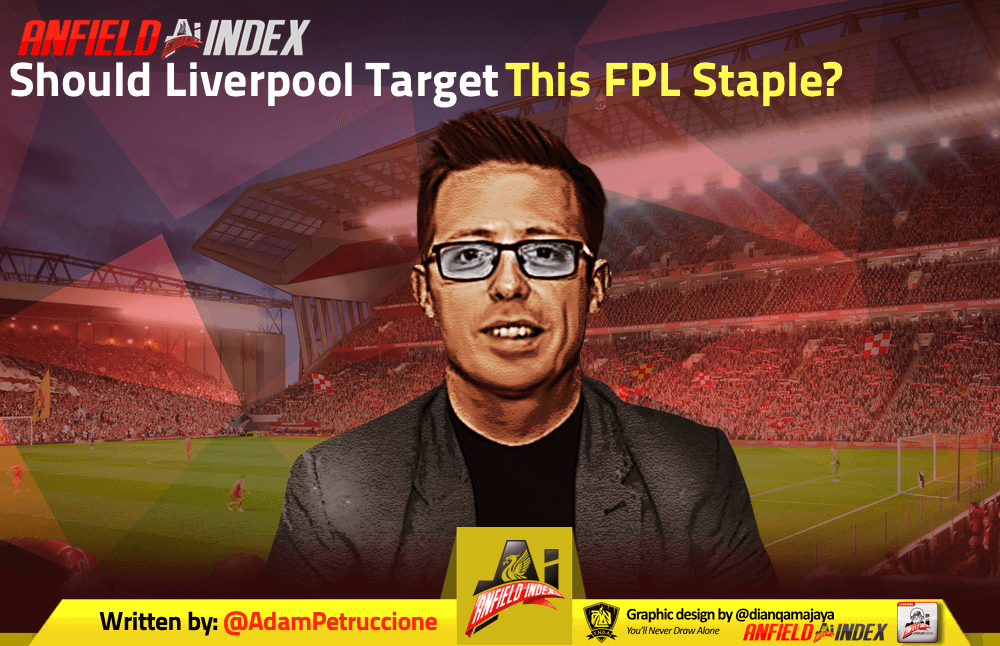 Should Liverpool Target This FPL Staple?
Any good Fantasy Premier League squad starts with a couple of £4.0m defenders on your bench to save the big bucks for the Mo Salah's of the world. If the cheap pickups actually play, let alone produce consistently it's borderline miraculous. One of this season's miracle men has been Aaron Wan-Bissaka.
Production in the fantasy realm is often irrelevant in the physical world, but in this case it illustrates how the 21 year-old right-back has burst onto the scene. After playing in just a handful of fixtures last season Wan-Bissaka has started all but one league match for Crystal Palace in 2018/19 and has gone the full 90 minutes in 17 of 19. What happened in those other two matches? He was red-carded trying to stop Mo Salah against Liverpool in the Palace's third match and served his suspension the following week. He is an automatic in the team sheet, a fixture in the Palace side that has earned 7 clean sheets, respectable for a club thought to be relegation fodder before the season started.
WHO, WHAT, WHY, WAN-BISS?
WhoScored.com has AWB rated as the 2nd best English player under 23 years old and the third rated right-back overall in the Premier League, one slot ahead of Trent Alexander-Arnold. Speaking of Trent, Liverpool already have a young English right-back with a hyphenated name and speed to burn. With all of the other transfer targets that should be on Michael Edwards' list, why spend time and money chasing Palace's local lad?
Liverpool's English core that includes players like James Milner, Jordan Henderson, Nathaniel Clyne and Adam Lallana clearly needs to be refreshed sooner rather than later and if Brexit brings changes with regards to home-grown squad requirements, players like Wan-Bissaka will skyrocket in value. Liverpool should act in January to collect more young English talent regardless of the politics, but this year it would add extra insurance to hedge against any potential changes that may be coming.
A move for a young right-back to rotate with Trent Alexander-Arnold would also improve our rotation for years to come. Many pundits feel that TAA's ultimate position will be in midfield. The young Scouser would be able to move between right-back and midfield with Wan-Bissaka in the fold, essentially replacing James Milner as he moves into the final year of his contract. The bigger impact would be on our other young, English prodigy. Joe Gomez would finally be be left to focus on centre-back duties, a position where he paired seamlessly with Virgil van Dijk and formed the best defensive partnership in Europe.
In certain key matches Jurgen Klopp would bench Trent Alexander-Arnold in favour of Gomez at right-back, presumably for his defensive capabilities against dangerous wingers. Wan-Bissaka is a more defensive player than Trent, and would fill that strategic gap for Klopp going forward.
Aaron Wan-Bissaka: Has made more tackles and interceptions combined (104) than any other player in Europe's top five leagues this season

For more player stats – https://t.co/xJuC4pvwbY pic.twitter.com/ZYR0bvo2fn

— WhoScored.com (@WhoScored) December 18, 2018
TAA VS AWB
While Crystal Palace's possession numbers and style of play under The Hodge is unrecognisable to Liverpool's, numbers still do give an indication on what The Reds would be buying. Wan-Bissaka makes 3.8 tackles per 90 to Trent's 1.8. He also makes a much higher percentage of them, 95% to 62%. He's dribbled past far less than Trent at .3 times per 90 versus once per match for our right-back. The interception numbers; similar story 2.6 to 1.2 per 90, triple the production for the Palace youngster. You know how VVD is always screaming "block the cross!" to his fullbacks? Wan-Bissaka wins there as well at .8 to Trent's .5 blocked crosses per 90.
https://twitter.com/Squawka/status/1076521935335501825
Now, obviously Trent Alexander-Arnold's strength is in attack, and Liverpool are usually on the front foot so maybe the defensive numbers are skewed. However, Wan-Bissaka is far better bringing the ball up the pitch with 1.9 dribbles per 90 to Trent's .5. The only area where Alexander-Arnold is the clear winner is of course in passing where Trent's accurate long-balls and key-passes are amongst the elite right-backs in Europe.
Again, this isn't about creating a negative narrative about Trent Alexander-Arnold, he is merely a measuring stick that we're all familiar with, who we can easily reference against Aaron Wan-Bissaka's numbers. The numbers look great, they stand out in the area where Klopp has favoured Gomez over TAA in the past, and he's English, which will help refresh the squad regardless and could become critical depending on which way the political winds blow.
Signing Wan-Bissaka wouldn't be an immediate splash signing, but it's one that in the months and years to come, would look like another brilliant move by Edwards and Co. The move would clear up the future of our centre-back position, right-back and even our midfield depth. Do we need a right-back as much as our rivals? Absolutely not, but that shouldn't stop Liverpool from swooping in and adding to what has already been our strength, a lock-down back four.