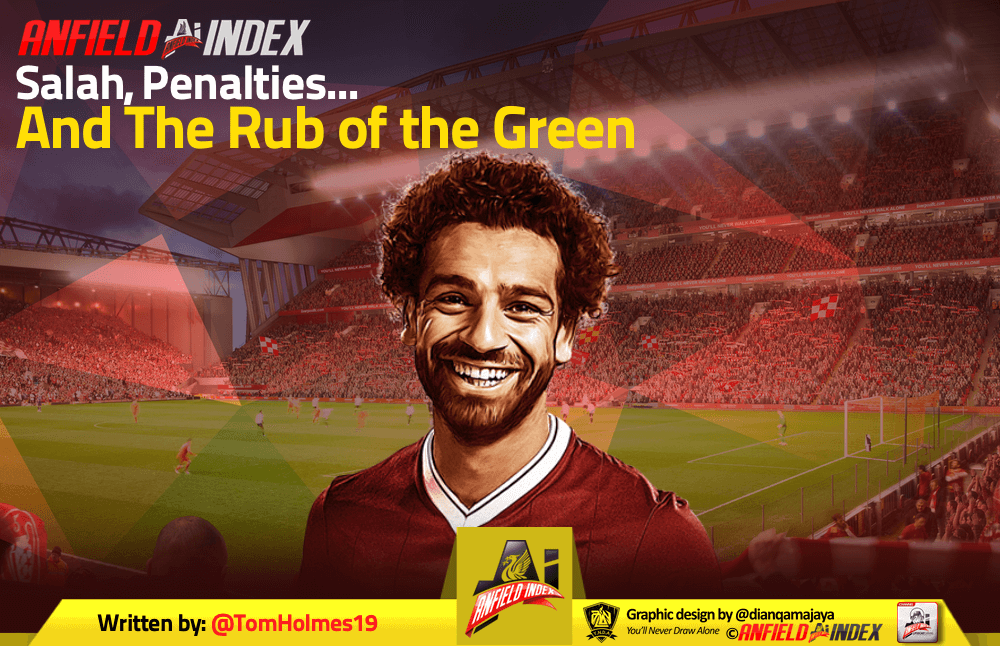 Salah, Penalties, And The Rub of the Green

On Boxing Day, Mo Salah dived to win Liverpool a penalty. This naturally led to a backlash from fans of teams who aren't Liverpool who were miffed that one of the PL's top stars got a nonsense penalty after diving. This, of course, led to the natural response of Liverpool fans, some arguing Salah did dive but that it was a pen, some arguing Salah did dive and it probably wasn't a penalty but he shouldn't receive a retrospective ban, and of course some arguing he didn't dive at all.
For what it's worth, I think it's an annoying situation to be in, but you have to take what you give out. If anyone from Spurs or Man United or Chelsea etc. won the penalty that Salah won, we'd be crying foul and grumpy that they got a penalty for what was clearly a blatant dive.
I wouldn't go so far as to argue he should be retrospectively banned – I wouldn't, I'm a Liverpool fan – but I think that the response that it's because people are bitter or because we're in their heads is poor form. There's plenty of scope for a legitimate argument that Salah deserves a ban. He cheated to get the decision, he got the decision, and that's the sort of thing that we're supposed to be stamping out of the game. I don't want to see our best player banned for diving, but if he doesn't dive then he won't, and we'd only have Mo to blame if he did pick up a ban for it.
Nevertheless, when was the last time that Liverpool had a penalty given their way for what was, in essence, a blatant dive? How often does Liverpool get given penalties period? It's been a constant source of frustration for LFC that this was their first penalty at Anfield in over a year, since October 2017 against Huddersfield. LFC have had just five Premier League penalties since the start of last season, with both Manchester clubs receiving nine over that period, and the other top six clubs all having six.
In fact, of the teams that have been in the Premier League for both this and last season, only Huddersfield and Newcastle have won less penalties than Liverpool, which is quite a staggering stat – with relegated Stoke City winning the same total as the Reds last year and both Wolves and Cardiff winning the same amount this year. Crystal Palace have had 15 penalties over that period.
The point is, it's easy for the opposition fans to be up in arms when an incident like this happens, but it's clearly not happening often because Liverpool almost never get penalties. In fact, the Reds' luck with referees and linesmen has been atrocious for a while now. Last season was the absolute nadir for this, as the Reds shipped at least ten points to appalling decisions.
However, one of the big factors in Liverpool's form this season has been that, for the most part, referees have not gotten too many big decisions wrong against the Reds. The only ones that immediately spring to mind are the Burnley goal in our 3-1 win and Mané's disallowed goal in the 1-1 draw with Arsenal. So that's realistically two points lost to refs this year.
In comparison, Liverpool have been the beneficiaries of some dodgy ref calls of their own. Salah's penalty on Boxing Day probably didn't win us any points, but Newcastle were undoubtedly still in the game at 1-0. A few weeks ago, Salah's first goal against Bournemouth was clearly offside, and again, whilst the Reds went on to win 4-0, it wasn't necessarily going to be that straight-forward. And penalty decisions went our way against Fulham and against Man City, as although Liverpool conceded a pen that day, they could easily have given away two or three. Also, as my Spurs reminding friend is quick to point out, they were robbed of a point by a dodgy penalty decision late on at Wembley.
The point is this. Last year, by this point in the season we were all fuming at refereeing decisions that had already cost the Reds close to double digits in points, which ended up potentially making a huge difference to our season. But so far this year, that simply hasn't been the case. Whilst one of two decisions have still gone against us, overall the scales are tipped slightly more in favour of us being lucky with refs than unlucky.
And that could be absolutely huge come the end of the season. Last year I wrote multiple articles, and I wasn't the only one, bemoaning how much Liverpool had lost to luck last year, through things that were completely out of their control. But this year, we're riding our luck to the absolute max. I've written recently about how we're on a wave and everything seems to be coming up in our favour, and this is another example of that. Whilst we've certainly not been getting lucky with the refs each week, it's been noticeable that the luck of the draw is more our way than against, and it's not been that way for a long time.
Nobody wins the Premier League without luck. Nobody. Especially not when you're facing one of the strongest sides in the history of the division. Liverpool will need every ounce of luck, skill and grit to get through this season, and having the refs on our side for a change could make a big difference. Here's hoping it stays that way.