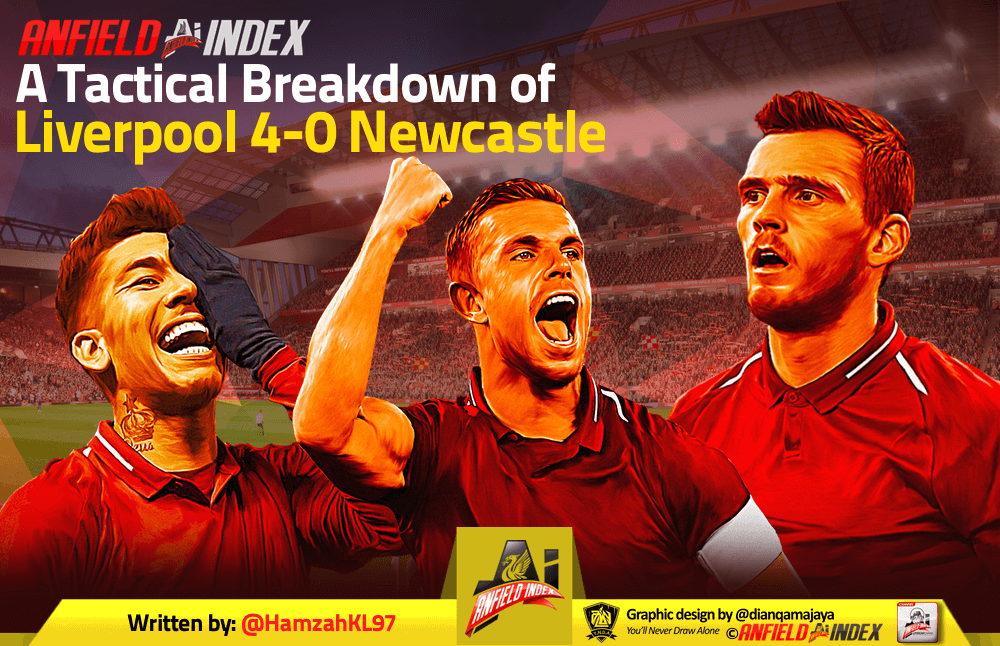 Liverpool 4-0 Newcastle: A Tactical Breakdown
Liverpool FC vs. Newcastle United FC; it's one of the most historic games in the Premier League, supposedly always meant to be a toe-to-toe, all-action, enigmatic thriller. Add in the magic of Boxing Day – a day which Liverpool have not lost a league match on for over twenty years – and the return of Rafael Benitez, and there was a recipe for something fantastic.
Newcastle are not the force they once were though, and despite their manager, on a technical level, the Newcastle team is underwhelming, and the club is underresourced. The setup from Benitez reflected that, as Newcastle lined up in a 5-3-2 system. Meanwhile, Liverpool reverted to the 4-2-3-1: Klopp's battering ram for matches against defensive systems.
Many sides have come to Anfield this season, with the express intent to sit back and defend for their lives, but Newcastle's approach brought some new, unexpected challenges for Jürgen Klopp's side. Indeed, in his post-match press conference, Klopp bemoaned Liverpool's defensive performance in the first half, but was pleased with the offensive work. Specifically, Klopp highlighted the lack of compactness of the Liverpool team at the start of the game.

The start of the game was surprisingly open, and in the first thirty minutes, Liverpool had four shots to Newcastle's three, with both sides having a single shot on target and one "big chance" too. This was, as Klopp said a product of Liverpool's lack of compactness – an issue we saw earlier in the season.
Credit must be given to Benitez though, whose deployment of two strikers reduced the ability of Liverpool's defensive midfielders – Wijnaldum and Henderson, operating as the double pivot in a 4-2-3-1 system – to exert themselves onto the game creatively. The image below is an example of how the Newcastle forwards, instead of positioning themselves against the Liverpool centre-backs, instead marked the two defensive midfielders for Liverpool: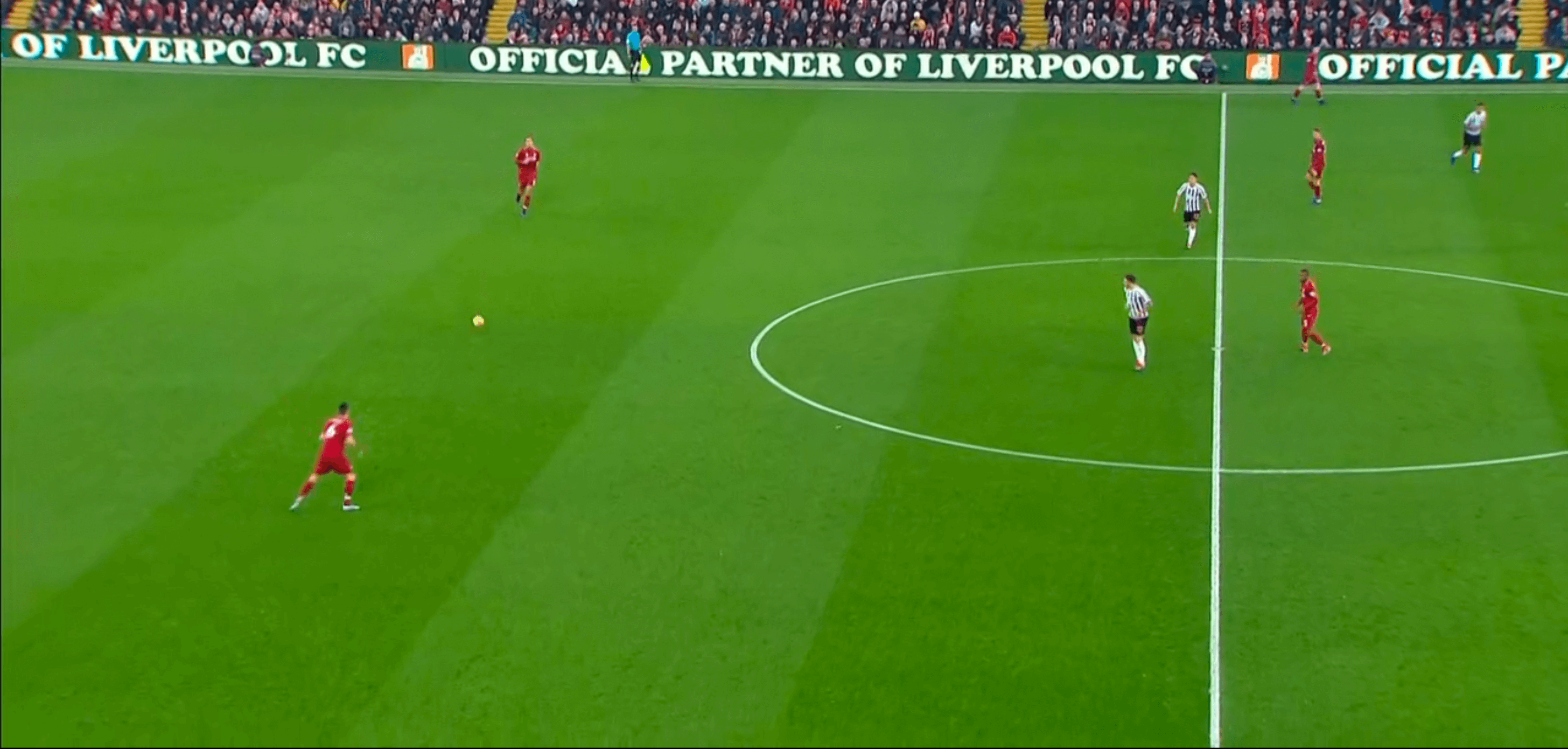 As Klopp said in his post-match presser, this had the effect of Liverpool only have six active offensive players, and consequently, the team could not recover the ball as quickly as possible, and take advantage of potential turnovers in the final third. Liverpool did find other ways to break into the final third though, often from deep, and in the wide channels, where Salah, in particular, and Mané thrived with space and opportunities to run at their opposite player.
Mané into Salah: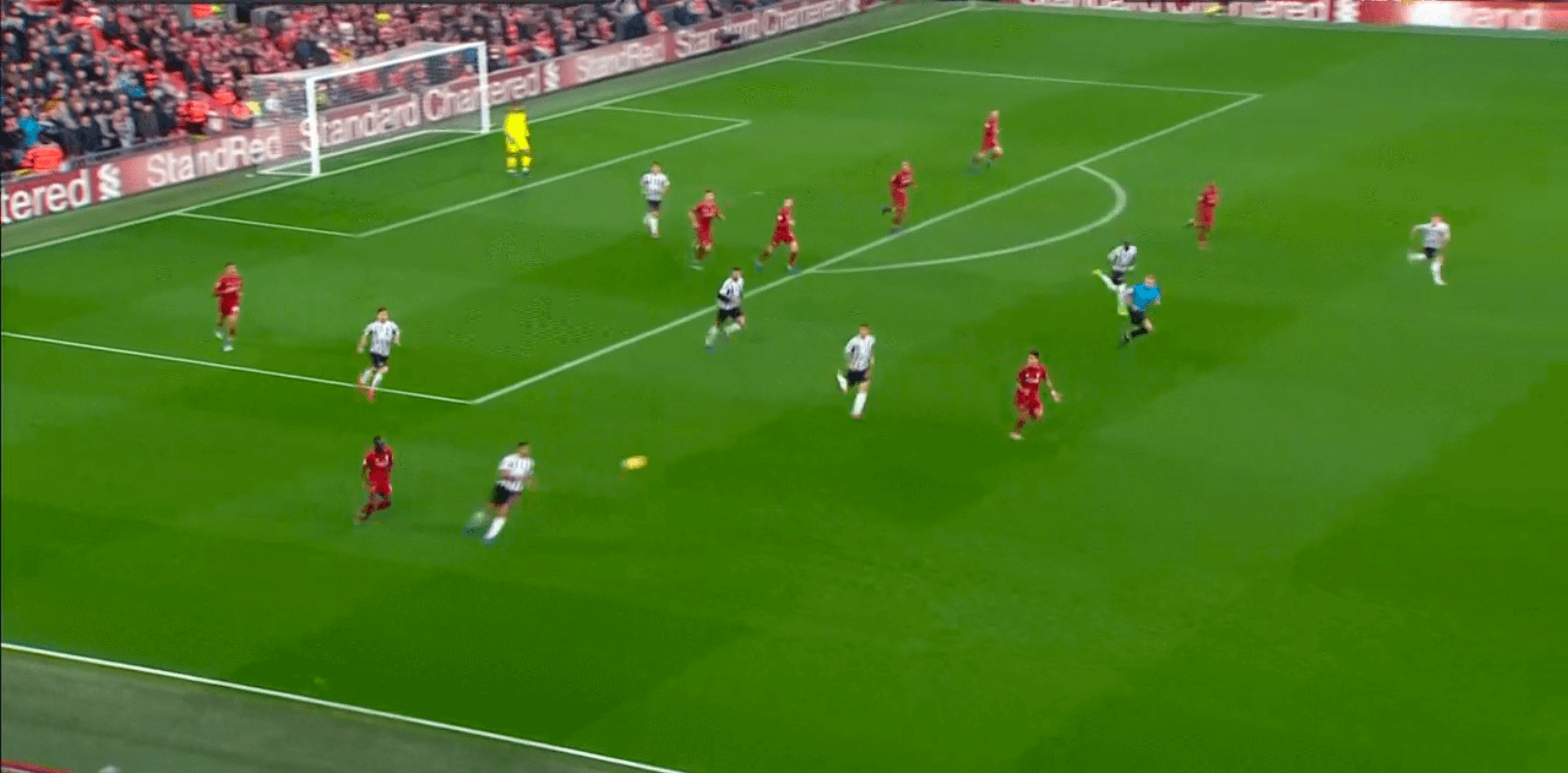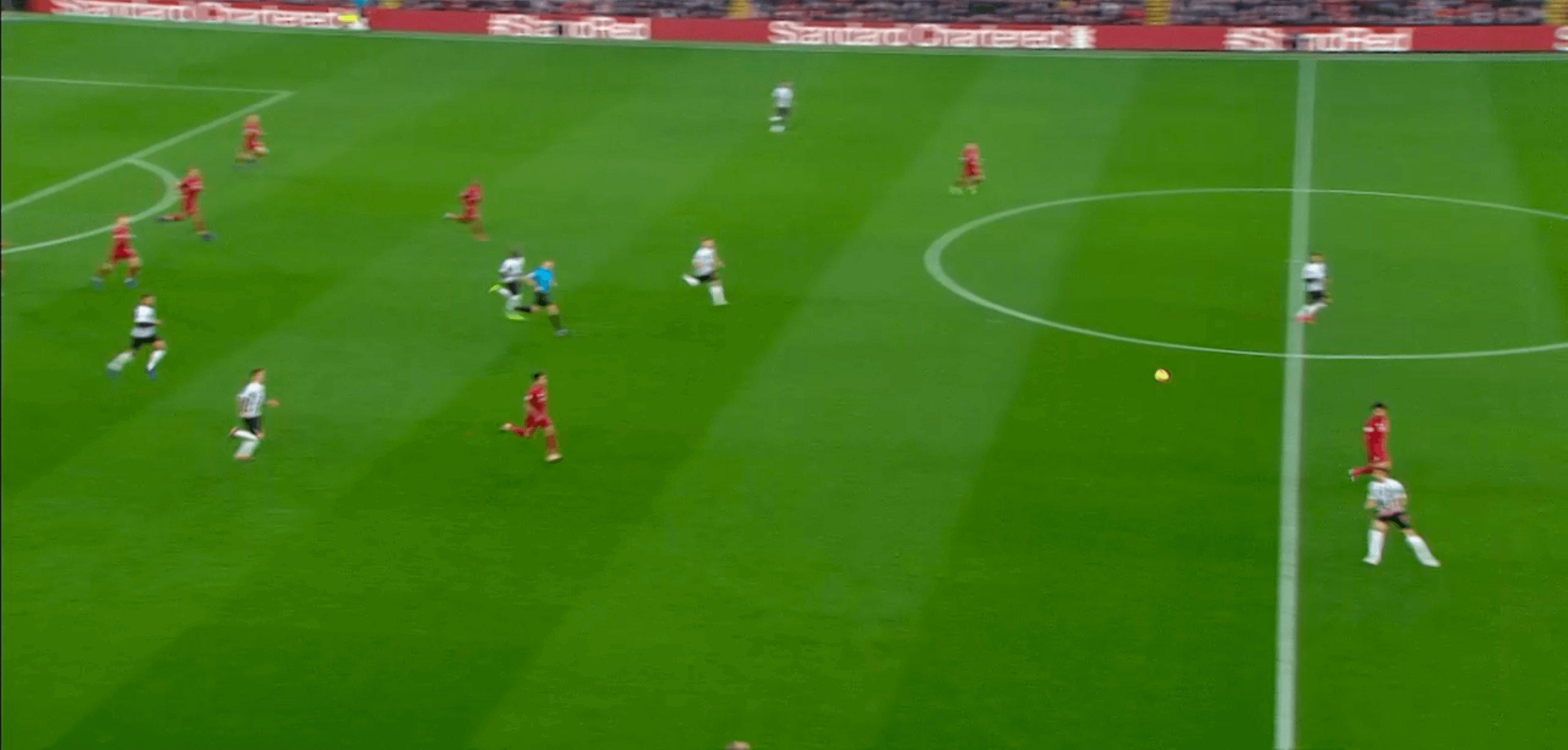 Alexander-Arnold to Salah: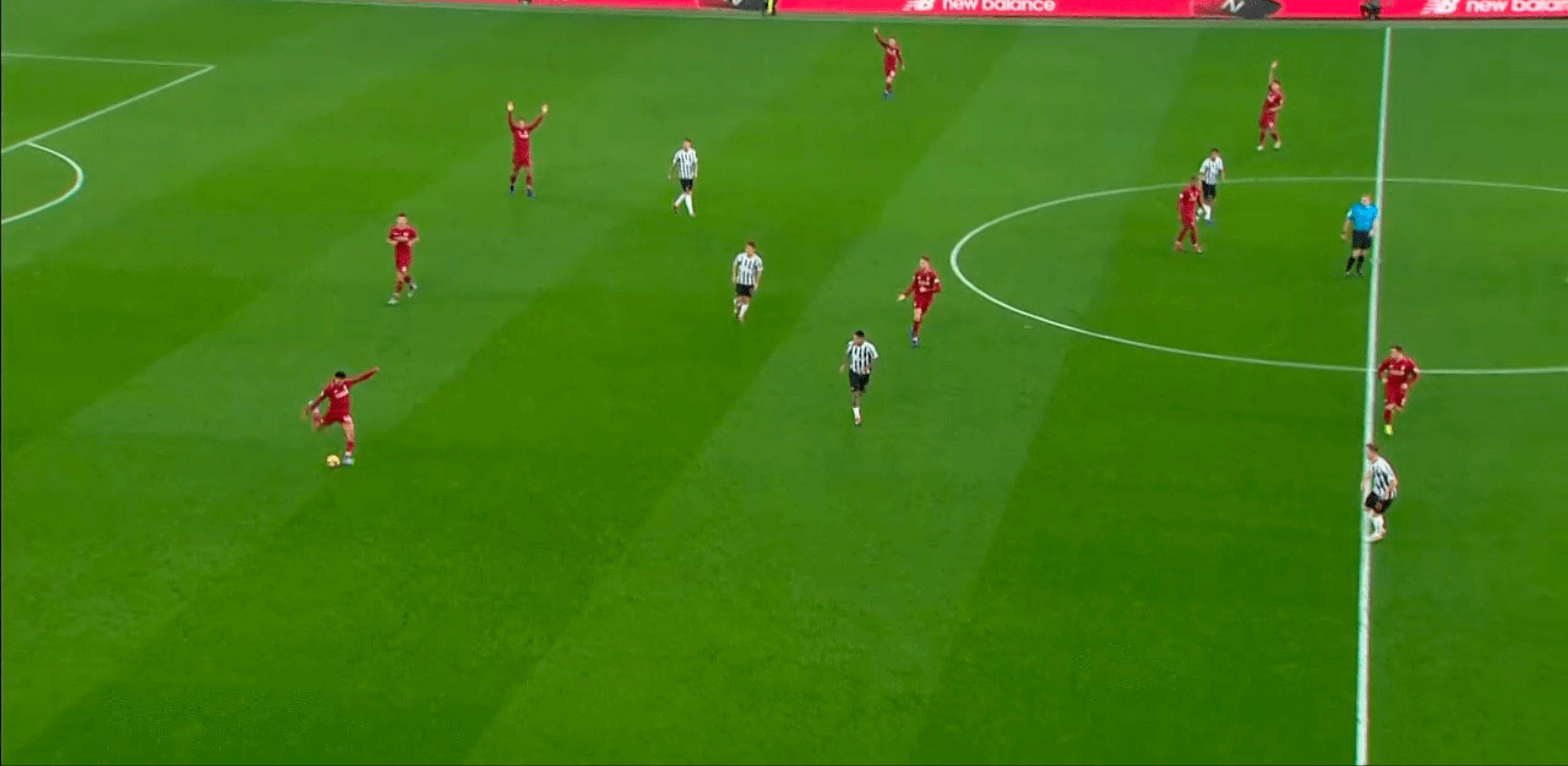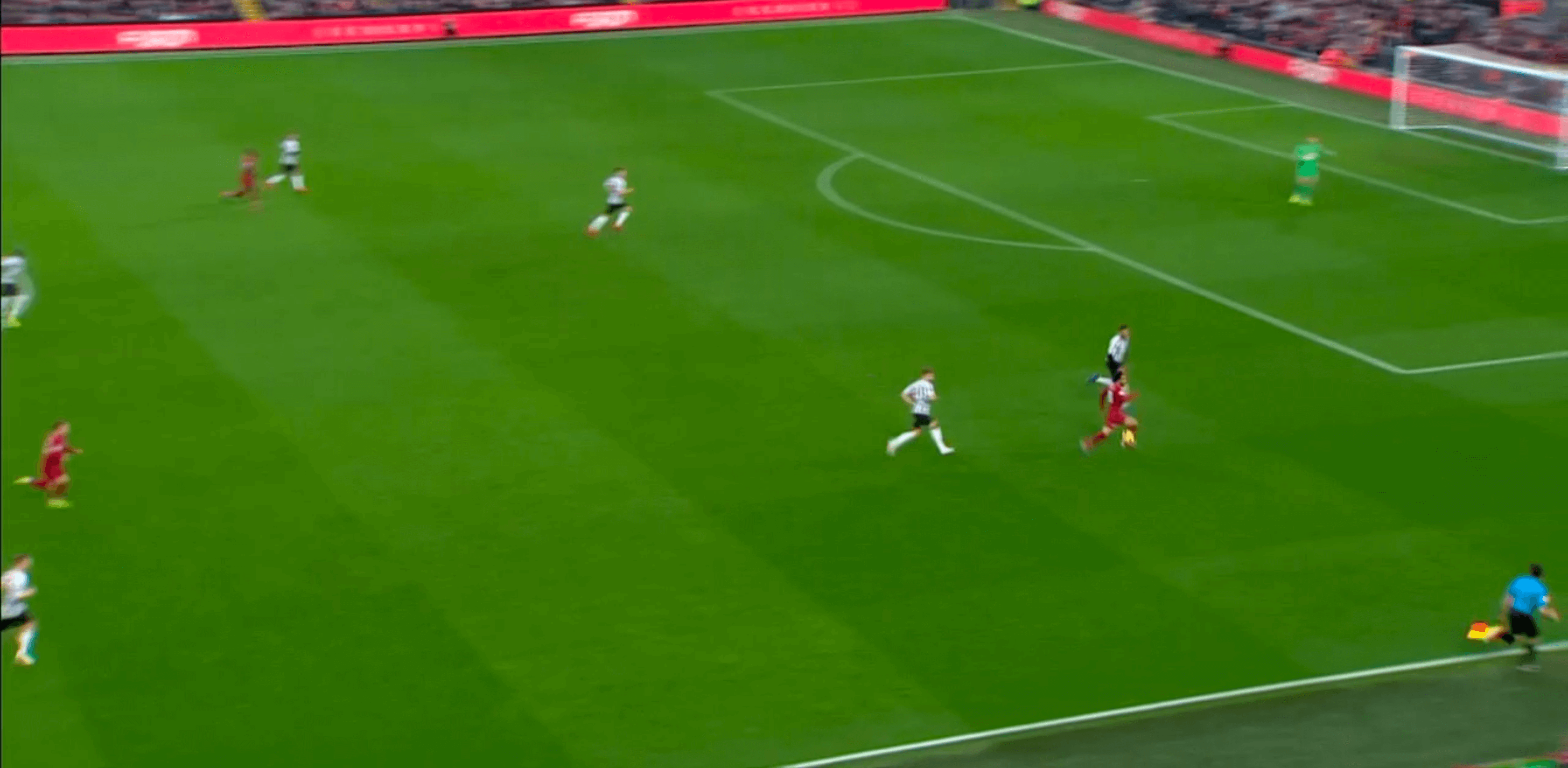 Alexander-Arnold to Salah (second-half, leading upto penalty):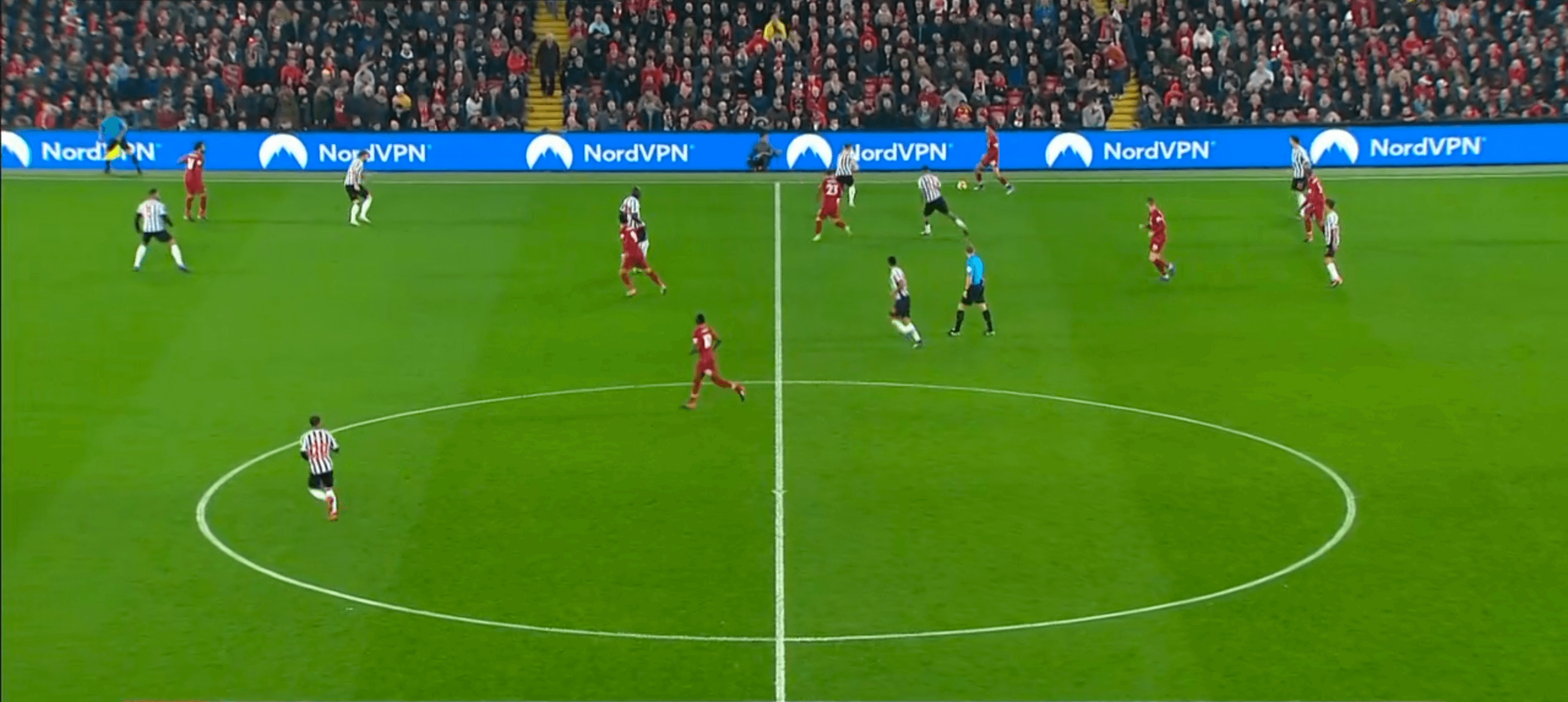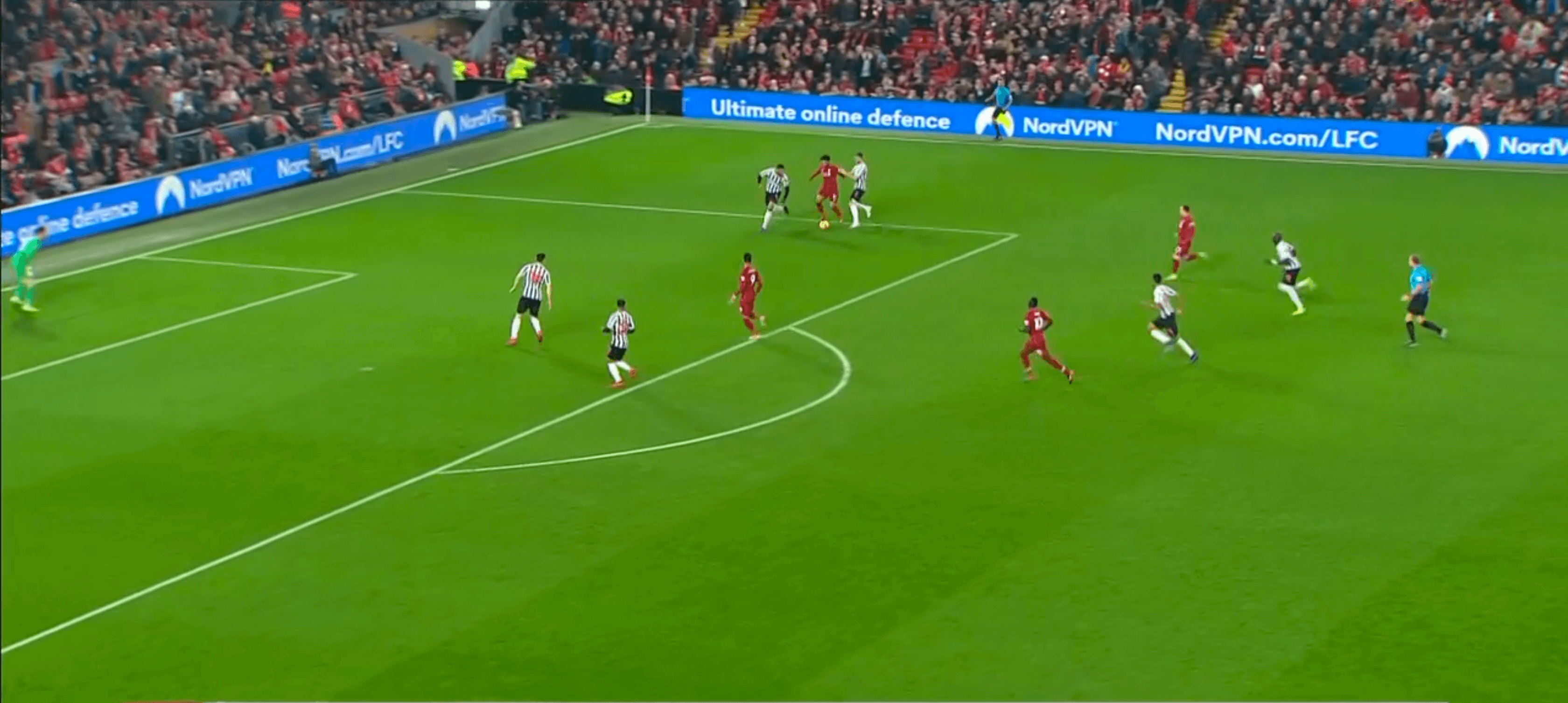 Robertson to Salah: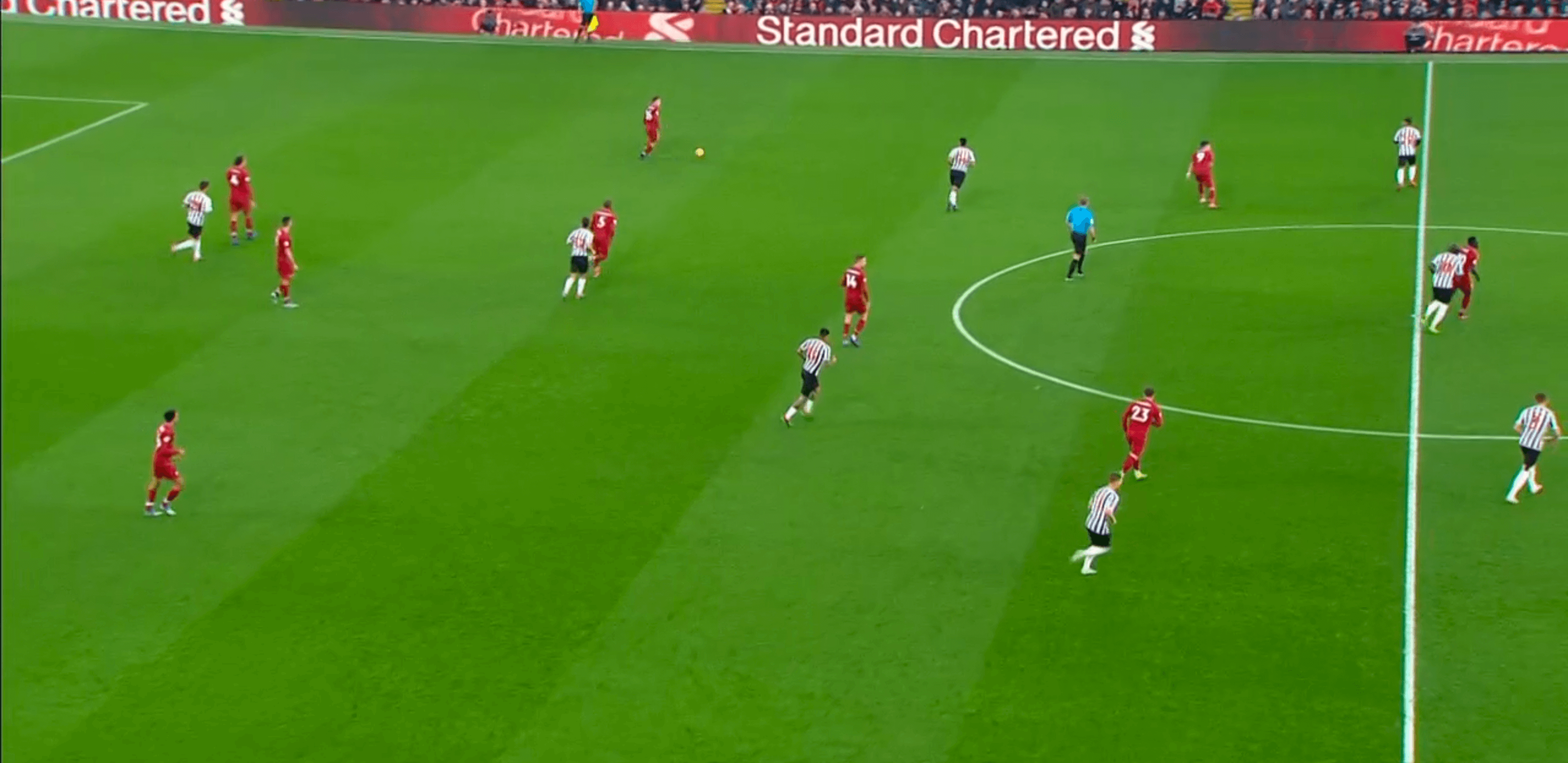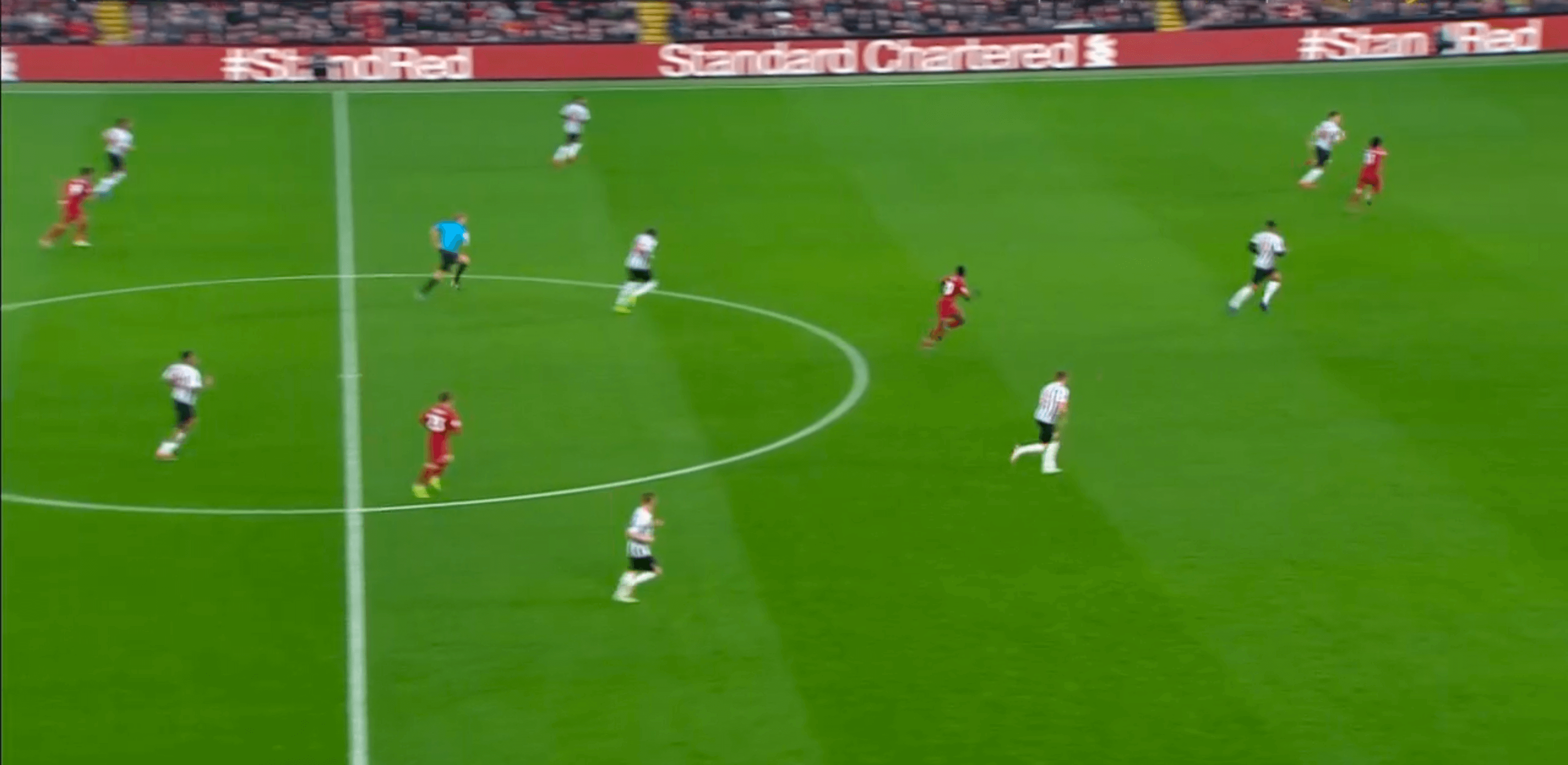 Liverpool found a number of different ways to break Newcastle's block down, beside the long passes into the wide areas. Early on, Roberto Firmino played extremely well. He dropped deep at times, but also went wide, as Liverpool looked to always occupy the Newcastle back four. It's something we've seen with increasingly frequency this season – two Liverpool forwards positioning themselves against the opposition back line, pinning back a centre-back and full-back through sitting in the halfspace between them.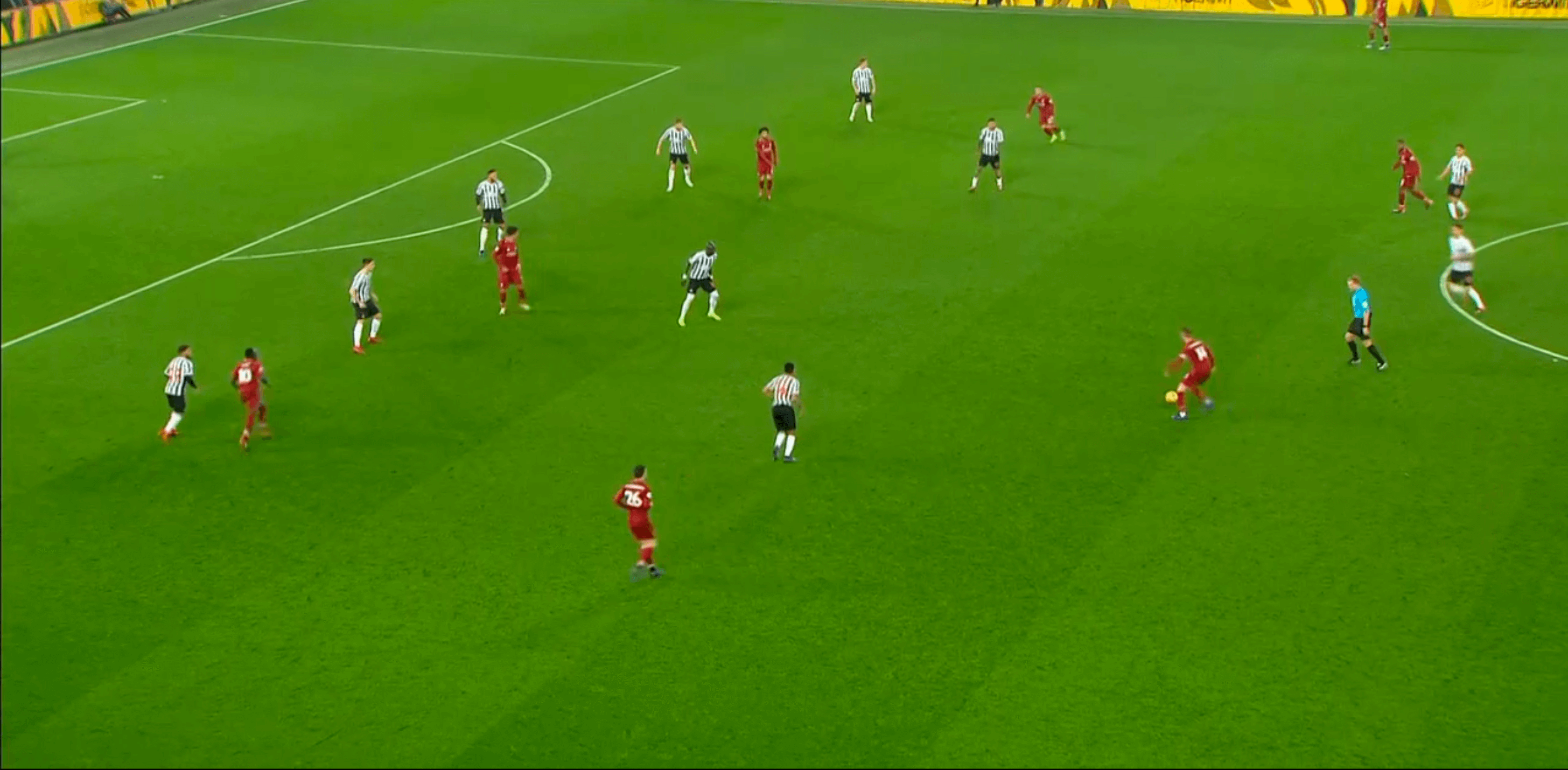 In doing so, not only are the defenders pinned, the forwards in an optimal position to run in behind and able to stretch defences, but importantly, it creates space in the pocket in front of the defence, as centre-backs are unwilling to push up to a player near the edge of the box with the ball, in fear of leaving Salah and either Firmino or Mané (depending upon who has dropped).
Firmino took full advantage of this early on, and attempted to play in both Salah and Mané: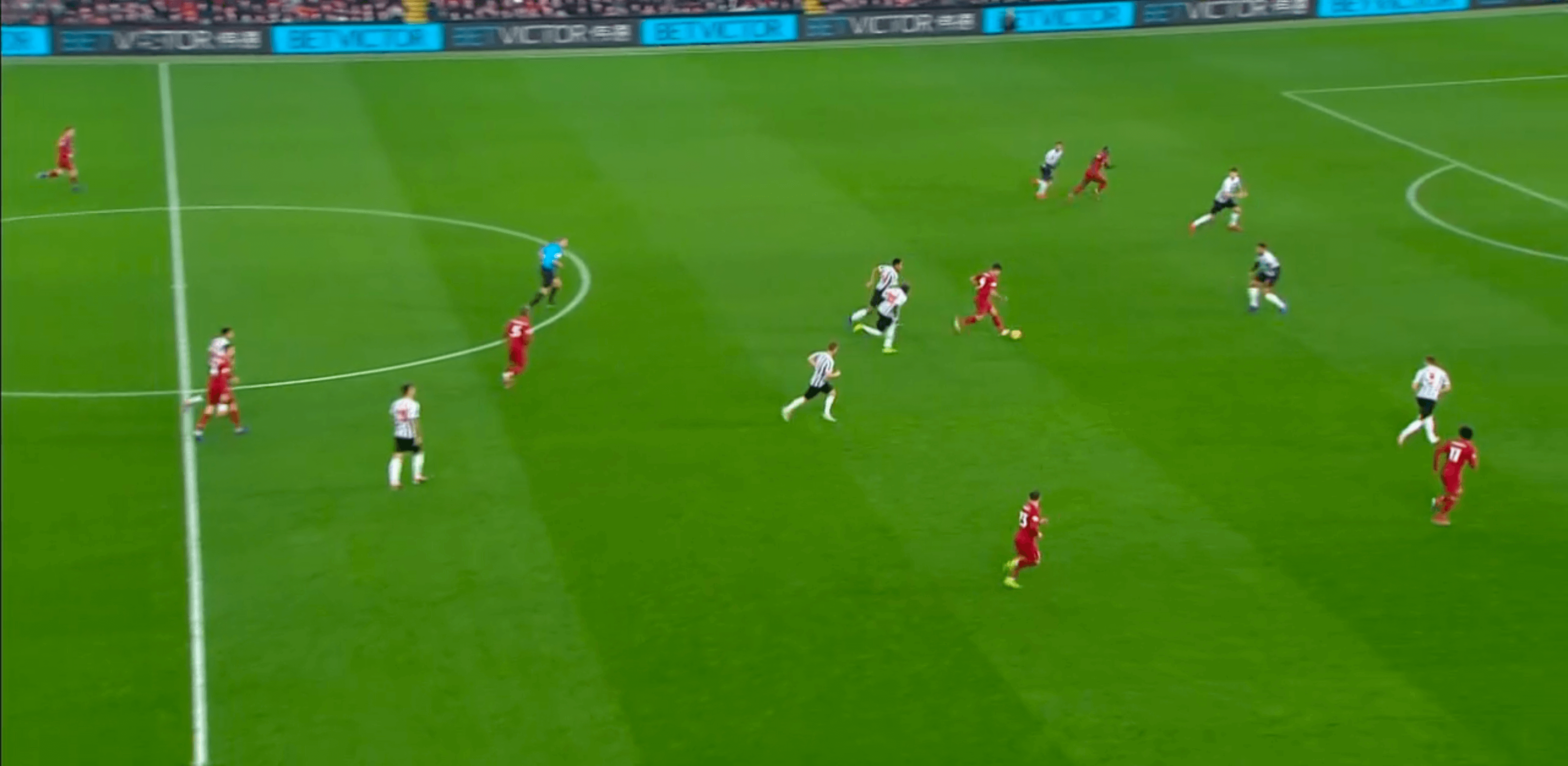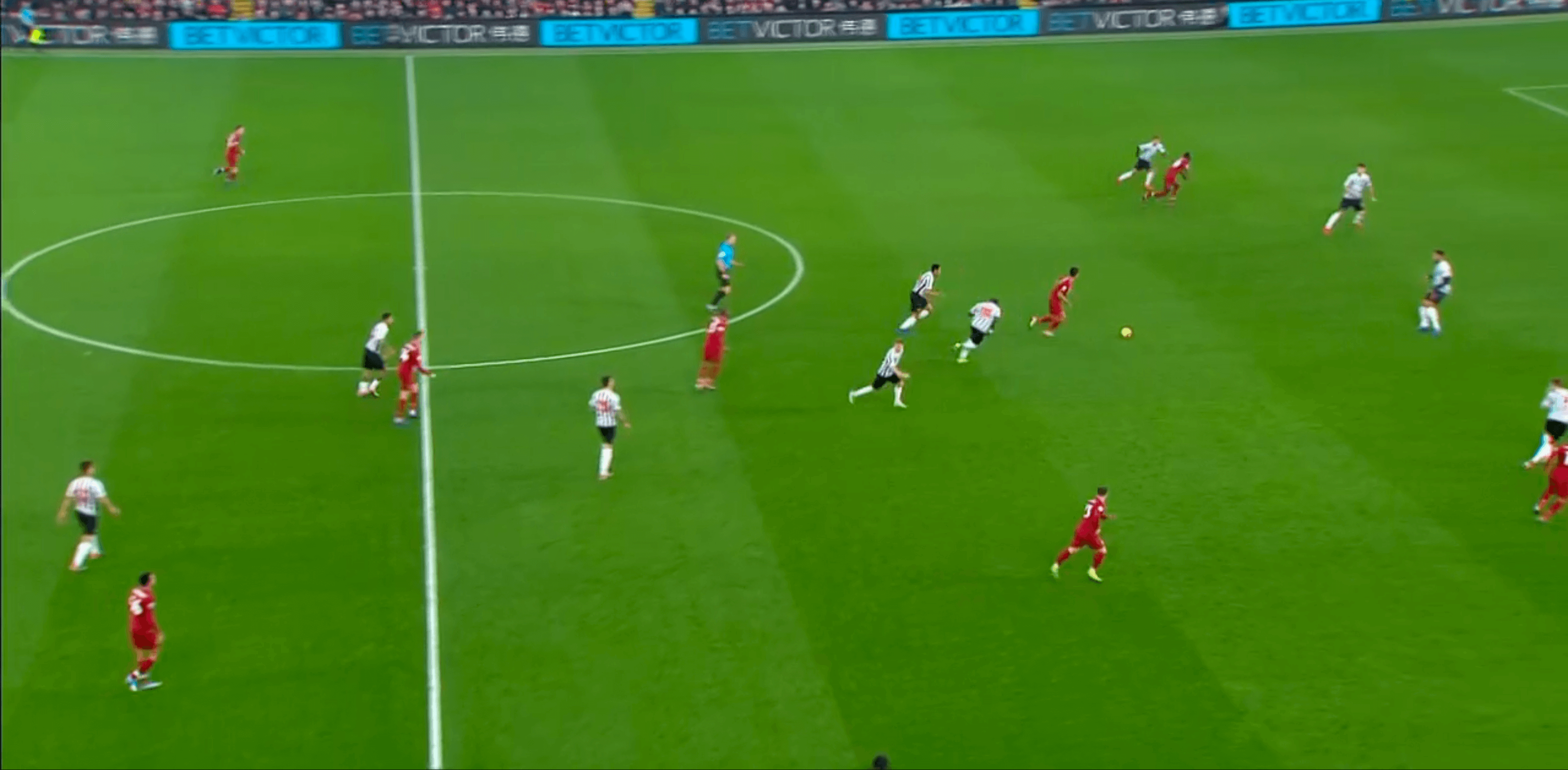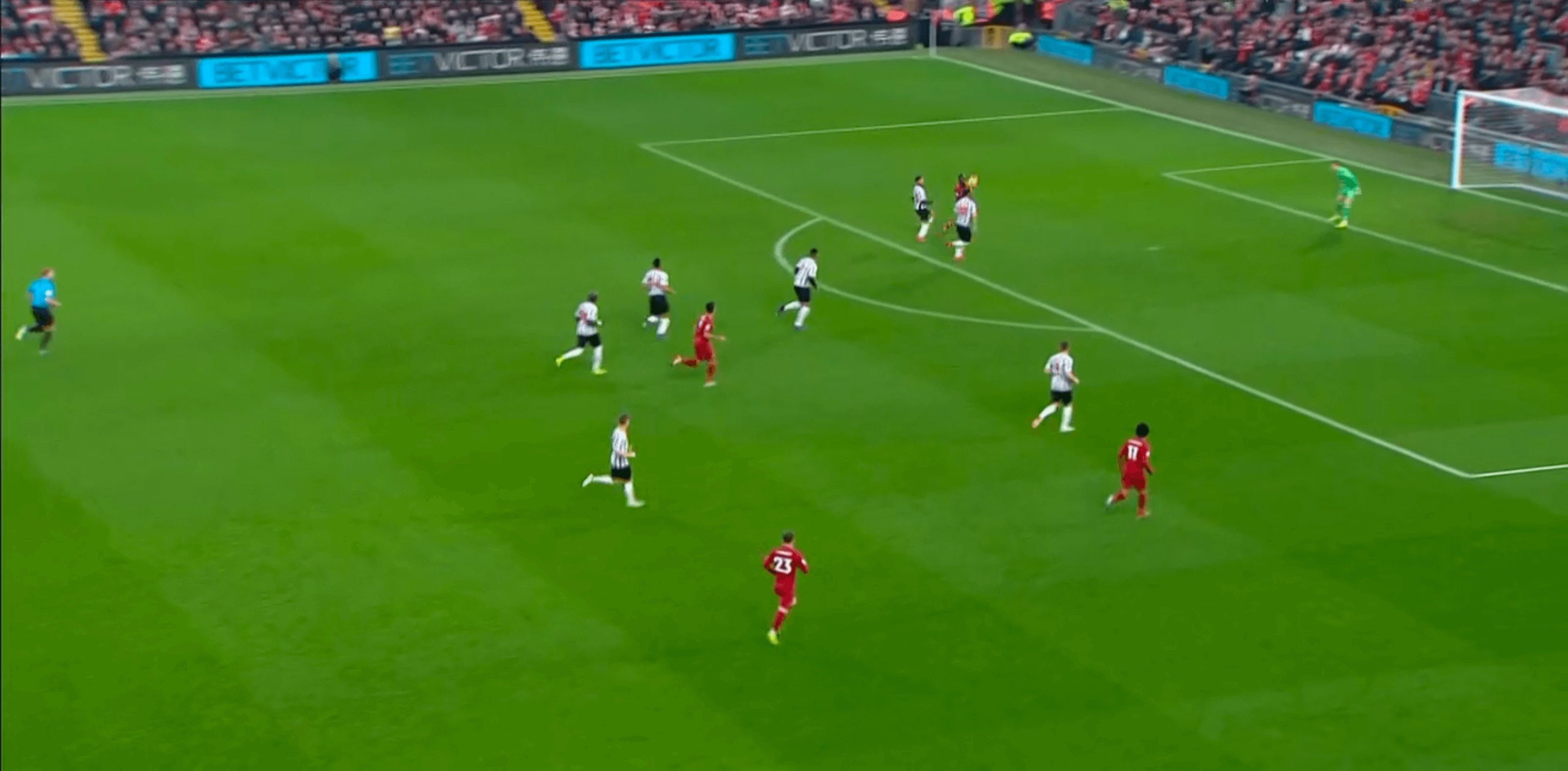 Firmino into Salah: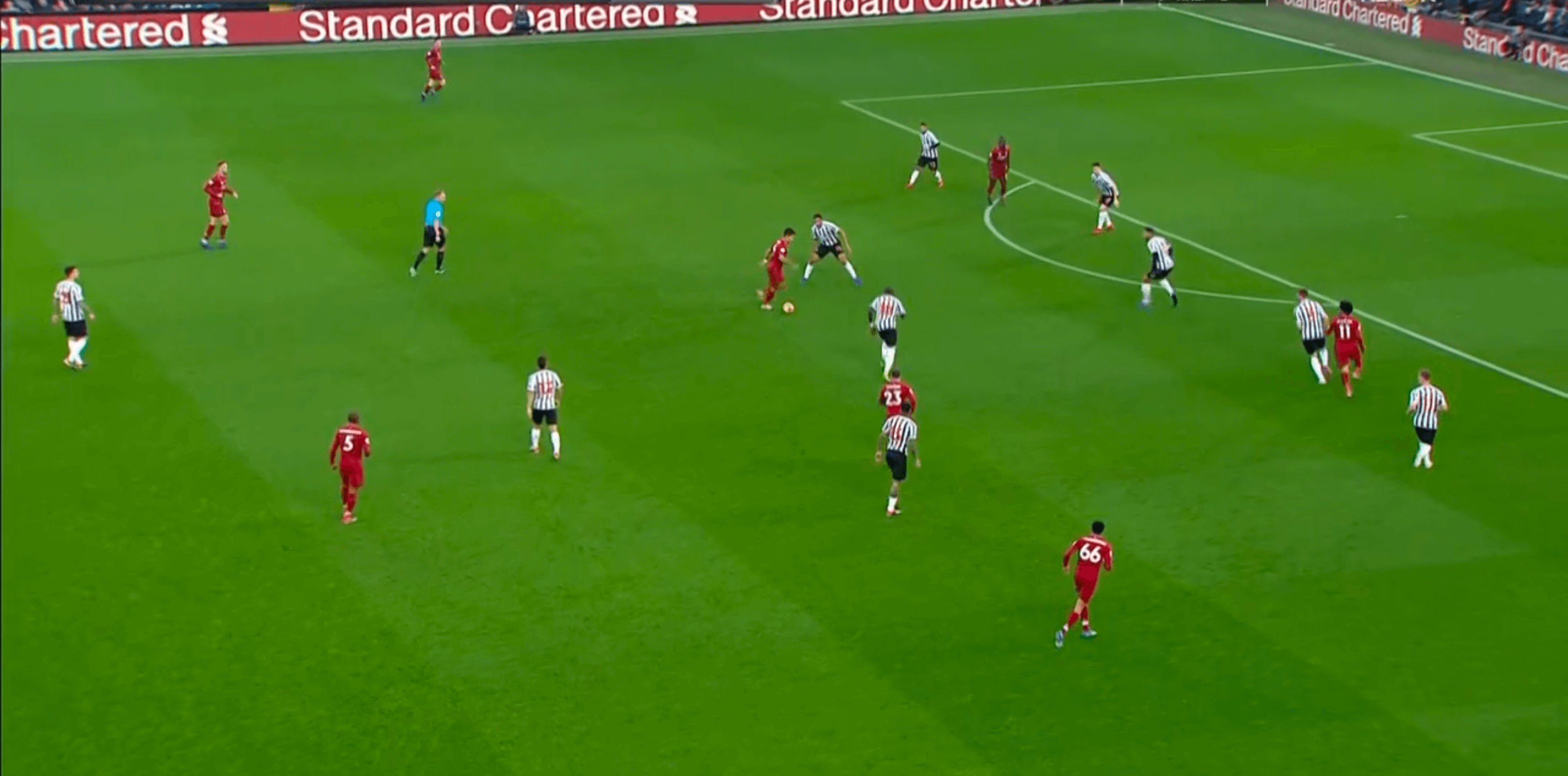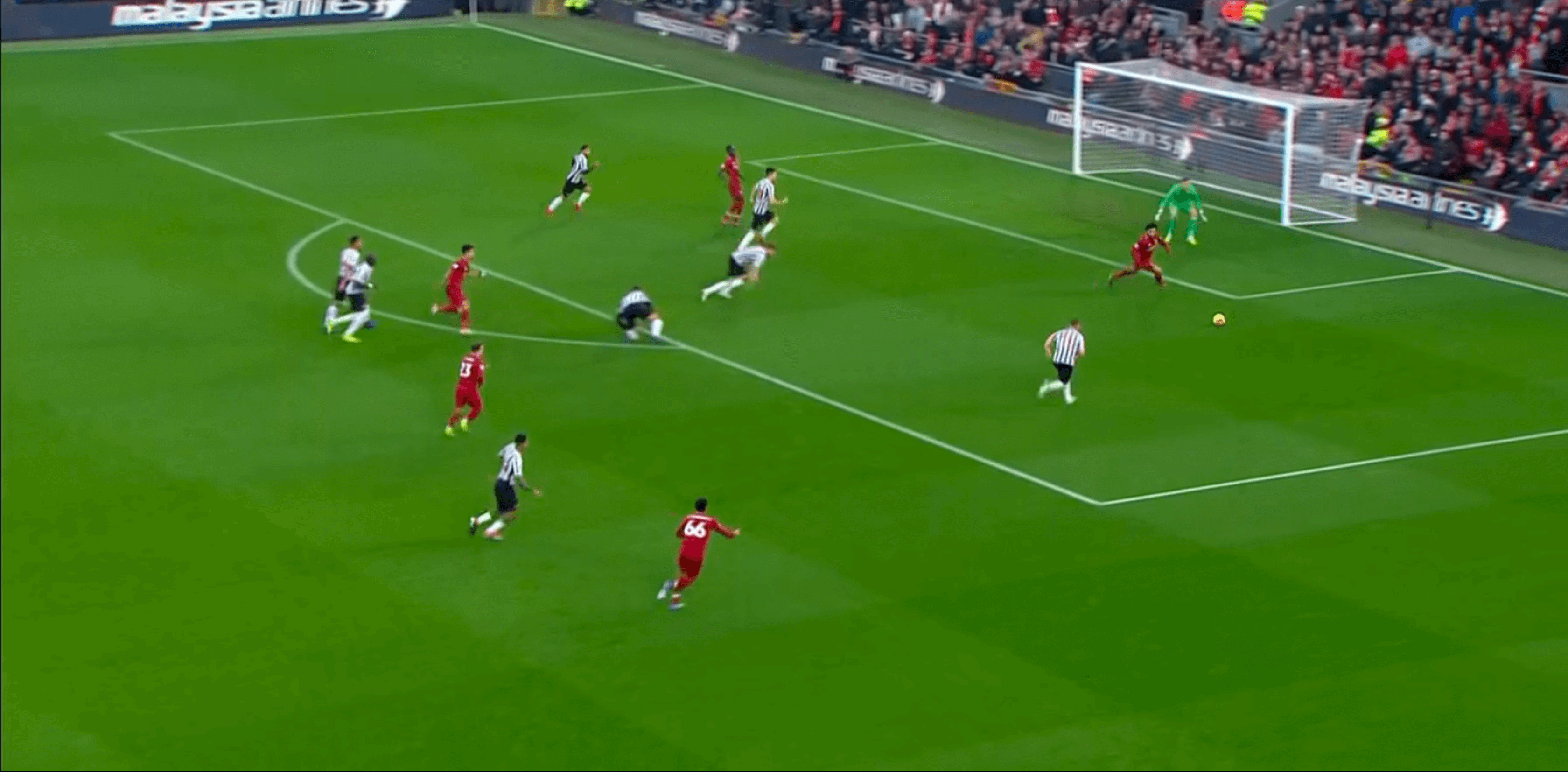 Firmino into Mané: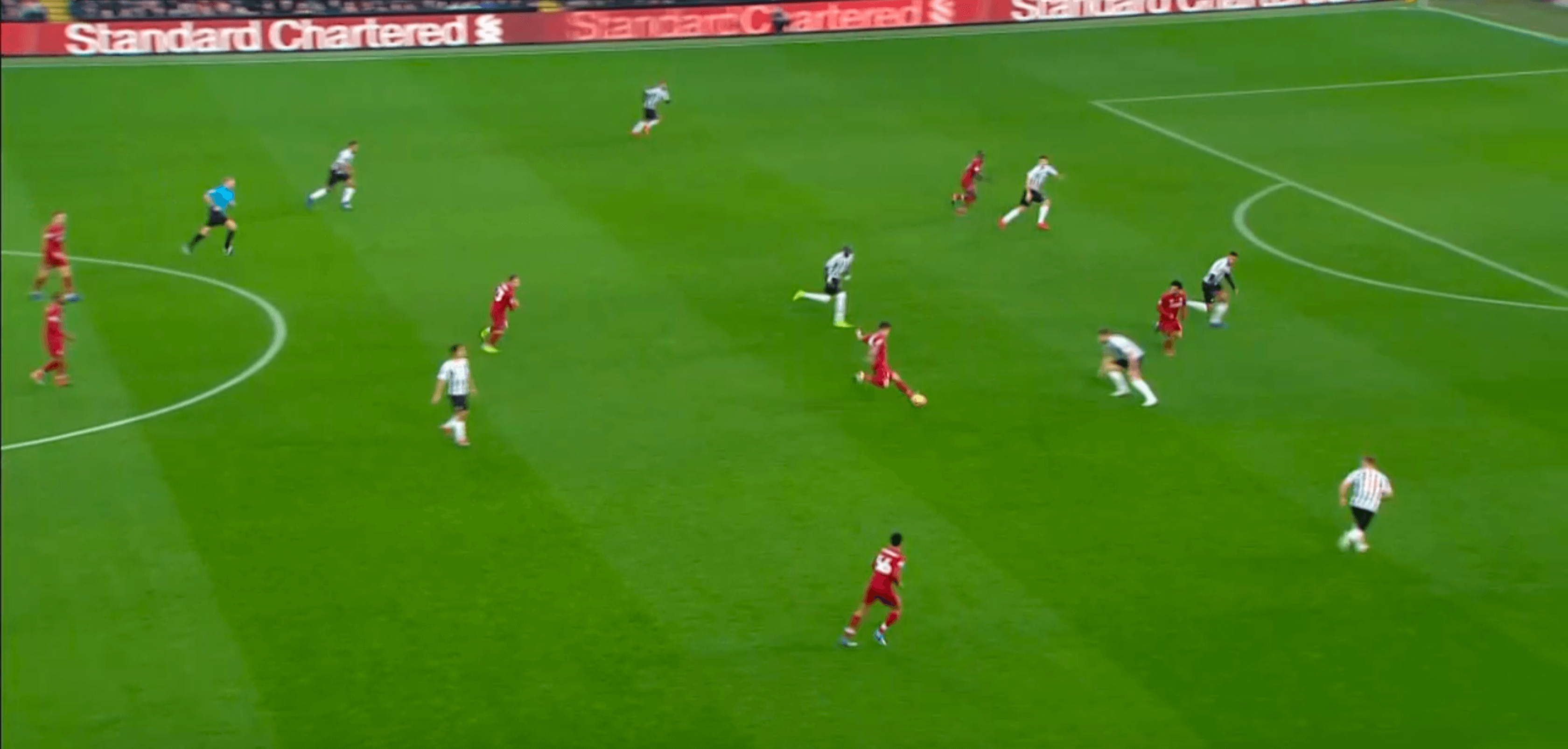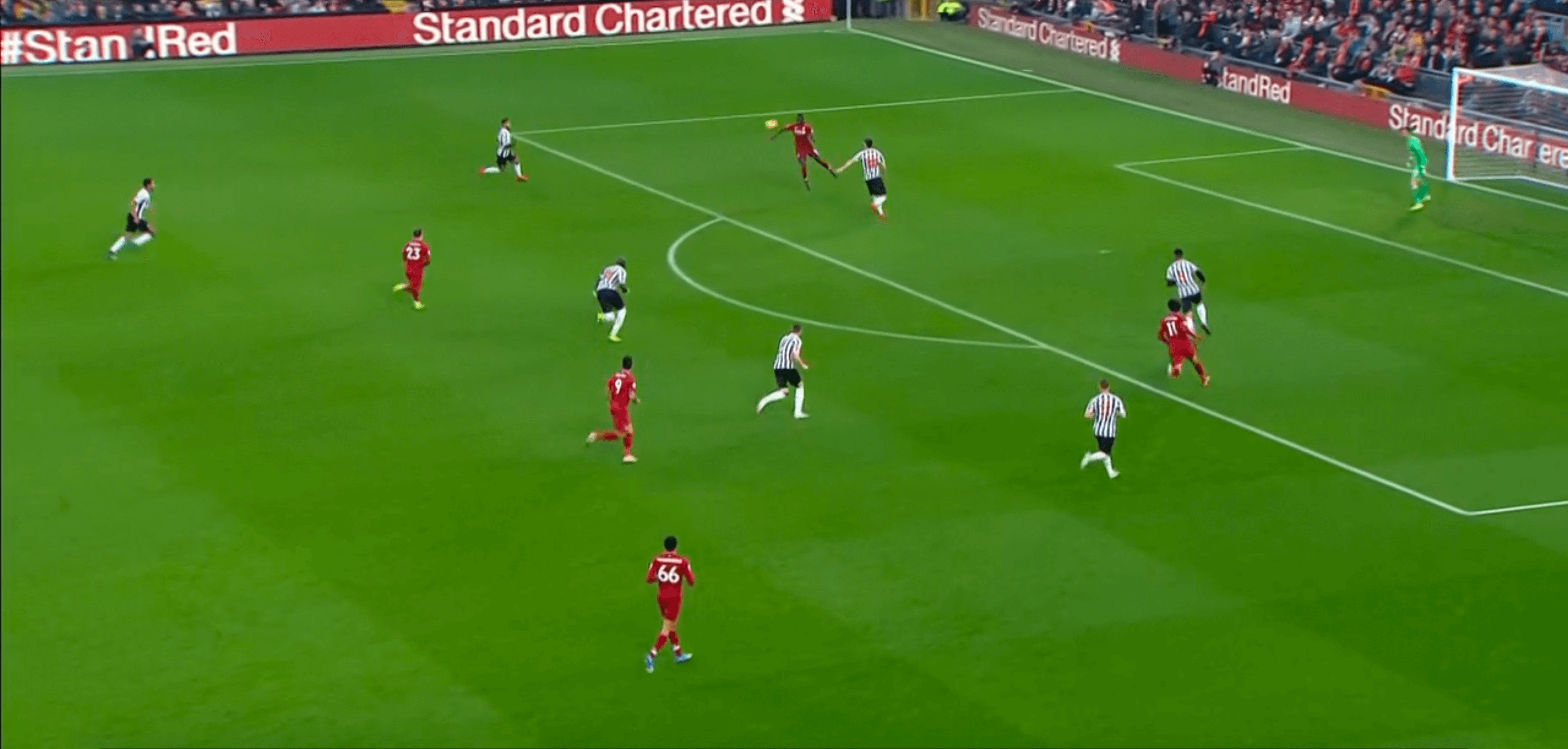 Firmino's bright start in the opening 25 minutes faded out though, and he struggled with his passes as the game went on. As that happened though, he dropped deeper and allowed Shaqiri to take up a more offensive position, and instructed the players around him both where to move to and when to press.
His deeper position (below) allowed Liverpool to get beyond the two Newcastle forwards who were previously restricting passes to and from Henderson and Wijnaldum, through creating a numerical overload: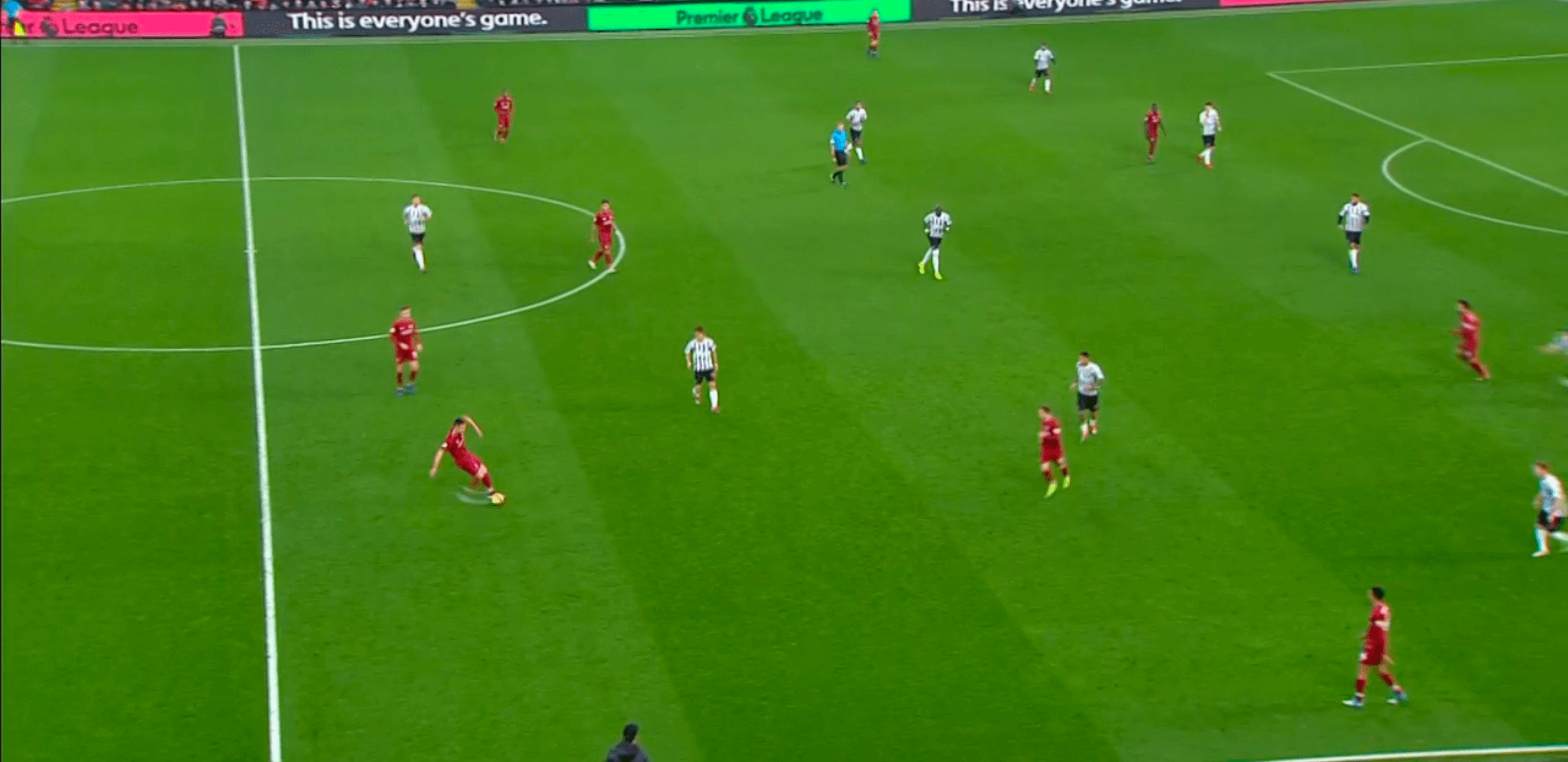 As he dropped deeper, the Newcastle lines moved vertically, whilst Alexander-Arnold and Robertson held extremely wide positions, stretching the Newcastle side horizontally too. Through doing this, passing lanes opened up, as did spaces between the forward-midfield and midfield-defensive lines, allowing Liverpool to exert greater control on the game, and attack with more fluidity.
This numerical advantage is key to breaking down low blocks, and Liverpool swarmed over Newcastle at times, as Henderson pushed up too, leaving Wijnaldum and the centre-backs as the only protection against a counter-attack. However, after the open end-to-end first twenty minutes, the probability of Newcastle countering effectively was reduced, as Liverpool's numbers required matching when defending. But as Liverpool attacked, they generated one-on-one opportunities, which are key to breaking down defensive blocks – as we saw against Manchester United – and from these opportunities in wide areas, Liverpool looked to play square passes – one of which Shaqiri missed in the first-half, but scored in the second.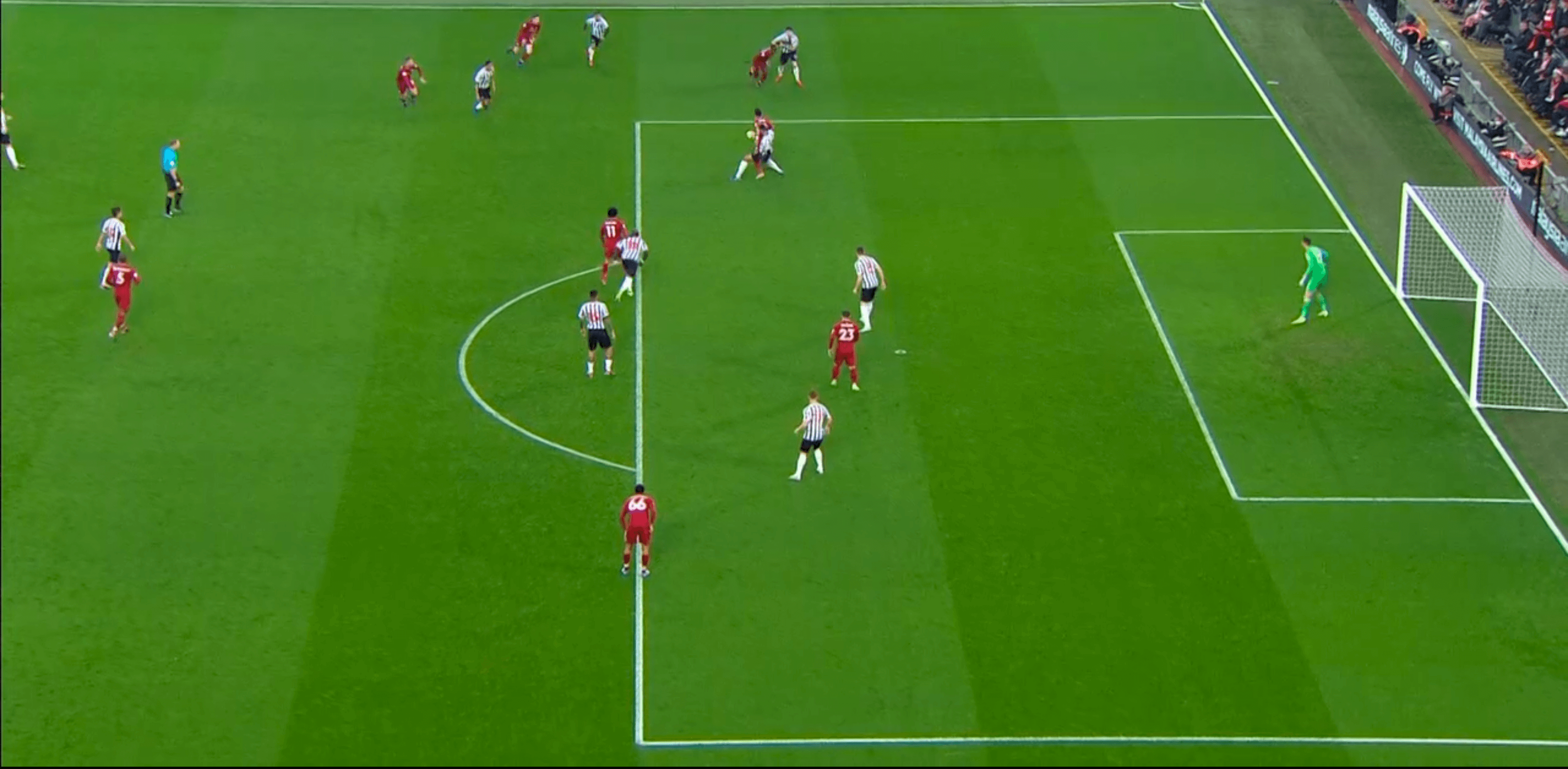 Jordan Henderson also had a strong game, as he took up a more offensive, aggressive role. He ran from deep, looked to pass in behind, or beyond the forwards, and even dribbled into wide areas on two occasions too. The StatsZone graphic below displays his passes in the final third.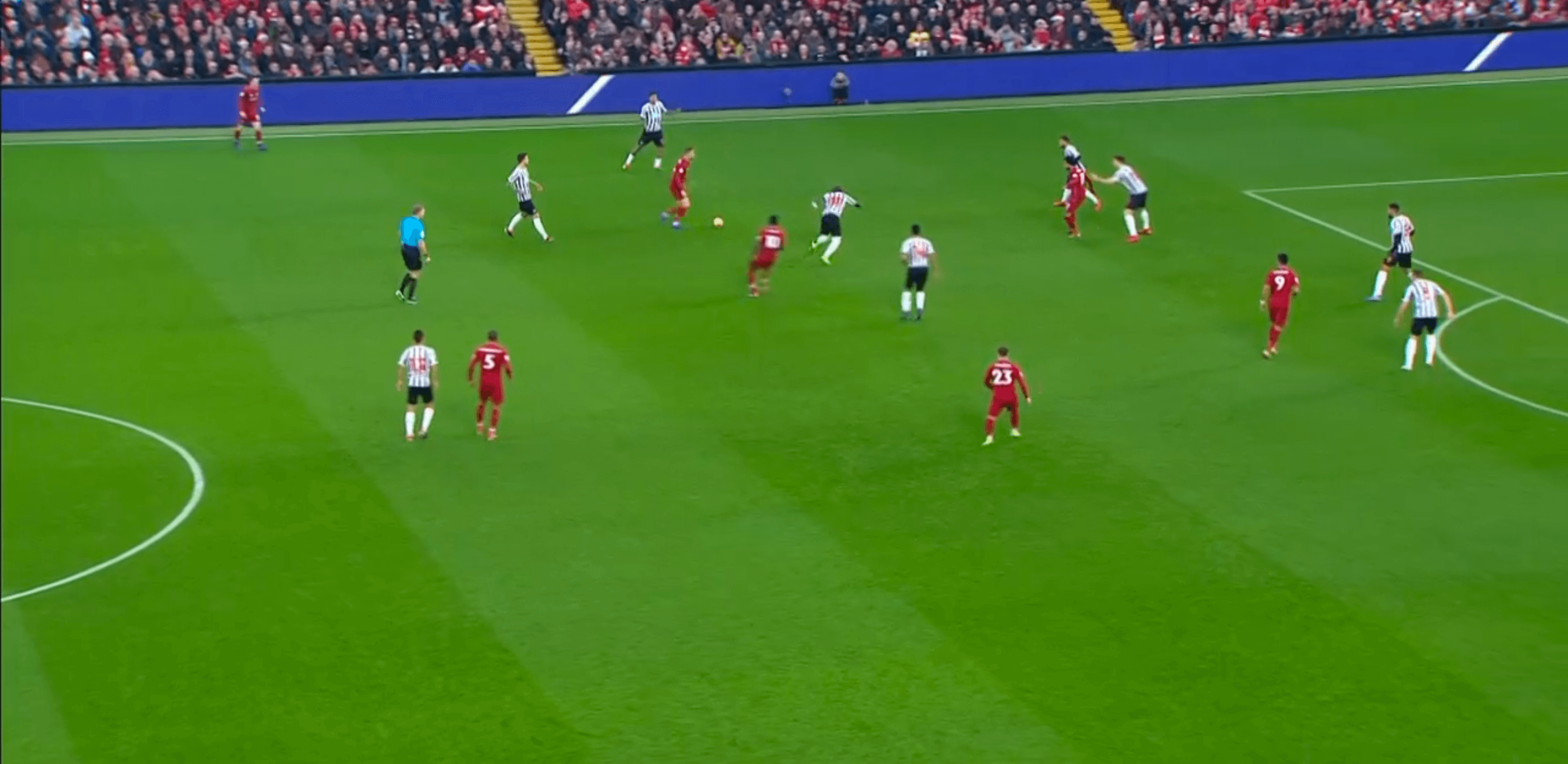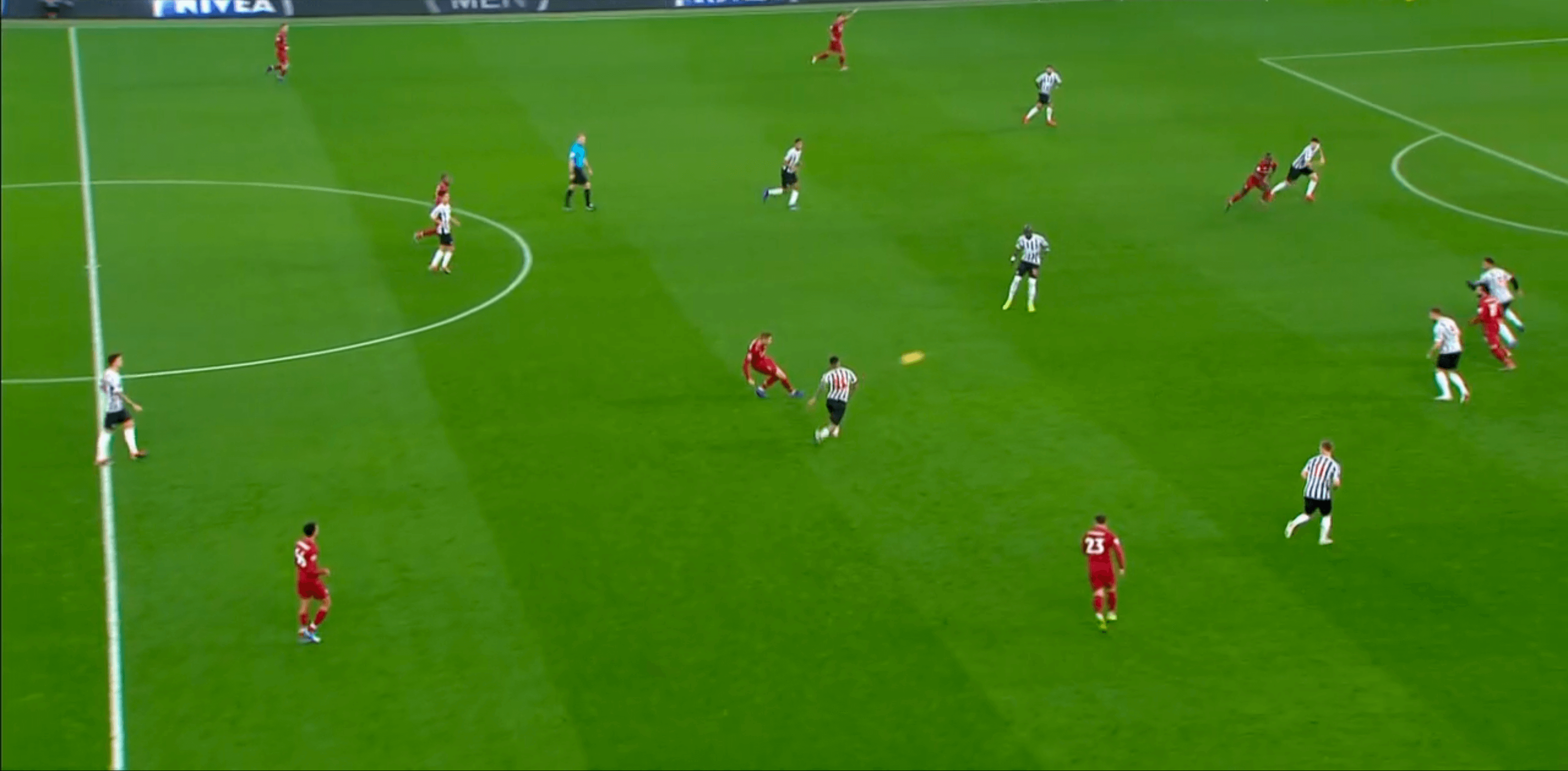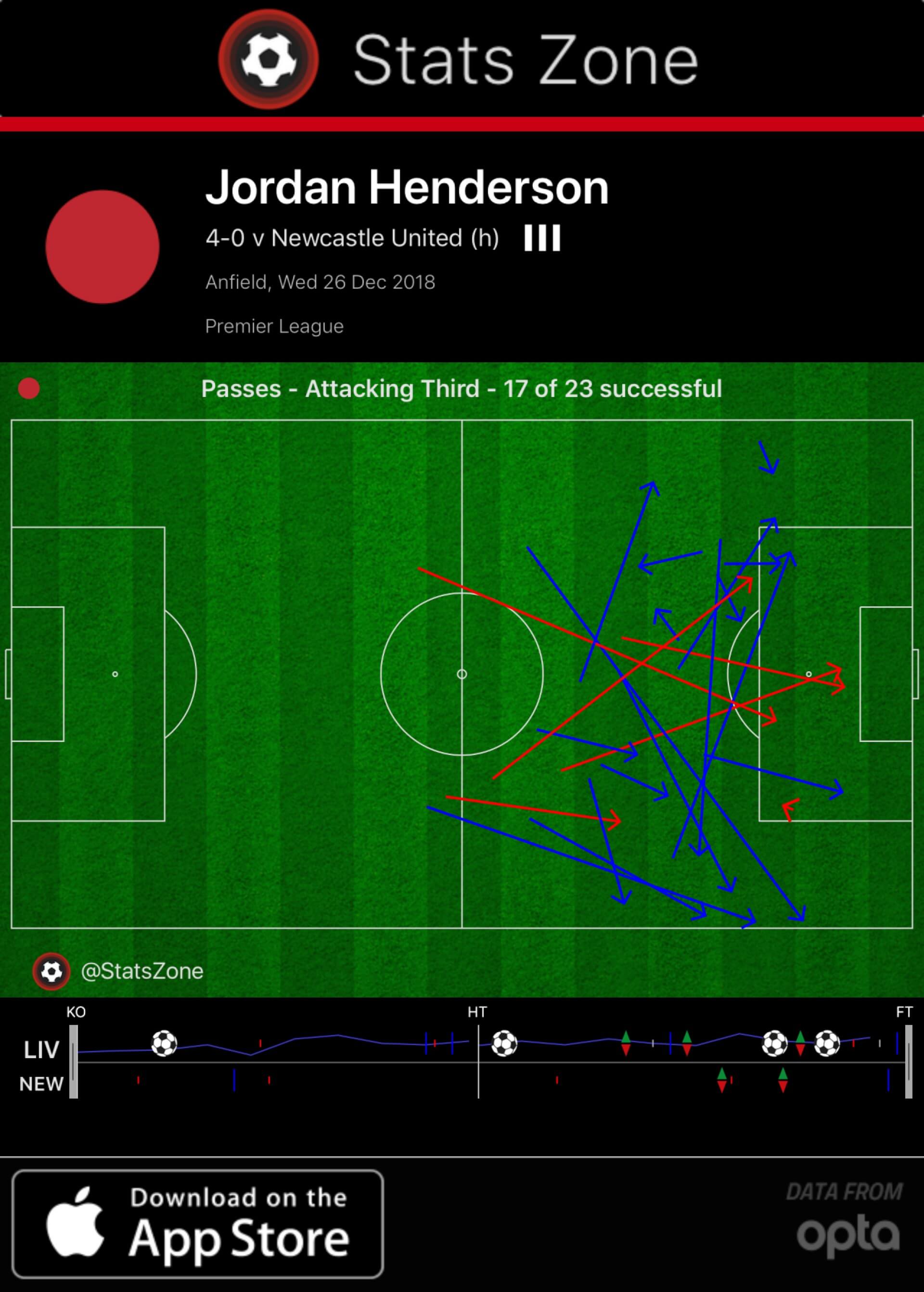 By the second half, Liverpool had remedied their lack of compactness and had a far better pressing shape. This, combined with Newcastle's poor on-ball work suited Liverpool far more, as they could control the game both in and out of possession. The shape also lent itself to more effective and efficient pressing, as seen below: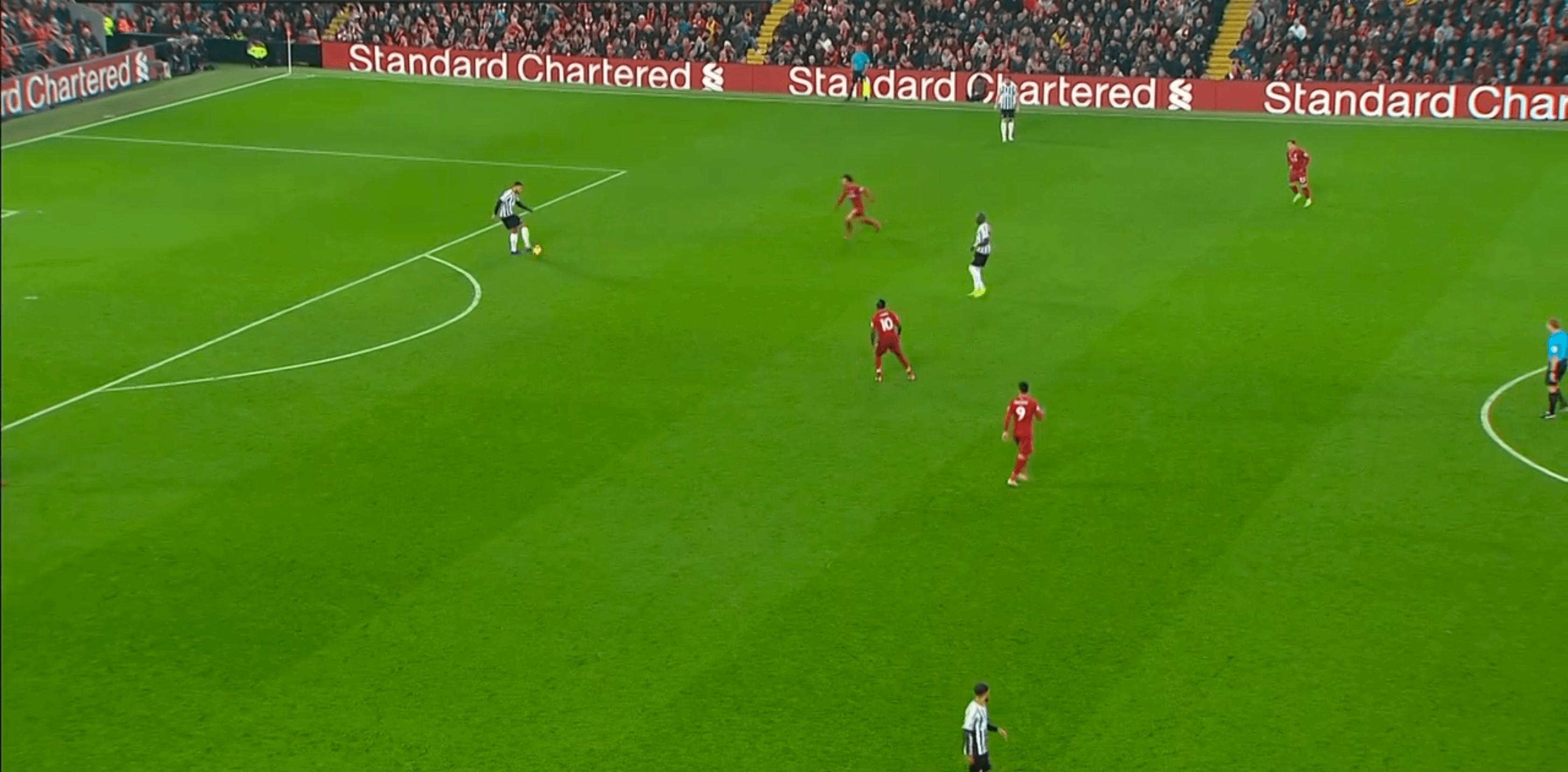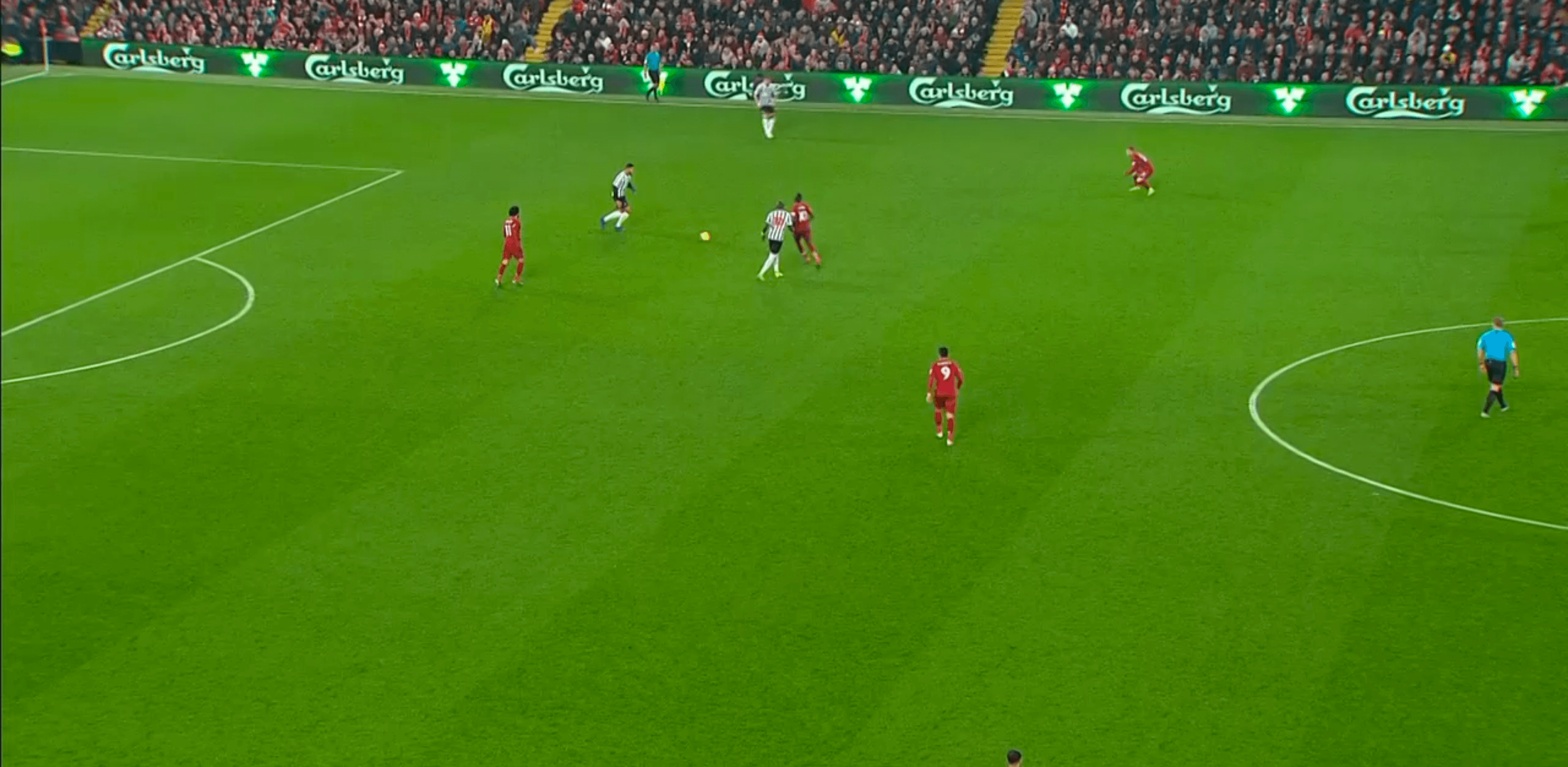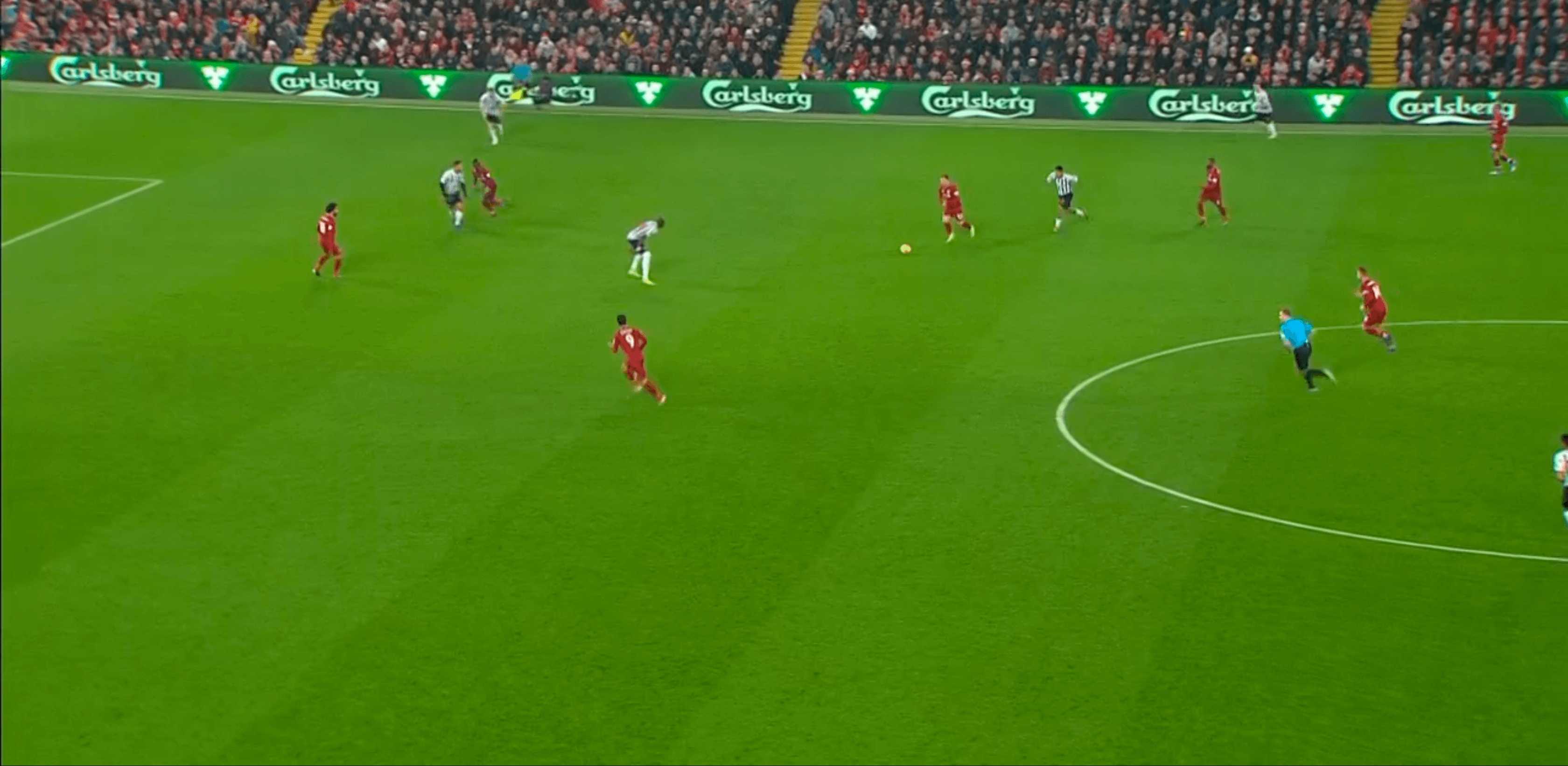 Liverpool seemingly had no end to their box of tricks and tactics to break down Newcastle, as Salah even dropped into midfield, and then immediately broke in behind the defensive line – losing his midfield marker, and going past the centre-back and full-back who expected his run to be tracked: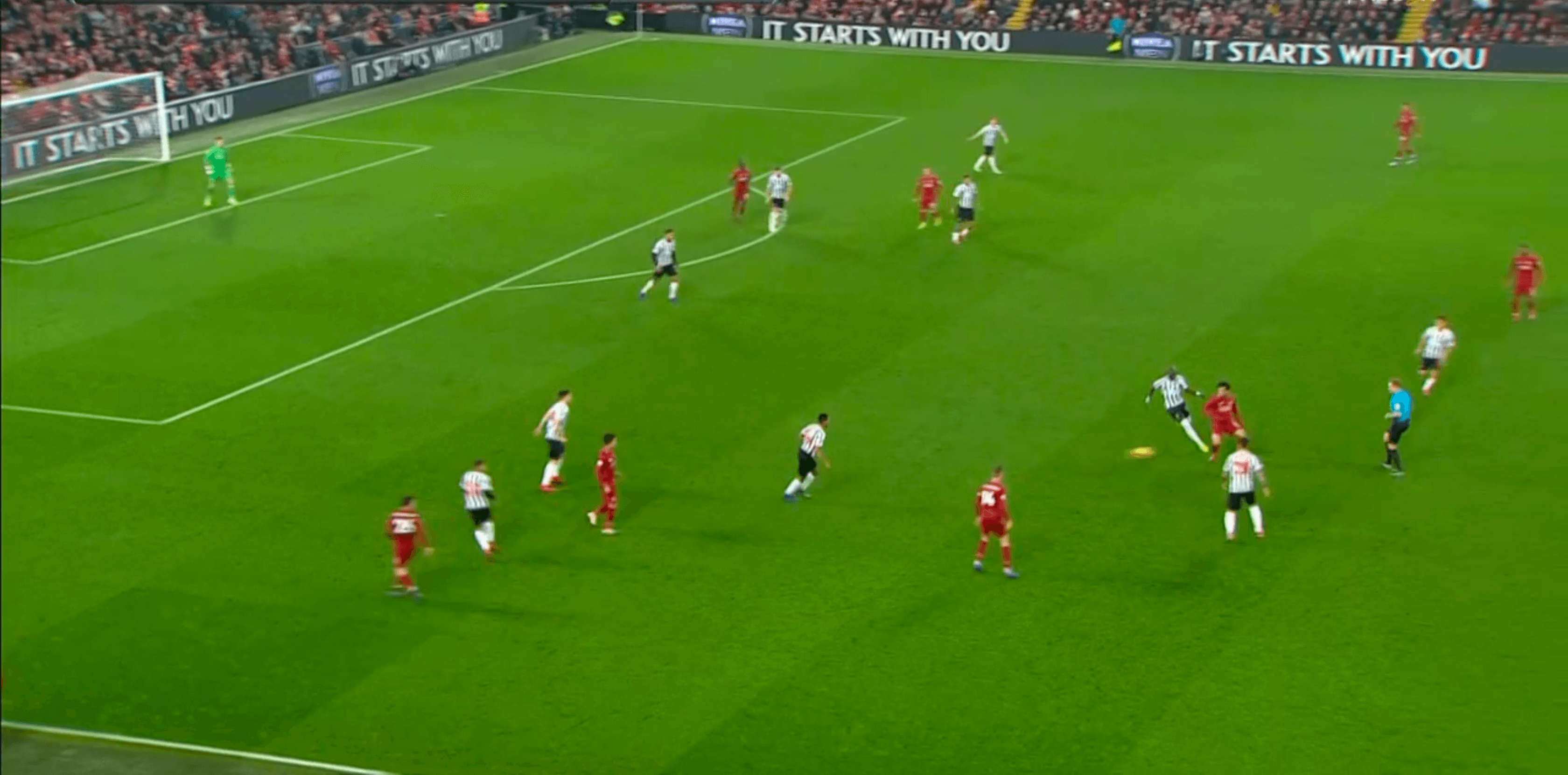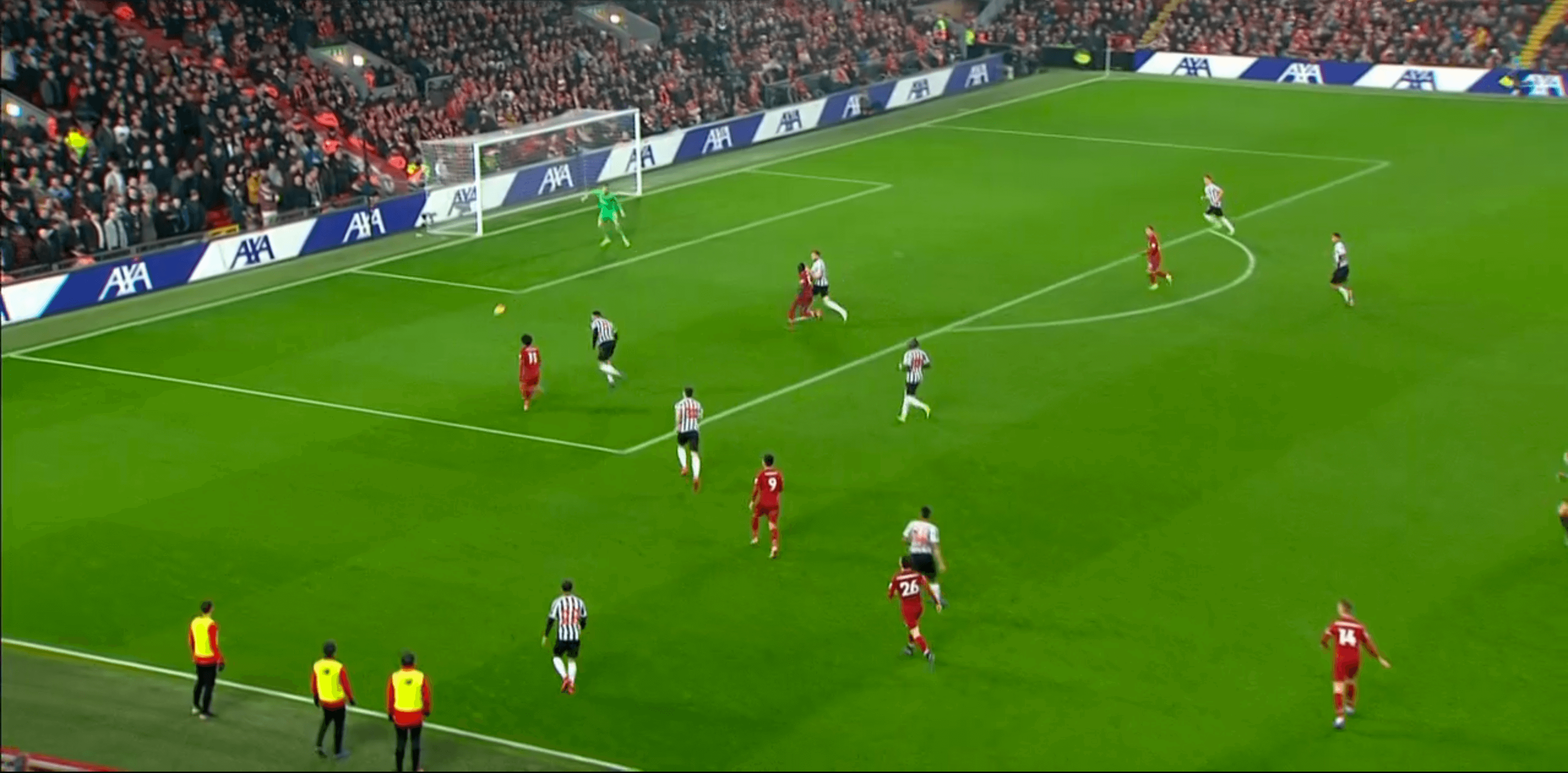 Liverpool looked confident and in control after an entertaining but open first twenty minutes. From that point onwards, Liverpool controlled the game with and without the ball with ease, attacking with patience and then with increasing frequency, intensity and aggression. By the time it was 3-0 Liverpool had hardly broken a sweat, and whilst two of those goals were set-pieces, Liverpool had made a number of potential chances in open play, with a couple falling to Mané who could not convert, and a few misplaced passes spoiling a few other promising opportunities. In the last fifteen minutes though, Liverpool really stepped up their game, as Sturridge came on and the crowd perked up. The speed at which the team played in those closing stages and the total ease in which they cut Newcastle apart is especially promising. Liverpool's defence has performed at the highest level this season, however, the forwards have not done so as consistently or to the level we are aware they are capable of, but what the last few weeks have shown is that the forward line is raising its level, and as such we can soon expect more scorelines to reflect that too.
Liverpool's next two games will pose two very different set of challenges than the one faced on Wednesday. Arsenal at Anfield may well be there for the taking, but Aubameyang occupying the inside-left channel, between Alexander-Arnold and Lovren appears an area of concern, whilst Manchester City will likely be gunning for an all-out approach, which could either end disastrously for them or us, as they commit their wealth of attacking players forward, leaving space in behind.
Maintaining this breathtaking level of performance over the first nineteen games of the season is the challenge for Liverpool now. The stakes remain as high as ever, with Spurs and City ready to pounce upon any error, but this display of patience, intelligence, variety and the ability to adapt and reorganise within a game only can be a sign of confidence for fans, as Liverpool look to advance.