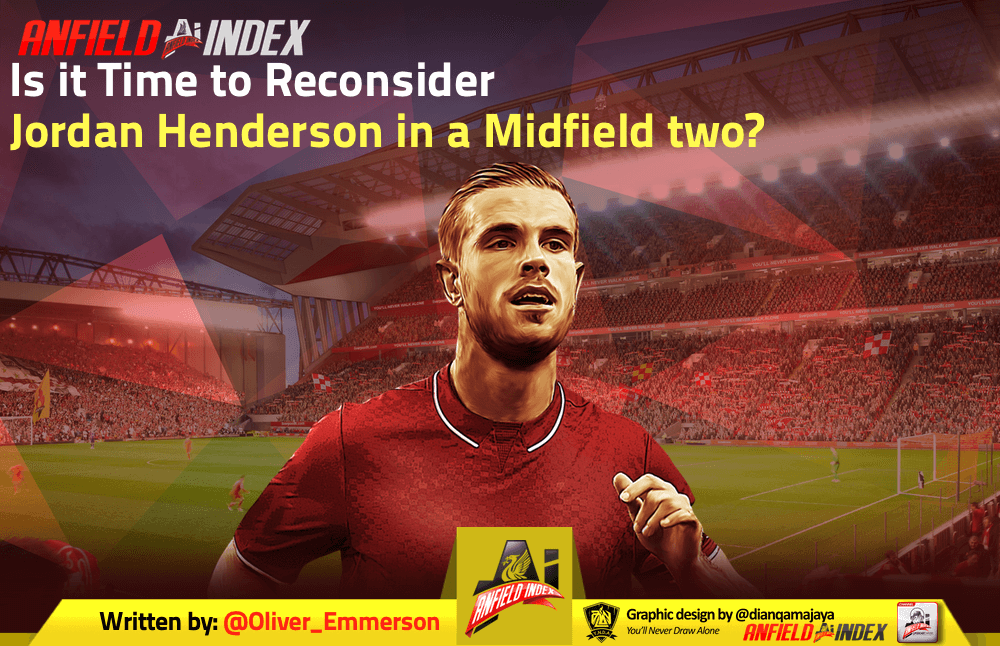 Is it time to reconsider Jordan Henderson in a midfield two?
The selection of Jordan Henderson in a midfield pivot has long been met with derision by Liverpool fans, but is it time to reconsider the skipper's capabilities in the position?
Henderson was often the main midfield driver during his earlier years at the club, moving in from right midfield to partner Steven Gerrard in the title run of 2013/14, often described as 'doing the running for two' whilst Gerrard sat back and pinged balls around the pitch in his twilight years.
Unfortunately, whilst contributing heavily to the attack, Henderson's presence alongside Gerrard – limited defensively himself – did little to sure up a Liverpool defence that conceded 50 league goals that season.

Henderson has struggled with injuries thereafter, losing part of what had him trademarked as a typical box-to-box midfielder a few years ago, the kind of player you'd slot ideally into a midfield two.
It's that decrease in physical capacity, combined with a suspected lack of defensive nous, that have left Reds fans unpleased when seeing Henderson used in a midfield two.
His best football under Jurgen Klopp has come in the 4-3-3 mostly deployed by the German, Henderson sitting at the base even when playing alongside the likes of Emre Can.
However, Liverpool's stunning league form this season has been accompanied by a rotation of the 4-3-3 and 4-2-3-1 formation, the latter clearly a formation Klopp is keen on, indicated by the chase of Nabil Fekir last summer.
With Xherdan Shaqiri proving a potent option on the right, using Firmino behind Mohamed Salah and a midfield two of Fabinho and Georginio Wijnaldum has worked beautifully for Klopp at times.
On Boxing Day against Newcastle, Henderson got a chance to show his capabilities in the pivot and passed his test with flying colours, putting in a strong performance as the Reds romped to victory. One particular pass to Trent Alexander-Arnold caught the eye, whilst he did well to help Liverpool begin controlling the midfield after a fairly wild start.
The occasional struggle positionally and lack of dynamism at times showed that it's still not Henderson's ideal position, but he does have something to offer if Klopp keeps up with the 4-2-3-1 long term.
With Fabinho playing alongside Henderson, the captain has someone to offer the defensive protection that Gerrard couldn't when the two played in tandem. In Wijnaldum, Henderson has a partner that can offer the dynamism he showed himself three or four years ago.
The heightened talents of Liverpool's midfielders combined with an improvement in overall team quality makes a role in the pivot easier for Henderson as it limits his weaknesses.
Liverpool's defence are more comfortable playing a higher line than they have been in years, with Virgil van Dijk and Joe Gomez excellent at cutting off counter attack's, allowing those ahead of them to squeeze the opposition back towards their own goal.
Such a strategy puts Henderson closer to his attacking colleagues allowing for better link-up play, whilst the higher defensive line gives him less to worry about when positioning himself defensively.
If you asked the player himself he might well admit that he feels more comfortable in a three-man midfield, but he might have to start revelling in a pivot to stay relevant in Klopp's thinking. Despite doubts, Henderson just may be able to after all.