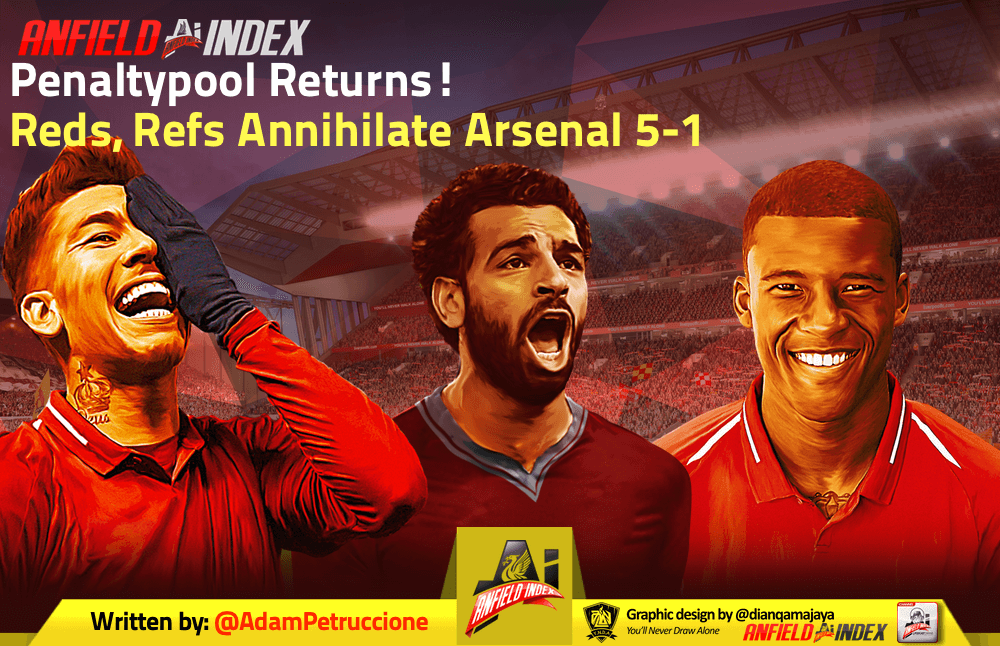 Penaltypool Returns! Reds, Refs Annihilate Arsenal 5-1
Spurs spursed! Tottenham tottenhamed! The Lillywhites 1-3 loss to Wolves was a glorious start to the day, leaving Liverpool with the potential to add distance between themselves and their wobbly pursuers. Would the rest of North London cooperate?
Regardless of the early results, Liverpool was primed for a strong showing against Arsenal. These matches always entertain, and Jurgen Klopp had selected a strong side, giving little attention to the City tie on the horizon. The Reds started brightly, but in a Hoffenheim-esque, fast-break sort of way. Like Hoffenheim in last season's Champions League qualifiers, Arsenal looked overjoyed to be involved in this sort of match.
Maitland-Niles, Arsenal's best player on the day, got on the end of a cross that could have been blamed on any of Liverpool's back line. A goal conceded, at Anfield of all places? However, Arsenal's smiling faces would quickly be replaced by that of the young boy who pulled the wrong soda from the bottom of the Asda display. The mountain of cans quickly crashed down on top of Arsenal, who could only pee their pants and cry out for mama.

Bobby Firmino hasn't had the best of seasons, but even his biggest critics thought, just maybe, this would be the type of match he might thrive in. A big occasion, open play, a shaky defence… It took roughly a minute for Firmino to confirm those suspicions. Striding through the Arsenal eleven, Firmino appeared to know the ball would deflect past Leno into his waiting feet. A no-look, check with the linesman glance was all that was left to stun Arsenal, but Bobby wasn't done.
Another 90 seconds, another Bobby master-class. Firmino again collected the ball some 30 yards out, parted the Gunners defence like a Brazilian Moses, sitting down more Londoners than a drone at Gatwick, and fired home past a helpless Leno for his second. Where have you been Bobby? Welcome back!
Arsenal players started trying to slow the match down, knowing that they had poked the tiger, but that only delayed the inevitable. At 32 minutes, after a poor corner from Trent Alexander-Arnold was cleared half-way down the pitch, Robertson retrieved and returned fire, finding Salah who put it on a plate for Mané for one of the prettier sequences of 2018.
All that was left was an injury-time exclamation point, and Mo Salah was ready to provide it. Dribbling in along the end-line, Salah was penned in, but Sokratis took an ill-advised swipe, caught leg, and Mo went down. A professional dive, the kind of dive you have to take if you're Salah. Every attacking player worth his salt goes to ground there. Mo stayed up plenty of times last season and all that did was invite more fouls. A long-distance run up from Salah and a powered ball past Leno made it 4-1 as the half-time whistle blew.
Songs and substitutions was pretty much all that was left… except that Bobby Firmino was still on the pitch with the potential for a hattie. A free-kick, again into a not-so-threatening area fell towards Dejan Lovren, Kolasinac was having none of it and shoved the Croatian in the back. Lovren went down in a heap and Mo happily gave the ball to Firmino to complete the rout.
The stutter-step finish for his third revealed a supremely confident Firmino. Bobby and Henderson haven't been able to show their stuff as Liverpool have played a conservative style in the first half of 2018/19. But, as the shackles have come off through the Christmas period, they are starting to look like themselves. A Liverpool side able to score like last year's squad while defending like never before is headed for big things.
City are next up and, shockingly, are in a desperate situation if they want to stay relevant in the new year. Do they come to play like Arsenal, or are they happy with a repeat of the 0-0 draw? Either way, Liverpool will leave Manchester with a healthy lead and 2 of 5 rivals already out of the way.
Up the rampaging Reds!