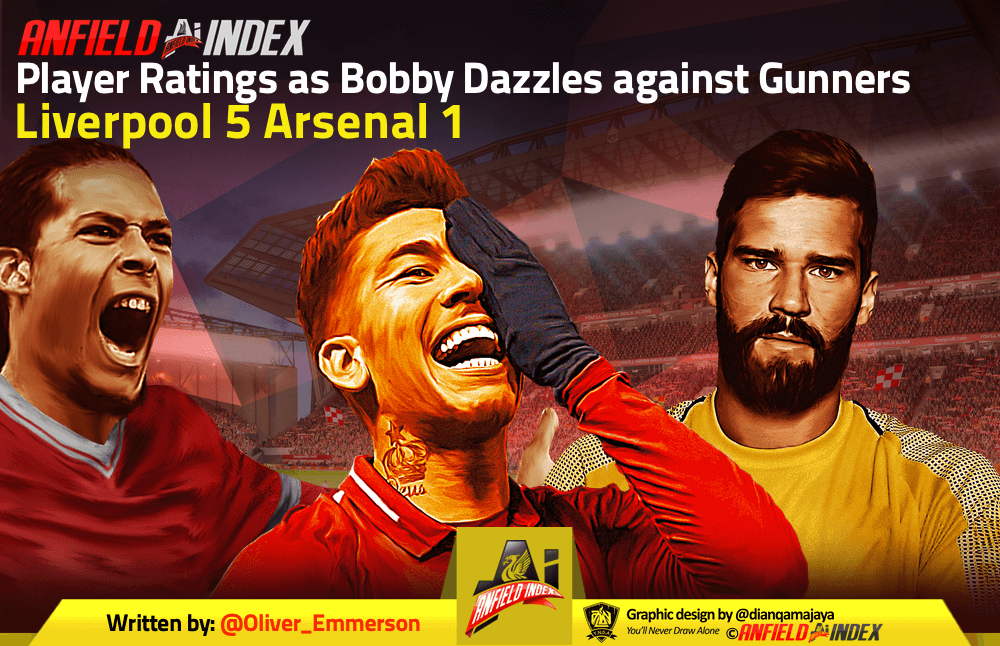 Player Ratings as Bobby Dazzles against Gunners

The cheek of Arsenal. How rude, turning up at Anfield and trying to take Liverpool's points away.
The absolute cheek of the Gunners to rock up and dare to score the opening goal. Liverpool in sparkling form with a 5-1 win, putting Unai Emery's men back in their place.
Here are your ratings…
Every inch of Virgil
Alisson (8): That pass is fucking sensational. Few goalkeepers in the league can pull that off, let have the audacity to try it when Liverpool are in 'locking down points' mode against a strong Arsenal team. Pings it 6o yards straight to Firmino's feet, split two defenders on his way. Majestic. Can do nothing about the Arsenal goal, makes a smart early save from Iwobi. Another really strong showing.
Trent Alexander-Arnold (7): Enjoyed a tough battle against an improved Alexander Iwobi, one that he'll feel he had the better of by the time the full-time whistle went.
Dejan Lovren (7): Wild pass for the Arsenal goal, wasn't it? Sort of thing where all the attention goes on the full-back so nobody analyses the poor ball, but it was such a nothing pass. Neat and tidy aside from that.
Virgil van Dijk (9): We've got a new TV at home, today was the first chance I got to revel in the absolutely magisterial force of nature that is Virgil van Dijk in front of the new screen. Didn't give Premier League top scorer Pierre-Emerick Aubameyang a sniff, and stepped in to defend Salah against Sokratis at the break.
Andy Robertson (6): Thought he looked as poor as he's been for Liverpool during the first half, so the fact he comes out with a six shows he's very rarely bad. Moreno gets pelters for something similar to the Arsenal goal, against Arsenal at the start of 2016/17, so Robertson has to get pelters now. Picks up a yellow and bar one excellent cross, really isn't impressing. Calms down at half-time and ups his game to a reasonable level.
Wijnaldum produces again in a big game
Fabinho (7): Sloppy on the ball at times but physically dominant throughout, bursts past people via sheer power like they're not even there. Must be horrid to play against, the way he breezes into duels and wins the ball with such elegance. Becoming a permanent fixture on the team sheet.
Georginio Wijnaldum (8): Arsenal couldn't live with him, a powerhouse of a performance from the Dutchman in front of his national team manager. So many ball recoveries, nice little layoffs and good passes, Gini really showed his best self.
Front four fire five
Xherdan Shaqiri (7): Really liked his performance. Nothing unbelievable, but Arsenal sacking off the idea of attacking through anyone but Iwobi down their left allowed him to float round the pitch picking up some really nice positions. Won a lot of second balls, one particularly gorgeous pass round the corner for Salah. Trusted in a big game and it paid off.
Roberto Firmino (9): Back to his best, not giving him a 10 given one goal was a tap-in and the other was a penalty, but the Brazilian can hopefully use this to kickstart a goalscoring run in the second half of the season. Brilliant performance.
Sadio Mane (7): Decision making flattered to deceive a couple of times but his finish for the goal was really impressive, pressed the hell out of Arsenal. Needs to keep his hands away from people's necks.
Mohamed Salah (8): One goal, two assists, multiple smiles. Not much more you can ask for from the Egyptian king. A ball across for Mane's finish really impressed me, brings it out of the sky like plucking a feather.
Subs
Jordan Henderson (6): I love seeing him in a more advanced role, looks so much freer. Bringing him on in the last 25 against tired legs can be a real weapon as long as he's not shunted back into defensive midfield. That shot though, hahahahahahaha.
Adam Lallana (5): Did a Cruyff turn with his second touch. A new record?
Nathaniel Clyne (N/A): Robbo was about to get sent off.