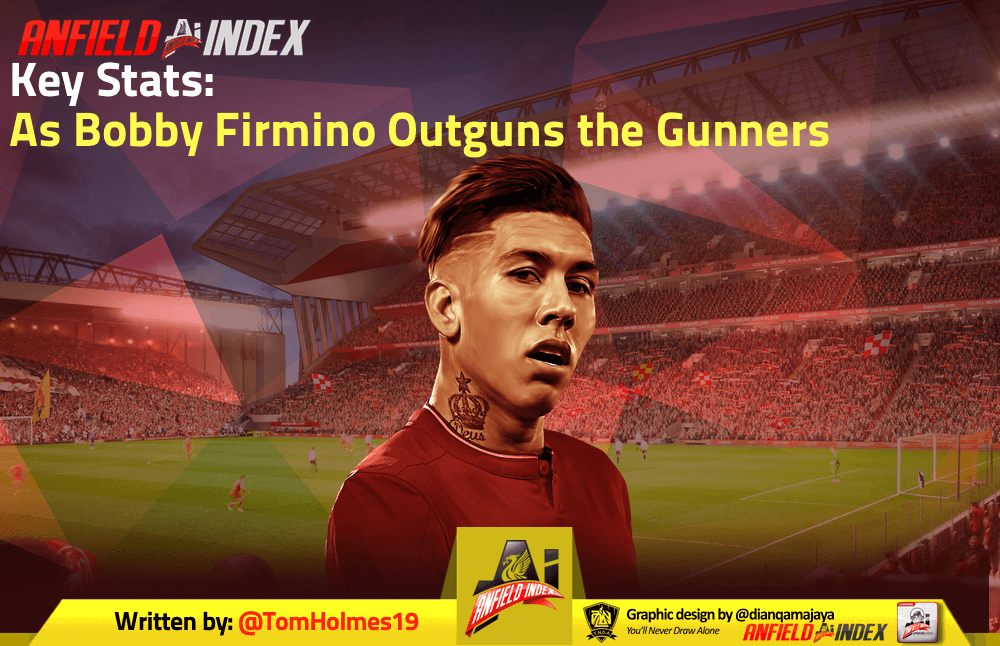 Key Stats As Bobby Firmino Outguns the Gunners

Wow. Liverpool turned in a scintillating performance to surge nine points clear at the top of the Premier League ahead of Man City's trip to Southampton. But what were the key stats from an incredible 5-1 win over Arsenal at Anfield?
Bobby Dazzler – A Tale of Two Strikers
The difference between Roberto Firmino and joint PL top-scorer Pierre-Emerick Aubameyang in this game was absolutely stark as Bobby scored his first career hat-trick. And whilst Bobby has had a poor season by his standards, certainly, in terms of goals, this treble means a couple of significant things.
Firstly, it means nobody has scored more goals (seven) or notched more goals and assists (ten) against the top six since the start of last season. And secondly, it means that Bobby has now scored more goals against Arsenal (eight) than against any other PL opposition. (Both of these stats courtesy of Andrew Beasley.)
And to go back to Aubameyang. Whilst Arsenal had marginally more possession than Liverpool (52%), Aubameyang had just 13 touches of the ball, completing 10 passes (six of which were from kick-offs), and his xG Chain was 0.05, with one shot worth 0.02 xG and one key pass worth 0.03 xA and zero dribbles.
In comparison, whilst LFC had less of the ball, they got all of their players involved, with Shaqiri having the most touches for LFC (69), Bobby managed 63, Mané 46 despite coming off after an hour and Mo had the least which was still 40. More importantly of course, Bobby had a huge impact on the result with three dribbles, five shots worth 1.82 xG, two key passes worth 0.18 xA and of course, three goals. The difference, as I said, was stark.
Arsenal's attacking play was best summed up by the fact that after they scored in the 11th minute, they didn't have a single shot on target, and mustered just 0.24 xG. Liverpool made 3.54 xG over the same period.
Penaltypool Lives
Well, you know what they say about Premier League penalties and London buses. 450 days after Liverpool last won a penalty at Anfield, they got one on Boxing Day, and now three days later, they get two more. Both Salah and Lovren made the most of the contact (again) but the first incident, in particular, was definitely a penalty this time.
Liverpool had one penalty in their first 18 games of the season and had just three in the whole of last season, now they've managed three in two games. I've said before how Liverpool's luck is changing, but this really is massive.
Reds Hit Top Form At A Pivotal Time
Look we're really good. We know we're really good. But right now, we're better than really good. It could all come crashing down at any moment of course, but for now, here are just some of the staggering numbers as to how good we've been.
Nine Premier League wins in a row. Eight wins in a row in all competitions. Six wins in a row at Anfield. 21 league games unbeaten. 31 home league games unbeaten (THIRTY-ONE), with twenty of those games being won. 17 wins, three draws in 20 league games, giving us a staggering 54 points. 27 goals, 3 conceded at home this season. Three goals conceded in our last 15 home league games.
Defensively, we've got the best record in the top five European leagues, with every other team having conceded at least double digits by now, most of which in less games. And as has been stated, Alisson conceded as many goals at Anfield in one game with Roma than he did in 13 games with Liverpool. Just staggering.
Oh and we were behind at Anfield for a total of three minutes today. Those are the first three minutes we were behind at Anfield in the league in 2018. In case you needed reminding, 2018 is almost over. We are just something else aren't we?