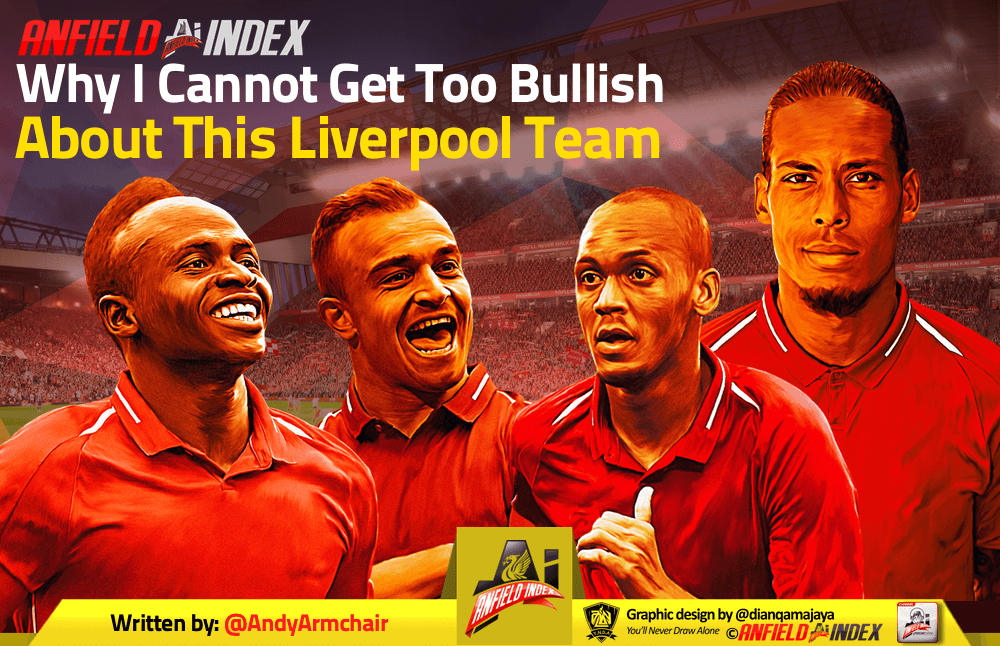 Why I Cannot Get Too Bullish About This Liverpool Team
Like many other lovers of football, I'm quite superstitious. When I used to play it was everything from my pre-match food to which sock or shin pad I put on first. As a fan watching it extends to wearing a certain shirt or having a certain drink. It's mad and obviously has no impact on what happens out on the pitch, but we obey it all the same.
It's an extension of this superstition that I don't like to get too bullish about this Liverpool team.
Since Liverpool were last crowned league champions in 1990, there have been a few false dawns. In the mid-nineties under Roy Evans, they were great to watch and it looked like they might just dethrone Manchester United, but alas, they fell short when it mattered, both in the league and the infamous 1996 FA Cup final. Under Rafa Benitez, Liverpool re-established themselves amongst Europe's elite, but couldn't secure that elusive league title in 2008/09. Most recently, it was the almost suicidal attacking football under Brendan Rodgers that brought Liverpool agonisingly close in 2013/14.

Each of those teams came close but ultimately fell short. Nearly, but not quite is almost quintessentially Liverpool since the glory days of the 1970s and 1980s.
So, perhaps it's my superstition or perhaps my scarring from all those nearly but not quite years that prevents me from heaping too much praise on this current Liverpool team. Maybe it's just that old experience thing or possibly even a combination of all those aforementioned factors that restrains me.
What I will say is this team Jürgen Klopp has constructed and moulded is better than their predecessors of the past 28 years. It has the style and panache of that Roy Evans side, the defensive steel of the Rafa Benitez era and the attacking threat of that 2013/14 Brendan Rodgers team.
As a life-long Liverpool fan, this is an uncomfortable comparison for me to make, but this current Liverpool team reminds me of the Manchester United of the 1990s under Alex Ferguson.
Obviously, it's a comparison that is not going to sit well with some, but I'm becoming increasingly certain that it's one that holds water. Remember, United were once the team that went 26 years without winning a league title and, despite spending money and winning the odd cup, went through a few managers until they found one that had overcome the odds to be successful in his home country.
It took Ferguson five or six years to build a team that looked capable of winning a league title. They too liked to use width and play good, attacking football driven on from a solid midfield. At its foundation though was a strong defence and, most of all, an imperious goalkeeper. Peter Schmeichel's agility belied his size and he could make all sorts of saves, but it was his physical presence that made a palpable difference though. He seemed like he was seven feet tall at times and it undoubtedly intimidated opponents, something that was all too clear on one v ones.
Alisson Becker has that same aura about him and just as Virgil Van Dijk has made an enormous difference to the Liverpool back line since signing a year ago, so has Alisson. It's not just a quality thing, it's a presence thing too, a psychological advantage that Liverpool have not enjoyed in decades.
That's not to say they are impenetrable, unbeatable or without fault; no player or team is or ever has been. We've seen a couple of errors from Alisson, Van Dijk has made mistake, Klopp has made a number of questionable calls this season and even Mo Salah has fluffed his lines. They're human, it happens and will probably happen again, but the quality of this current Liverpool team and the trajectory they are on means I trust them more.
The 5-1 demolition of Arsenal was not all plain sailing, the defence looked shaky at times, particularly in the first half, where sloppiness in possession was afflicting too many in a Red shirt. It's these traits that occasionally linger and those away performances we've sadly witnessed in the Champions League this campaign that probably stops me getting too carried away with where we're at.
I said when Jürgen Klopp first took charge at Anfield that his reign will probably be a rollercoaster ride of ups and downs that won't necessarily bring trophies but is sure to be emotional and it's a ride that we should all try to enjoy.
I think the words were actually quite prophetic and I am enjoying the ride. Napoli and PSG at home in the Champions League, ending the Mourinho era at United, that convincing win over Arsenal and the derby win over Everton are all emotional highs and the kind of moments you treasure as a fan.
Winning never gets boring and equally, should never be taken for granted. So, I'm enjoying this Liverpool team, I'm loving the adrenaline moments, I'm appreciative of their talents and I believe they can win trophies.
Rivalry aside, in years to come I'd like to be able to draw more parallels between this Liverpool team and the United team that went on to dominate domestic football than any of those Evans, Benitez or Rodgers sides.
Liverpool are in a fantastic position, regardless of what happens against Manchester City at the Etihad, but until they do actually start winning those trophies that we believe they're capable of, I'll refrain from being bullish. I'll keep up my superstitions and use that experience to not get too carried away, but enjoy every minute of it.