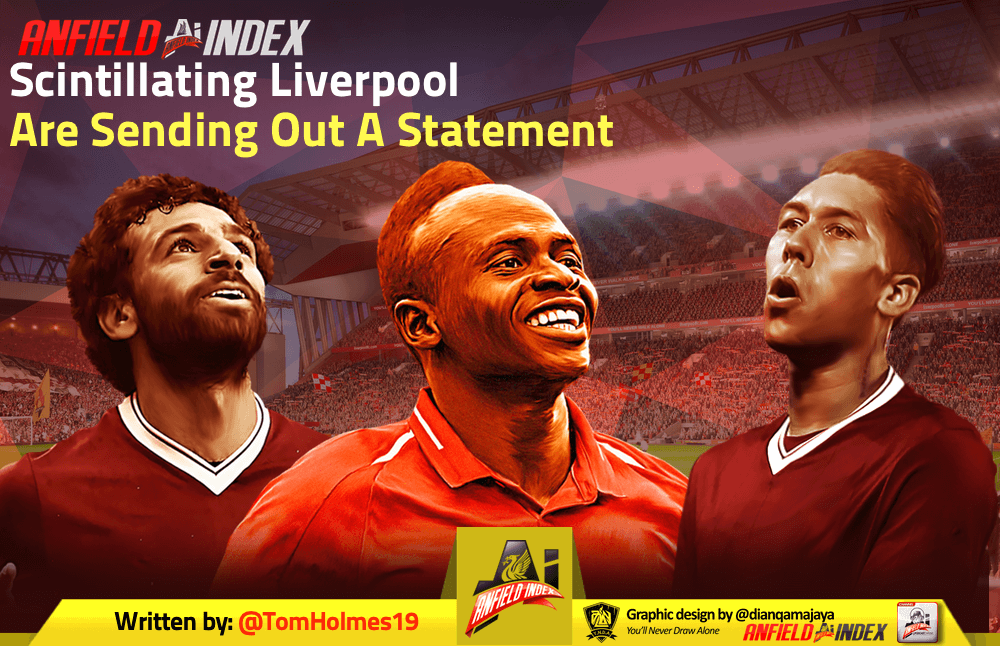 Scintillating Liverpool Are Sending Out A Statement
Well, that was something, wasn't it? Liverpool clearly enjoy playing Arsenal, as Bobby Firmino turned the heat up to eleven, ably supported by Salah and Mané as ever, with Gini Wijnaldum – another player who always turns up to play Arsenal – dominating the midfield, as well as typically great performances from the likes of Robbo and VVD.
In any case, Liverpool turned in an absolutely barnstorming display to see off Arsenal 5-1, a performance that evoked the best of Liverpool's heart-pumping, heavy-metal football, and demonstrated that the ability to blow teams away still very much exists at the heart of this side.
When Salah's confidently struck penalty hit the back of the net to put Liverpool 4-1 up on the stroke of half-time, it was clear that Liverpool were going to win. But more than that, it was clear that this wasn't going to be just a win. It was going to be a statement.
All things in, once the game is properly contextualised, this could easily be Liverpool's biggest, most impressive and most important win of the season – it undoubtedly is so far. Whilst the 1-0 win over Everton is absolutely huge for what it did for our season and will certainly be seen as a key talking point, this game for me surpasses that as the result that could end up defining this season.
Spurs' defeat, finishing less than an hour before Liverpool kicked off, meant that the Reds could extend their lead at the top of the Premier League to nine points over the North Londoners and ten points over Man City, who were set to play Southampton the following day.
This was the first time that Liverpool would kick off with a serious advantage, as Man City's previous two defeats came first after, then simultaneously to Liverpool's 2-0 win against Wolves and then their 4-0 defeat of Newcastle. As everyone was quick to point out, almost overnight Liverpool had gone from being well in the mix to huge favourites, and it was a startling turn of events.
So how would the pressure affect us? Would this Liverpool team suddenly face an entirely new set of pressures and challenges crumble when facing a decent opposition? And it's an entirely fair question to ask. Plenty of front-runners in recent years have crumbled under the pressure of suddenly being thrust into the position of favourites.
And Liverpool responded by turning in one of their best performances under Jürgen Klopp, as they systematically dismantled the fifth best side in the Premier League, albeit with a lot of help from Arsenal's extremely porous defence.
It's also easy to forget, given the inevitably comfortable nature of the win in hindsight, that Liverpool actually went behind in this game. The mentality of this side is so important to what they're doing currently, and that was never more evident than in this game. Despite being 1-0 down after ten minutes, Liverpool summarily dished out a hammering before the half-time whistle had blown.
Tormentor-in-chief was one Roberto Firmino, a figure who has had a somewhat strange season so far it's fair to say. Bobby hasn't really contributed to the attack in quite the same way under the new structure, with just seven goal contributions in the front half of the season, but he answered some of the criticisms that have been directed his way with an emphatic performance, scoring a signature no-look goal, a glorious weaving run that left three on the floor for his second, and of course, getting his third from the spot.
With Bobby pulling out all of the tricks in his playbook, it's extremely important that he was the player who delivered. Salah has been pulling all of the strings for weeks now, and both VVD and Alisson have been pivotal this season. But Bobby is a player who has maybe suffered the most drop-off this season, so it's fantastic to see him delivering a performance that stamps his own authority on Liverpool's season and demonstrates that he's still more than capable of not just contributing to this attack, but leading it.
Moreover, as I pointed out above, this is a performance that answered the questions of whether or not Liverpool could "play the way that they did last season". Whilst our tactical tweaks this season have undoubtedly been to our advantage – and in fact Liverpool have been playing extraordinary well for weeks now – it's still nice to see that in a big game, when called upon, Liverpool's front three can still deliver the kind of performance that struck fear into the hearts of Europe's big teams.
There is of course, a long way to go. A very long way to go. Thursday's game against City could see the Reds move double-digit points clear of their biggest challenges, or it could see the gap cut to a tenser four points. Right now, it's hard to argue that a seven-point lead over City and Spurs going into the final seventeen games of the season is to be sniffed at, but equally, Liverpool were so good against Arsenal that it's hard to imagine that LFC fans will want to settle for a draw.
Right now, the Reds just look absolutely red hot. This performance follows a thumping 4-0 win over Newcastle, a scratchy but eventually dominant 2-0 win over Wolves, the 3-1 taking apart of Man United and the 4-0 Salah inspired thumping of Bournemouth. Liverpool have hit a purple patch of form at the right moment of the season, and look very good value for the results that they're delivering – 9 in a row in the PL now and 8 in a row in all comps.
The Reds were able to send a massive statement to the rest of the Premier League on Saturday night. By comprehensively dismantling a decent Arsenal side, they sent the message that they're not going anywhere, that they aren't feeling the pressure (not yet at least) and that they know exactly how good they are. This is a team that look composed, calm, in control and extremely competent.
The simple fact is, there were absolutely huge questions being asked of Liverpool before this game and, as they have done all season, the Reds answered them emphatically, by turning in an absolutely massive performance at a potentially pivotal moment in the season. Let's just hope that we're saying the same thing after Thursday night's game.