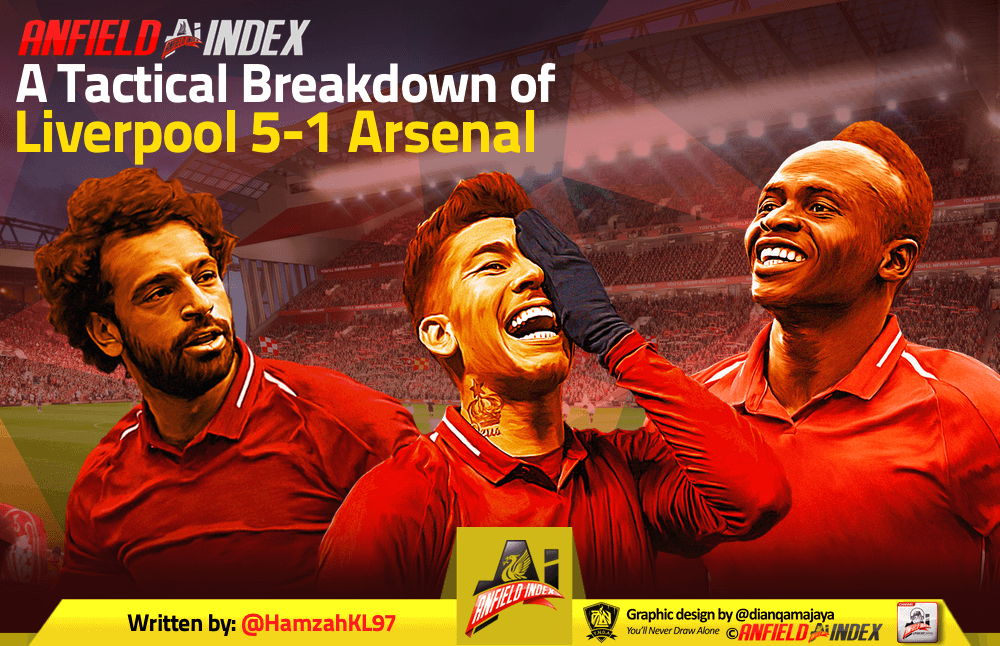 Liverpool 5-1 Arsenal: A Tactical Breakdown
The Times' David Walsh called Liverpool's 5-1 deconstruction of Arsenal "their best performance of the season". Liverpool barely pushed themselves. This was a clinical, ruthless and efficient dismembering of Arsenal, and precisely why Pep Guardiola said Liverpool are "the best team in the world right now". To thoroughly outplay Arsenal, score five goals, and create opportunities for at least two more, are doing so without breaking a sweat, and while needlessly opening up space for Arsenal to exploit was intimidatingly impressive. But this remarkable demolition of a fierce rival should not be considered a precursor for the upcoming Manchester City fixture, as we can be sure their tactical setup will be far more attuned to the realities of facing this Liverpool side.
Arsenal's tactical setup
Arsenal set up in a 4-4-1-1, intending to press Liverpool's defensive midfielders, to turn over the ball in promising areas, capitalising upon the space left by Liverpool's onrushing fullbacks. Maitland-Niles and Iwobi were selected to expose the space with their ability to support the forwards and create overloads against the Liverpool centre-backs.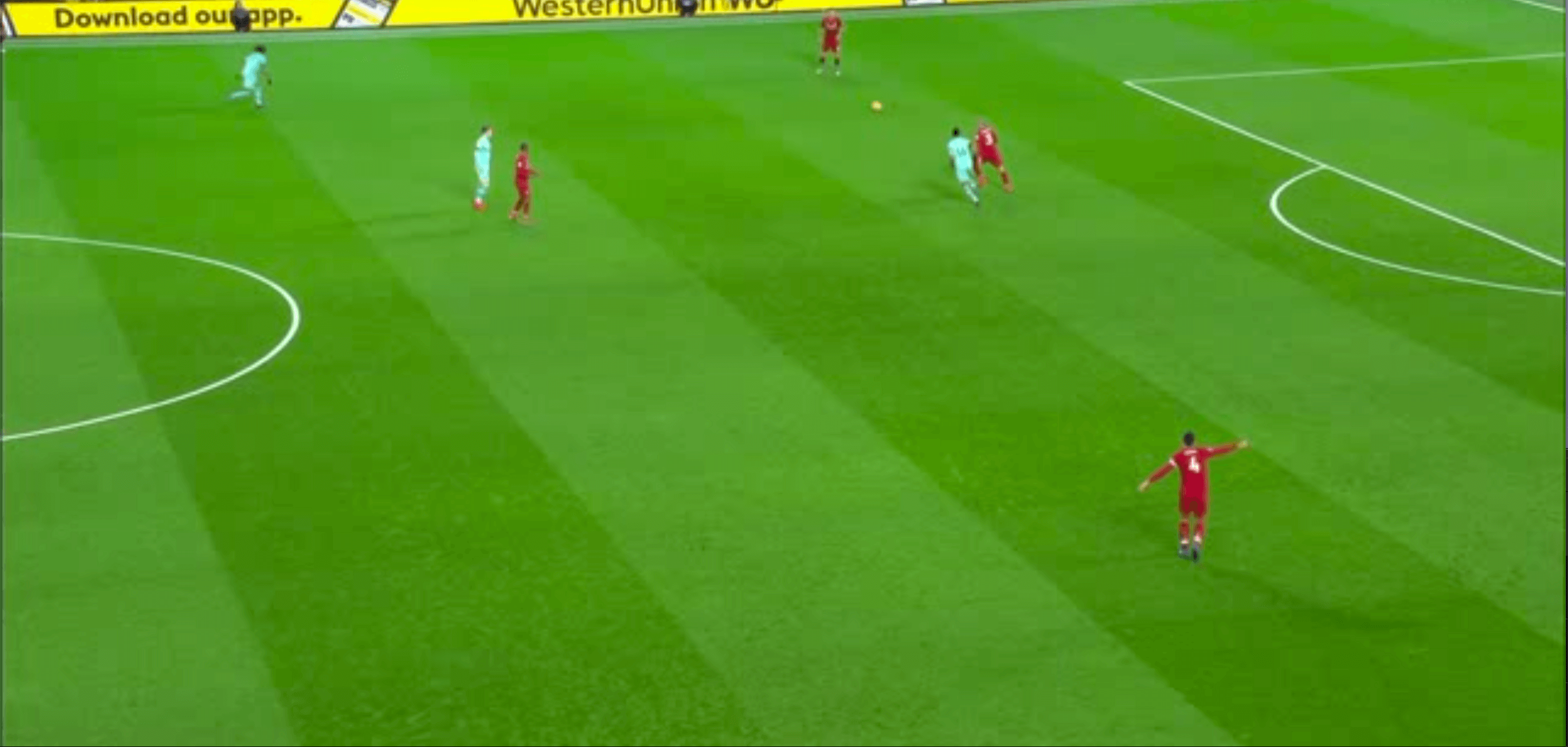 In looking to press, Arsenal had to push up the field. Consequently, the spaces between lines (between the goalkeeper-defence, defence-midfield and midfield-forwards) opened up for Liverpool to exploit. These spaces were where Liverpool thrived, with Shaqiri and Firmino, in particular, receiving the ball and running into and through these areas. Arsenal played with both too much width and length, and while their openness is conducive to attacking football, it certainly was not what Emery wanted from his 4-4-1-1, as it provided Liverpool's players with opportunities to press, channels to pass into and space to run into too.
Arsenal's build-up shape: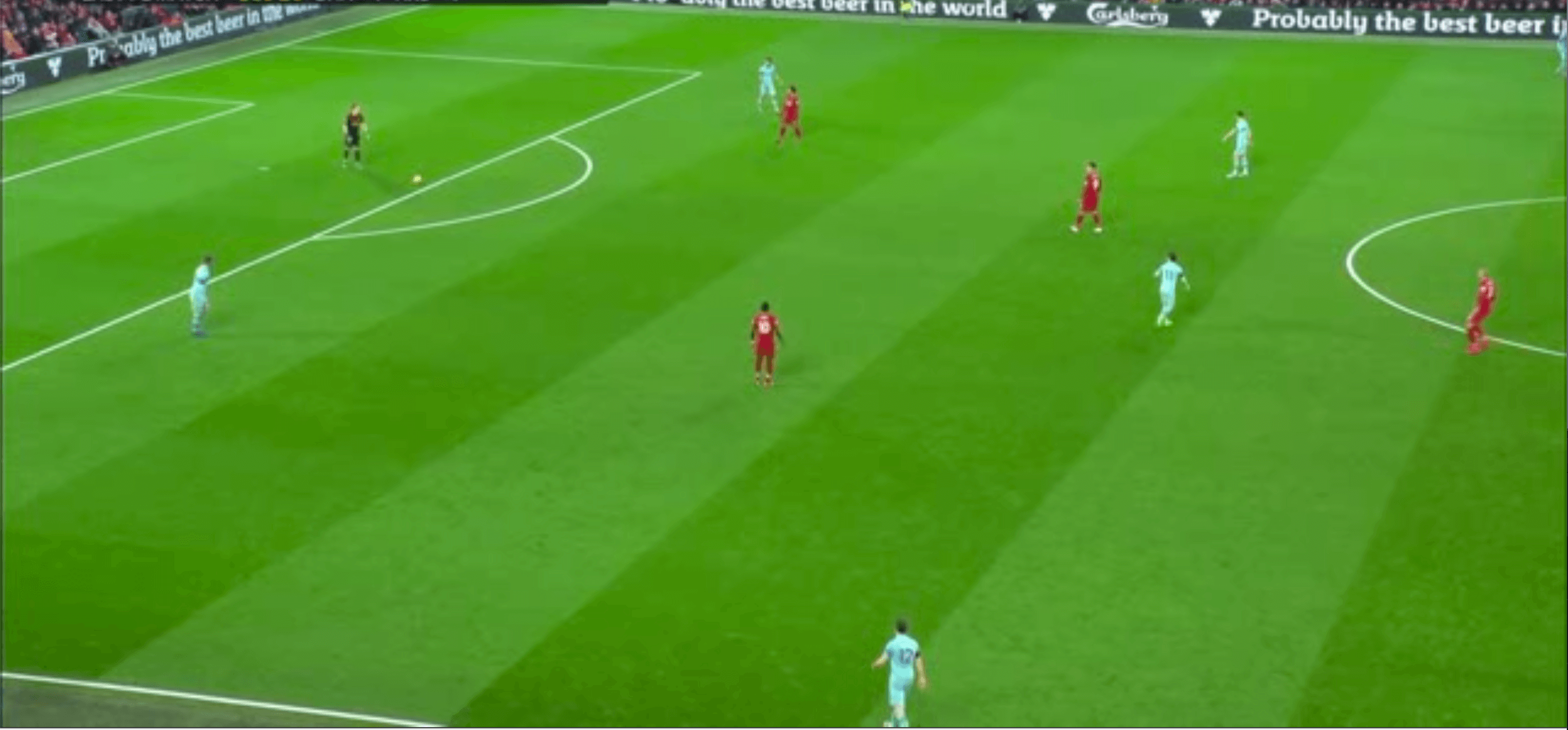 Arsenal, at times, when building up and when Liverpool dropped off, were in a 2-4-4, against Liverpool's 4-5-1 off-ball formation. This meant if one centre-back had the ball, Salah could either press them or cover a passing lane. And if the ball went wide, Salah could easily cut off the centre-back option, while one of the defensive midfielders and wingers could press. As always, the pressing trap remained in the middle if Xhaka and Torreira were to receive the ball.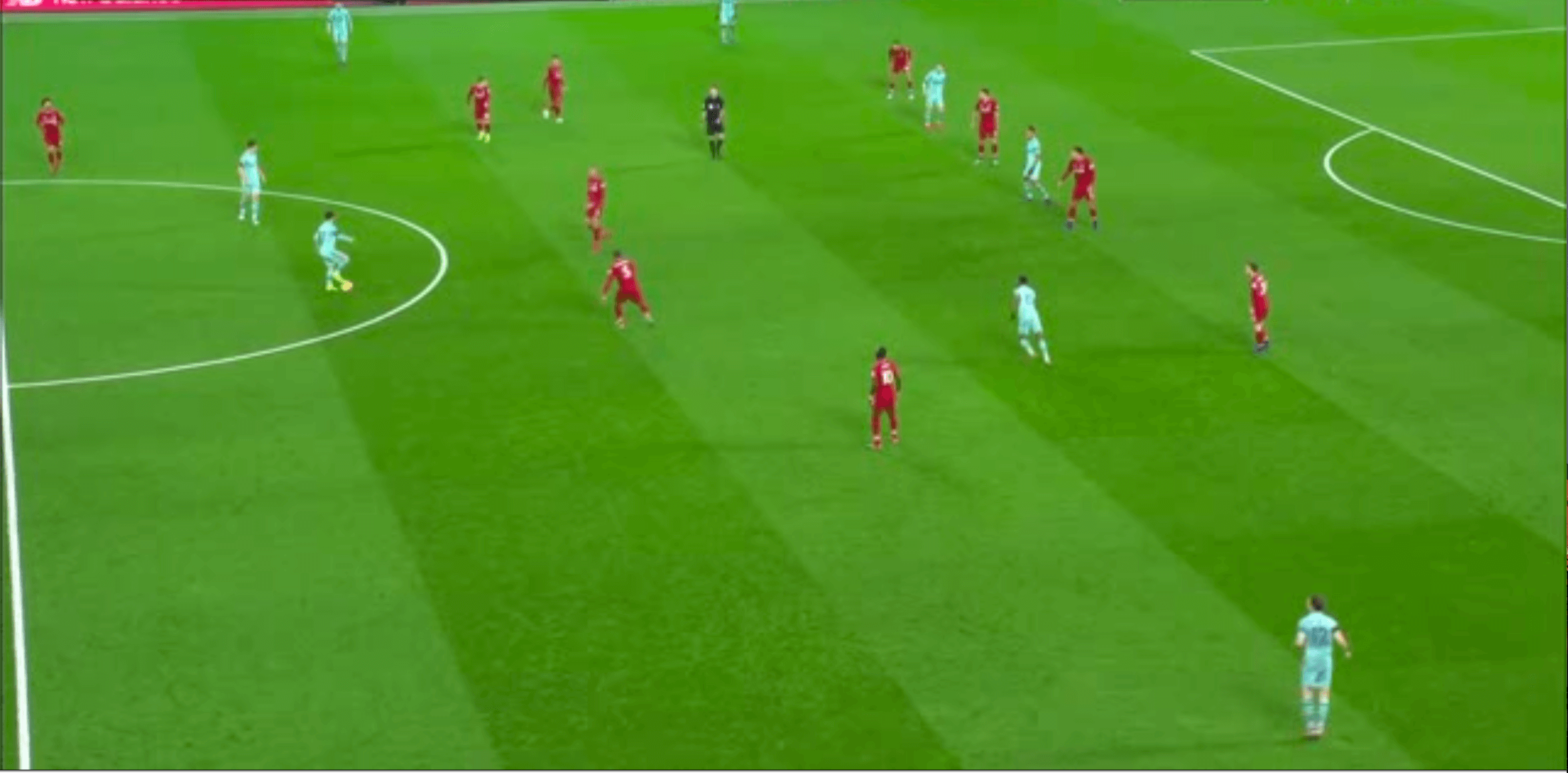 Arsenal's tactics were high risk, with only a moderate prospect of reward. With Alisson, Van Dijk and Wijnaldum in Liverpool's deepest line, it requires extremely effective pressing to generate a turnover, an error (as Fabinho made early on), or a piece of extremely efficient movement in transition – as was the case for Arsenal's goal.
Liverpool's tactical setup
Liverpool's system was a small surprise. Instead of electing for the 4-3-3, the supposed "big game" system, Klopp decided to play a 4-2-3-1, with Shaqiri in place of an extra midfielder, likely expecting a low-block from Arsenal. Klopp's 4-2-3-1 though is not a rigid system, and Shaqiri found himself moving from left to right, but more importantly, into deeper regions of the pitch, where he could run off the back of Xhaka or Torreira, or past them, and then drive with the ball, as Mané and Salah forced the Arsenal defenders backwards.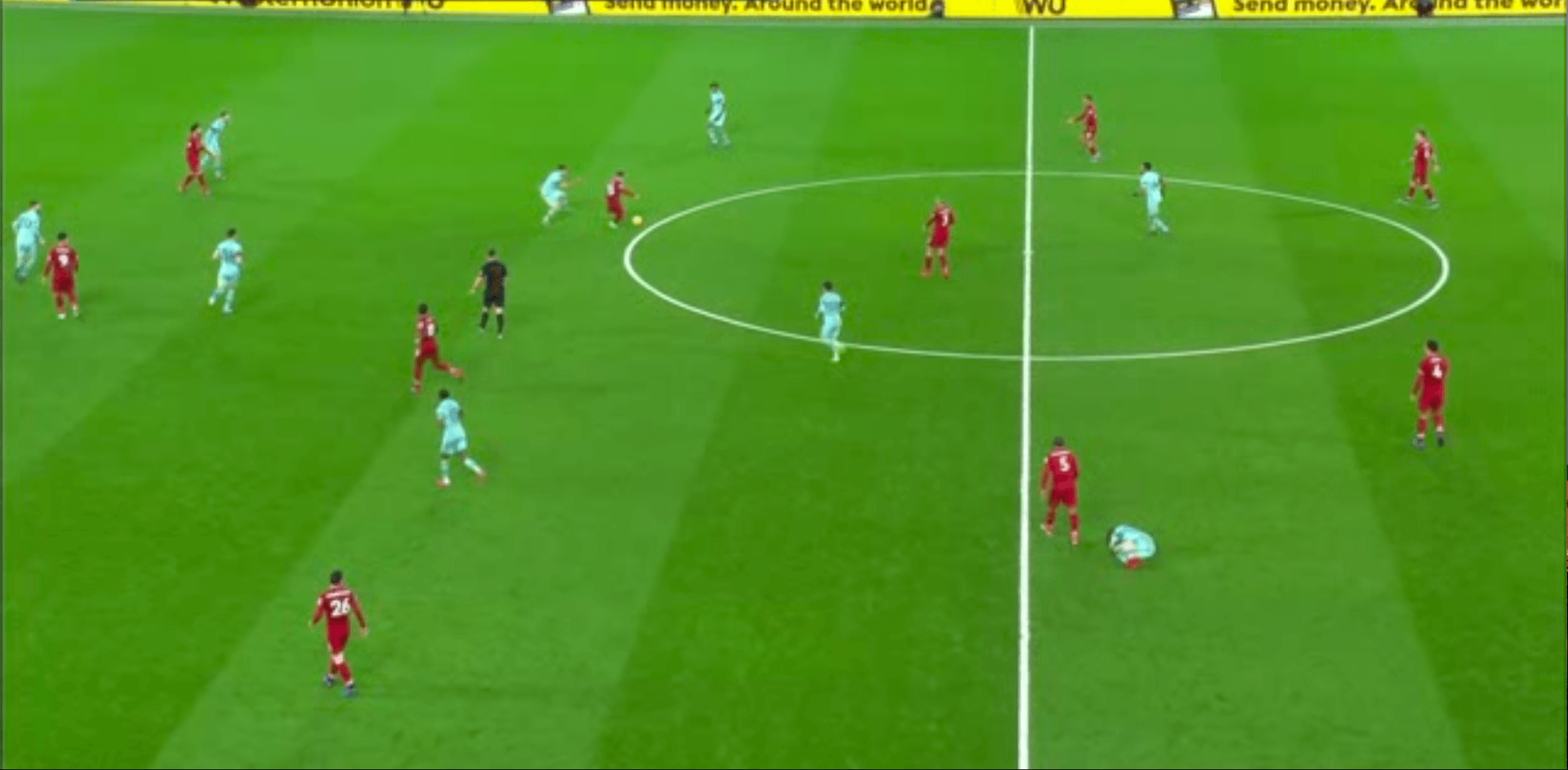 The game
Within the first minute, Robertson, from the wide left, crossed in a teasing ball, bouncing just inside of the six-yard box, just out of the grasp of Mané (below). The Arsenal defence stood statuesque, a preamble of the shambolic defending to come.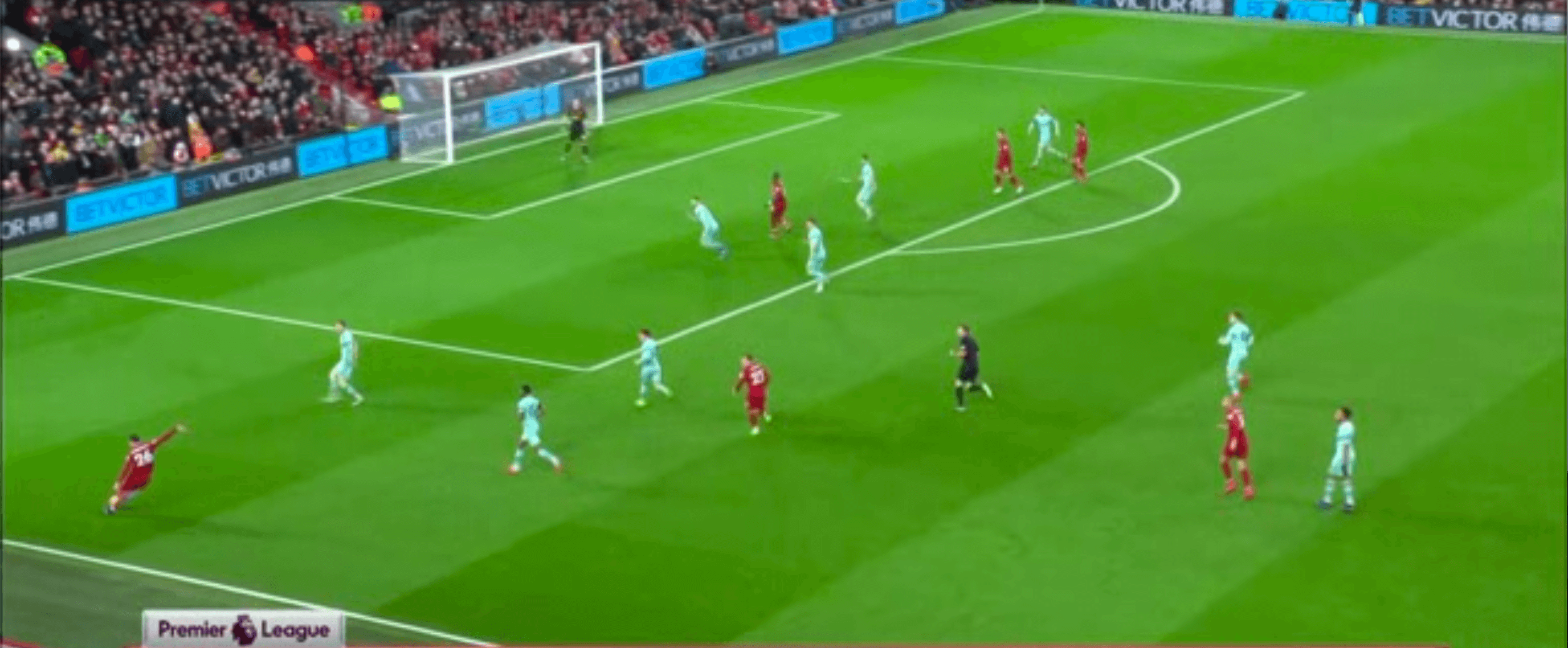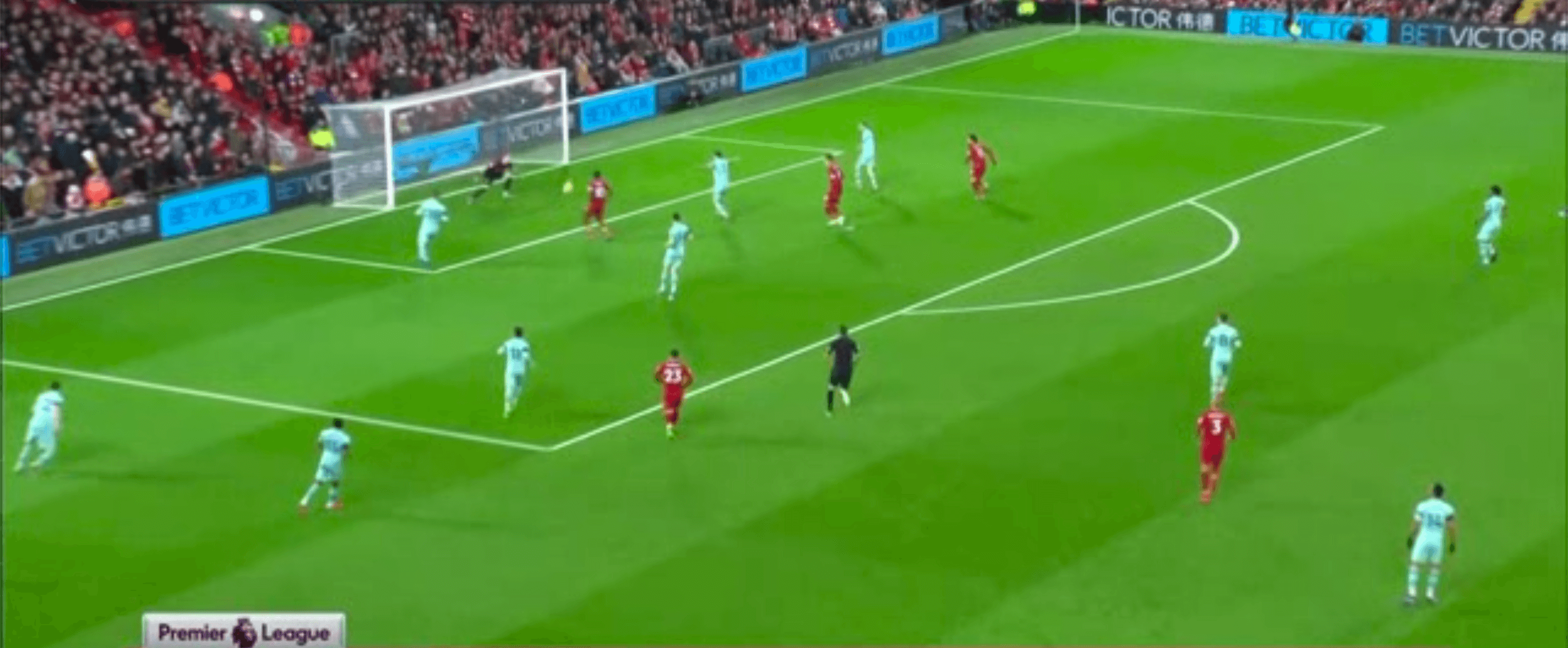 Before we got a closer look at Arsenal's defending, was Arsenal's opener – a rare consequence of Liverpool being caught out in-transition. Liverpool so often benefits from Robertson getting forward quickly, stretching opposition defences and acting as both an outlet pass and a creative asset too. On this occasion, Maitland-Niles ran in the space vacated by Robertson, and a sharp passing combination and ran on the opposite side allowed for Iwobi to cross the ball. It seemed Arsenal's pressure high up the field had paid off, in forcing Lovren to clear, and allowing Arsenal to press and seize upon the second ball, as Liverpool were looking to break through a transition phase. Klopp, in his post-match presser, criticised his team for lack of movement before Lovren clearing the ball and the lack of options afforded to him.
Below we can see Maitland-Niles breaking inside of Robertson, and Iwobi breaking beyond Lovren, as Ramsey was afforded too much space (something Klopp would also draw attention to, and remedied through bringing on Henderson in the second half to close down Ramsey as he looked to occupy the halfspaces):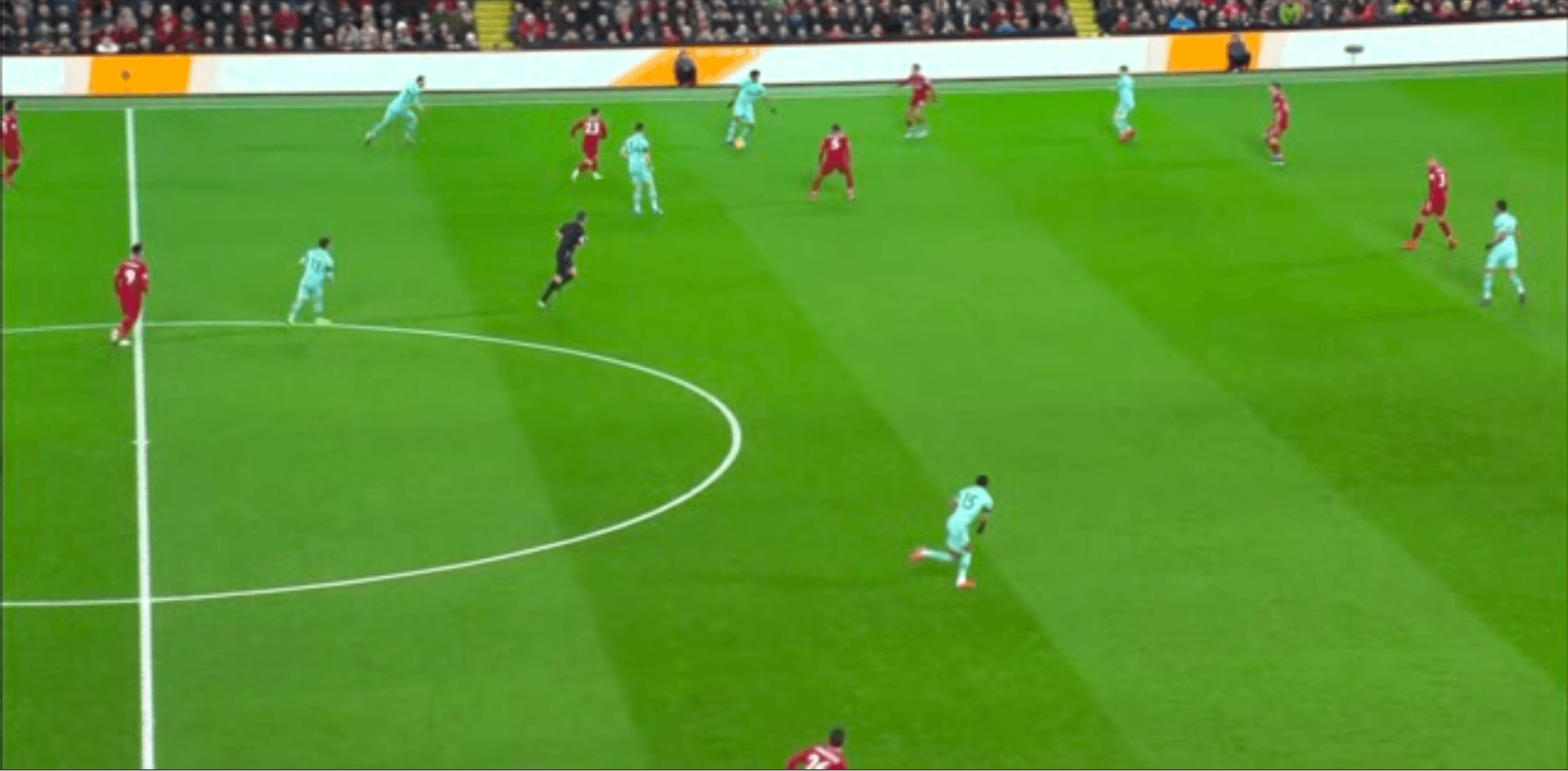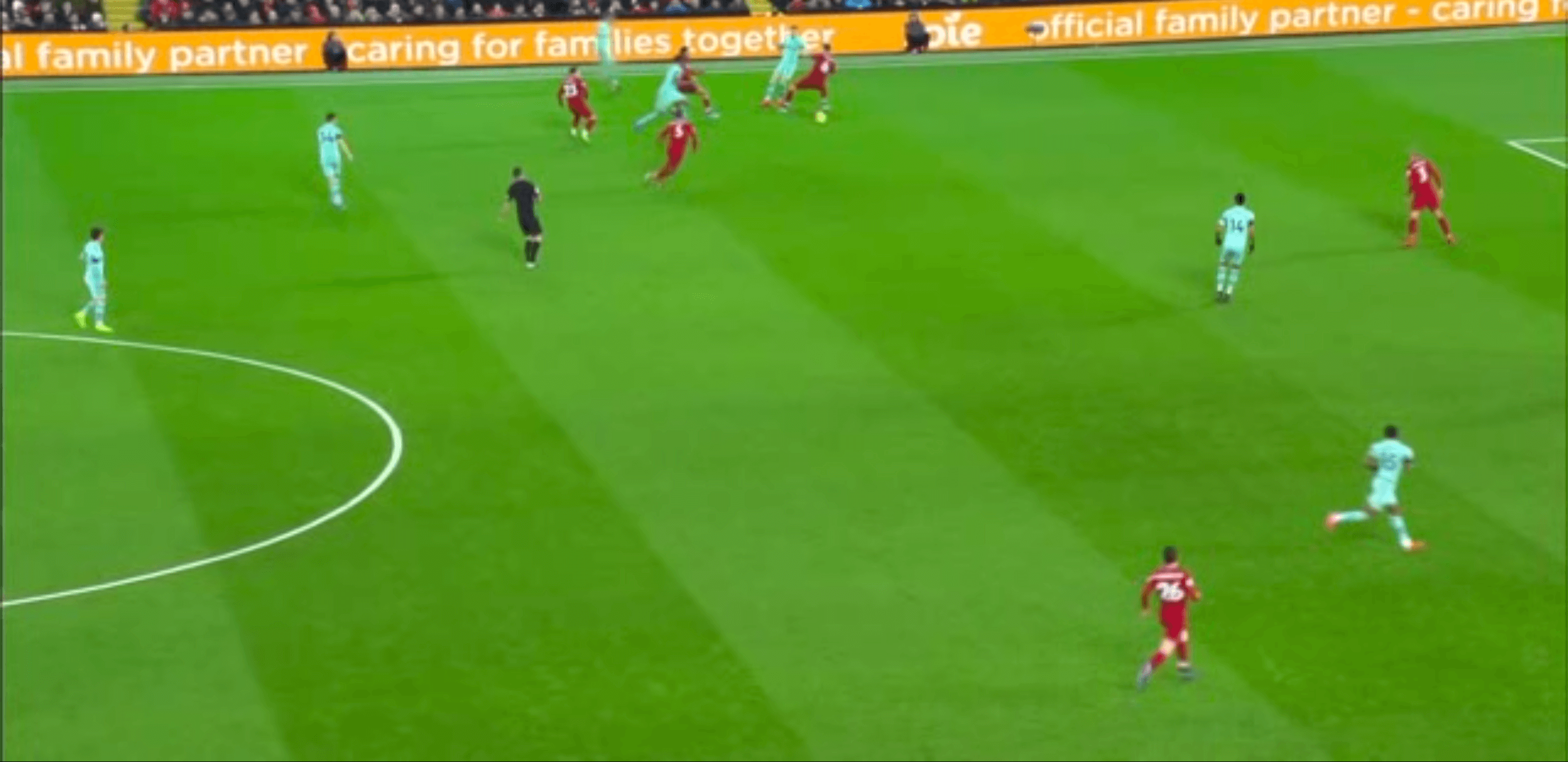 The response from Liverpool was immediate, and the result of Alisson instigating an attack to take advantage of Arsenal in transition.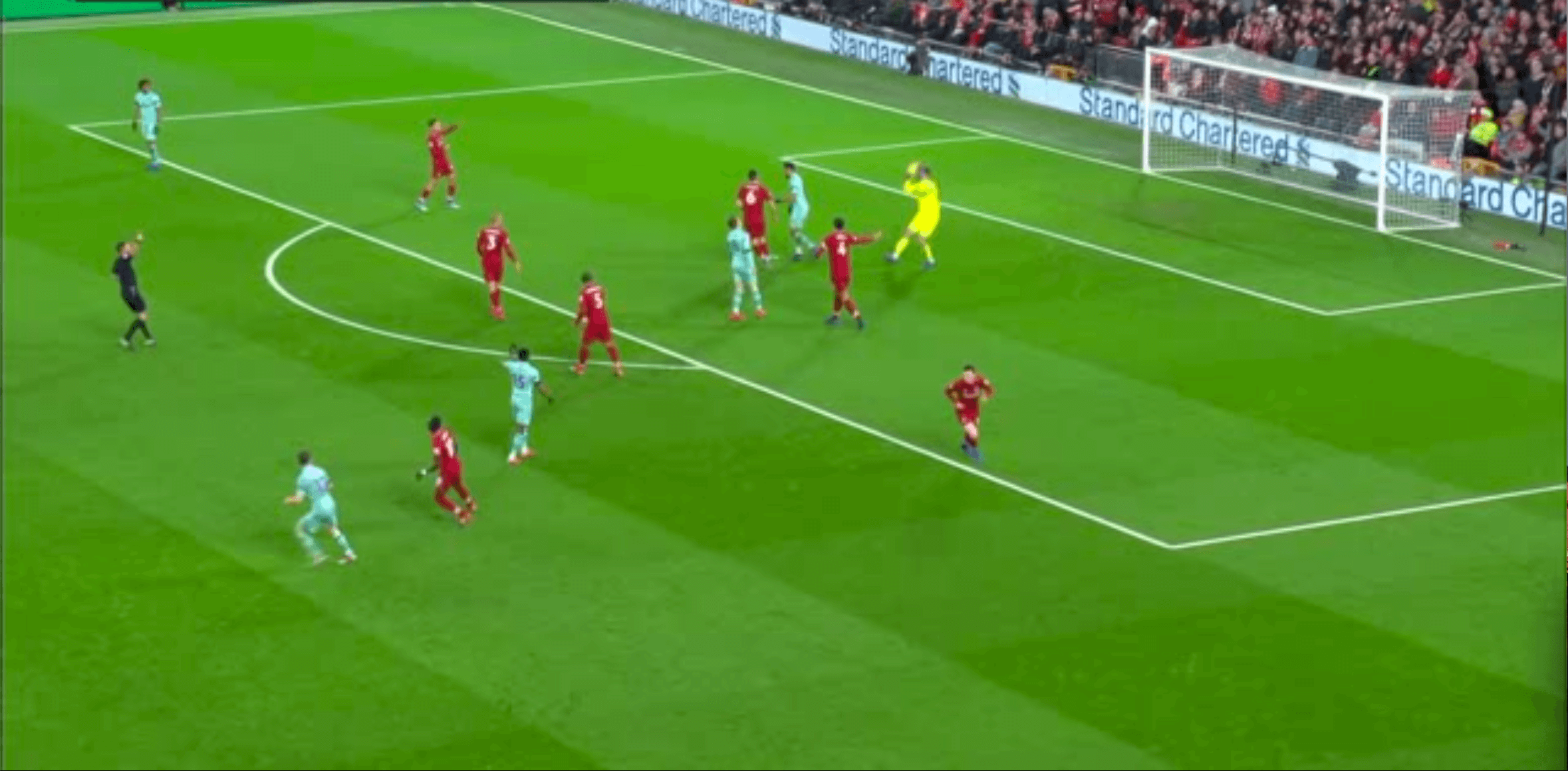 Through breaking quickly, the Arsenal defenders were desperate to get back to their box, and in doing so, they left greater spaces between lines.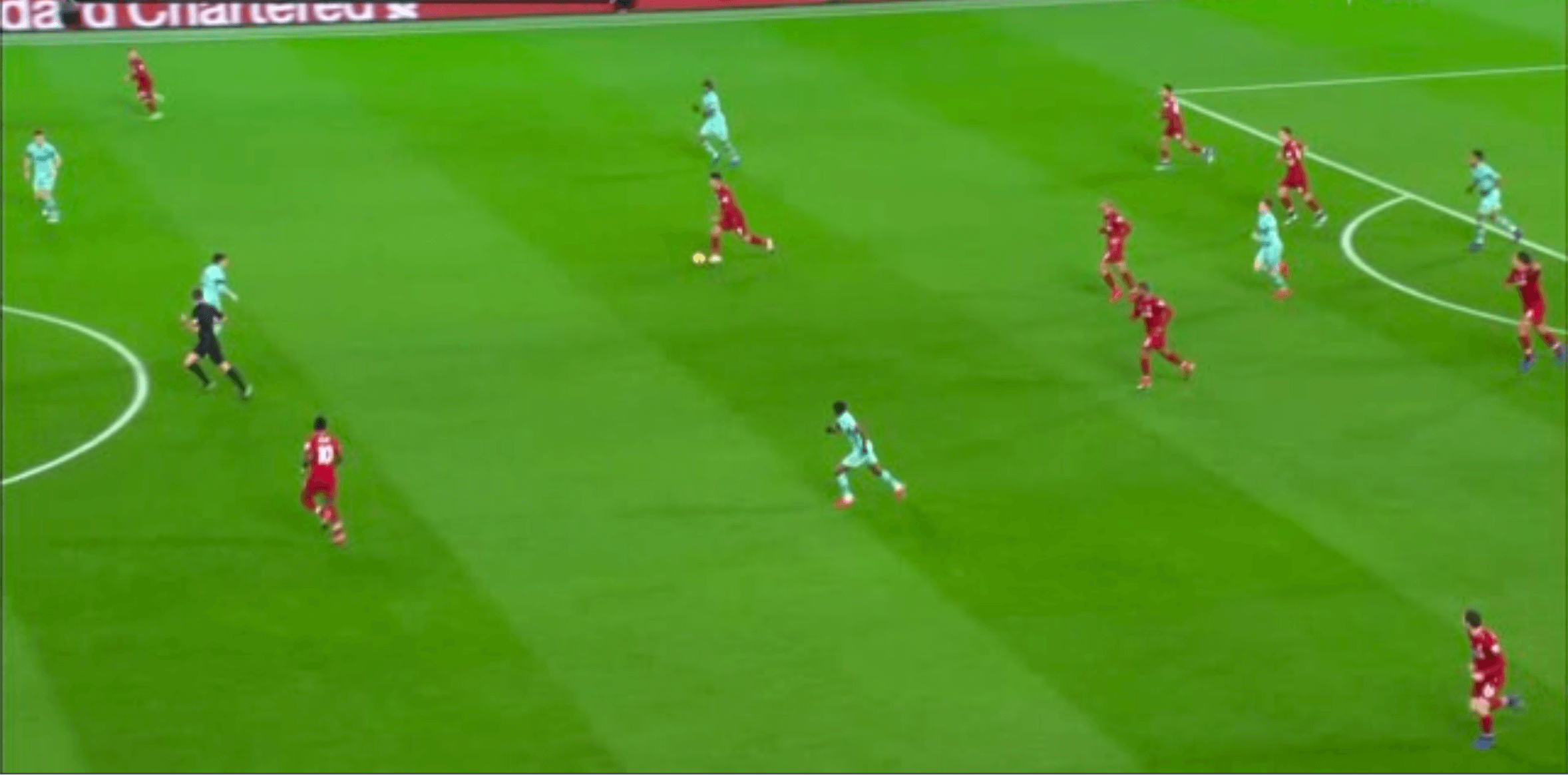 Firmino was able to create a one-on-one against Torreira, as the Arsenal wide players were unable to provide support. The lack of pace of Xhaka meant that if Torreira were to lose any one-on-ones, Liverpool could break with ease and with numbers.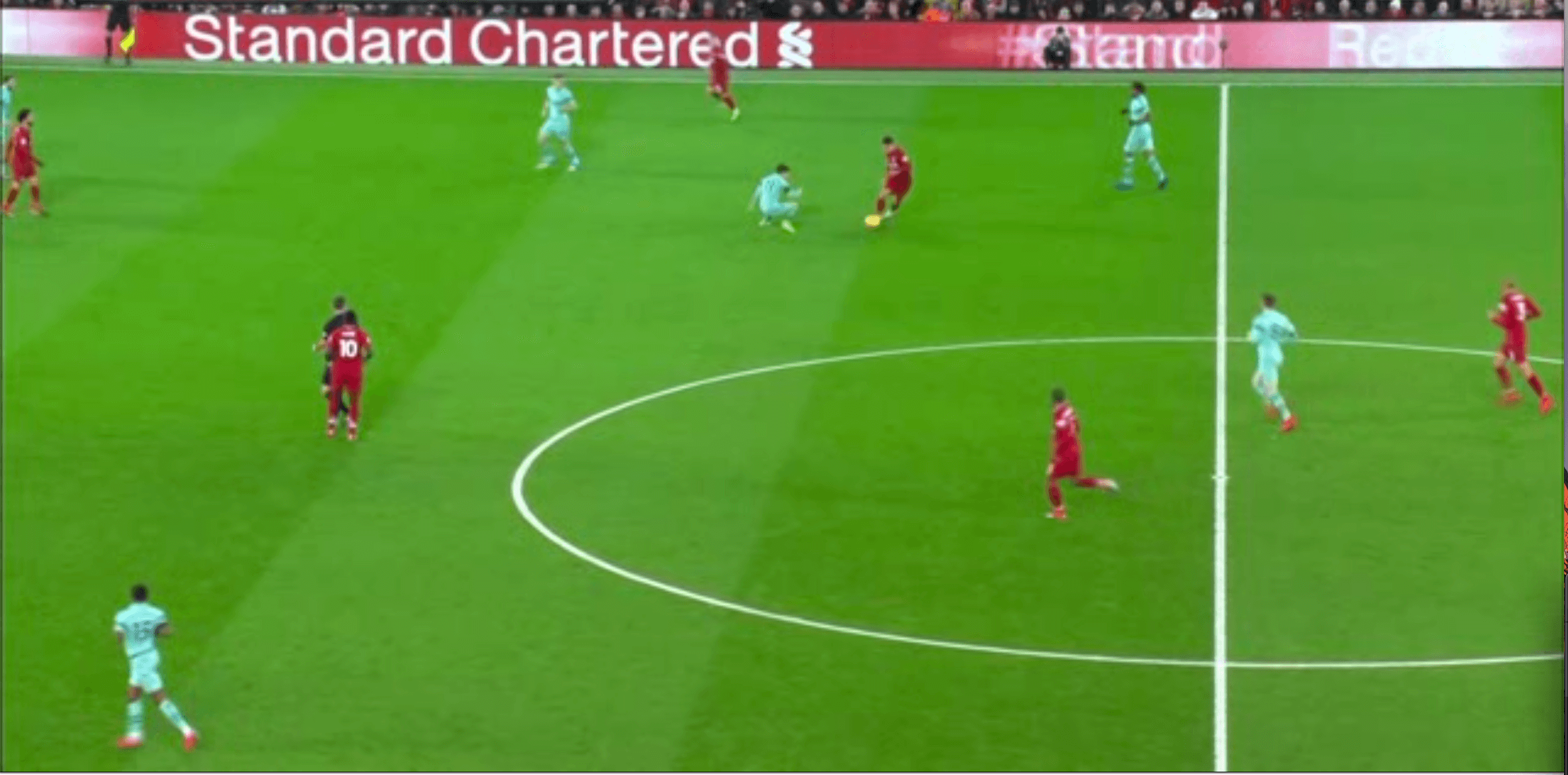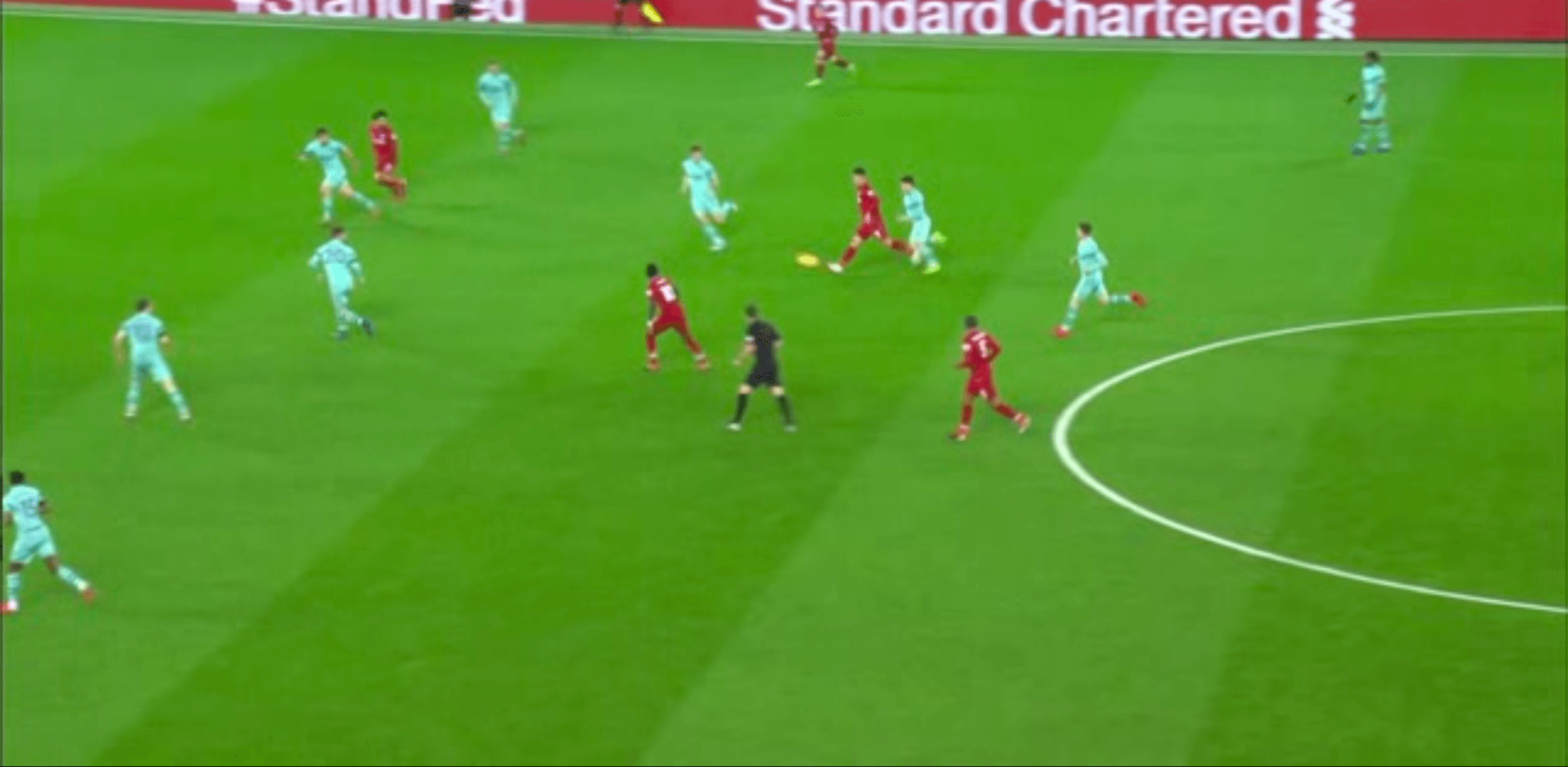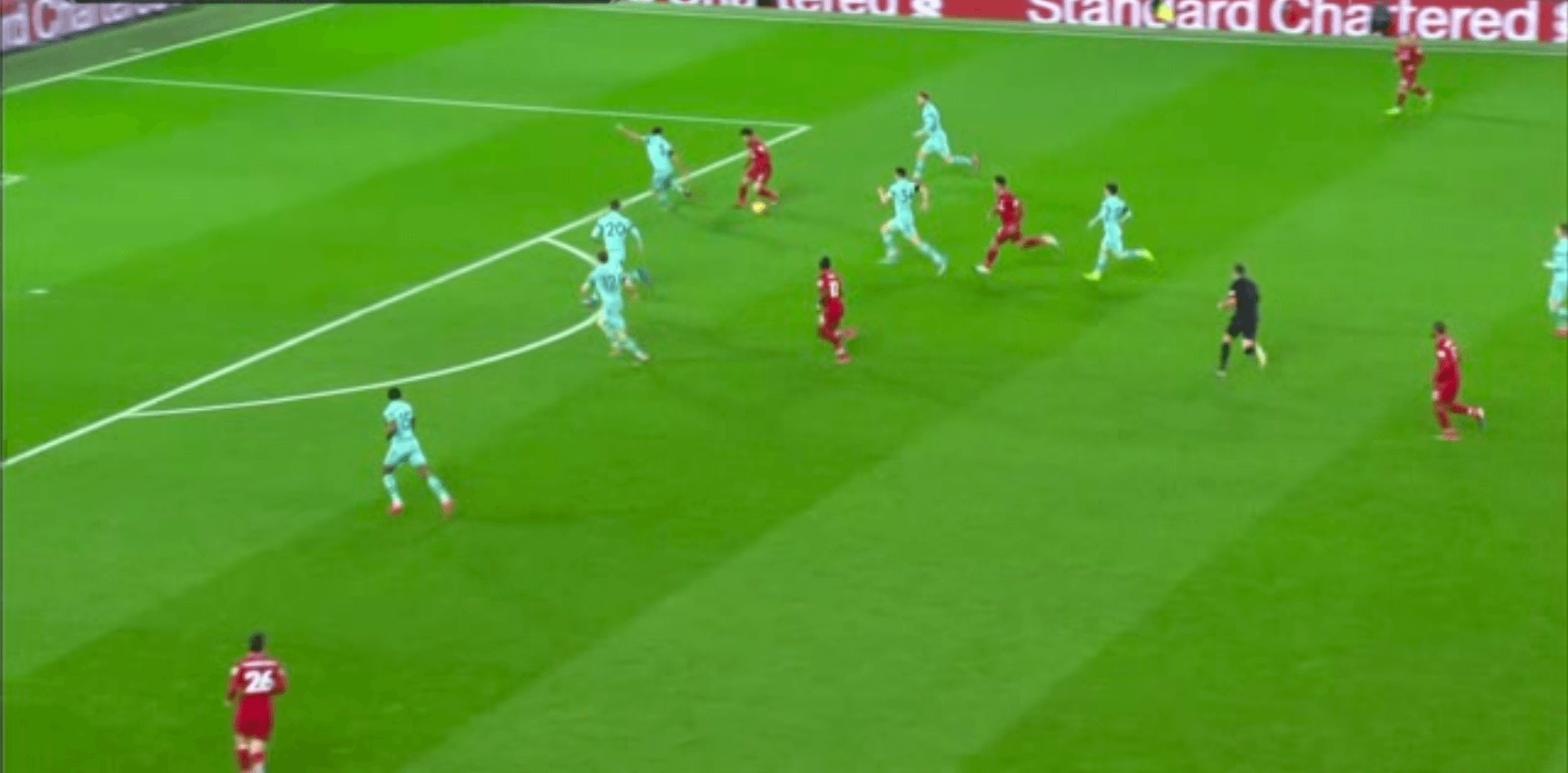 A fortunate deflection ultimately was the deciding factor in Liverpool's goal. However, it was the openness of Arsenal which allowed Liverpool to capitalise, and the same was true of the second goal, where Arsenal did not have enough cover centrally and far too much space between lines.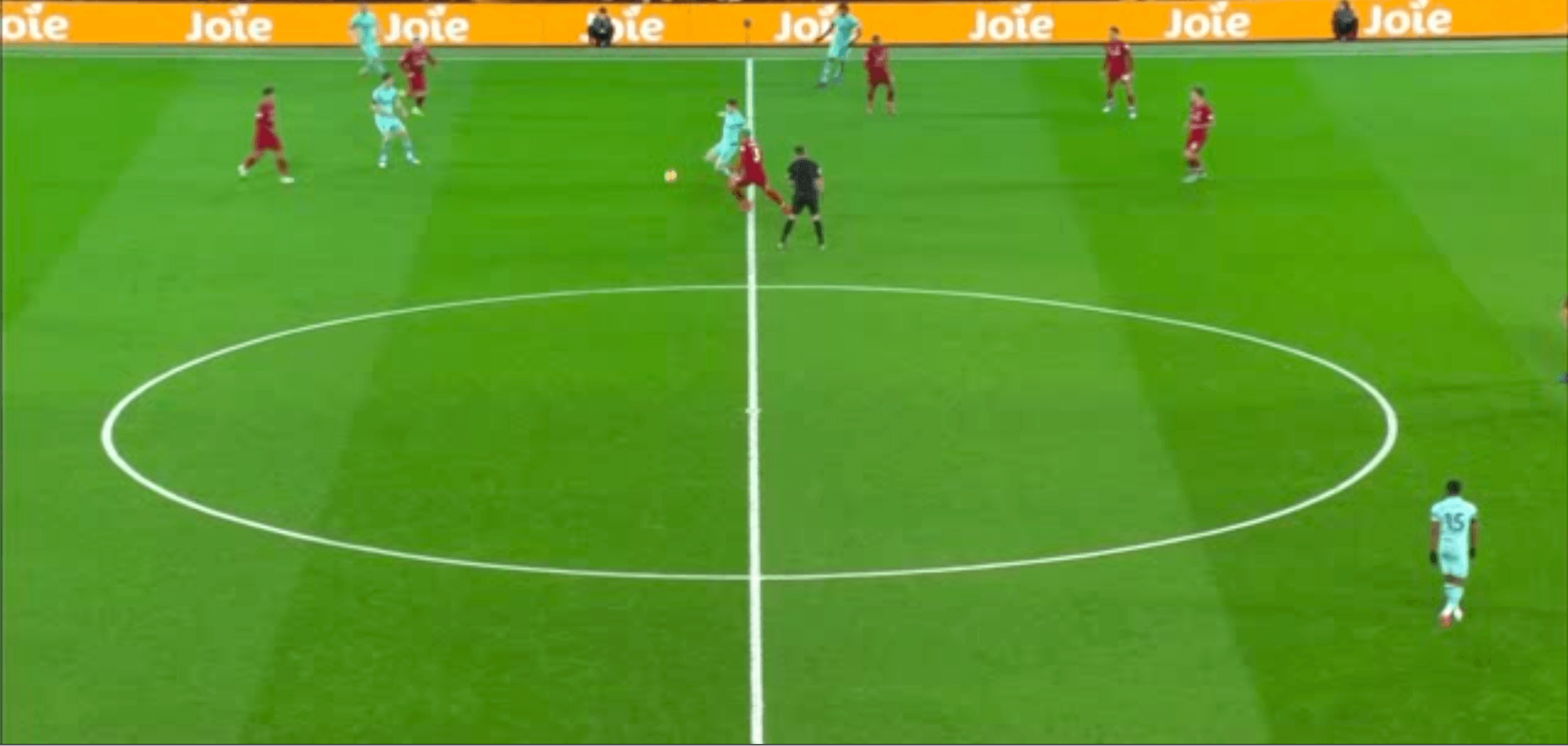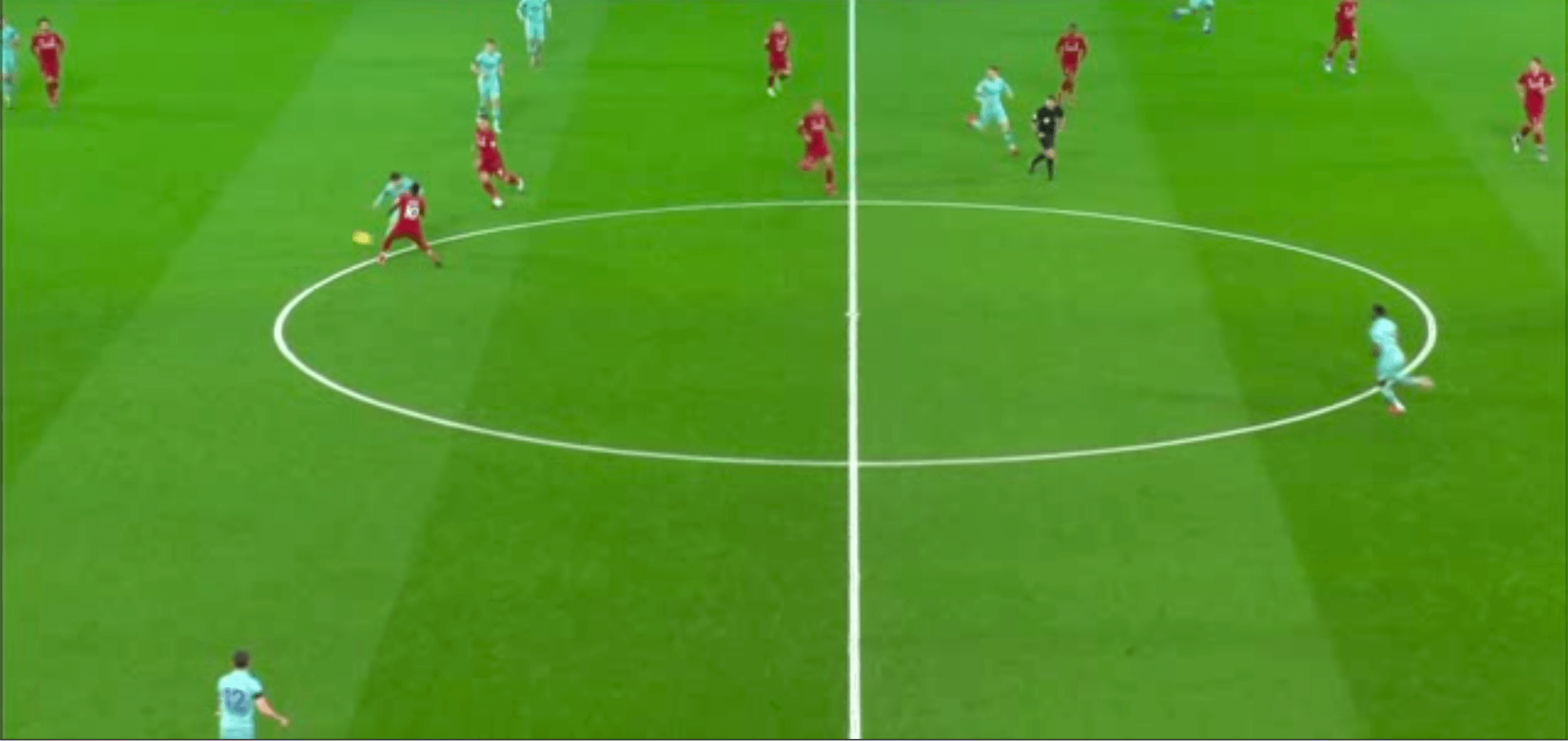 Liverpool coaxed Arsenal into playing centrally, and from there Mané pressed Torreira who was far too loose on the ball and then fed it into Firmino, whose brilliant close control saw him glide elegantly past two challenges, before finishing with ice-cold professionalism.
From this point onwards, it was almost inevitable how the game would play out, but Liverpool used the wide channels exceptionally well, whilst Shaqiri, Firmino and Wijnaldum broke forward from deep positions, giving the Arsenal midfield no chance of respite, and running onto the defensive line almost as and when they wanted to do so.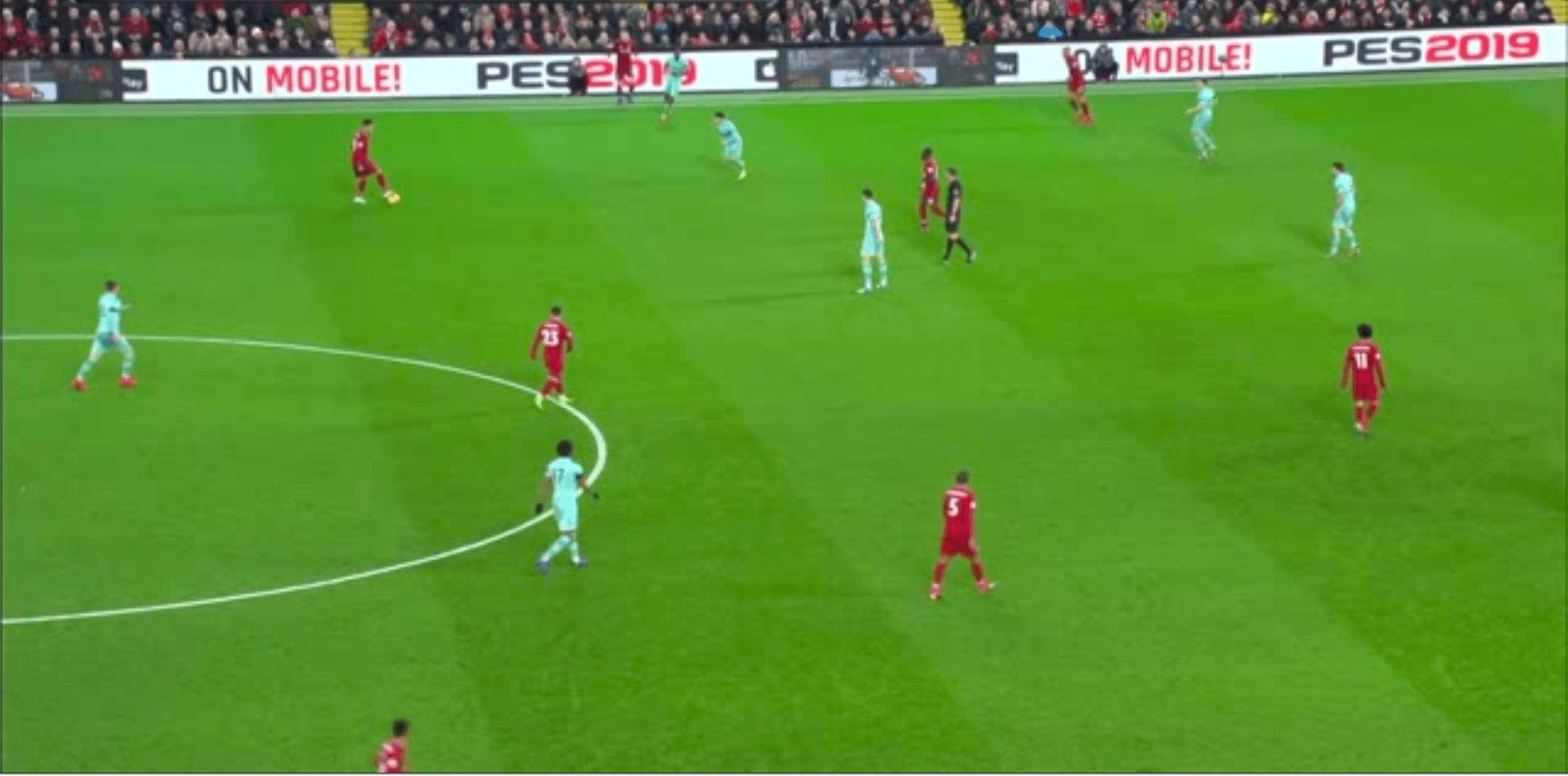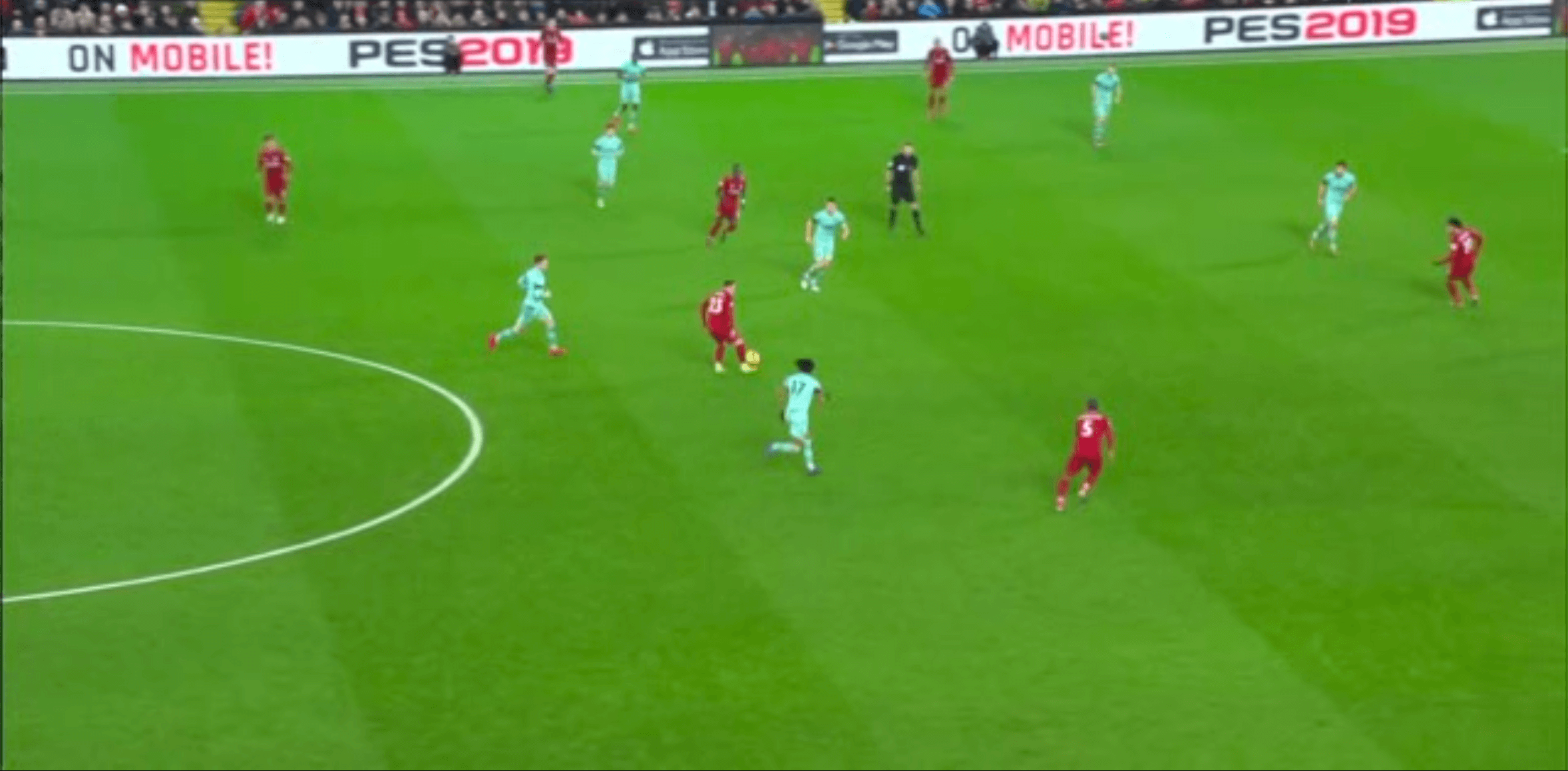 Liverpool utilising and playing in the channels:
Robertson in an advanced position out wide, during the first half: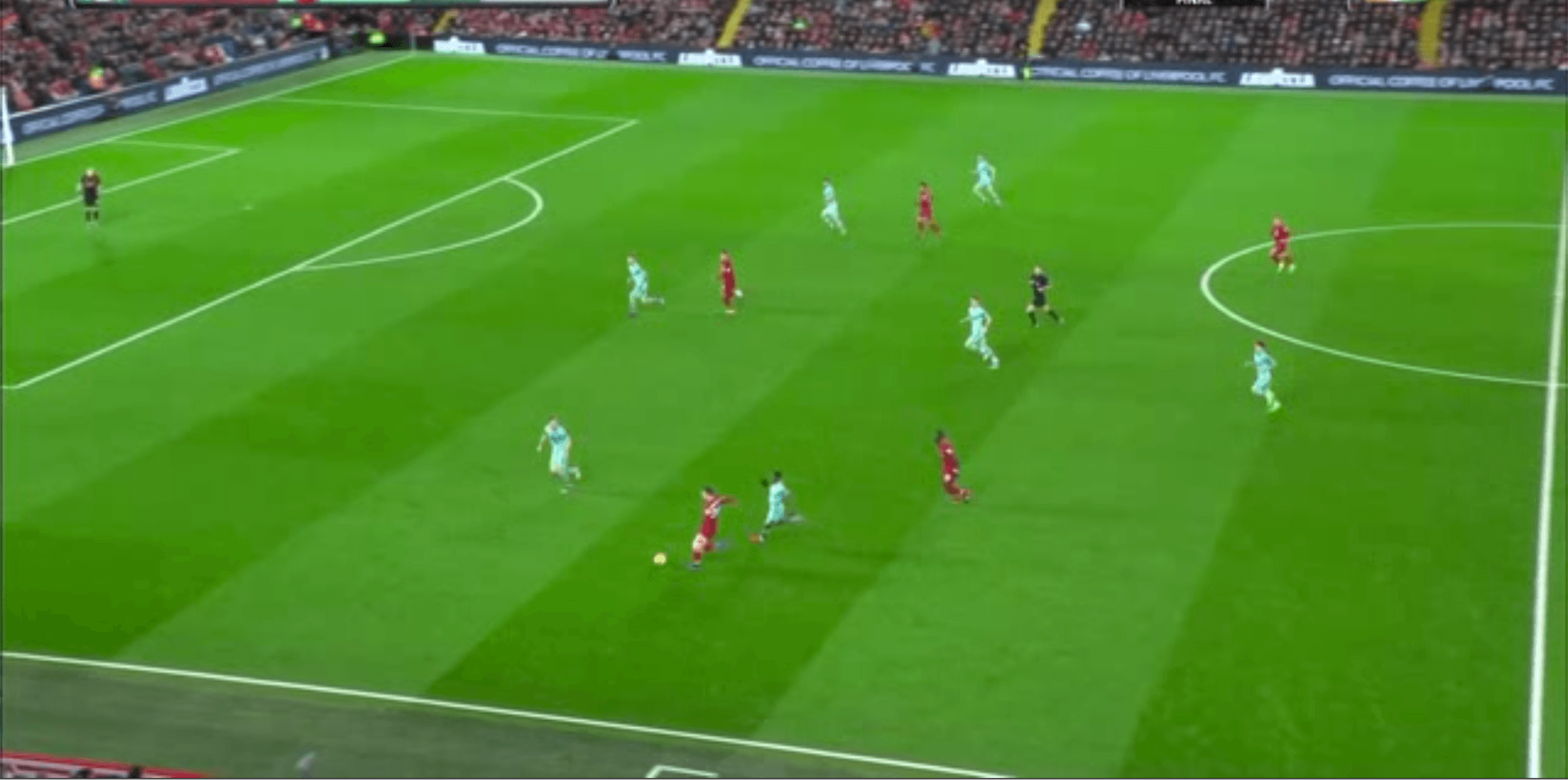 Alisson fires the ball into the right channel, which then feeds Salah who goes on to win a penalty.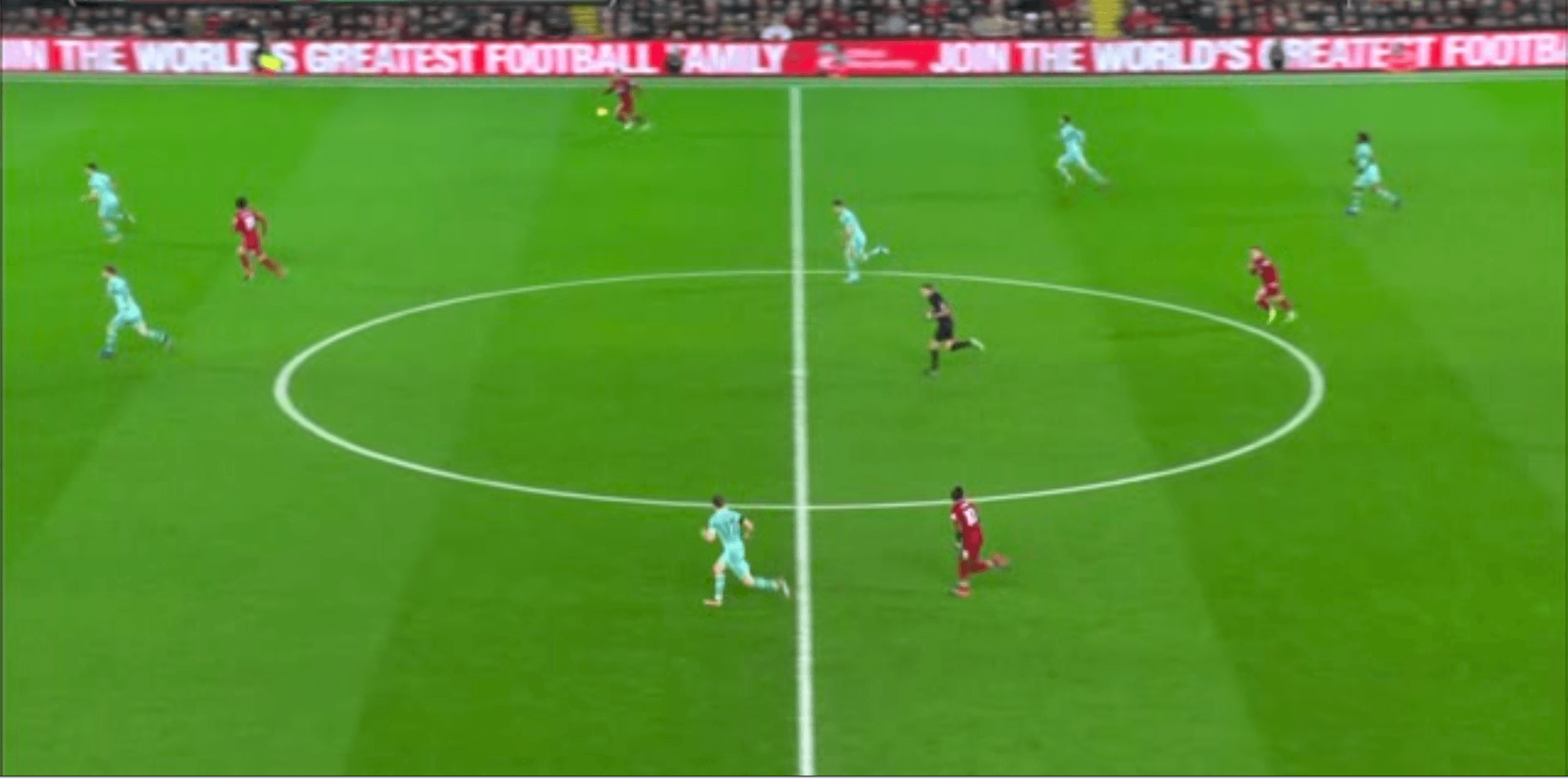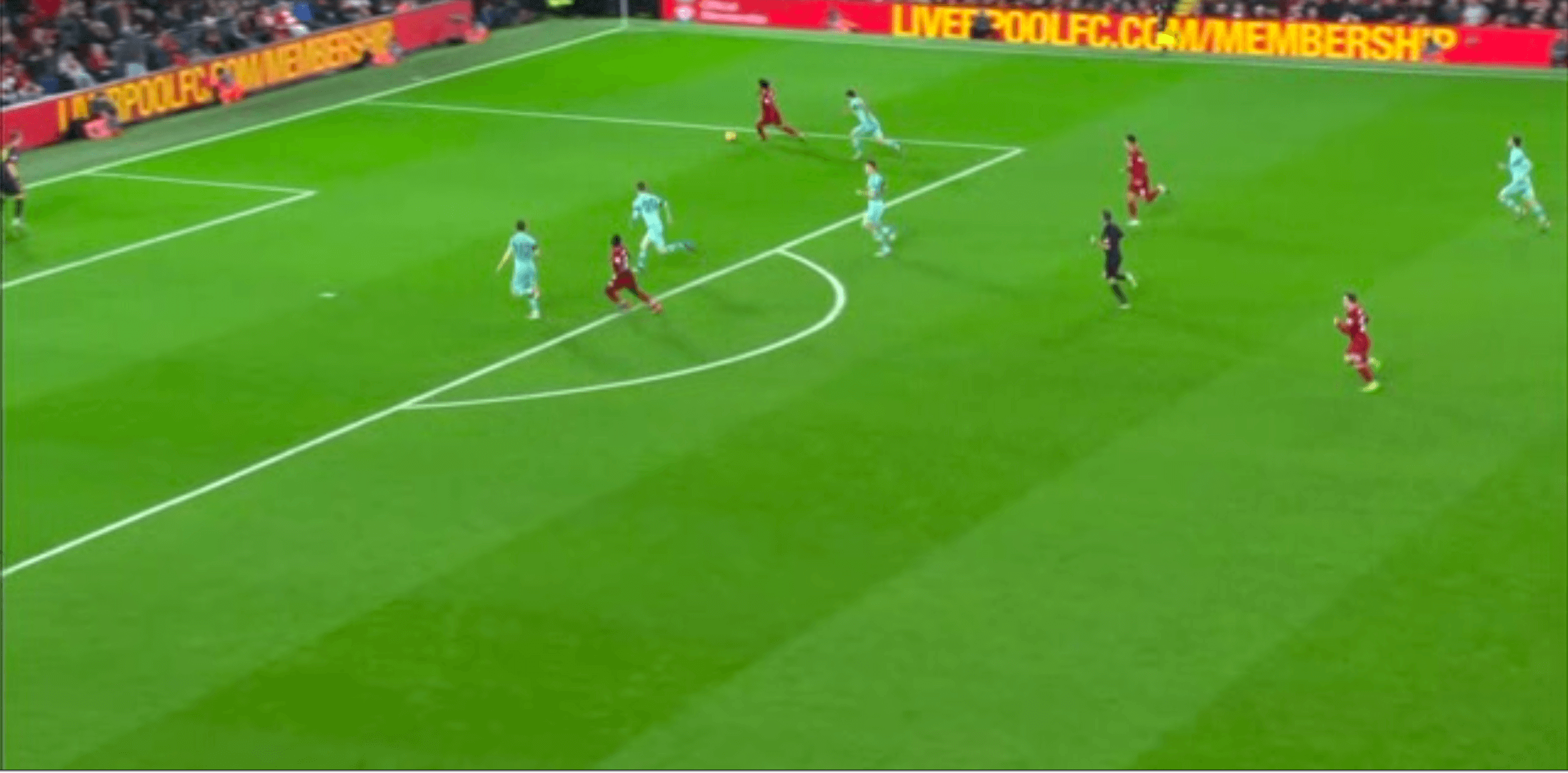 This is a similar example, with Firmino playing the first-time through-ball into Shaqiri's path, in the right channel.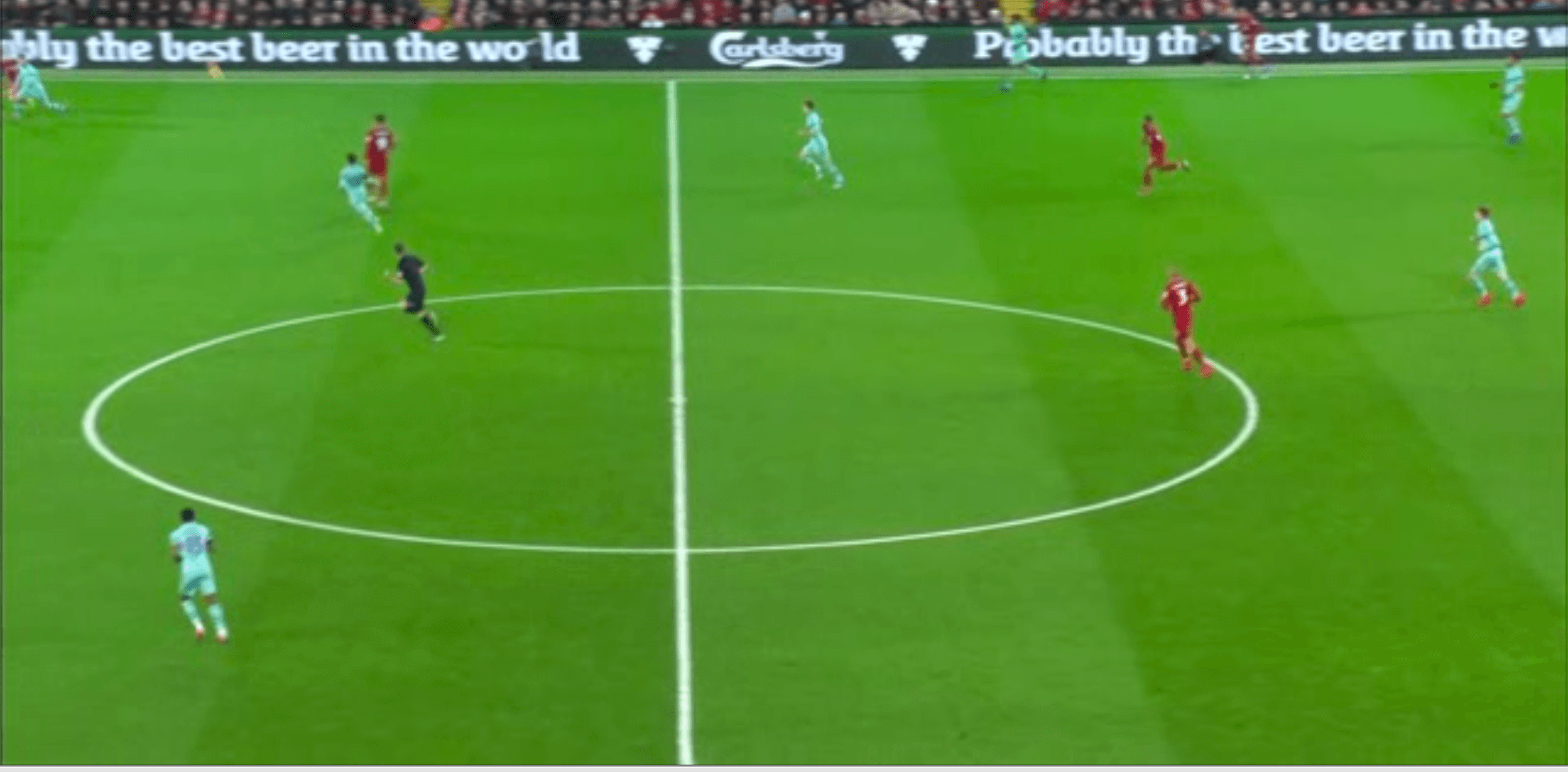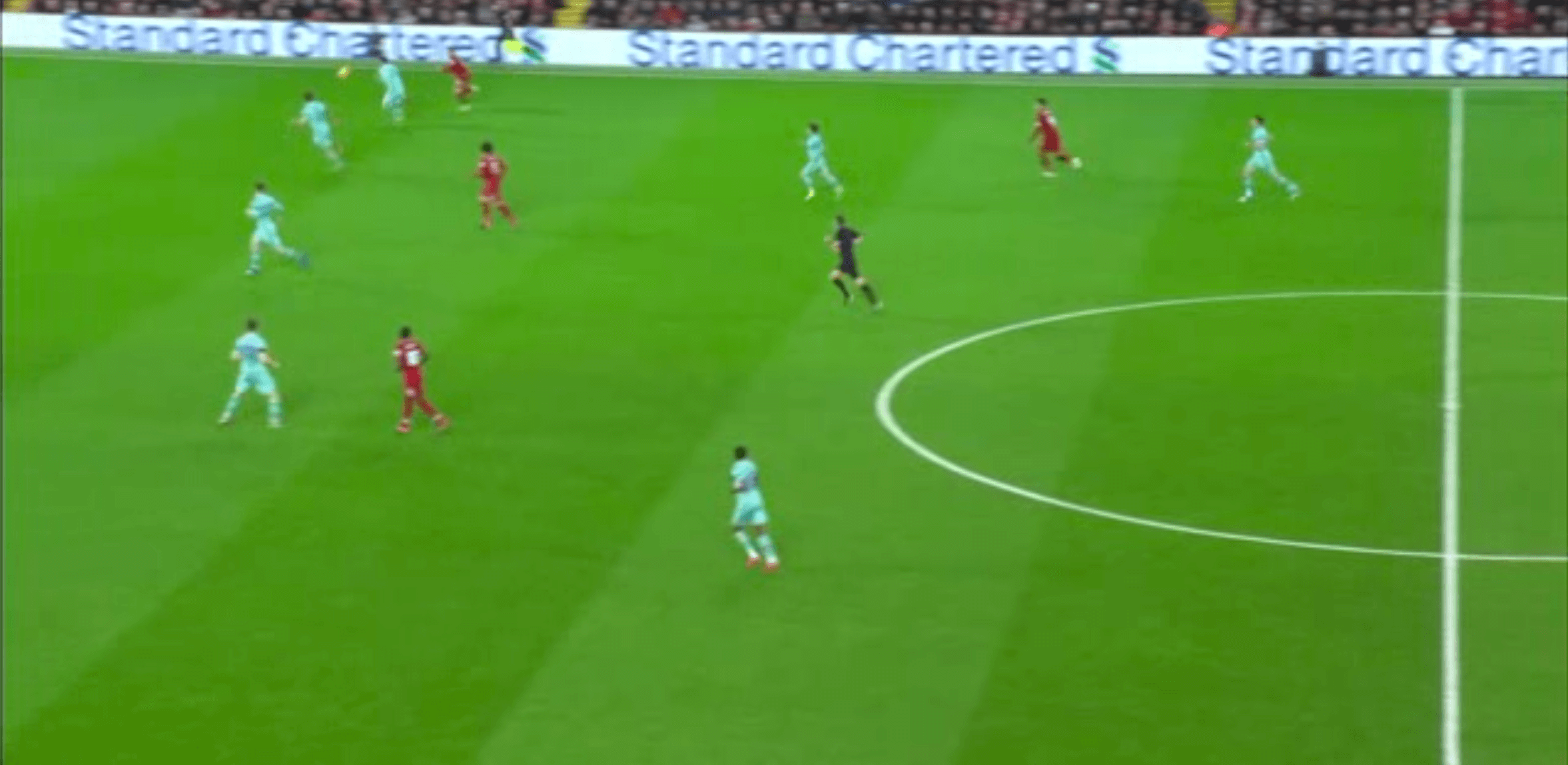 Liverpool were supremely clinical, taking opportunities when they came, and in key moments. Arsenal did not even get a chance to set up a low or mid-block before they had conceded the first, and within a minute, they were behind, and the game state suddenly favoured Liverpool. If Arsenal were to equalise, they would need to push up further, commit more men, or play riskier passes, all of which suited Liverpool and their wealth of attacking talent who revel in playing on the counter.
Arsenal's openness was the biggest tactical factor in this game though, through leaving the wide channels open, and having two centre-midfielders who were not sufficiently protected or of the technical or physical ilk to play through Liverpool, they had signed their own death warrant. Ramsey, Iwobi and Maitland-Niles were too far apart from the centre-midfielders; Xhaka and Torreira were easily beaten and largely passive. This lack of protection for the Arsenal defenders spelt for inevitable moments where they would be exposed and overrun.
"Could we have played better in the first half? Yes, of course. Could we have defended better? Yes."

"We were a bit too open and a bit too wide in the formation." – Jürgen Klopp
Liverpool were by no means perfect and left spaces in the opening twenty minutes which Arsenal were able to exploit, making for an end-to-end entertaining game. But Liverpool dare not do so against City, who are far more efficient and perhaps the most dangerous side in the world when afforded space.
Despite this start though, Liverpool adapted, and tightened up in the second half, while simultaneously easing themselves through the second 45, knowing the game was won. The team still created extremely good chances (like the one below), but the game, as a contest, was over.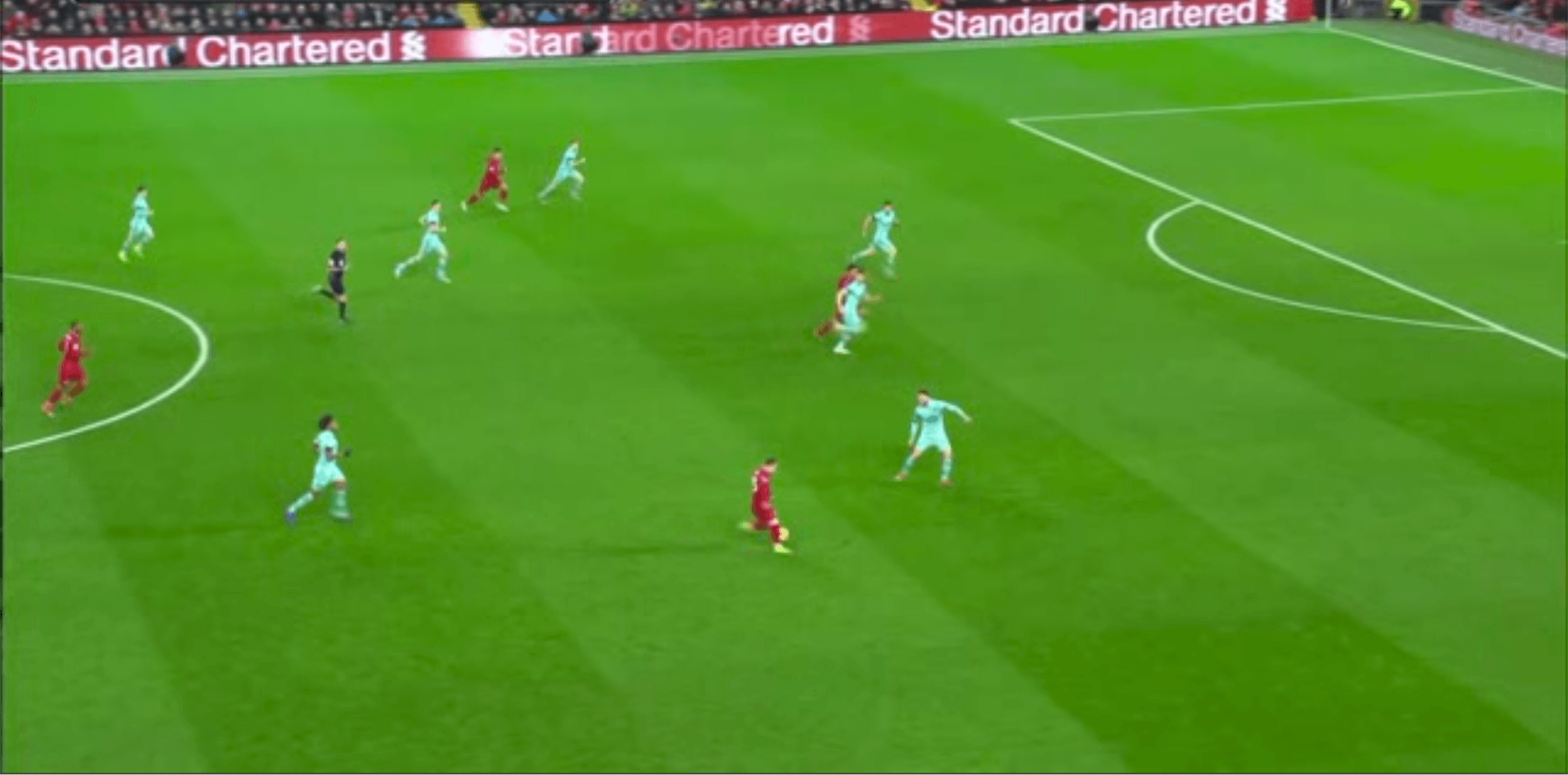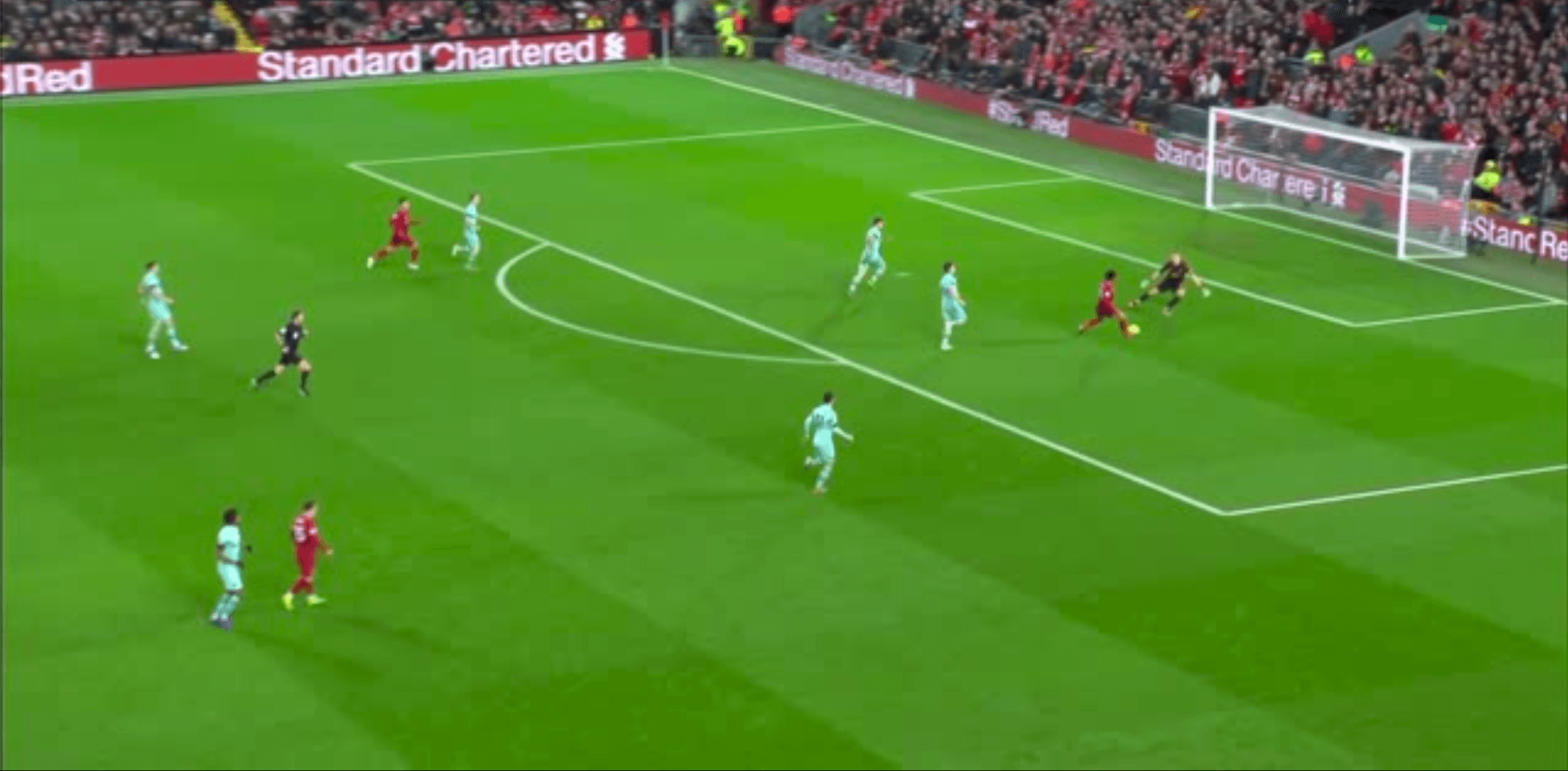 In sum, this was a strong, efficient performance, but one courtesy of loose, manic, open play from Arsenal, who deserved to get punished. Liverpool did take their chances well, but there is much more room for improvement, and considering the ability and tactical astuteness of this group of players we can expect better performances to come. Nonetheless, 5-1 against a rival is always a good sign; it's just Liverpool will need to be much better when playing Manchester City at the Etihad.