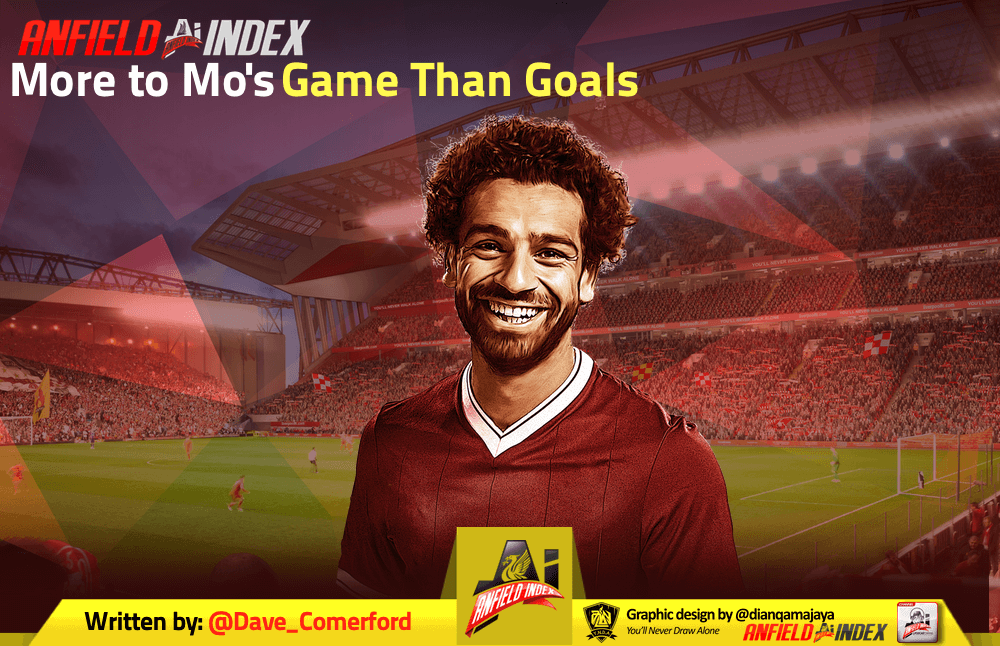 More to Mo Salah's game than goals

The Premier League has seen few goalscorers more prolific than Mohamed Salah. After hitting a record 32 last season, the Egyptian is going strong once again in the Golden Boot race. If he carries on finding the net at the current rate, he'll reach the 25-goal mark before the end of the campaign.
The battle for top individual honours with Arsenal's Pierre-Emerick Aubameyang and Spurs' Harry Kane promises to be intense.
Salah's ultimate contribution to Liverpool's cause will almost certainly be measured his goals. That's inevitable really after his extraordinary exploits in 17/18. But while he's not been able to match that quite frightening output this time around, he is, on the whole, a better player than he was last season.
Salah has been deployed as a striker on the numerous occasions when Klopp has shifted to a 4-2-3-1, a recognition of a goalscoring capacity unrivalled in this Liverpool squad. The risk was that this move would fix something that clearly wasn't broken or would inflate the egocentrism which typically characterises frontmen, to the detriment of the side, but Salah's creativity has improved markedly in the lone striker position.
In 36 appearances league appearances last season, he contributed ten assists. Just past the halfway mark in 2018/19, he already has seven. If he keeps this up, then, he could end up with 15 by the end of the season, a tally which would probably put him in the top three in the Premier League. He may realistically match last term's goal contributions, albeit with the balance shifted.
Assist statistics can be deceptive, since they are sometimes awarded rather cheaply, but in this case, they do tell the story. Salah has already created as many big chances (12) this season as he did throughout the whole of last year, has played more through balls (i.e. defence-splitting passes) and is averaging 2.2 key passes (they class as the final ball leading to a shot from a team-mate) per game, 0.5 more than last year.
These improved offensive numbers are even more significant when you consider the evident tactical switch in favour of pragmatism, which has tamed Liverpool's attacking beast. They point to a certain footballing maturation – better decision-making, increased selflessness and a certain versatility as Salah plays different roles – at times looking to make chances as opposed to purely taking them – throughout the 90 minutes.
Salah is also making more tackles and more interceptions each game, suggesting he's upped his already impressive work-rate. In short, he's a complete footballer nowadays, and amidst this inane, all too predictable non-debate over whether he's merely a 'one-season wonder', that hasn't been appreciated. Only goals have silenced Salah's critics, or rather, those envious that he's wearing Liverpool red.
No player in the league has been directly involved in more goals than Salah this season. And yet, it's noticeable that he's often somewhat snubbed when pundits debate who deserves to be called the best in the division.
Hazard, David Silva and Kevin de Bruyne typically figure at the centre of that discussion. It's tacitly agreed that they comprise a truly elite cadre, that they are the most gifted footballers in England. Salah, it is felt, is an explosive scorer, an irrepressible nuisance for defenders, but not a talent on the level of that trio.
Somehow, then, he has been slightly underrated. Comparisons with de Bruyne are difficult at the moment as he struggles with injury, but Salah has matched Silva's renowned creativity this season and evidently shares Hazard's penchant for the spectacular, which often has neutrals buckling at the knees.
Salah has it all. He scores sensational goals, races past, dances around or shrugs off even the most imposing of defenders, lays on opportunities for his team-mates and calmly shoulders the pressure of carrying the hopes of a nation and of a football club. For me, he is just as good, if not better, than anyone else in the Premier League.
It doesn't stop there, though. Even now two players are unquestionably the best on the planet, but one is 31 years old, while the other will soon be 34. Their performance levels have been just short of superhuman, so perhaps they will continue to rule the roost for some years, but more likely, their decline will begin before long, and a new grouping of world leaders will emerge.
26-year-old Salah will be right at its heart, particularly if he fires Liverpool to domestic and continental silverware. He still has several years left at the top of his game.
For all its glorious moments, 2018 must have been tinged with a certain disappointment after the heartbreak of injury in the Champions League final and Egypt's early World Cup elimination.
With Liverpool well-placed, in the Premier League title race, and Egypt likely to challenge in the African Cup of Nations come the summer, Salah's career could reach new heights in the year ahead.